Smart Garage Door Openers Get Even Smarter

Samantha Carlin
3 min read
Sponsored Content
Two of Green Builder Media's VISION House projects will be equipped with top-of-the-line LiftMaster products that offer Amazon Key, camera, and other smart tech integration.
Does anyone use their front door anymore? According to DASMA, over 70 percent of homeowners with remote-controlled garage doors rely on their garages for "daily" entry to their houses. In fact, many homeowners report that they don't even carry house keys anymore. And knowing that the front door is locked helps homeowners cultivate greater peace of mind while working from home.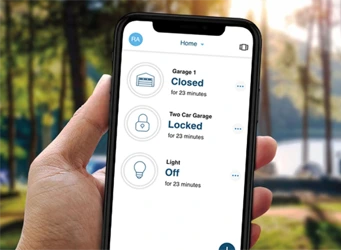 Amazon Key In-Garage Delivery works with compatible LiftMaster garage door openers to allow Amazon Prime members convenient and secure package and grocery delivery.
More and more people acknowledge that the garage is the best way to enter and exit the house: You track less dirt inside, don't have to fumble with keys, and it affords easy access from vehicles.
This significant shift in consumer activity around residential garage door openers gave LiftMaster endless possibilities to enhance garage door safety, security, and ease of use.
Sensors and Smart Tech
According to Melissa Foley, Principal Strategic Relationships at LiftMaster, advances in sensors and "smart" features deliver a growing list of perks for the multi-purpose garage. She notes that the first step in upgrading the garage is remote access to the garage door.
"LiftMaster offers a Smart Garage Control through a myQ smart access app or website that enables one to easily open, close or check the status of the garage and garage door from virtually anywhere," Foley explains.
"People use their garages differently now," Foley says. "It's expected to serve so many functions, including a convenient place for Amazon deliveries and pickups. We have the technology now, including cameras for the garage door openers that interface with other home connected products, so we connect to the door locks, cameras, and other connected homes—all part of smart home automation."
Tiana Cooper, Owner of ReVISION House Austin, raves about her two new easy to install LiftMaster 8500W Wall Mount Garage Door Openers during an interview with Green Builder Media's CEO, Sara Gutterman. With little time to spend shopping, she relies on Amazon to deliver the essentials but wasn't keen on coming home to wet or overheated packages on her doorstep. "The new LiftMaster upgrade with Amazon Key In-Garage Delivery compatibility lets me come home to a safe, dry package," Cooper says.
Remote Access and Safety
Cooper also enjoys the built-in Wi-Fi and myQ app connectivity. She can open/close the door remotely, check the status, and even monitor the temperature of her garage from anywhere at any time. The connected cameras also give Cooper the ability to check on all garage access points without physically entering the garage.
Along with incorporating smart garage technology, Cooper's new setup includes an automatic garage door lock that deadbolts her door after closing. Residing in an ever-expanding city, LiftMaster's two-point locking system gives Cooper an extra layer of security.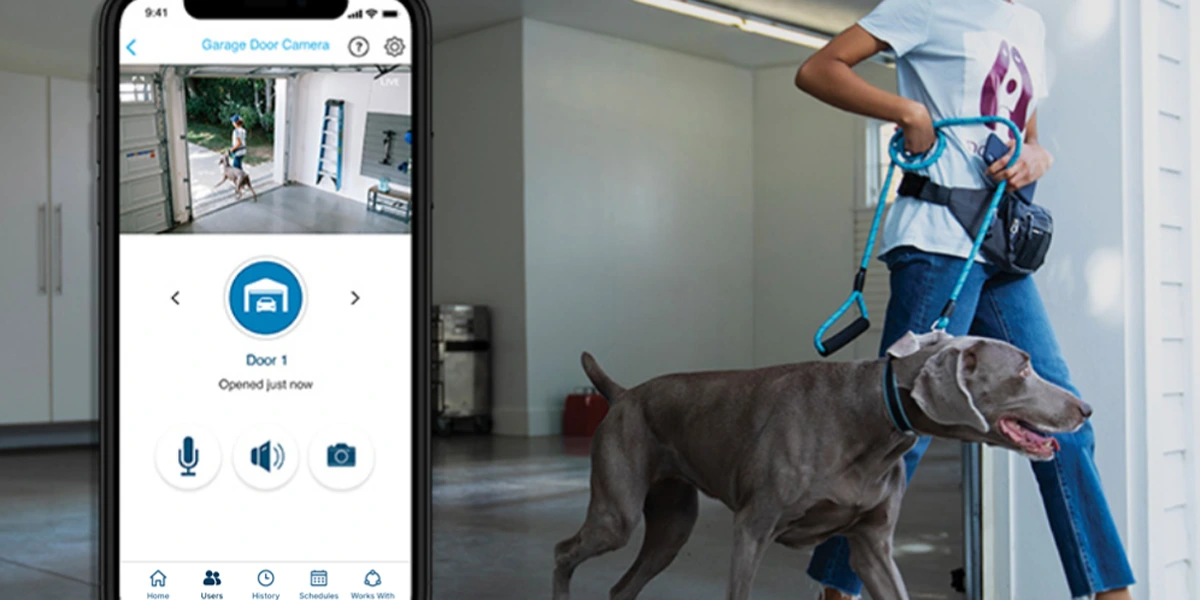 With myQ connectivity, LiftMaster garage door openers can be controlled from your smartphone or computer. You can view who is coming and going, when a door has been left open, and can close it with a tap, no matter where you are.
Similarly, over at Green Builder Media's VISION House Seattle Cascades, CR Herro won't have to worry if he closed the garage door after he's left his off-grid property. A simple check on the myQ app with remote capabilities will allow Herro to close his garage door from anywhere.
Garage Door Functionality
When the power is out, Cooper and Herro can still access their garage and all of its features. To make this possible, LiftMaster offers an opener with battery backup in its latest line of next-gen garage door openers. This is in response to power outage issues and also for those using renewable energy.
"The ultra-quiet wall-mounted opener is a big step up from the clunky ceiling-mounted track system I used to have," Cooper says. "And it frees valuable ceiling storage space." This efficient use of limited garage space is appealing to those looking to optimize the potential of their garage.
Green Builder Media currently has two exhibition projects that include LiftMaster smart garage devices, ReVISION House Austin and VISION House Seattle Cascades. To learn more about the company's latest product offerings, visit the Liftmaster website.
Jan 10, 2022 1:31:29 PM · 3 min read
---

Samantha is able to express her passion for the environment -- both natural and built -- as the special projects manager at Green Builder Media. Prior to joining the Green Builder Media team, she worked as an order management specialist at C.A. Fortune, a consumer brands agency. She is a recent graduate of the Master in Environmental Management program at Western Colorado University with an emphasis on sustainable and resilient communities. Originally from the suburbs of Chicago, she is currently thriving in Gunnison, CO where she enjoys the surrounding geology, mountain biking, and skiing.