Show Home Lives Bright With Colorful Joint Compound

Cati O'Keefe
1 min read
A fledgling company punched up joint compound with color additives to create a workhorse drywall mud that doubles as a versatile design element. Check out the video to see how this industry-changing eco-drywall product works.
Fresco Harmony is an extremely low VOC wall and surface finishing system with water-based colorants. It is the nation's first color line for drywall joint compound. It uses the versatility of joint compound to bring color opportunities throughout a house.
"The company is using a medium that is second nature to the drywall industry and breathing new life into it," explains company owner Nick Harmon. "Not just with the mud, but also with the applicators who are enabled to find new passion in their work."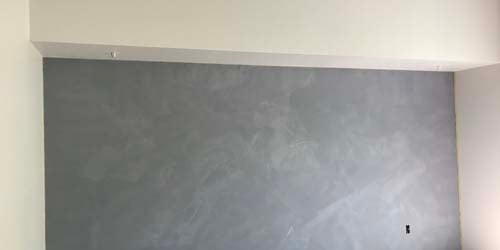 "Passion lives in the medium," Harmon claims, noting that the product allows for broad creativity.
Ron Jones, owner and builder of the VISION House Mariposa Meadows, chose the product for his off-grid, self-sufficient demonstration project in the Colorado Rocky Mountains. "Fresco Harmony is a beautiful product, he says. "I loved the simplicity of the application process as well as the luminance of the finish once it was on the walls. It also brought out the highlights in the hardwood flooring. It's one of those new products that comes along that promises wide appeal: It's cost-effective, environmentally friendly, and the colors are remarkable."
Watch passion at work in this video of the application of Fresco Harmony at Mariposa Meadows.
"We're not just introducing a new product to the drywall industry," Harmon explains. "We're creating a sales dynamic that is focused on an industry long overdue for change. Fresco Harmony is exploiting the skills, tools, and materials used by drywall professionals to breathe new life into a stagnant industry."
When it comes to addressing the construction workforce shortage, builders may be looking in the wrong places for finish workers. With this imaginative product, design schools and creative klaches might be better recruitment sources.
"Fresco Harmony popularity is happening on a national level," Harmon confirms. "The byproduct being beautiful walls, excited applicators and builders, and happy clients."
Oct 5, 2020 11:56:01 AM · 1 min read
---

Cati O'Keefe is the editorial director of Green Builder Media. She has 25 years of experience reporting and writing on all aspects of residential housing, building and energy codes, green building, and sustainability.