Seven Tips to Keep You, Your Pet, and Your Furniture Happy

Michele Lerner, Associate Editor
7 min read
Americans love their pets, and their pets love them, but pets and furniture don't always get along. Find out how to furnish your home to keep it pet-friendly and stylish.
We've all seen it: the amazing condo with the fab city skyline view, a sweet cat, and a shredded couch. Or a super-hip mid-century modern family room with one flaw—a series of deep claw marks marring the wood floor.
Dogs and cats are beloved members of millions of households, but they can create havoc when it comes to maintaining a freshly designed home. That's especially frustrating when you're buying and setting up your first home. Millennials own more pets than any other generation and they're dominating the entry-level and move-up home buyer market now, too, according to Realtor.com's 2021 housing forecast.
Seventy-six percent of millennials own a pet, according to YPulse, a youth research organization, and 49 percent of millennial pet parents say pampering their animals makes them happy. And, if you think of your Jimmy Chew or Little Bow Wow as your child, you're not alone: 42 percent of millennial pet owners think of their pets as their kids.
Just like parents, pet owners spend a lot of cash on their fur babies. Overall, Americans spent $103.6 billion on their pets in 2020 for furniture, food, toys, training and vet visits. More households own dogs (63.4 million households) than cats (42.7 million households), but both types of animals can be equally destructive to your furniture and floors.
How Much Harm Can Duke or Lucy Do?
While you probably assume your sweet pet won't do any real damage to your home, homeownership may harsh your reality—cats love to tear at fabric that's covering your sofa or hanging next to your windows. Pet hair can quickly coat your furniture and give it an unplanned-for furry look. Unclipped claws tend to scratch glossy wood floors and furniture legs. Some pets like to chew on the corners and legs of furniture, particularly wooden ones.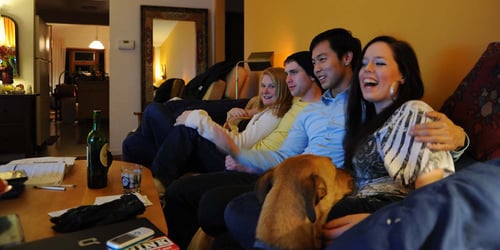 Your pet may feel like she deserves couch privileges, but be aware that you likely won't be able to keep odors out of the equation.
Probably the grossest (and most common) thing your cat or dog can do is leave a damp spot or stain of drool or urine on your couch, carpet or favorite chair. They also like to crawl into half-opened dresser drawers and claim their territory with a urine calling card.
Even cute behavior, like a dog or cat getting the "zooms" and racing around your home can cause damage, if it knocks over a little table or a lamp and drags it along the floor, creating scratch marks.
You're usually on your own to repair or replace the items your pet damages, but Safeware, a company that provides product protection and extended warranties, offers protection against damage to furniture. According to Safeware data from 2017, 17 percent of furniture claims to their company are a result of pet damage.
Seven Tips to Pet-Proof Your Furniture and Floors
You can save yourself and your pet from some heartache by considering pet-friendliness when you buy new furniture or flooring to set up your new home. Keep these choices in mind as you start shopping:
Chew-proof materials. If you have a young puppy you may have to deal with a chewing stage, says Alessandra Wood, vice president of style for online interior design service

Modsy

. "Rather than furniture with wooden legs, you may want to opt for furniture with metal framing," says Wood. "This will help curb your pup's desire to chew. I adopted my dog Coco when she was 4 or 5 so she was through the puppy stage, but she still needed to get acquainted with her new house and had a few accidents." If buying new furniture coincides with getting a new pup, opt for metal legs or a hard material that your new dog can't make into a chew toy, Wood says.
Go for the easy-care option. Durable, pet-resistant fabrics such as denim, canvas, leather, fake leather and synthetic fabrics are a better choice than silk or linen, according to

K9 of Mine

, a resource for dog owners. Leather and "pleather" can be wiped clean, but your pets may scratch this material or wear it out in different spots. You may want to go for a distressed look on a leather or pleather couch so your pet can just add to the style. Pick a sofa with fewer seams if you can, too, since the seams can be a magnet for fur and an enticing spot for chewing and drooling. Synthetic microfiber and microsuede are stain-resistant but be careful—soft suede can be extremely tempting for a kitten's claws.
Stay away from darkness. "Dark colors are not always your best choice," says Wood. "So often people choose dark upholstery fabrics and rugs when they have kids and pets, thinking that they will mask dirt and spills. But these fabrics can sometimes highlight stains and if you have a light colored pet, dark upholstery will showcase their fur." You may want to try to match your color scheme with your pet's fur so it's less noticeable. In other words, don't get a dramatic black couch if you have a Bichon Frise. Patterned fabrics can also disguise pet evidence. "My favorite thing in choosing colors is to choose patterned pieces, especially rugs," says Wood. "Multi-colored patterns are unparalleled when it comes to hiding stains. For upholstery, opt for high-performance fabrics that are easy to clean and forgiving of accidents."
Cover your stuff. When you start "adulting," and invest in decent furniture, you may want to consider purchasing washable slipcovers. No, we're not talking about plastic covers that stick to your legs or about big loose sheets that turn your great room into a ghost town. Custom slipcovers, such as

these by Lee Industries

, are stain-resistant and yet stylish. If your pooch has an accident, you can bundle the cover into the laundry and have a fresh and clean do-over in a couple of hours. "Drape stylish blankets on your furniture for a bit of protection from daily wear and to collect hair," says Wood. "This also allows you the option to easily lift off blankets and throw them in the wash revealing crisp, clean seating."
Pick the right floor. While wood floors are the prime choice for homeowners today, they're not scratch proof. On top of that, wood, bamboo and cork floors are susceptible to water damage, so you'll need to wipe up accidents quickly. If you choose wood, the Family Handyman recommends looking for harder types of wood, such as oak and maple or manufactured hardwood. Stone tiles and concrete are scratch and water resistant, but they may be a little cold underfoot. You could add a washable rug for warmth. Carpet is softer and won't scratch, but you'll need to be vigilant about cleaning up stains quickly and likely to need more frequent deep cleaning depending on your pet's behavior.
Groom your pet. To reduce the damage to your furniture, start with your pet. Frequent bathing and brushing can reduce the amount of dog or cat hair that clings to your furniture and floors. Depending on your pet's level of resistance, you can clip or file their nails—or take them to the vet for frequent mani-pedis to make it harder for them to scratch your floors and furniture.
Get your cleaning tools in gear. Start with a lint brush to gather up fur balls, then move onto the heavy-duty tools. "We have a vacuum upstairs and downstairs in my house, both rechargeable and handheld," says Wood. "This makes it easy to give each room a quick pass a couple of times a week to keep up with dog hair before it turns into dust bunnies. As silly as it sounds, not having to fumble with plugging in the vacuum cleaner and changing outlets when going from room to room means that we vacuum more often!"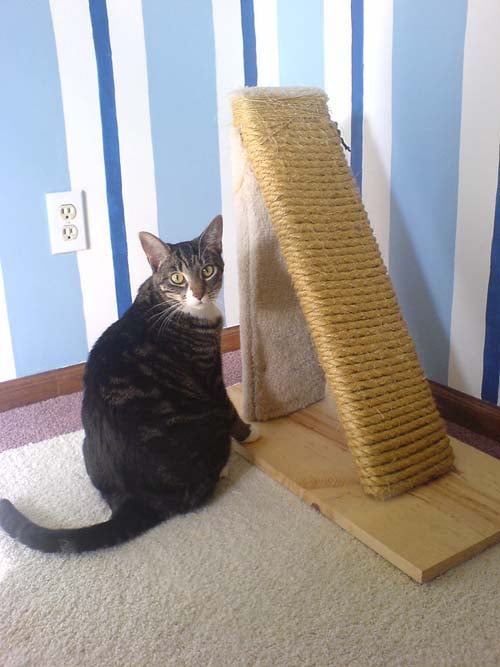 Give your cat a dedicated place to scratch and protect your valuable furniture.
With a little pre-purchase planning, you can love your pet and your pad, and live with a little less anxiety about keeping your place perfect.
FAQs
Q: How can I keep my cat from clawing at furniture?
A: Try a combination of three strategies. First, provide them with a dedicated scratching post. Rub it with catnip to make it even more appealing. Second, spray the furniture (wood areas only) with a citrus based or peppermint spray. Finally, block the area underneath the couch or chair. Cats like to lie on their backs and do their clawing from underneath the piece.
Q: Will anything remove the smell of dog or cat urine from furniture and floors?
A: Pet urine is extremely pervasive and hard to remove from soft surfaces. But even wood and concrete can soak up urine. The only really effective way to dampen animal urine is to apply enzyme-based products that do not allow bacteria to grow. Getting the enzyme all the way into the material is tricky, however, so you may be stuck replacing the item if you want a full solution. This is true even for wood floors. Often you have to replace not only the floor but the subfloor beneath it to expel the urine smell. This is why most landlords do not allow pets.
---
Publisher's Note: This content is made possible by our Today's Home Buyer Campaign Sponsors: Panasonic, Whirlpool, Rockwool, and Lee Industries. These companies take sustainability seriously, in both their products and their operations. Learn more about building and buying homes that are more affordable and less resource-intensive on Today's Home Buyer.
May 11, 2021 9:18:19 AM · 7 min read
---

Michele Lerner is an award-winning freelance writer, editor, and author who writes about real estate, personal finance, and business.