Seller's Market Pushes Buyers Toward Tiny House Living

Alan Naditz
1 min read
A new survey shows that low inventory and high housing prices push more buyers to consider a home with a micro footprint.
Tiny homes and small space are becoming the right size for first-time home buyers' pocketbooks. A survey by financial exchange services company IPX1031 reveals that 86 percent of buyers would consider a miniature dwelling—in this case, 400 square feet or smaller—for a first home, as would 56 percent of all home buyers. Seventy-two percent of home buyers say they would purchase a tiny home as an investment property.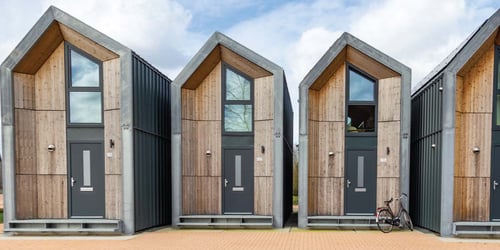 Almost 90 percent of new buyers say they would consider a home with a square footage of 400 or less. Credit: Hilda Weges/iStock
The survey of 2,000 Americans, not surprisingly, found that small home prices are what buyers find appealing. Seventy-nine percent of respondents can afford a tiny home's median price of $30,000 to $60,000, compared to 53 percent of persons who say they can afford the typical starter home's price of $233,400.
In addition to affordability, respondents cited efficiency, eco-friendliness, minimalist lifestyle, and the ability to downsize as appealing home ownership factors. The Northeast remains the hot bed for tiny home sales, with Vermont, New Hampshire and Maine as the nation's top three states in which to find such residences.
IPX1031's survey can be found at its Insight site.
Jul 1, 2021 2:13:00 PM · 1 min read
---

Alan Naditz is managing editor of Green Builder Magazine. He has covered numerous industries in his extensive career, including residential and commercial construction, small and corporate business, real estate and sustainability.