Seattle Breaks Ground on Net Zero High-Rise

Alan Naditz
1 min read
The 15-story building will include solar power, reclaimed rainwater, smart home devices—and affordable units.
Work has begun in Seattle on what is reportedly the world's largest net-zero energy high-rise apartment building. According to site developer Sustainable Living Innovations (SLI), the 15-story 303 Battery building will include:
Solar on the building's roof, exterior walls, and balconies.
Underfloor radiant heating in units.
Captured rainwater and reclaimed graywater.
Regenerative gear elevators.
Daylight sensors to reduce power use throughout the building.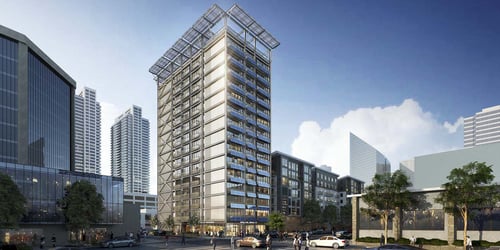 Seattle's high-rise apartment scene will soon be joined by a high-rise that is greener, grander, and more affordable than its multi-story counterparts. Credit: Courtesy of Sustainable Living Innovations
Apartments will also include smart home features such as app-controlled blinds, thermostats, lighting, and locks.
SLI CEO Arlan Collins says 303 Battery "marks a milestone" in addressing climate change. According to the U.S. Department of Energy, buildings account for 40 percent of U.S. greenhouse gas (GhG) emissions. 303 Battery produces none, Collins notes. The structure is expected to be completed in summer 2022.
It also helps address the city's rental housing crisis—27 of the building's 112 units are designated as affordable—and adds jobs to an area that was hit hard by the pandemic, according to Seattle Mayor Jenny Durkan. "[GhG] emissions from the building sector are the second-largest contributor to climate pollution," Durkan says. "As a city, we must do all we can to invest in innovative solutions that reduce our dependence on fossil fuels."
Sep 3, 2021 2:13:56 PM · 1 min read
---

Alan Naditz is managing editor of Green Builder Magazine. He has covered numerous industries in his extensive career, including residential and commercial construction, small and corporate business, real estate and sustainability.