Resilience Focus: Decarbonization
As rental inventory ramps up, environmental friendliness can dictate the place a renter chooses to call home.
As housing prices continue to climb, many prospective buyers are renting apartments until they can eventually own their own homes. This has created a major inventory shortage—NPR reports that things are so bad that there are even open houses and bidding wars for rental housing—and apartment rents are skyrocketing.
But there's a flip side. While landlords can seemingly set any rental terms they want—rent prices nationwide increased 11.5 percent from August 2020 to August 2021, according to Realtor.com—there's growing competition to make sure their properties are the ones prospective customers visit first. "These days," notes the National Association of Realtors, "people don't come back for a second look, and they don't look at a second place. If it even sounds like something close to what they want, people are taking it, sight unseen."
Maximize Sustainability in Multifamily Homes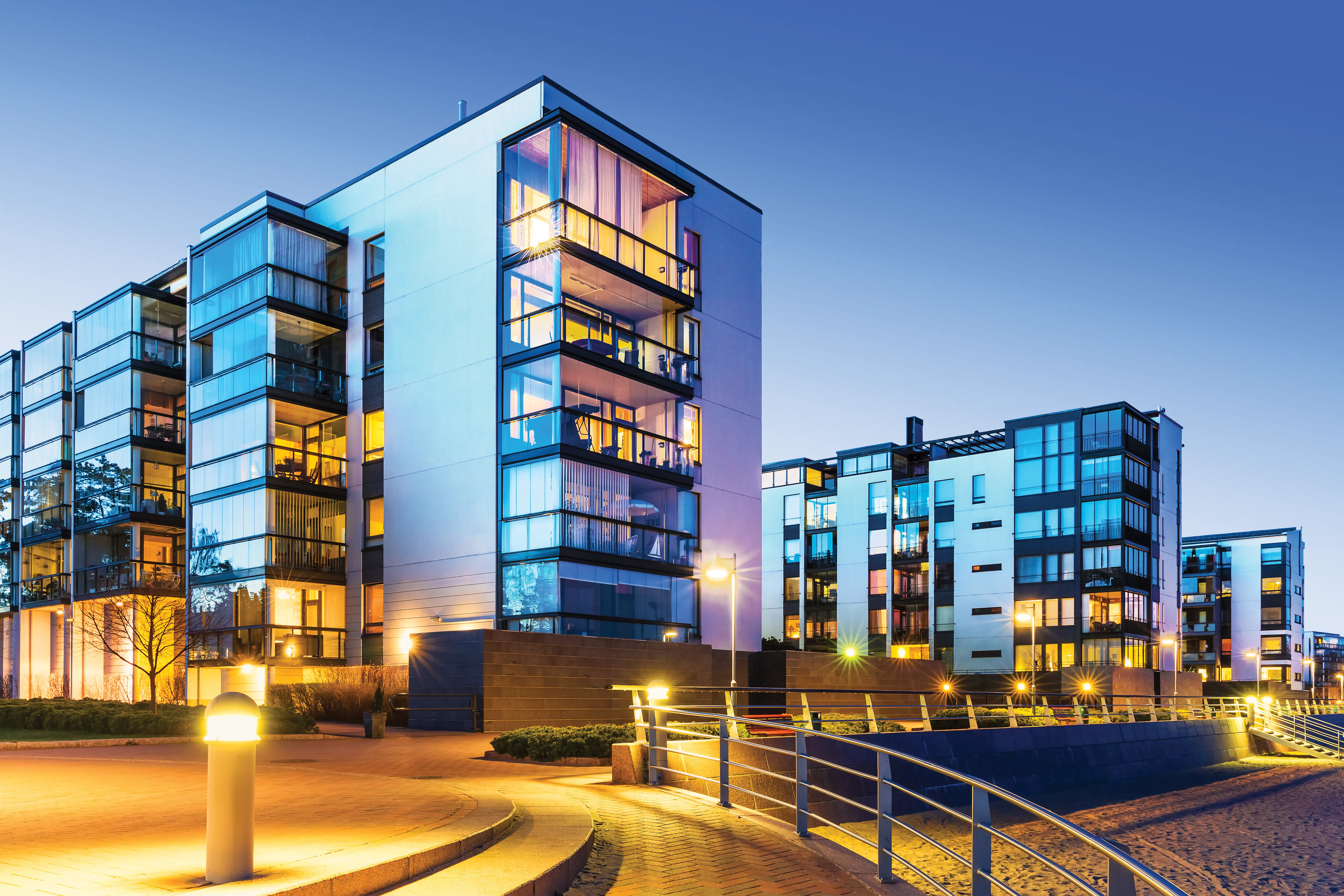 From new construction to renovations, leverage the sustainability of Uponor PEX plumbing, fire safety, and radiant floor heating systems for all your multifamily projects. Learn more at uponor.com.

A key way to stand out, according to commercial energy management service product provider Verdant—now a part of Emerson—is to emphasize the apartment's sustainable amenities. "More and more consumers are turning to sustainable alternatives to the products and services they consume on a daily basis," Verdant notes. "Unsurprisingly, this has sparked demand for more sustainable housing experiences. After all, housing is something that nearly everyone consumes 24 hours a day, 7 days a week, 52 weeks a year."
Here are several vital sustainability elements that should be stressed when trying to draw renters to a specific rental unit, and also make things more profitable for property owners.
Smart Thermostats
Unlike single-family residences, where consumer-grade smart thermostats are the norm, multifamily dwellings are best served with commercial-grade devices that can handle multiple units. In addition to monitoring the typical elements inside the home, commercial models integrate with occupancy sensors that monitor and automatically adjust to changes in occupancy inside the units and in common areas.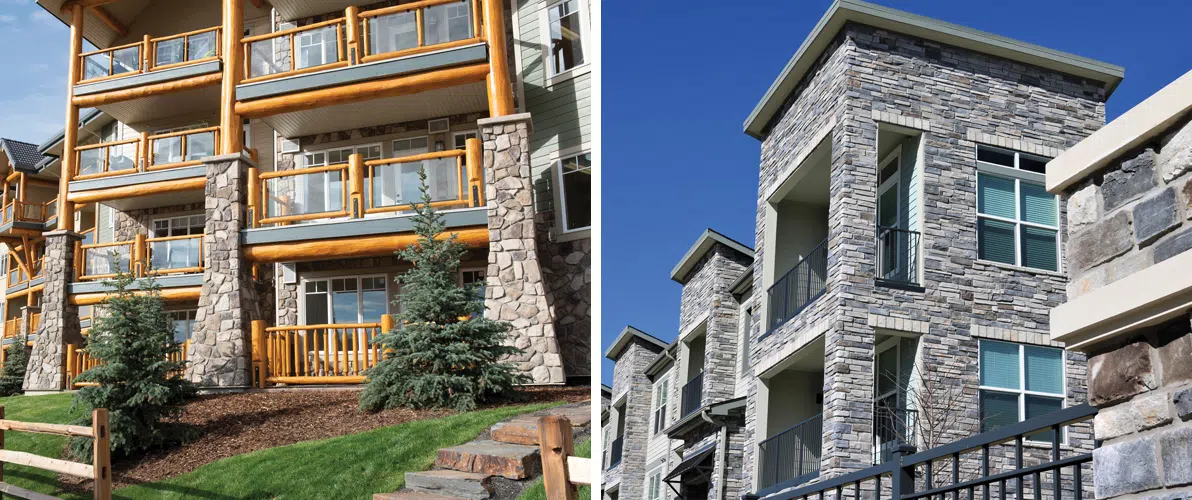 Cultured Stone's lines of stone veneer products offer a long-lasting, environmentally friendly way to dress up an existing building or home. Source: Courtesy Cultured Stone
Smart Lighting Systems
Keeping an apartment building running is expensive due to high energy consumption and costs. Smart energy technology can help landlords monitor and manage power use by adjusting to changes in tenant occupancy patterns and time of day. Some lighting systems can also be linked to smart energy management models for a single-interface overview of lighting and HVAC energy use. Smart lighting also generates about
10 percent of the carbon emissions of standard incandescent and less than half of compact fluorescent bulbs, reducing the building's carbon footprint.
Energy-Efficient Appliances and Fixtures
Landlords can't control a tenant's appliance use, so they can't directly influence their utility bills. But installing more energy-efficient appliances such as refrigerators, stoves and dishwashers, as well as water-saving fixtures, can help the tenant cut costs (and the landlord's, if some of these, such as washers and dryers, are available on the premises). And, more-efficient appliances are another source of a building's reduced carbon footprint.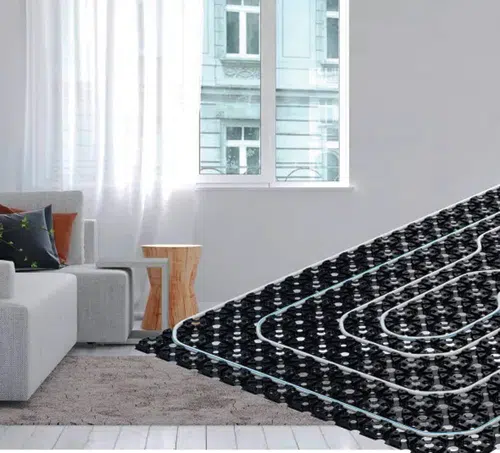 An under-the-floor heating system, such as Smatrix Pulse from Uponor, helps keep down the cost of managing a rental unit's indoor climate. Source: Courtesy Uponor
Water Line Maintenance Tools
With drought becoming an increasing threat nationwide, the last thing a property owner wants is leaking plumbing. Enter predictive maintenance technology, which can help detect wasteful water consumption patterns and correct the issues before costs rise further and equipment failure occurs.
Solar Energy-Driven Devices
Solar panels and power cells provide property owners with some control over how much they pay for their energy. Landlords can source their own energy and sell any surplus energy back into the grid. The technology doesn't work its best in all climate zones—particularly those that are less sunny—meaning it's not a perfect investment choice. But as solar technology improves, so does its potential toward elevating a building's sustainability status and as a selling point for renters.
Supplemental Sustainability
While multifamily residences greatly benefit from the latest (and most effective) environmentally friendly appliances, lighting and energy products, they're not everything necessary to make a dwelling as renter-friendly as possible. There are numerous other items that promote safety and sustainability, including:
ProPEX lead-free (LF) brass fire sprinkler accessories. From adapters to mounting brackets, these items effectively meet state lead-level legislation and conform to NSF Annex G for lead-free plumbing requirements. Uponor's proven, cold-expansion ProPEX fitting system is also known for strong, durable and reliable connections without the need for torches, glues, solvents or gauges.
Minitec underfloor heating system. A low-profile, ultra-thin (15 millimeters) underfloor heating solution, this easy-to-install wet screed-based system runs close to the surface. The product operates at a much cooler temperature and still provides outputs that are ideal for heat pumps. It's suitable for new builds and renovation projects, and can be set up in as little as three days.
Smatrix Pulse room temperature control system. Designed for use with Uponor's underfloor heating systems—as well as all the typical above-floor locations—this easy-to-use room temperature control system offers maximum room comfort and compatibility with various smart home devices, such as Amazon Alexa Voice Control.
Stone Veneer. Also known as faux stone, manufactured stone veneer is a manmade material designed to replicate the look of natural stone in a variety of architectural applications ranging from exterior façades to unique statement walls. It's a highly attractive choice when remodeling buildings. It also has a high sustainability quotient: Cultured Stone's product is at least 58 percent pre-consumer recycled content. Meanwhile, architects and builders can earn Leadership in Energy and Environmental Design (LEED) credits for indoor air quality and recycled content
Textured Water Table Sills. An exterior trim designed to keep water runoff away from the stone veneer beneath it, textured watertable sills add dimension and depth to any project. The Culture Stone lines also complement all veneer colors and are extremely eye catching—a fact that can be the deciding factor in a prospective renter's choice of apartments.
Thermal Conservation Aid. Stone veneer serves as an excellent conduit for thermal gain, allowing for some degree of energy-free heating in the winter. It can easily last through a generational life span (or two, or even three) without the need for repair or replacement.
Sponsored content brought to you by: