Resilience Focus: Dealing With Megadrought

Alan Naditz
4 min read
Here are five water-saving technologies every home should include.
Sponsored Content
Brace yourself: The U.S. could be on its way to a record hot summer this year, breaking the high temperature set in 2021 – which itself had surpassed the previous hottest year, the 1936 Dust Bowl summer. The National Oceanic and Atmospheric Administration (NOAA) also expects another year of record heat waves in the Western U.S. – a region that has already endured massive wildfires and megadrought for most of the past decade.
This makes water-saving technologies a crucial part of survival as states continue to dry up, according to NOAA. Here are a handful of product categories that can help homeowners and builders cope with drought while meeting water use regulations.
A Thumbs-Up for PEX Piping
Many of the ways homeowners can conserve water would fail if not for another crucial item: the pipeline. How water goes down the drain or onto the landscape depends on how efficiently the plumbing can move things along.
Cross-linked polyethylene (PEX) piping, manufactured by Uponor, doesn't experience the corrosion and mineral buildup commonly found with traditional copper pipe. This can lead to benefits such as faster emergence of hot water – which, for example, results in shorter showers–saving time, energy and water.
PEX piping also tends to have fewer connections, which reduces the chance of water-wasting leaks. Plumbing layout can also be more direct with PEX versus copper pipe, making for a shorter overall trip for water through the home. The PEX layout results in greater energy efficiency and less water wasted down the drain.
---
Sustainable Innovations that Enhance Lives
We're rethinking water for future generations by improving our operational carbon footprint and focusing on plumbing solutions that conserve water, fire safety systems that protect lives, and radiant floor heating systems that provide energy-efficient comfort to create healthier, safer, more sustainable living environments.
Learn more at uponor.com/sustainability.

1 Ultra-Low Flow Faucets and Fixtures
Faucets, showerheads and toilets are the most-prevalent and most water-wasteful items in a house. The U.S. Environmental Protection Agency (EPA) estimates that upgrading to WaterSense-labeled products could save a household about $170 per year in water costs and reduce overall water usage by up to 50 percent.
Switching from a standard flow (around 2.2 gallons per minute [GPM]) to low-flow (less than 1.5 GPM) faucets can cut a home's water usage by 30 percent or more, which adds up to thousands of gallons saved each year. GROHE, with its EcoJoy line, and Pfister, with the Minta Dual Spray Kitchen Faucet, are examples.
Similarly, a low-flow showerhead can reduce the GPM rate from 2.5 to under 1.5, saving about 2,700 gallons of water per year in a four-person household. Delta and its Fundamentals Single-Setting Showerhead, and Flow Loop's Eco Loop recirculating shower, cover this element.
The biggest water thief – largely due to its degree of use within the home – is the toilet, which since 1994 has evolved from requiring 20 gallons of water per person per day, to 25 gallons total per household now. Many toilets are exceptionally water tight: Models like Niagara's Shadow and its miserly 0.8 gallons per flush (GPF) and American Standard's Baby Devoro FloWise at 1.28 GPF are among those that have led to guilt-free flushing.
2 Leak Detection
Next to inefficient fixtures, leaks are the bane of existence for water conservation. Luckily, there are smart home devices aimed at solving such a problem. Products such as the Flo by Moen Smart Water Detector and the Phyn Plus smart water assistant specialize in alerting homeowners as soon as a leak is detected within the home. Such units can also shut off water to the damaged region or device, preventing massive, expensive damage to floors, walls and other parts of the house, and keeping the water bill from skyrocketing.
3 Smart Irrigation
For those homeowners who still have yards to water, intelligent sprinkler systems are the way to go if they want to keep things green while using the least amount of water. According to the International Center for Water Technology at California State University-Fresno, outdoor water use averages more than 9 billion gallons of water every day, mostly for landscape irrigation. Up to 50 percent of the water is wasted due to overwatering caused by traditional, inefficient irrigation methods and systems. Those antiquated models can be replaced with evapotranspiration (ET) controllers, which use local weather data to make irrigation runtime adjustments, or soil moisture content sensors to accurately determine the moisture level in the soil, then transmit the reading to the controller. Smart sprinkler controllers like Rachio 3 and Rainbird's SMRT-Y Soil Moisture Sensor Kit, combined with native xeriscaping – the use of plants whose natural requirements are appropriate to the local climate – can really get the job done.
4 Greywater Recycling System
Greywater – the water that goes down the drain from a laundry machine, bathroom sink, shower, tub, and dishwasher (but not a toilet) – accounts for up to 65 percent of the H2O used in a home. Reusing it to irrigate plants, wash cars, flush toilets, or even do laundry, can significantly impact total water consumption, cut the water bill, and more positively impact the environment. Greyter Water Systems' Greyter Home residential water recycling system and Saniflo's Saniswift Pro can make second-hand water a cool thing inside or outside of the house.
5 Rainwater Harvesting
A rainwater harvesting system–such as those from Rainwater Management Solutions and ROTH North America–provides distributed stormwater runoff containment while simultaneously storing water that can be used for irrigation, watering indoor plants, flushing toilets, washing clothes, washing cars, and pressure washing. It can also be purified for drinking. The system also reduces demand on existing water supply by up to 50 percent during the wet season, according to marketing firm Precision Reports, and reduces run-off, erosion, and contamination of surface water.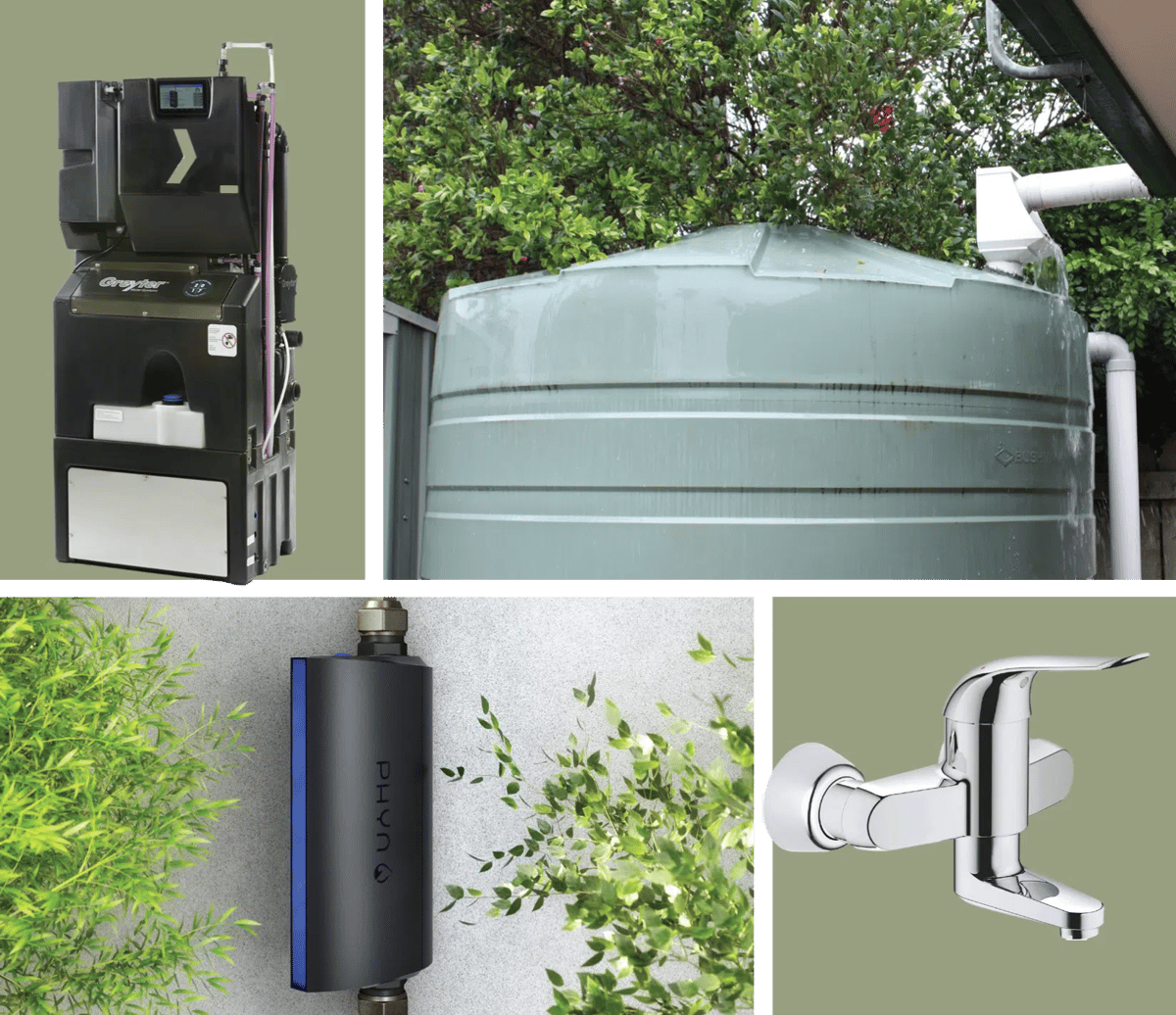 Clockwise from Top Left
Greyter Water Systems' Greyter Home residential water recycling system puts used household greywater back to work for flushing toilets, the No. 1 water user in the typical U.S. home. Source: Courtesy Saniflo USA
A rainwater collection system can reduce demand on an existing water service infrastructure by up to 50 percent and keep an ample supply on hand for later use.Source: Jan Smith/Flickr
GROHE EcoJoy single-lever faucets feature a flow-limiting mousseur with aerator, which reduces water consumption while offering a voluminous flow that never exceeds 5.8 liters per minute. Source: Courtesy GROHE
The Phyn Plus (2nd Generation) smart leak detector is 25 percent smaller, with a more-compact power supply and redesigned enclosure to reduce size and volume for installation in tight spaces. Source: Courtesy Phyn
Aug 29, 2022 10:56:40 AM · 4 min read
---

Alan Naditz is managing editor of Green Builder Magazine. He has covered numerous industries in his extensive career, including residential and commercial construction, small and corporate business, real estate and sustainability.