Remote Monitoring of Your Home Offers Security and Savings

Michele Lerner, Associate Editor
5 min read
Whether you're away for work or pleasure, smart monitors linked to your phone can provide more control over systems and safety.
Sponsored Content
That checklist that goes through your mind during the last-minute dash to the airport, train station or your car that starts your hectic business trip or relaxing vacation often includes locking the door, setting an alarm, and making sure you packed your pjs. But as you go on to the next leg of your trip, do you sometimes wonder if you've done all you can to make sure your home and your stuff is intact when you get back?
Did you close the garage door? Program your thermostat? Turn off the lights? Leave a faucet dripping after you brushed your teeth?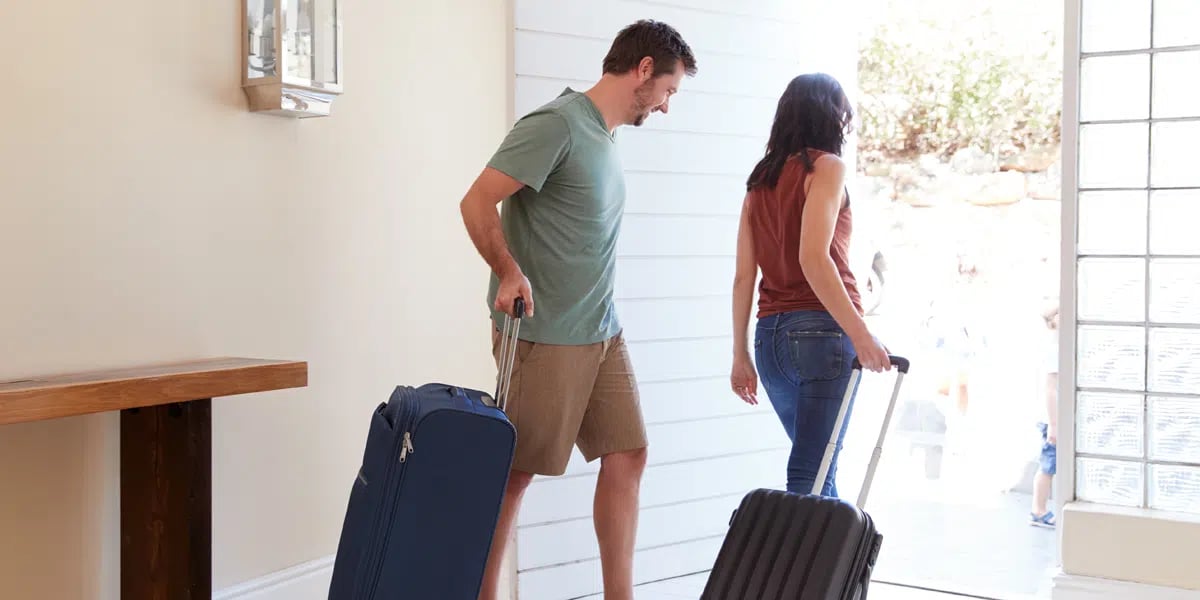 With the help of a smartphone and a monitoring device, you can check on your home remotely and often take action to fix a situation, so you don't have to head home early. Monitors can keep your home safe and avoid a disaster while you're out of town. In addition, these monitors can make sure you're not wasting water, gas or electricity to heat or cool an empty home.
Emergency Home Alerts
Among the most common fears of travelers is that they rushed out so quickly they left a back door or a garage door open. If you have a smart garage door opener or camera that works with the myQ® app, you can check on your property remotely.
"While a lot of homeowners are used to being able to check on their home with a monitoring device or a security camera, they can't always do anything about a situation without texting a neighbor or a friend to come fix it," says Melissa Foley, principal of strategic relationships for Chamberlain Group, a company that provides access control solutions with its myQ smart technology and LiftMaster and Chamberlain garage door opener brands. "With the myQ® technology you can actually do something about it. If you see that your garage door is open, you can close it from your smartphone."
Some smart cameras and remote monitoring devices allow you to see live-streamed video, and even have a two-way communication with someone at your house.
Besides worrying that you left a door open, you may wonder if you shut off your coffeemaker after you slugged down some caffeine before leaving the house. You can use a sophisticated energy monitor to track what's happening in your house and pinpoint the cause.
"If you've just left for the airport and wonder if you turned off the oven, the Sense monitor will show you how much energy your home is using in real time so you know what's on," says James O'Neill, director of consumer growth and marketing at Sense, a home energy monitoring firm. "You'll see if it's not what you expect or if there's a spike that indicates a problem or unknown activity. With Sense's machine-learning artificial intelligence, when a device is recognized in the home, you can track its activity."
While tracking energy offers cost-savings and sustainability benefits, it also provides a safety mechanism when you're traveling.
"One of our customers who owns an Airbnb noticed in the Sense app that the hot tub was turned on when the unit was officially vacant," says O'Neill. "He discovered that the cleaning staff was using the hot tub at his expense."
Remote monitoring can also enhance your home's resiliency by preventing dangerous and expensive damage from smoke, fire, and water.
"When you're on vacation, you don't want to worry about your basement flooding or whether you turned off an appliance that could start a fire," says O'Neill.
For example, you can set an alert on your sump pump with the Sense app that can tell you if the sump pump is turned on while you're away. Other home products such as Phyn and Flume can alert you to water leaks while you're away or at home, to help you conserve water, save money and prevent water damage to your home.
"In addition to peace of mind, knowing your home is safe and operating as it should, you can save the expense of remediating water or fire damage with the help of home sensors," says O'Neill.
Although Sense doesn't control devices on its own, O'Neill says it integrates with smart plugs that allow you to track and control devices. For example, if you have an appliance plugged into a smart plug and notice it's been left on while you're away, you could turn it off remotely.
"The myQ app can be connected with a variety of other platforms including some smart home security systems," says Foley. "Not only can you open and close your garage door, but you can also check on other sensors in the home."
Sharing Home Access with Trusted Neighbors
If you have the myQ® app, and discover something has been left on in your home or see an alert, you use the app to provide access to a friend, family member or neighbor to your property.
""Should something come up while you are away and need to let someone into your home, you can easily let someone into your home with the myQ app," says Foley.
Sharing access through the app isn't just for emergencies, either.
"You can let your dog walker in or give access to someone who's watering your plants and checking on your house while you're away," says Foley. "With myQ you don't have to share keys or codes and you can keep track of who is coming and going."
If you have a built-in camera, you can also see people go in and out of your home, says Foley.
Coming Home to Convenience
Whether you're coming home from a leisurely vacation or a stressful business trip, the last thing you want to do is to head straight to the store to restock your house. Systems such as the myQ app can be linked to Amazon Key for in-garage deliveries of groceries and other packages.
You can schedule deliveries to arrive the day you come home or have nonperishable packages safely out of sight of porch pirates while you're gone. If you have a camera installed, you can watch the delivery through the app.
Home monitoring apps can provide you with peace of mind about the safety of your home and your belongings while you're away. A bonus is that you're less likely to waste energy and resources with the help of energy and water sensors.
---
Publisher's Note: This content is made possible by our Today's Home Buyer Campaign Sponsors: Whirlpool, Vivint, myQ, Sonos and Jinko Solar . These companies take sustainability seriously, in both their products and their operations. Learn more about building and buying homes that are more affordable and less resource intensive.
May 25, 2022 8:44:10 AM · 5 min read
---

Michele Lerner is an award-winning freelance writer, editor, and author who writes about real estate, personal finance, and business.