Rachio Smart Irrigation Conserves More Than Water
Sponsored Content
It's no overstatement to say that smart irrigation like this should be on the essentials list for any home, and our Scottsdale remodel project is no exception.
There are many reasons to wish for "smarter" irrigation in homes. There's the fact that up to 30 percent of all water you pay for goes to irrigation, and much of that may be wasted. There's the unpredictability of weather. Extreme heat can kill a dry lawn or garden quickly. Overwatering in wet weather can have a similar outcome.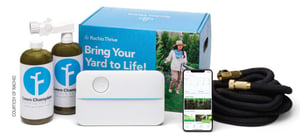 Rachio's Thrive system brings smart irrigation together with timers, weather sensors and natural plant nutrients, to water and fuel your landscape efficiently and remotely.
Rachio quite literally started the smart irrigation trend that's now reaching the mainstream. Founded in Denver in 2013, the company invented the first-ever smart sprinkler controller and remote watering app. Now on its third-generation technology, Rachio has already saved homeowners billions of gallons of water. Their suite of yard care products work many angles (see below) to achieve full, remote control over lawns, ornamentals and edible crops.
Steve Easley, building science consultant and owner of the ReVISION House Scottsdale project, chose Rachio for his outdoor irrigation for one primary reason: "There's just no room for error in this part of the country," he explains. "Arizona is always hot, but the last year we hit new records. Even with native landscaping, if you want to keep anything alive in the ground, you need a smart system."
Synergistic Products
Smart Sprinkler Controllers. Able to control up to sixteen different watering zones per controller, Rachio smart sprinkler controllers can be customized to each home's layout and needs.
Rachio App. The full-featured smartphone-ready App gives homeowners full control over watering, no matter where they are on the planet. Weather-responsive data- and plant-specific information work together to "manage" perfect soil moisture for the climate and crops.
Thrive. Rachio has developed a natural lawn care program called Thrive, which brings smart controllers, the App and a unique nutrient system under one umbrella. This combination gives homeowners an instant "green thumb," and compensates for lack of care, frequent traveling and benign negligence.
Green Builder Media and Rachio
Rachio has worked closely with our Green Builder team for years, and we've been proud to feature their game-changing irrigation technology in several of our past VISION House projects, including the super-popular Flex House. They're also a perfect fit for ReVISION House Scottsdale, where the Rachio system will enable Steve Easley and his partner, Susan Raterman, to pursue their busy professional lives, yet still maintain a pleasant and natural landscape of native plants around their newly remodeled home.