Progress at VISION House Mariposa Meadows

Samantha Carlin
6 min read
Get ready–the VISION House at Mariposa Meadows, a stunning compound located high in the mountains in Southern Colorado, is nearly complete.
Blissful summer has arrived at Mariposa Meadows, a high-alpine paradise at 10,000 feet in the San Juan Mountains of Colorado near Telluride. The wildflowers are in full bloom, and the gate that barred traffic from the forest road during the extreme winter season is now open.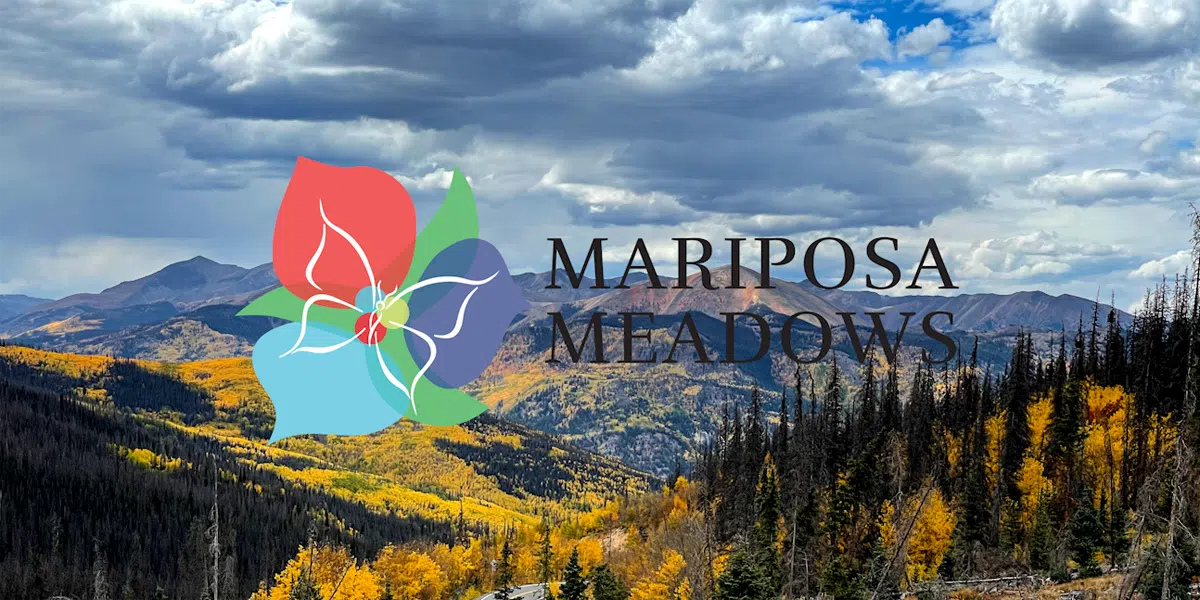 Located in the remote Gunnison National Forest, this off-grid, net-zero compound will demonstrate the art of the possible with respect to small-footprint, cost-effective, resilient, healthy, high-performance building.
According to Ron Jones, President of Green Builder Media and owner and builder of VISION House at Mariposa Meadows, it all started with the land. Mariposa Meadows is defined by a high alpine meadow surrounded by aspen and spruce forests.
"Since the property is so majestically wild and pristine, we have been extremely careful to leave as much as possible untouched," Jones asserts. "There is nothing that we could do to improve upon Mother Nature's work." Each building in the compound is deliberately designed to leave as light of a footprint on the ecosystem as possible.
"To execute a successful project," Jones continues, "one capable of matching the sometimes extreme conditions there, our design approach and product selections are of paramount importance."
Jones and his team selected products that were market available and could showcase the long-term economic value of sustainable design and building.
"Some of the high-performance materials we selected had a higher upfront cost than conventional products, but if we're just using the lowest upfront cost as our valuation metric, we're missing the point," Jones says. "Everything we're featuring at Mariposa Meadows has been intentionally chosen to optimize the energy efficiency, water conservation, indoor air quality, intelligence, and resiliency of the compound, which will not only enhance the performance and comfort of the structures, but also yield substantial cost savings over time."
"Part of our goal at Mariposa is to bust the outdated myth that green buildings are unattainable for average American families and only for the wealthy," Jones says. "That may have been a valid argument years ago, but it's just not true anymore."
Jones insists that if he can build ultra-green homes in the most remote county in the lower 48 at 10,400 feet elevation, they can be built in any urban, suburban, or rural setting.
Building Foundation Construction
The project's three structures—Aspen Cabin, Atrium Duet, and Iris Studio—feature foundations constructed from insulated concrete forms (ICFs) and walls and roofs made from structural insulated panels (SIPs) placed on a carefully prepared site. These durable building envelope systems offer extreme energy efficiency and durability.
Jones opted for James Hardie fiber cement siding and trim. The vertical board-and-batten product is fire resistant and durable, while its solid color qualities and dimensional stability eliminates cracking or peeling. James Hardie offers the siding prefinished with ColorPlus technology, giving Jones 25 colors to choose from and the promise of low maintenance even with the project's high elevation, severe weather and intense ultraviolet rays.
For the roof, a standing seam metal roof from Fabral held the highest benefits for the project. It was chosen for its wildfire risk mitigation, resiliency, and durability properties. Jones designed the project so that there would be no penetrations in the roof, thereby optimizing energy efficiency.
The masonry veneer wainscoting by Creative Mines uses natural pumice pozzolan in its 70 percent post-industrial recycled content, replacing smokestack-produced fly ash.
Off-Grid Energy Efficiency
Since Mariposa Meadows' closest grid infrastructure is nearly 20 miles away, self-sufficiency is necessary. Therefore, the electrical needs of the structures will be provided by an impressive array of JinkoSolar bifacial solar photovoltaic panels, along with a Blue Planet Energy battery storage system with Schneider Electric inverters.
Jones says he sought out Euroline Windows' products because they allow for large expanses of glass without sacrificing overall energy performance, and the tilt-and-turn hardware allows for controlled ventilation. "We have triple glazed R-10 efficiency, and the stability of inside temps is amazing. Also, they cut out almost all noise from outside," boasts Jones.
Similarly, Jones specifically chose a Clopay garage door for added energy efficiency and resiliency from the weather. The door is insulated with Intellicore insulation technology and operates to keep the heat inside. The durable garage door ensures protection against 100 mph winds.
For energy demand minimization, all appliances are from Whirlpool, a leader in energy and resource efficient appliances and corporate environmental, social and governance (ESG). From the ranges and dishwashers to refrigerators, Jones has confidence that the products will perform without overloading the solar array and battery system.
Regarding the heat source, Uponor's in-floor radiant heating system efficiently warms the buildings when the outside temperature can plunge below negative 20 degrees Fahrenheit. The serpentine tubing runs under the foundation circulating hot water throughout the thermal mass, preserving heat and energy.
Uponor is also providing the AquaSAFE fire suppression system. The combined plumbing and fire sprinkler system is heat-activated to provide extra time when a smoke detector isn't enough to wake up inhabitants at night.
Indoor Air Quality is top of mind due both to COVID and the rampant wildfires in the West. The VISION House at Mariposa Meadows will utilize Panasonic's WhisperGreen ventilation fans and Energy Recovery Ventilators (ERVs) to ensure energy-efficient spot ventilation as well as whole-building fresh air exchange.
Natural Home Details
The unique finishes and bold grain of Aronson Woodworks furniture will add to the natural aesthetic of VISION House at Mariposa Meadows. The company upcycles millions of Ash Trees cut down due to the infection of the Emerald Ash Borer. The hand-finished pieces with contrasting paints and centuries-old wood joinery techniques are sealed and preserved by the low-VOC Claize. This finishing technique helps Aronson Woodworks' furniture stand up to the test of time.
Similarly, Deadwood Revival's mission is to salvage urban lumber and create exquisite furniture. From beds and nightstands to dining room tables, each piece was handcrafted using lumber destined for the landfill. These masterpieces celebrate each tree's unique character while storing carbon and giving a second life to quality lumber.
Lee Industries will round out the furniture at the homes, providing non-toxic pieces meant to last. The company uses water-based finishes and a barrier fabric for smolder-promoting properties instead of harsh chemicals, which both help to increase IAQ. They are also dedicated to reducing carbon emissions and supporting local economies.
The beautiful windowsills and wide panel wood floors are from Delta Millworks. The colors at VISION House at Mariposa Meadows range from light brown to blue. The company is committed to a sustainable supply chain, waste reduction and the use of reclaimed wood.
Interior Finishing Touches
Fresco Harmony's gypsum-based wall finishes elevate the design and create a fresh atmosphere. The product infuses color into drywall clay, minimizing the emissions in the transportation process. This solution is a cost-effective way to achieve custom walls. At VISION House at Mariposa Meadows, the light blue accent walls open up the space and create depth and movement.
The VISION House at Mariposa Meadows boasts an incredible 1,400-square-foot deck by Trex, which includes a stunning pergola and artistic railing. The deck extends the living space into the outdoors, creating a deeper connection to nature. The expansive deck is a composite material, a mixture of wood and plastic, to create an impenetrably durable surface to be enjoyed for generations to come.
The TruStile doors bring a unique touch to the homes with accents like leather, glass and copper inserts. The company is dedicated to including high recycled content with its products, and also sources FSC-certified lumber and specifies low-VOC glues for assembly for a healthy indoor environment.
The newest upgrade to the project has been the long-awaited Caesarstone countertops. Caesarstone's raw quartz countertops are molded with resin and pigments to create a uniquely natural design. These nonporous, stain-resistant, heat-resistant, scratch-resistant and easy-to-clean countertops are ideal for this multi-use retreat.
Crossville Tile has been used for bathroom flooring at VISION House Mariposa Meadows. These beautiful porcelain tile floors have a subtle texture and are impervious to moisture and resistant to tread wear and slip. Crossville Tile also has a porcelain tile recycling program and includes recycled content in their products and is, therefore, a net consumer of waste.
After the countertops were installed, Kohler's plumbing fixtures finished out the kitchens, bath, and laundry to perfection. The satin nickel faucets, showerheads and accessories used throughout the structures are sleek and elegant, and the large single-basin apron sinks are both functional and beautiful.
The toilets include a dual flush system to reduce unnecessary water use. Shower wall set and sliding doors, shower heads with arm and flange and grab bars make the bathrooms at Mariposa Meadows accessible and safe. The vanities, utility sinks and convenient accessories round out the stylish Kohler offering.
Check out the VISION House Mariposa Meadows website and watch for updates as Ron Jones and his crew complete this magnificent, off-grid project over the next few months.
Aug 2, 2022 10:36:32 AM · 6 min read
---

Samantha is able to express her passion for the environment -- both natural and built -- as the special projects manager at Green Builder Media. Prior to joining the Green Builder Media team, she worked as an order management specialist at C.A. Fortune, a consumer brands agency. She is a recent graduate of the Master in Environmental Management program at Western Colorado University with an emphasis on sustainable and resilient communities. Originally from the suburbs of Chicago, she is currently thriving in Gunnison, CO where she enjoys the surrounding geology, mountain biking, and skiing.