Pitch Your Housing-Related Innovation!

Cati O'Keefe
1 min read
Apply for your chance to pitch your innovative solution at Pitchfest, held at this year's Housing Innovation Summit.
The Housing Innovation Summit, co-hosted by the Housing Innovation Alliance and the University of Denver, has always been a forum for startups and industry to connect, share ideas, and explore business opportunities. Up-and-comers have secured strategic advisors and advocates, demonstration partners, and multimillion-dollar investors–and have even been acquired after meeting through the Alliance.
These organizations are now proud to announce Pitchfest, a competition that explores innovation across three categories: Design + Build, ESG, or Tech +Data.
Do you have an idea to drive advancements in these areas? Apply for a chance to pitch your solution live at the Housing Innovation Summit on Wednesday, April 26, in Denver. Compete for cash prizes and recognition. Startups and students are eligible.
Learn more and apply by March 7, 2023.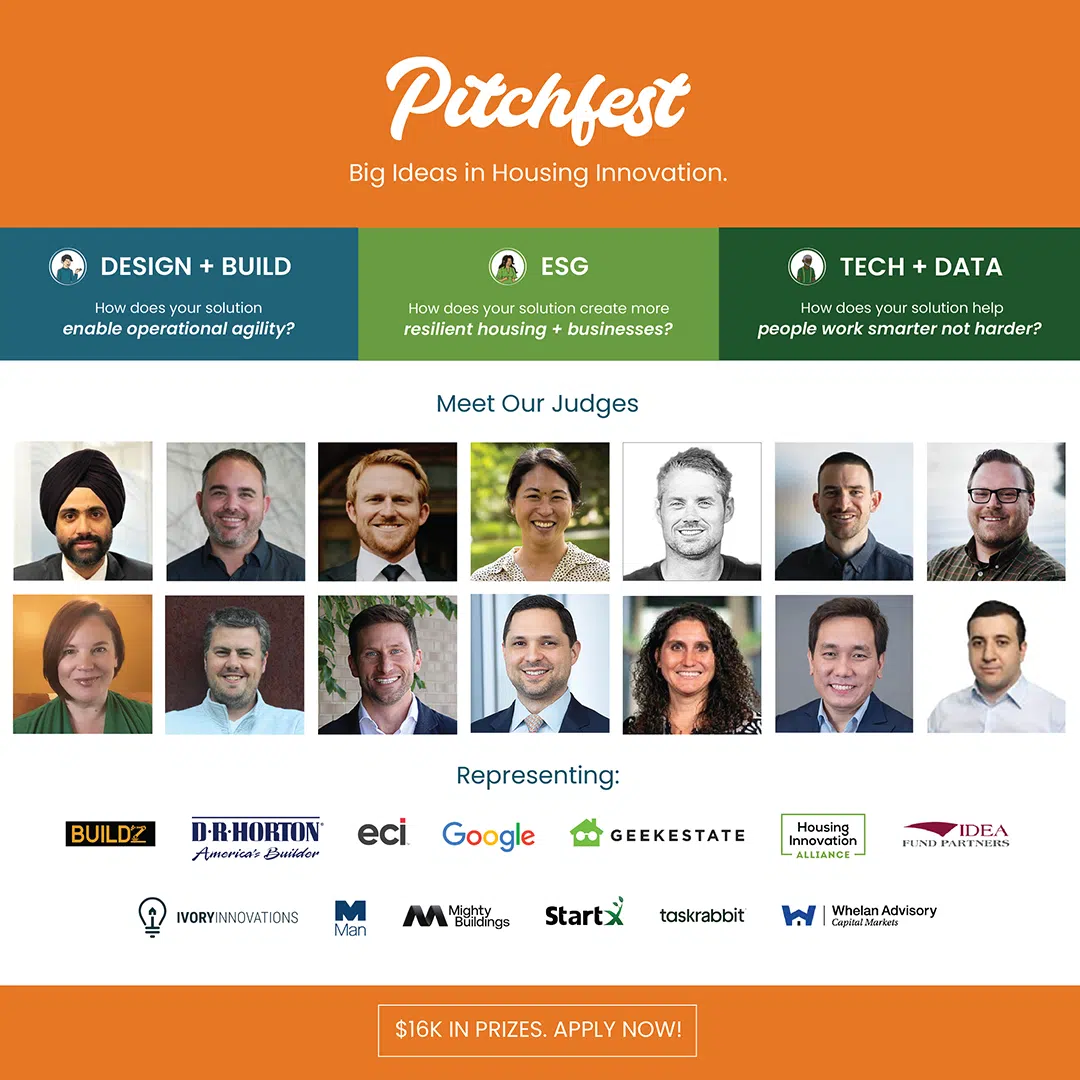 Other Ways to Participate
Get inspired to innovate. Learn about solutions designed to solve your (or your client's) business pains. Meet the creators and cast your vote live for "People's Choice" in each category. Pitchfest is one of two programs you can choose for day two of the Summit and is included in registration.
Those who attend Innovation in Action Tours can catch up as we announce the winners Wednesday afternoon and gather everyone for cocktails and connections at our evening mixer. Registrants will receive a follow-up survey to pick their program prior to the event.
Think like an investor. More than a dozen investors + industry experts will evaluate this year's applications, including leaders from BUILDZ, DR Horton, ECI Solutions, GeekEstate, Idea Fund Partners, Ivory Innovations, Man Group, Mighty Buildings, Task Rabbit, and Whelan Advisory Group.
They'll screen each idea in terms of its uniqueness, its potential to impact the industry, scalability + feasibility, and their impressions of the team behind it. 15 or so of the best solutions will be showcased and winners will be selected live at the event.
For more information, contact Betsy Scott at betsy@housinginnovation.org.
Feb 10, 2023 9:54:30 AM · 1 min read
---

Cati O'Keefe is the editorial director of Green Builder Media. She has 25 years of experience reporting and writing on all aspects of residential housing, building and energy codes, green building, and sustainability.