Pick Home Exteriors With Moisture, Temperature In Mind

Matt Power, Editor-In-Chief
4 min read
When it comes to your home's exterior, durability, maintenance and fire resistance are just as important as aesthetics.
The material you use on the exterior of your home will impact both comfort and resilience. The right siding, for example, can make the house less exposed during a wildfire, or less likely to be damaged by hurricanes or extreme heat.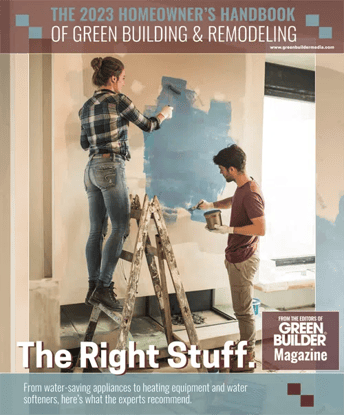 Exterior materials also can reduce (or increase) your monthly utility bills. Their durability, or lack thereof, can impact your home's resale value too. Your choice of exterior comes down to weighing three variables: durability, maintenance and cost.
Should you spend more for stone veneer or brick? What about fiber cement siding? How often will you have to repaint wood? How much ongoing expense are you comfortable with? Answer these questions and the right choice may be obvious.
Vinyl, for instance, may be the most affordable option, but it comes at an environmental and vulnerability cost. That's why we recommend other alternatives, if you're serious about living green.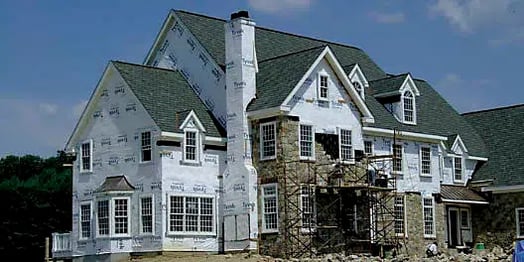 DuPont Tyvek Homewrap is a breathable material that allows moisture to pass through, promoting drying and preventing mold and water damage. It also can reduce home energy bills by controlling airflow and water intrusion which helps insulation work better and allows the HVAC system to work more efficiently.
Brick: An Exterior Durability Leader
Made of clay and shale, brick is very durable. It is a solid barrier against weather, and the installation of brick creates a 1" air space between the brick and the interior housewrap. This provides insulation against temperature transfer and the transfer of sound, and it also prevents moisture from seeping into the home.
Because of its thickness, brick provides thermal mass, making it slow to heat in the summer and slow to cool in the winter, which helps regulate a home's temperature.
Manufacturers such as Boral Bricks are making brick manufacturing less environmentally caustic. The company recycles waste and uses air scrubbers to make sure emissions from plants are clean and particulate-free. Manufacturer CalStar utilizes fly ash as a binder, which eliminates the need for energy-intensive kiln firing.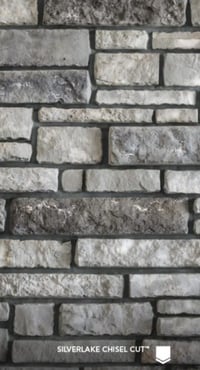 Why Pay More for Stone?
Because maintenance pollutes. Veneer stone offers a nearly maintenance free alternative to other siding materials.
It does not require costly repainting, nor will it melt in extreme heat like some vinyl products. Sure, it costs more, but do the math. Painting wood siding costs money and labor and is high in embodied energy.
More info: www.provia.com/stone
Wood: Renewable, Yes, But With Caveats
Wood siding is a renewable product that can be recycled, and, if it goes into the waste stream, biodegrades quickly. If you use wood siding, look for certification by either the Sustainable Forest Initiative (SFI) or the Forest Stewardship Council (FSC).
Wood products don't require a lot of energy to produce—when compared with brick or fiber cement siding. However, wood siding needs to be repainted or stained every few years. Paint has a high embodied energy footprint, and labor is valuable.
To reduce this burden, opt for pre-primed or naturally resistant wood such as cedar, that is sustainably harvested. Wood also has obvious disadvantages in wildfire-prone regions, although flame retardant coatings can make it more resilient. These too come at an environmental cost, however.

Engineered Wood: Most Improved
For people who like the look of wood, engineered wood products are a good green option. They are made from wood strands that are coated with a resin binder and compressed to create a strong board. The products look like wood. They are free of knots, resist warping and cupping, and are factory pre-primed to take paint well, which reduces field and labor time once installed.
LP SmartSide Trim & Siding, as one example, offers a special manufacturing process that helps protect against termite damage and fungal decay. The product also comes with a self-aligning edge design to make installation faster and easier. Another engineered product, KlipTech's EcoClad is made from bamboo fibers, recycled paper and recycled wood fiber.
According to its manufacturer, it is as durable as brick or stucco and resists bacteria and fungus growth. Look for engineered wood products that are certified.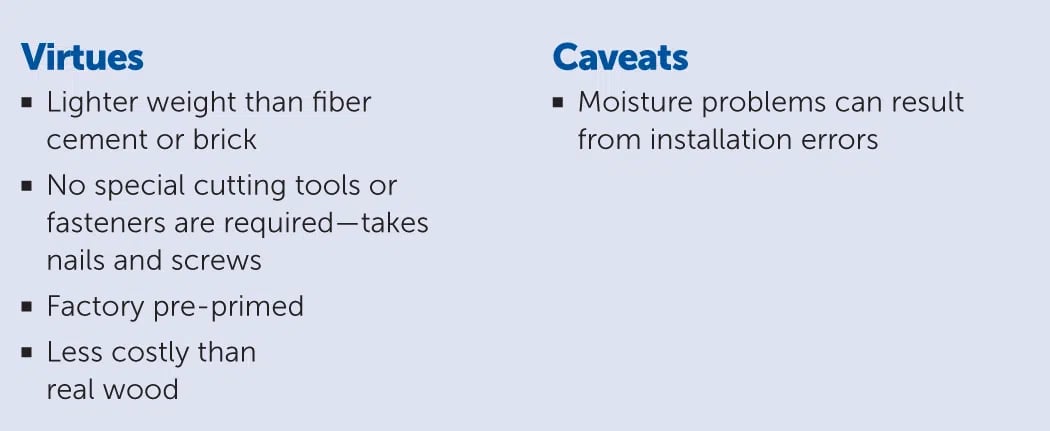 Fiber Cement: Tough Stuff
Fiber cement siding is a low-maintenance product made from sand, Portland cement, clay and wood pulp fibers. It's very strong, long lasting, termite-proof, fire resistant and rot-proof. The product has the look of wood siding, and comes in either a smooth or wood-look finish. Some manufacturers, including James Hardie and Allura, offer fiber cement that has been pre-finished (painted) in the factory.
The rub against fiber cement is its high embodied energy, though manufacturers are moving toward using more recycled content in their products. At least one brand contains fly ash. More research is needed, however, on whether fly ash leaches toxic chemicals into the environment. For extra R-value, fiber cement siding can be installed over foam insulation board, as on an ICF house.
Glossary of Terms: Know the Lingo
Exterior Insulation Finish System (EIFS): A building product that provides exterior walls with an insulated finished surface and waterproofing in an integrated composite material system.
Embodied Energy: The energy consumed by all of the processes associated with the production of a building, from the acquisition of natural resources to product delivery.
Engineered Wood: Cladding made from wood strands
that are coated with a resin binder and compressed to create a strong board.
Fiber Cement Siding: Cladding made from a mixture of Portland cement, cellulose or wood fiber material, sand and other components.
Lap Siding: Siding that looks like individual boards, typically 8'–12' long. Each piece of siding is lapped over the piece below it to provide a waterproof covering for the house.
Portland Cement: Found in stucco and fiber cement siding, it requires intense heat (and thus energy) to produce.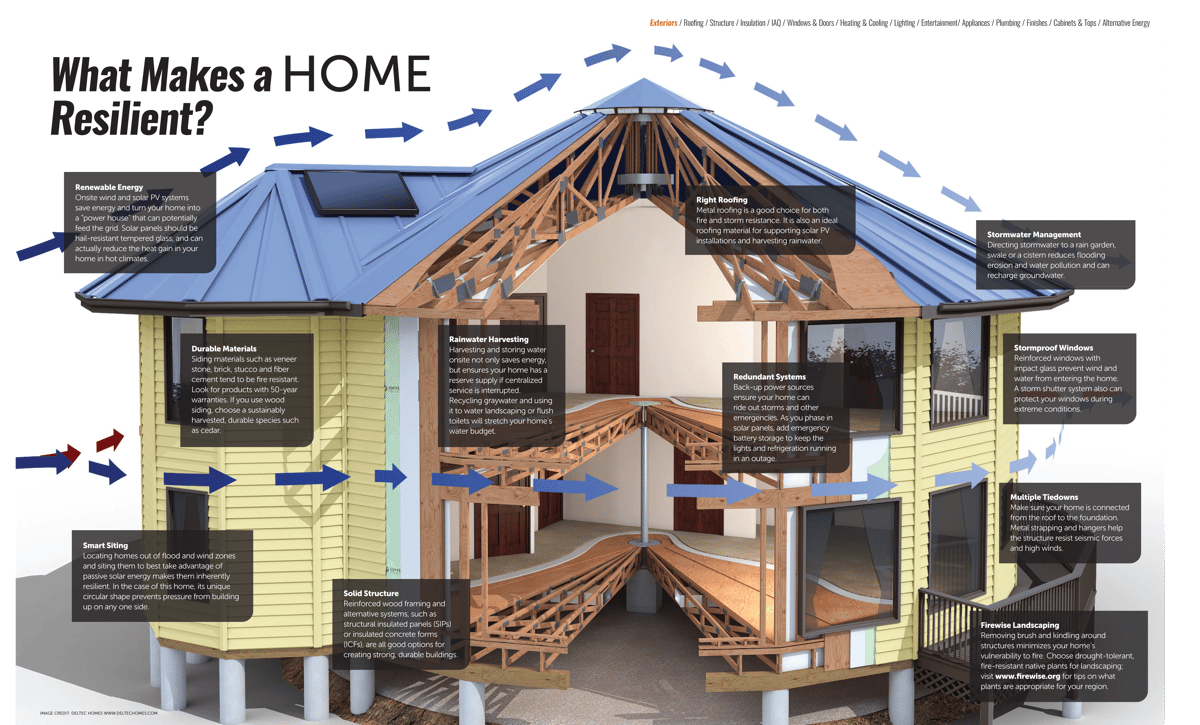 ---
Publisher's Note: This content is made possible by our Today's Homeowner Campaign Sponsors: Whirlpool, Carrier and Jinko Solar. These companies take sustainability seriously, in both their products and their operations. Learn more about building and buying homes that are more affordable and less resource intensive.
May 24, 2023 9:00:00 AM · 4 min read
---

Veteran journalist Matt Power has reported on innovation and sustainability in housing for nearly three decades. An award-winning writer, editor, and filmmaker, he has a long history of asking hard questions and adding depth and context as he unfolds complex issues.