Natural Sanctuary Spaces Top Homeowner Wish Lists

Sara Gutterman
4 min read
With a high level of interest in natural, back to earth lifestyles, homeowners continue to prioritize outdoor living spaces.
According to COGNITION Smart Data, Green Builder Media's market intelligence division, homeowners are continuing to invest in enhancing their outdoor living spaces—a trend that began at the onset of the Pandemic and hasn't slowed down since.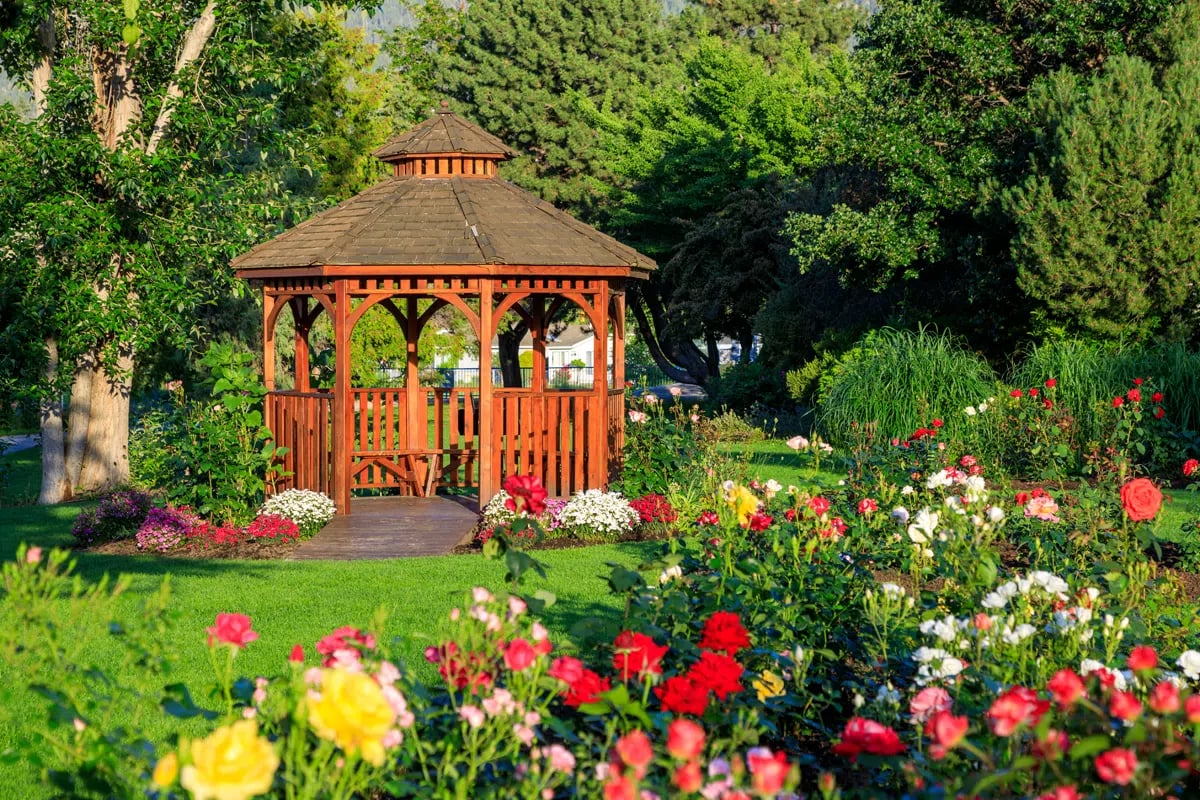 Perhaps that's because COGNITION survey respondents across all generations—Boomers, Gen X, Millennial, and Gen Z—describe their ideal lifestyle as natural, back to earth, simple and minimalistic.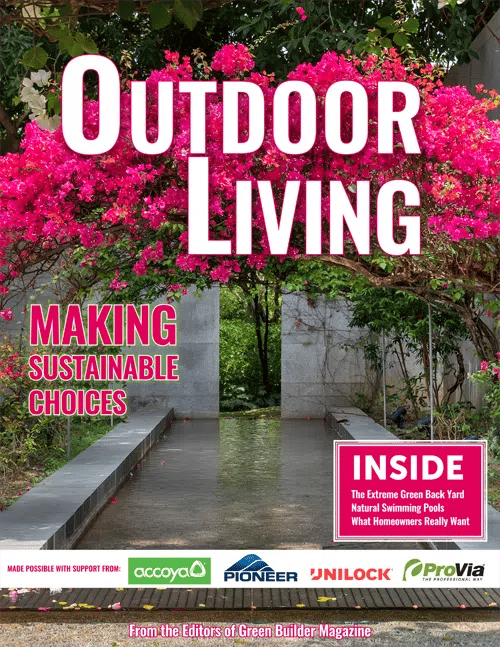 Download the Outdoor Living Guide and get more details on how to create green home sanctuaries. This free resources was made possible by the generous support of Accoya, Pioneer, ProVia, and Unilock. Learn more about their products in the guide.
Nearly 75% of homeowners claimed that their outdoor living areas played an essential role in maintaining peace of mind and a sense of normalcy. Some of the more eye-opening results from this "wish list" of lifestyles include the Gen Z desire to live an "artistic" lifestyle—by a huge margin. In their backyard, color, contrast and unique design matters. Contrast that with
Boomers, who dream of a "nomadic" or "simple" life, yet are strongly drawn to luxury. Could it be that they feel trapped, but don't want to give up their creature comforts? Perhaps a private backyard with cozy furniture that feels like an escape offers the right ingredients for their temperament.
Garden beds, edible plants and flowers, and xeriscaping are of paramount importance to Boomers, Gen Xs, Millennials, and Gen Zs alike, with lawns notably shrinking in desirability among the youngest generation. Is this a factor linked to cost, environmental impacts or simply aversion to constant maintenance?
We'll be asking that question on our next survey, but it does make us wonder if there's a market "white space" for more PFA-free artificial lawn options than the ones currently aimed at pet owners.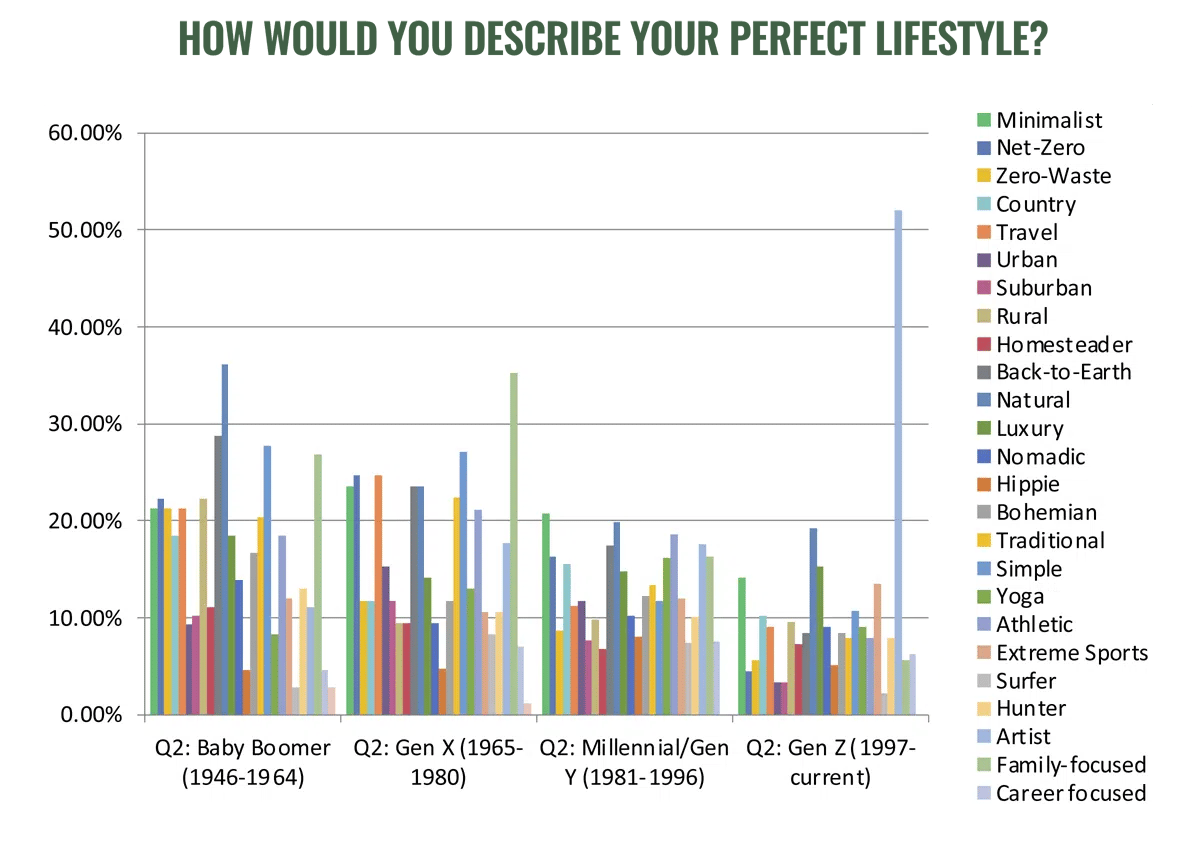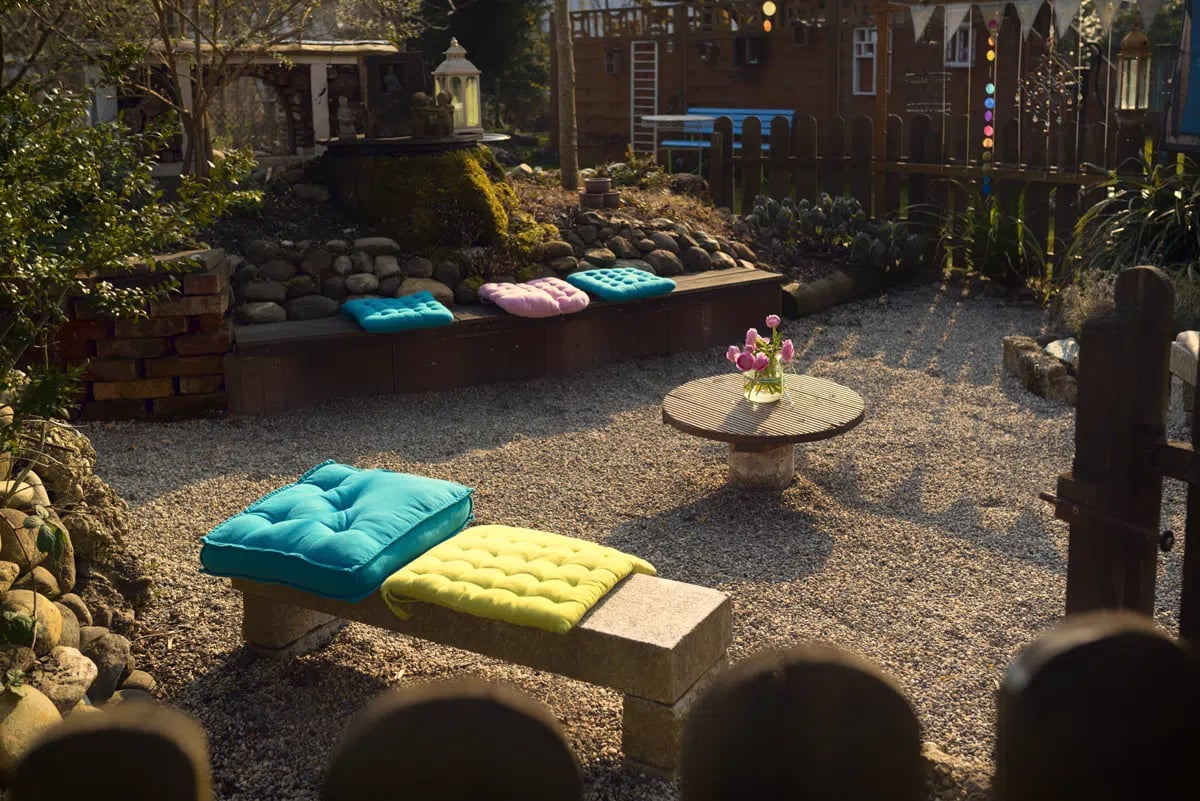 A funky backyard with recycled and colorful objects may be just the thing for younger homeowners who value an "artistic" life.
Nearly 80% of our survey respondents say that they are now growing their own food in backyard gardens, planter boxes, patio pots or rooftop terraces for several reasons. They want to benefit their mental health, take control of their food supply and improve their nutrition and wellness.
In fact, our respondents claim that water conservation, onsite food production, and rainwater harvesting are the most important sustainability factors when planning outdoor spaces.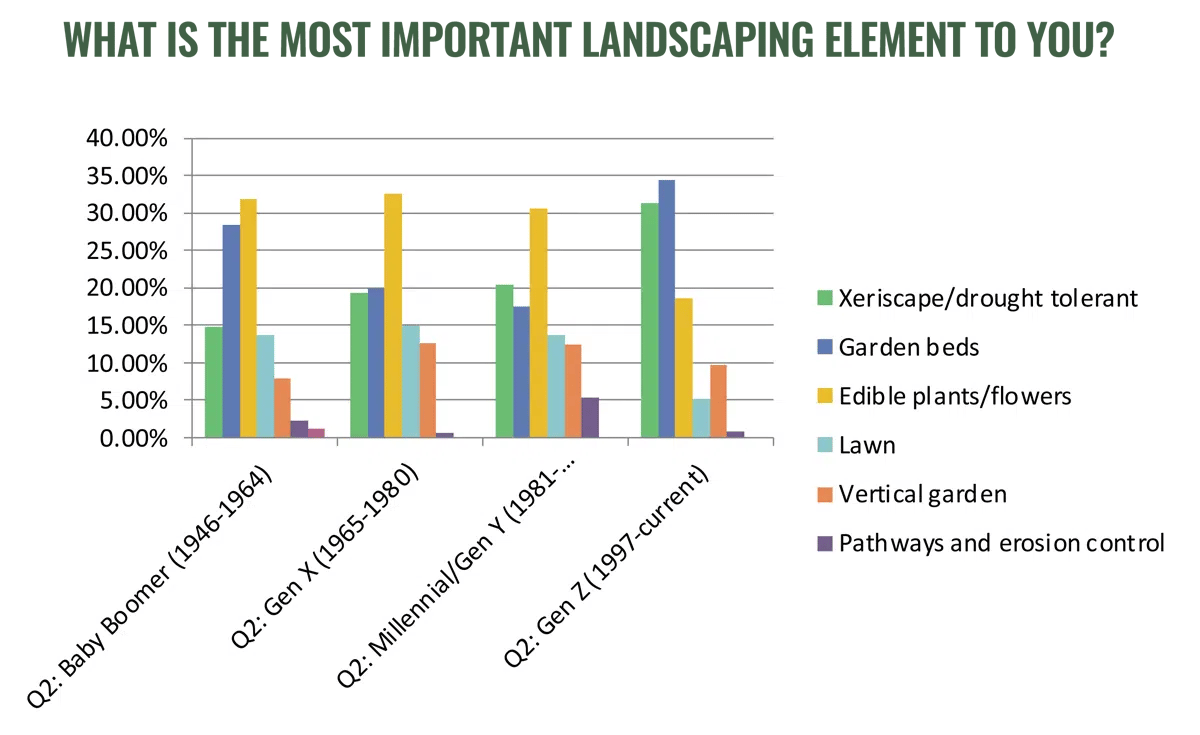 This doesn't mean they don't care about other ecological impacts such as durability and energy use. Our past research on these age cohorts suggests that they consider all of those variables when choosing products and planning. They purchase items that have a good ecological story, from brands with a good sustainability angle.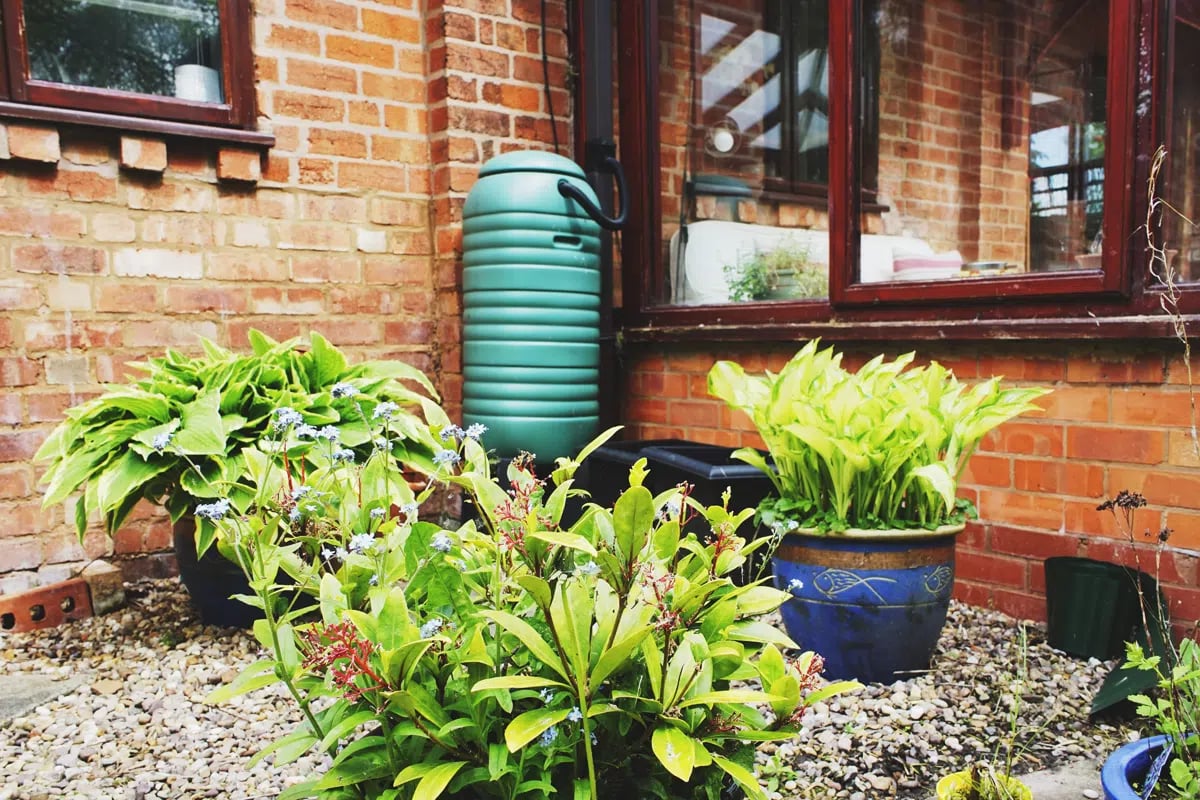 In dry climates, even a small rainwater harvesting system can provide irrigation for xeriscaped, drought resistant yards.
A few things stand out in this comparison of how different generations prioritize and think about their backyard space. Note for example, how water conservation among the youngest generation has shot ahead of other concerns. Real-world droughts and concern about climate change have made them much more aware of how they manage H2O.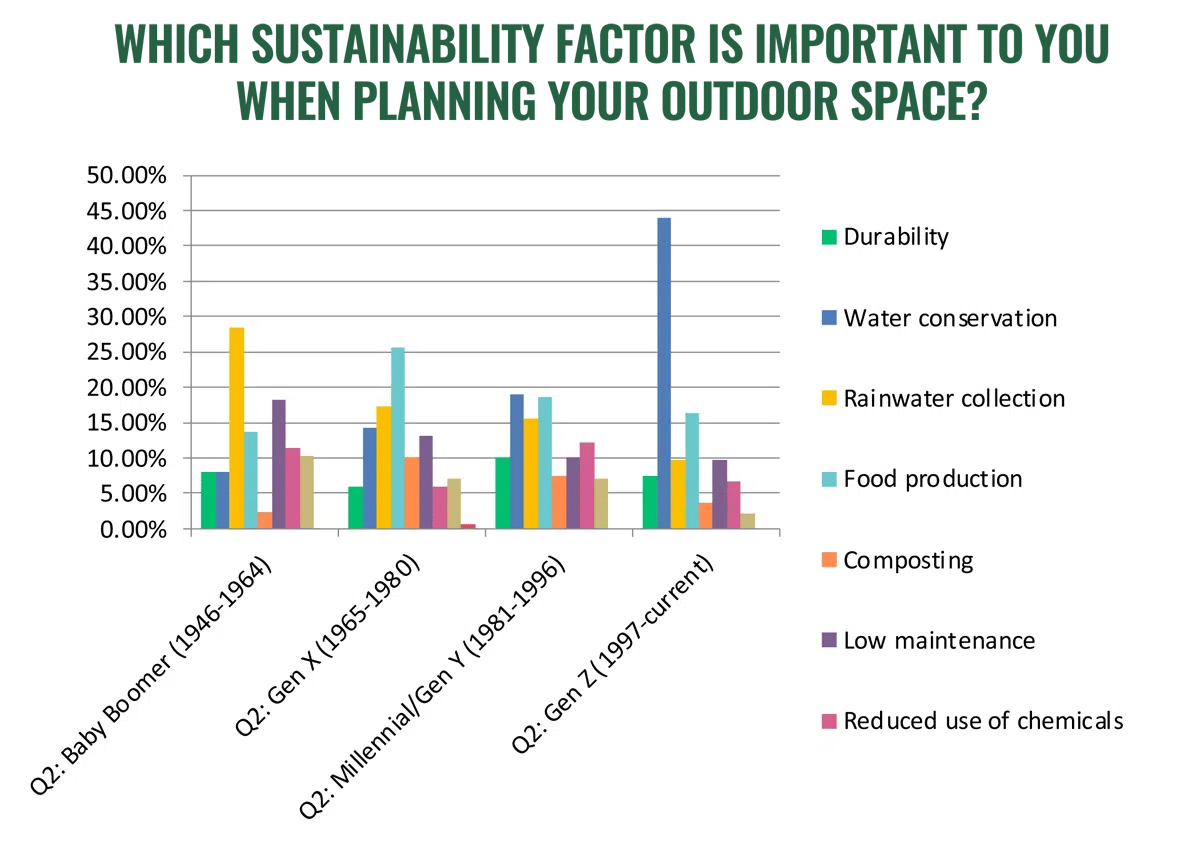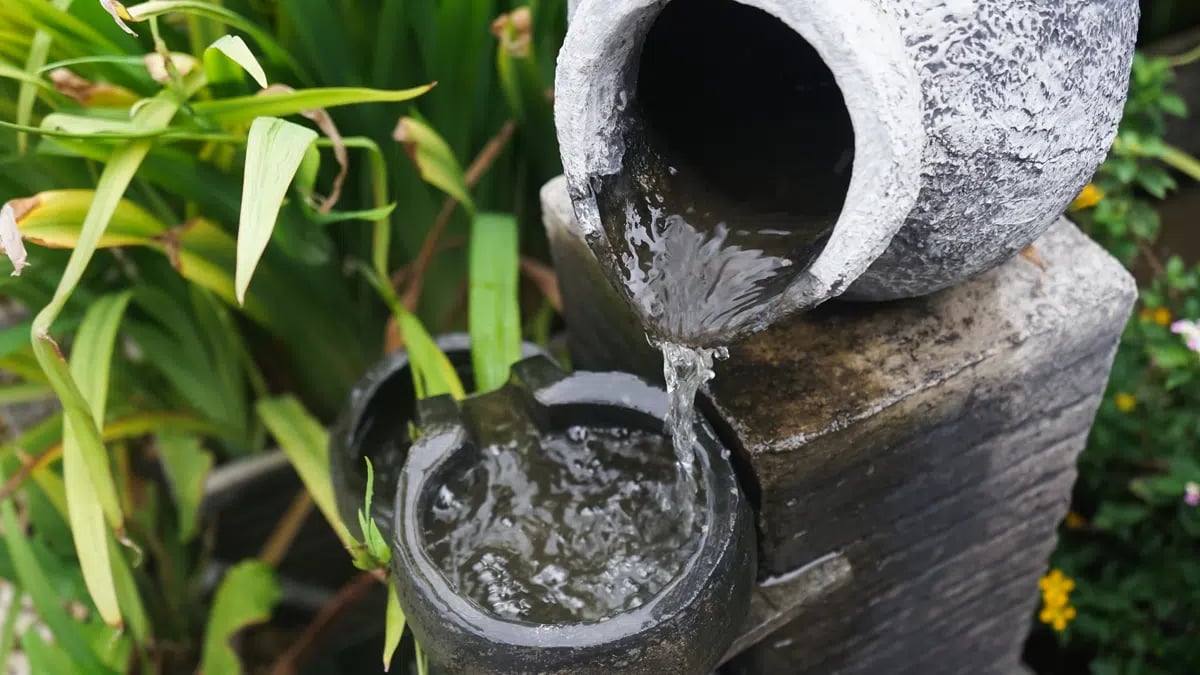 Interest in fountains and water features in the backyard are high among all age groups, but for Gen Z, conservation is key. Fountains should be placed in shadier areas to reduce evaporation loss, with low-wattage pumps and the ability to use rainwater when available.
Homeowners tend to use their outdoor spaces for entertaining and cooking, but use for "relaxing" ranks highest of all among all ages. It's a catch-all term that in some ways encompasses all of the other types of activities. Perhaps, however, it gets at the core quality of optimizing a backyard: people want a place of sanctuary, away from the fast paced life.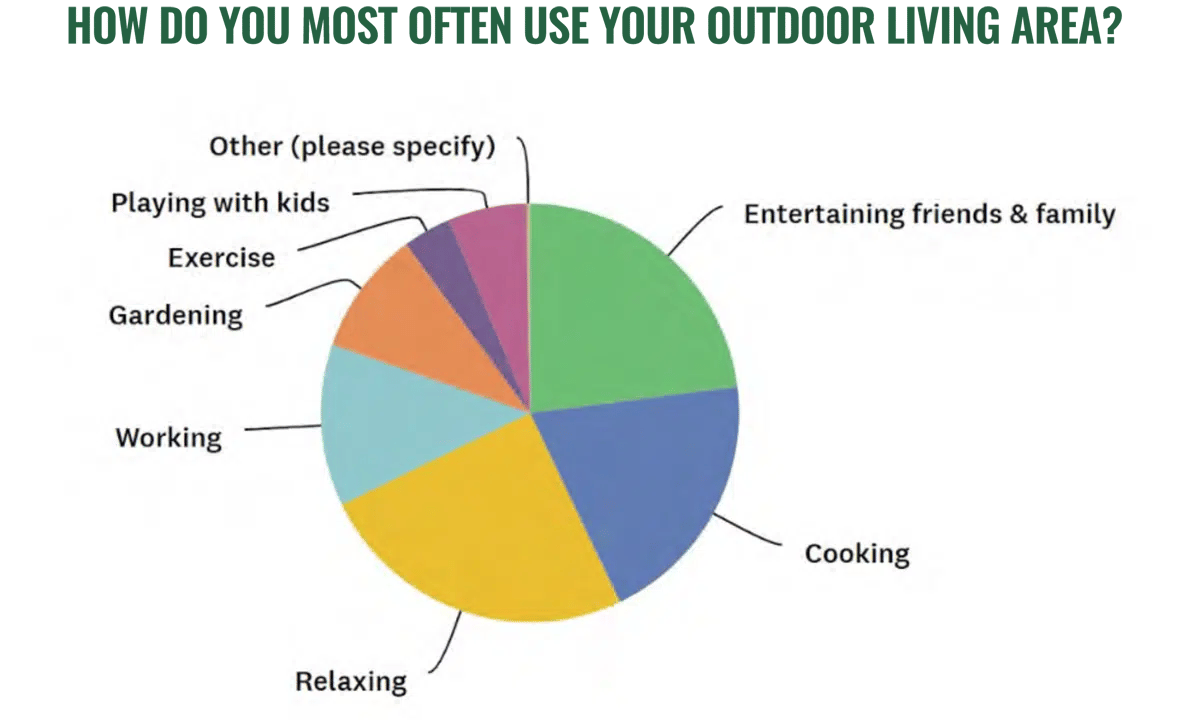 And outdoor living spaces aren't just for enjoying—they also help increase the value of a home. According to Zillow, backyards were highlighted or mentioned 22% more often in for-sale listings in 2022 compared to the year prior, and patios saw a boost of mentions in listings by 13%.
A recent report by the National Association of Realtors and National Association of Landscape Professionals, homeowners recognize that expenditures in landscape upgrade, outdoor kitchens, and new patios yield an effective 100 percent return on investment.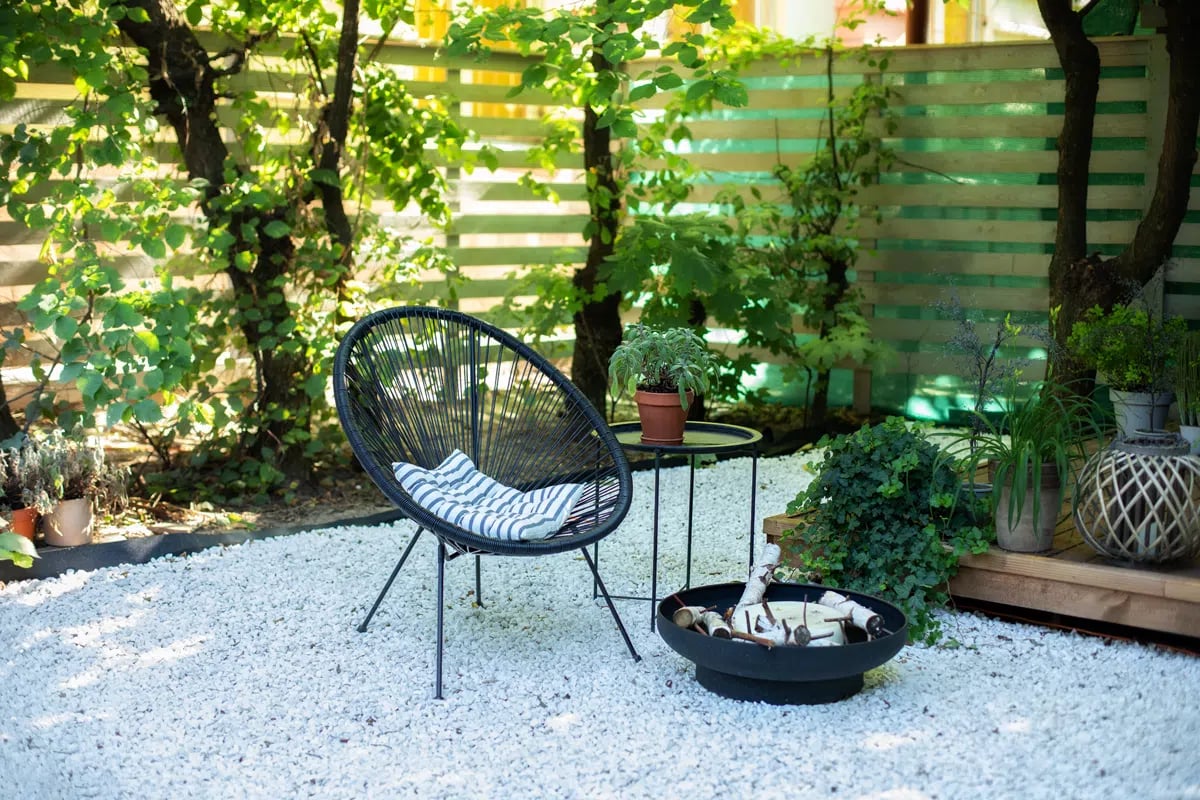 For those who prefer privacy or "peopling" simple furnishings and low maintenance ground cover may offer the right synergy.
We shouldn't ignore the fact that a well-maintained lawn still has the highest value of any single outdoor feature. This is one of the toughest challenges for sustainable backyards—how to maintain a lawn without weed killers, pesticides, fertilizer runoff and combustion lawn mowers.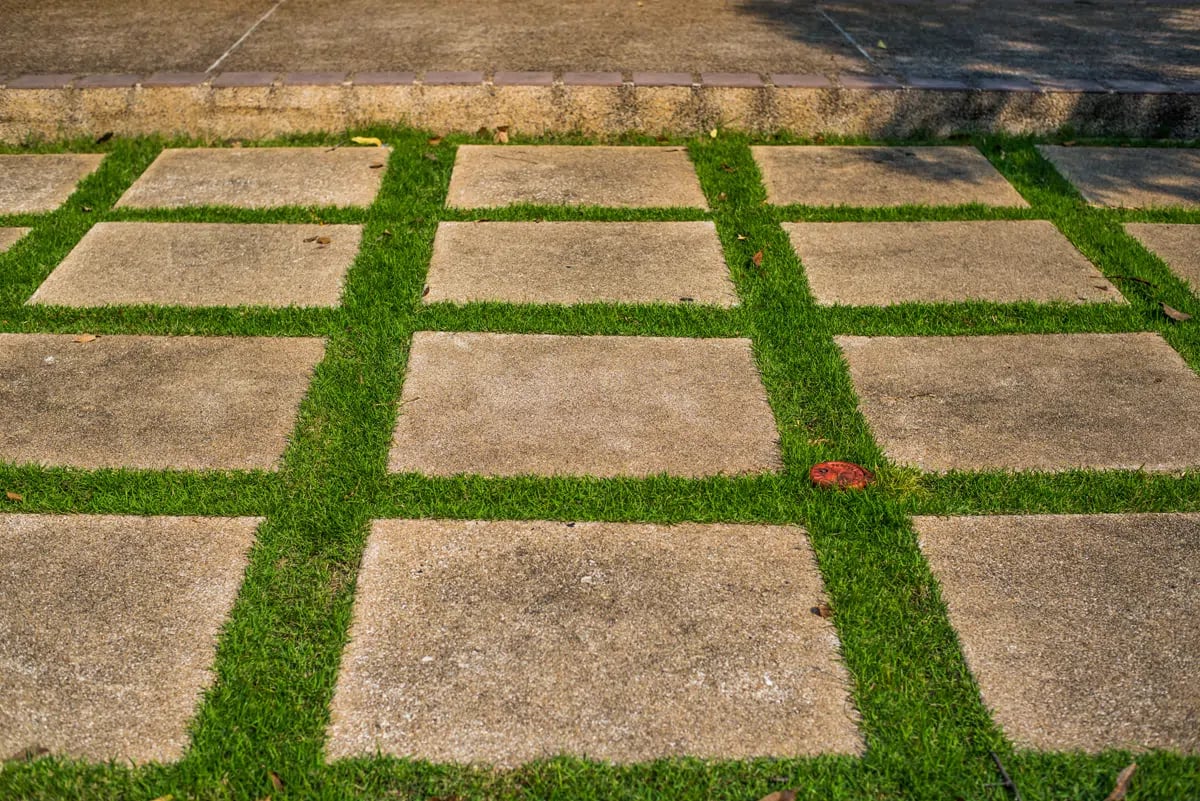 One approach to reducing lawn chemicals and maintenance is to isolate small sections of grass. In this case, the grass between pavers allows for free flow of rainwater, reducing erosion and runoff from the yard.
The solution requires a multi-faceted approach. For example, many owners opt for small, isolated sections of lawn, and xeriscape the rest of the yard. Low-water varieties of grass save immense amounts of water. Smart irrigation systems only apply water to soils when needed. Artificial turf, if manufactured with care, may also be considered.
Investment in outdoor living is expected to continue through and 2024 and beyond, allowing homeowners an enhanced quality of life, a much-cherished connection with nature, and a higher resale value.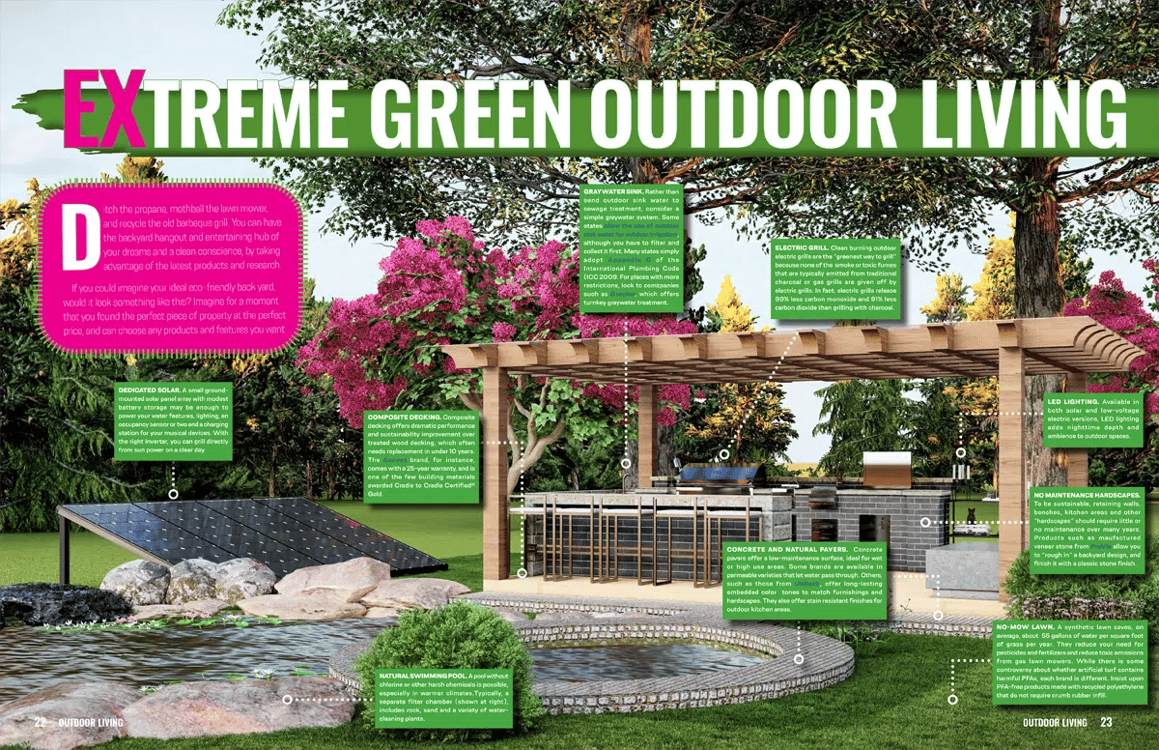 Aug 26, 2023 8:00:00 AM · 4 min read
---

As cofounder and CEO of Green Builder Media, Sara is a visionary thought leader and passionate advocate for sustainability. A former venture capitalist, she has participated in the life cycle (from funding to exit) of over 20 companies, with an emphasis on combining sustainability and profitability. She lives in Lake City, Colo., with her husband, where she is an avid long-distance runner, snowboarder, and Crossfit trainer. She is also on the Board of Directors at Dvele, runs the Rural Segment for Energize Colorado, and is a former County Commissioner.