Millennials Don't Camp, They Glamp

Michele Lerner, Associate Editor
5 min read
The rise of luxury outdoor experiences like glamping is just one manifestation of millennials' passion for outdoor living, which includes glamming up their personal backyards.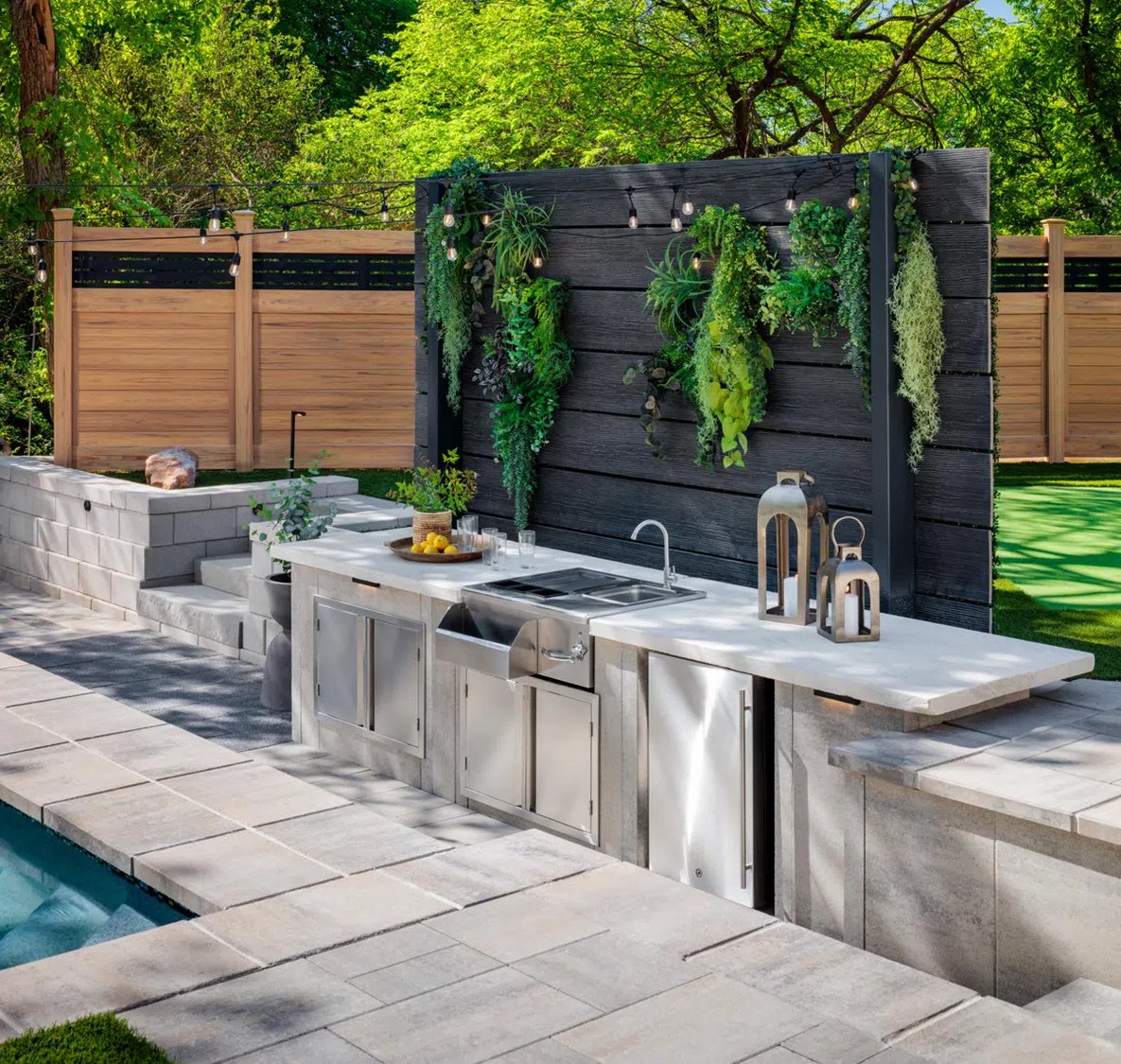 Courtesy Belgard
If thinking about camping triggers a memory of chigger bites or waking up on a chilly morning with a rock stuck under your sleeping bag, you may be a candidate to upgrade your experience to "glamping."
Glamping, anticipated to be a nearly $4 billion global business in 2023, refers to a more luxurious camping experience complete with a more comfortable place to sleep, a nice bathroom and protection from the elements. In other words, you get the feeling of camping with the perks of a hotel. Better yet, you don't have to haul your own equipment.
Whether it's for the perfect social media post or the opportunity to spend a night "outdoors" without getting dirty or bug-bitten, glamping particularly appeals to young millennials and members of the Gen Z generation. The reason? These generations prefer a more sustainable, ethical form of travel that has less of a negative impact on the environment.
A national survey by Insureranks.com found that two out of three Americans planned to camp in 2023, but there is a divide between those who think glamping isn't the same as camping. While 68% of those surveyed said they prefer glamping to camping, 61% of survey respondents said they don't think people who glamp are "true campers."
Trends in Glamping
Glamping typically includes amenities such as Wi-Fi, electric power, cleaning services and bathrooms, but many now also have spas, bars, fire pits, outdoor games, a clubhouse and gourmet meals to pamper glampers, according to Travel Daily News. Glampers can find pet-friendly resorts, sites with luxury tents and even cottages.
"The popularity of glamping has exploded in the past few years," says Joe Raboine, vice president of design for Oldcastle APG, a manufacturer of outdoor architectural products.
"People are hungry for an authentic connection with nature yet want to do so in an environment that's comfortable and has modern amenities. Glamping spaces include tents, domes, treehouses or simply sleeping under the stars."
While the Insureranks survey found that all campers find camping more expensive now than in the past, the average cost of camping is $258, while the average cost of glamping is $487.
Depending on the length of stay, the location and activities, glamping can be far less costly than a vacation in many resorts and cities, which is part of its appeal to younger people. They can stretch their budget to glamping yet still save compared to a traditional hotel stay.
Social media appears to have an outside influence on glamping trends: Insureranks' survey found that 14% of glampers choose where to camp based on how Instagrammable it is. The imagery angle is particularly important to members of the Gen Z generation, 22% of whom said they choose their location for the social media images.
Another trend driving the hospitality industry and the interest in glamping is the preference for experiences, especially those that can be personalized, according to Travel Daily News. Locations that offer glamping are also likely to incorporate special activities. Some, related to the outdoors, include ziplining and whitewater rafting, while others, on the glamping side, include wine tastings and chef-led cooking demonstrations.
Researchers have found that being outdoors provides value in numerous ways, including stress reduction and emotional and cognitive benefits. Many glamping sites include wellness and mindfulness activities such as meditation, yoga and spa services to enhance the experience of being in nature.
"This rise in interest in glamping directly correlates with the tremendous growth we're seeing with outdoor living spaces at home," Raboine says. "Whether on vacation or spending a night in, we all long to have a deeper connection with nature. We are learning through science that this connection is a necessity and is critical for our overall health and well-being."
Glamping at Home
As much as we might like to, not everyone can vacation all the time. That may be why so many homeowners focus on incorporating vacation elements into their homes, particularly in their outdoor space.
"It's no surprise that these unique glamping experiences and spaces are becoming so popular," Raboine says. "Who doesn't appreciate laying in a cozy bed looking up at the trees, the clouds or the stars and feeling the wind blow? These are the moments when we feel the most alive and connected."
Thanks to hundreds of innovative products, people can experience this every day right outside their door in their very own "glamping" space, he says.
"By adding features such as hanging beds, low-voltage lighting, outdoor speakers and fire pits, we can create a magical experience," Raboine says. "These experiences help us fall in love with nature and when we love something, we want to protect it."
A top priority, particularly for millennial homeowners and renters, is upgrading their outdoor living spaces, according to Green Builder's COGNITION market insights data. While fewer members of the Gen Z generation are homeowners, they also demonstrate interest in outdoor upgrades in a recent COGNITION survey.
Preferences for an outdoor upgrade, especially one that might replicate a glamping experience, start with plants and greenery to bring even an urban or suburban outdoor space closer to nature, according to COGNITION data. The second most mentioned priority is for a patio or a deck, which reflects the desire for a functional and comfortable place to relax, entertain or even work outside. The element that was chosen least often was a water feature, most likely because of concerns about maintenance, cost or sustainability.
Sustainability is a priority for millennials when it comes to upgrading their outdoor space, according to COGNITION data. For millennials, the top three sustainability factors that matter most when planning their outdoor space include water conservation, food production and rainwater collection. For Gen Z, the top priority, far ahead of other generations and other priorities, is durability, followed by food production and rainwater collection.
"For homeowners who are looking to create their own outdoor space to enjoy nature, there are many materials to choose from that can also support the goal of sustainability," Raboine says. "Hardscapes are a viable choice based on the lifespan of the materials, ensuring less ends up in waste in the near future. Look for companies that incorporate recycled materials into their products such as fencing or decking."
Adding a dash of glamor and luxury to your backyard can be as simple as incorporating more lush greenery, comfortable seating or some colorful drapery to increase the shade and the drama. Best of all, it can be done with durable, sustainable materials.
---
Publisher's Note: This content is made possible by our Today's Homeowner Campaign Sponsors. These companies take sustainability seriously, in both their products and their operations. Learn more about building and buying homes that are more affordable and less resource intensive.
Nov 13, 2023 8:00:00 AM · 5 min read
---

Michele Lerner is an award-winning freelance writer, editor, and author who writes about real estate, personal finance, and business.