LG Electronics Addresses ESG from All Angles

Alan Naditz
3 min read
There are a half-dozen ways to successfully manage an ESG strategy. LG is working on all of them.
Quick Stats
Tons of recycled plastic to be used in new home appliances by 2030: 60,000
Number of key ESG initiatives in the company's "Better Life for All" strategy: 6
Number of times LG has been named ENERGY STAR Partner of the Year: 10
When it comes to having an environmental, social and governance (ESG) vision, LG Electronics' overall goal is simple: "Better Life for All."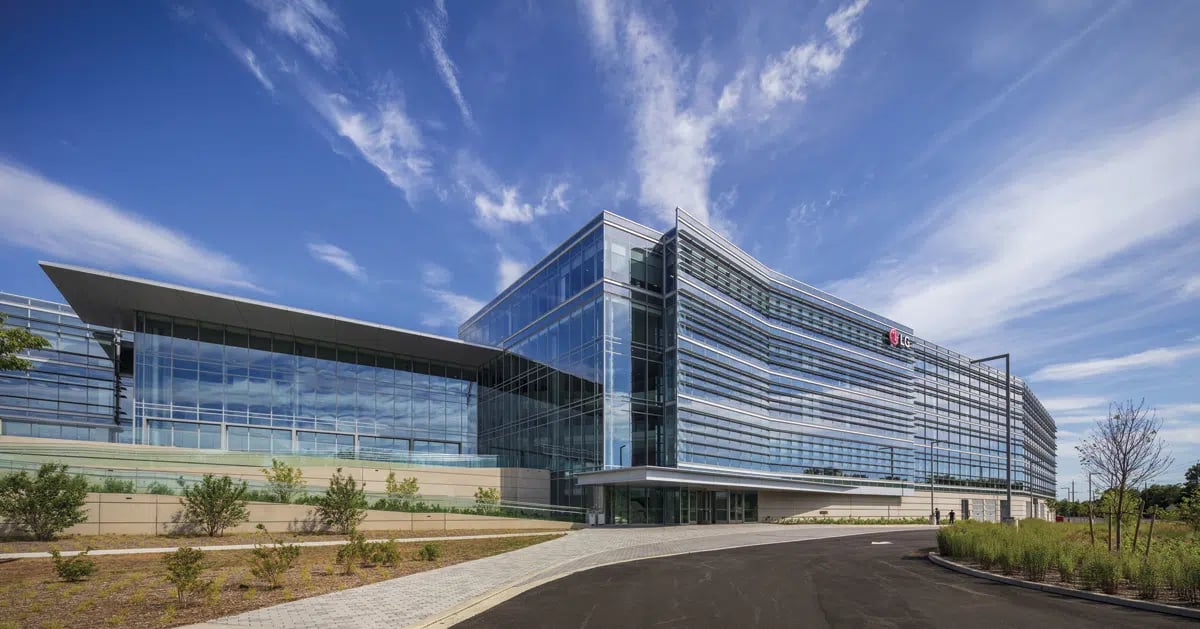 The North American headquarters for LG Electronics USA won the U.S. Green Building Council (USGBC) Leadership Award in 2021 for a highly efficient design that maximizes energy conservation, generates clean electricity on site and helps reduce carbon emissions. Courtesy LG Electronics USA
The company's six-part ESG strategy—carbon neutrality, circular economies, clean technology, responsible supply chains, an inclusive organizational culture and accessible products—are aligned with United Nations Sustainable Development Goals (SDGs). These goals place sustainability at the center of efforts to combat worldwide climate change, poverty, hunger, violence, and other challenges as early as 2030.
According to LG Electronics USA Senior Vice President John Taylor, the company's goals include achieving carbon neutrality by 2030 through continuous reductions in greenhouse gas emissions (GHGs) during the production stage, achieved through process improvements and the adoption of energy-saving technologies.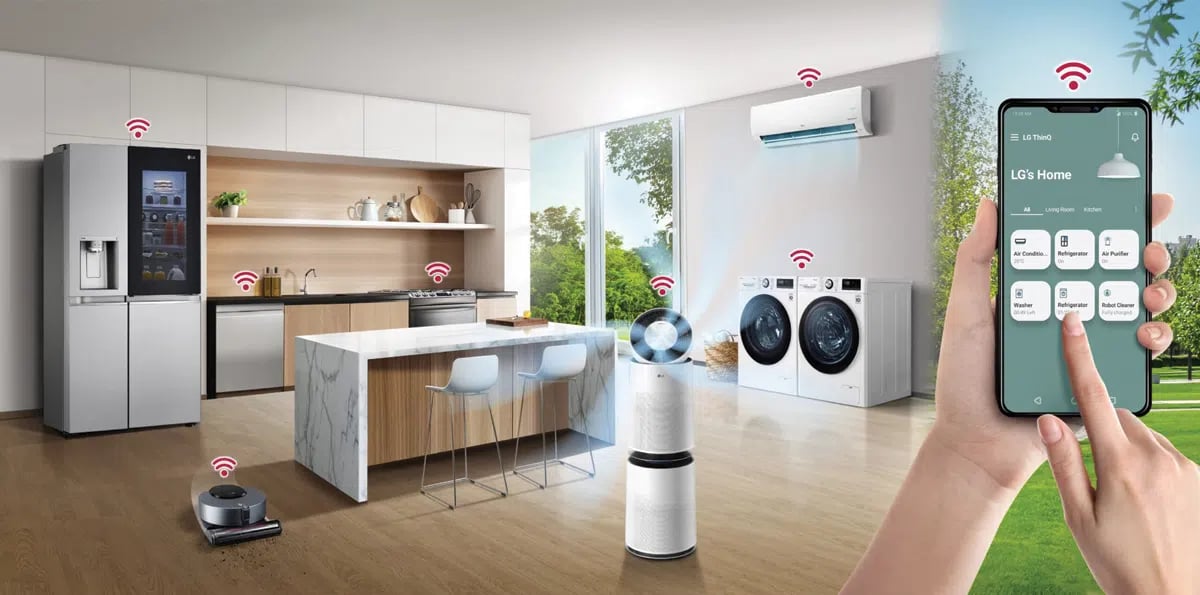 Green and smart.The LG ThinQ smart home platform caters to green builders. LG's smart home ecosystem of connected products include heat-pump water heaters, induction cooktops, ENERGY STAR-certified refrigerators, and more. Courtesy LG Electronics USA
LG has also joined the RE100 initiative, committing to fully offsetting electricity consumption of all worldwide facilities with renewable energy by 2050. The company's U.S. operations, including factories, warehouses and offices, already use 100 percent renewable energy.
The company is actively committed to utilizing more recycled plastic, increasing the collection of electronic waste, and contributing to a circular economy for future generations. Since 2021, LG has set a goal to use a cumulative total of 600,000 tons of recycled plastic by 2030. LG aims to achieve a recycling rate of 95 percent for waste at its production facilities by 2030. Additionally, LG plans to increase the collection amount of electronic waste from 4.5 million tons in 2021 to 8 million tons by 2030.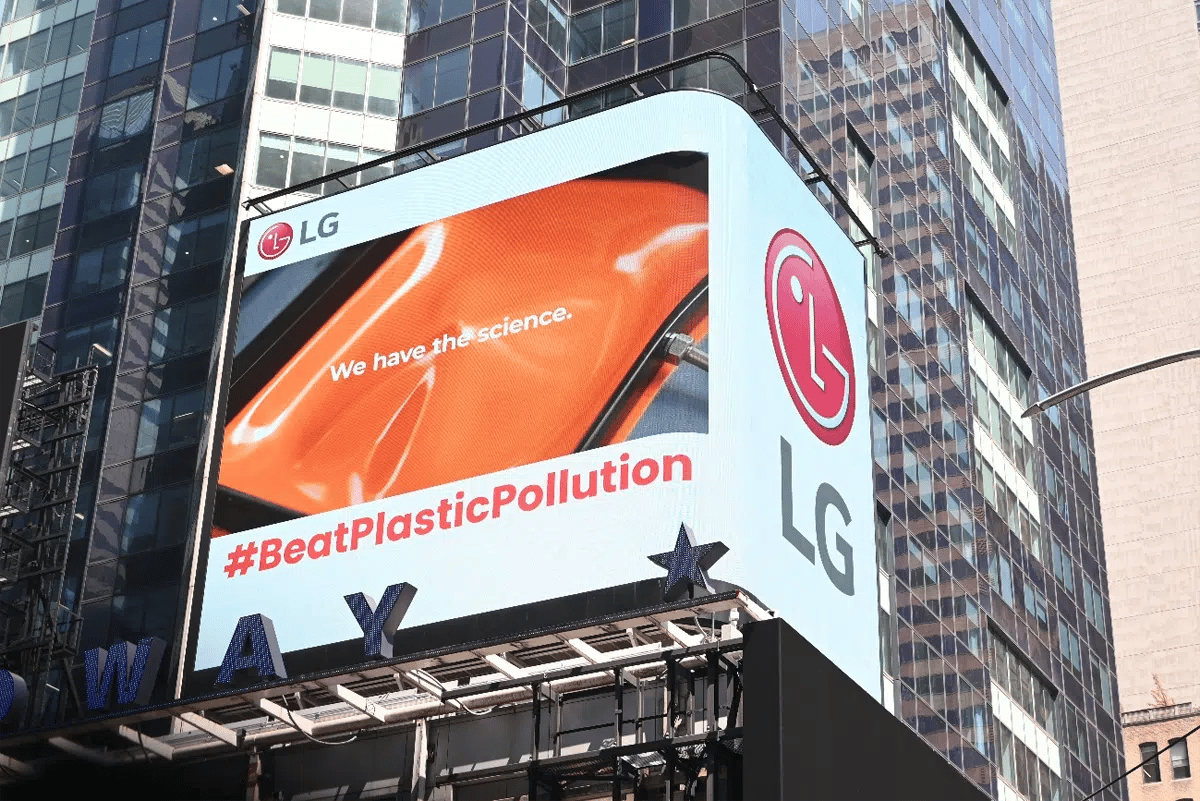 Science squared. LG Electronics is committed to practicing a circular economy by continuously expanding use of recycled materials as the company works toward a goal of using an accumulated total of 600,000 tons of recycled plastic by 2030. Courtesy LG Electronics USA
For its employees, LG Electronics established corporate-level diversity, equity, and inclusion (DEI) policies in 2022. "All employees and partners have the right to pursue happiness regarding dignity, value, and work as human beings," Taylor notes. Various systematic measures have been implemented to enable all employees to "carry out their work and develop their potential to the fullest without experiencing any discrimination or any other disadvantages on account of gender, race, education or religion."
LG also fosters meaningful relationships and contributes to the well-being of local communities by actively engaging with internal and external stakeholders; participates in solving social and environmental problems through technology-based products and services; promotes an eco-friendly social contribution program that encourages a healthy future for all stakeholders; and helps young people with their aim of enhancing the competencies of future generations.
The company ranks 13th out of 100 corporate patent owners in leveraging technology to address sustainability and social challenges, according to a just-released report, "Exploring the Global Sustainable Innovation Landscape: The Top 100 Companies and Beyond," by LexisNexis Intellectual Property Solutions.
"Now more than ever, the intersection of innovation and sustainability is creating opportunities for companies to make a difference in addressing some of the world's most pressing issues," says LG Electronics North America CEO Thomas Yoon. "LG's 'Better Life for All' ESG mission builds on our longstanding role in the UN Global Compact and aligns with SDG initiatives driving positive impact for people, communities and the planet."
Sep 27, 2023 8:00:00 AM · 3 min read
---

Alan Naditz is managing editor of Green Builder Magazine. He has covered numerous industries in his extensive career, including residential and commercial construction, small and corporate business, real estate and sustainability.