Let's Live In Shopping Malls

Alan Naditz
6 min read
Dying shopping malls across America are getting a new chance to win the public's favor—by adding new homes to the block.
Somebody, somewhere, during the height of a holiday shopping season, has probably said something like this: "I wish I could just live here."
In some cities, those shoppers are getting their wish. In an effort to restore interest in the old-fashioned, indoor shopping mall—or make use of ones that are now ghostlike commercial hubs—owners are redesigning the structures, adding small residential dwellings that give occupants better access to everyday conveniences, while also easing a growing housing shortage.
Economic difficulties, a pandemic and a shift toward online shopping have put shopping malls on the brink of extinction. According to Coresight Research, in 2022, there were still 700 open across America, down from 1,000 just two years earlier, and but a fraction of the 2,500-plus that existed in the mid-1980s. The future looks worse: retail consulting firm SiteWorks estimates that there will be fewer than 150 catering to customers in 10 years.
In response, mall owners are thinking residential. According to commercial real estate consulting firm Realogic, as of late January 2022, at least 192 U.S. malls were planning on adding housing, and about 33 malls had added apartments since the start of the pandemic. In October 2020, Barclays predicted that 15 percent to 17 percent of U.S. malls will need to be redeveloped into other uses for the long-term.
Here are several that have taken steps to stay relevant in the age of e-commerce.
The Arcade Providence, Providence, Rhode Island
In terms of present-day mall-to-housing conversions—i.e., anything before 2015—this is the one that started it all.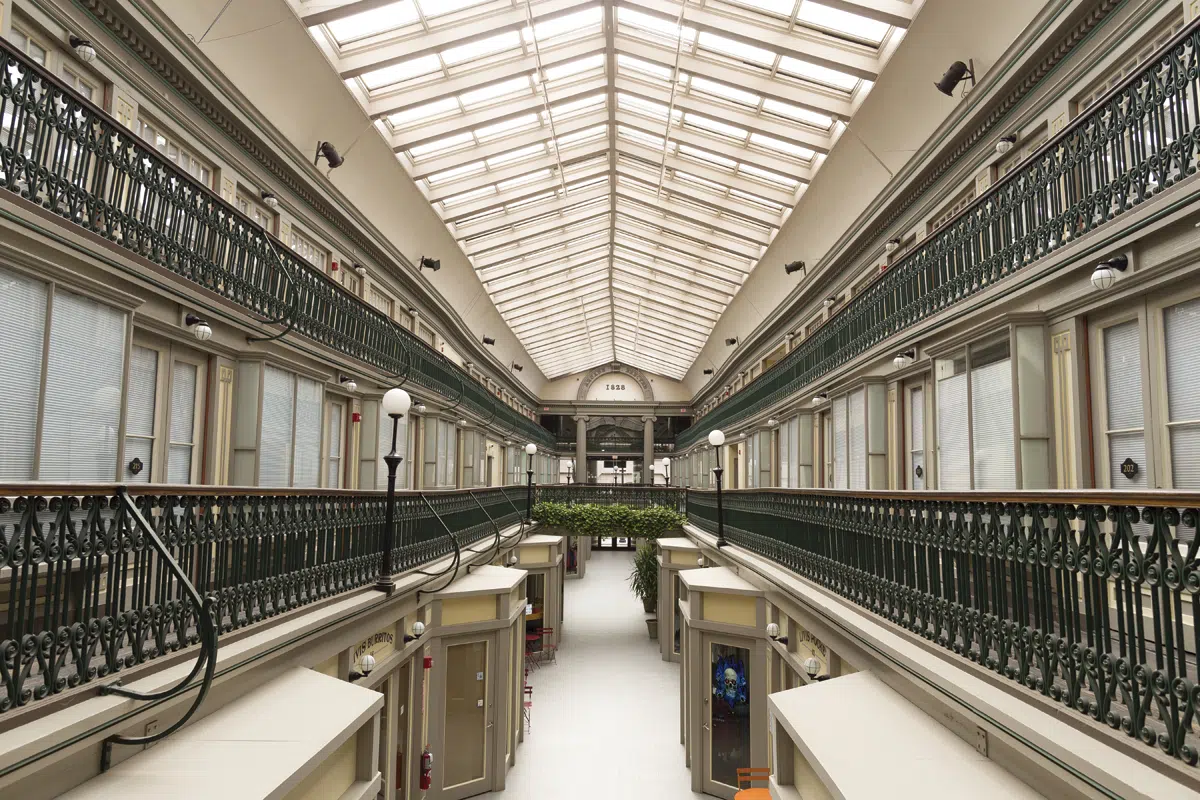 America's oldest indoor mall, The Arcade Providence, has been given new life following a conversion to a combined condominium-retail locale.Credit: Kaleb Kloppe/Wikimedia Commons
Built in 1828 as The Westminster Arcade, the nation's oldest indoor shopping mall fell on hard times in the late 20th century and closed for good in 2008. But the center now thrives as a residential structure consisting of 48 lofts on the former mall's top two floors, and 20 retail shops on ground level.
The site reopened in 2014 as The Arcade Providence and offered mostly studio and single-bedroom units as micro-loft rentals. They were "cozy," ranging from 225-775 square feet (for comparison, a one-car garage is about 200 square feet), with monthly rents of $550 to $800.
Units were rented out in weeks, and up to 4,000 people appeared on the waiting list over the next six years, according to building owner Evan Granoff of 130 Westminster Street Associates.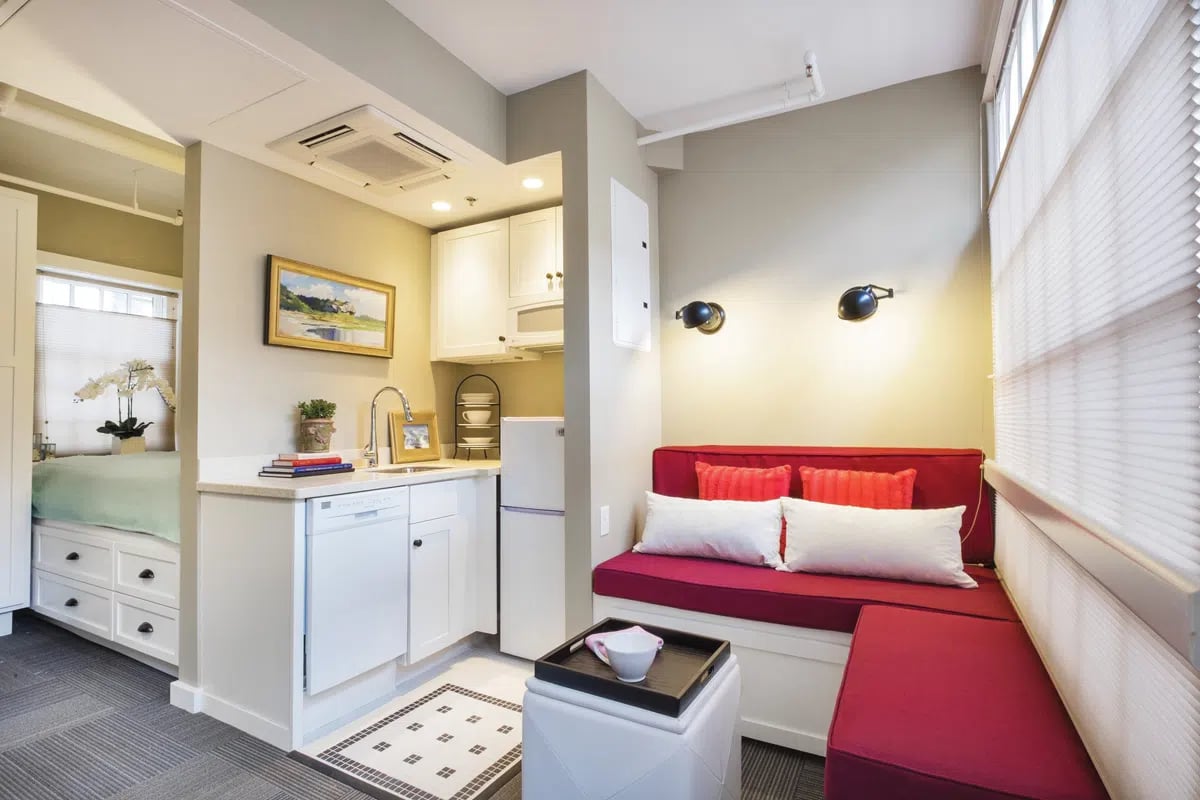 Despite its small square footage, a micro-loft at The Arcade Providence has all of the basics, including a bedroom, kitchen, and living area. Credit: Ben Jacobsen/Northeast Collaborative Architects
Most units include a kitchen, full bath with shower, built-in beds, a tiny living room, seating and storage. It very likely was the nation's first micro-apartment project, Granoff noted in a report to GoLocalProv. "Nobody knew what the acceptance or occupancy would be," he recalled. "There is rarely a vacancy in the building. That is a good measure of success as well as the project's solid return on investment."
In 2020, Granoff took his idea condo, and began offering the lofts to renters for purchase, and offering others for sale as they became vacant. Now priced at an average of $180,000 each, per Zillow—up significantly from the $130,000 starting point in 2020—they've become quite a bargain.
"For 150 years, the building was a business failure," Granoff said. "Its charm repeatedly saved it from demolition. We finally made it work as a business."
Avalon Alderwood Place, Lynnwood, Washington
Performing a retail-to-residential conversion on a very successful shopping mall might seem odd. But that's the course that Alderwood Mall owner Brookfield Properties has diligently pursued over the past few years.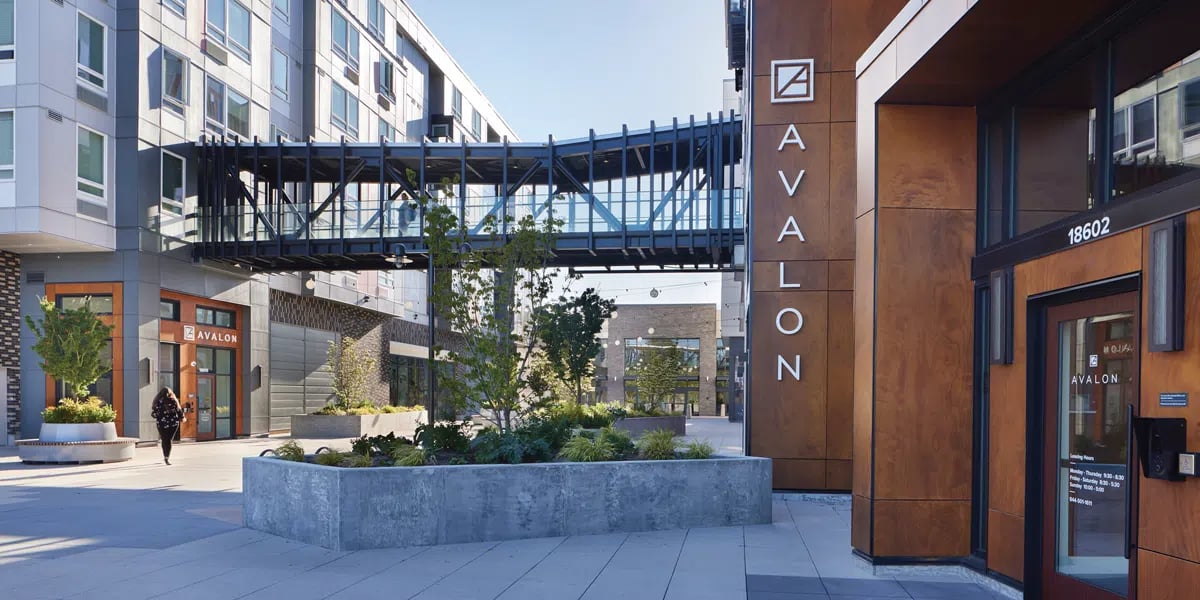 Avalon Alderwood Place, a two-tower 328-unit apartment complex, will increase foot traffic to and around the adjacent shopping mall by thousands of potential shoppers every week.
The result is Avalon Alderwood Place, a 328-unit, two-tower apartment complex that was constructed on the mall grounds in 2022, in place of a closed Sears anchor store. Now a part of the mall's 1.3 million square feet of retail space, Avalon Alderwood is expected to help draw thousands of potential customers to the shopping hub each week, while adding upscale living space for several hundred Lynnwood residents.

Even when viewing the Avalon Alderwood Place project via early floorplans, it's hard to imagine that a Sears retail store once stood there. Courtesy City of Lynnwood
According to Adam Tritt, Brookfield's chief development officer for retail business, Avalon Alderwood is an effort to stay ahead of the curve. Conversions usually mean replacing most, if not the entire mall, with some form of housing. Brookfield took the opposite approach: Avalon Alderwood is effectively an anchor store, but not one that offers retail services. It's a different way of addressing the needs of a consumer that leads a faster-paced, convenience-oriented life.
The complex's design, crafted by architecture firm GGLO Design, sticks to that principle. The two six-story towers are joined together by a skybridge. The apartment buildings carry a "biophilic, or nature-inspired, design that emphasized the environment of the Pacific Northwest," and used reusable materials such as wood and stone, and colors that occur in nature, according to GGLO architect and principal James Bradley.
The apartments, available as studios, and one-, two-, and three-bedroom units, range from about 450 to 1,650 square feet and are designed to maximize space. They feature kitchens with quartz countertops, tile backsplash, stainless steel appliances, upgraded lighting, and hard surface flooring. The apartment complex also offers pre-installed high-speed and community-wide Wi-Fi, digital resident services such as the ability to submit service requests and pay rent online, and smart access entry. Monthly rents are about $1,600 to $3,300.
The Avenue, Milwaukee
When it opened in 2019, the Plankinton Clover apartments drew a lot of positive attention from downtown Milwaukee residents. Four years later, the complex is an even bigger hit—with Generation Z. In April, a TikTok user's video review of the 50-unit structure went viral, picking up 1.5 million views and 5,000 comments in about a week.
The comments are what you'd expect from the young college age crowd: "This is so dope!" "Better than clearing trees to build new apartments." "The perfect place to live during a zombie apocalypse."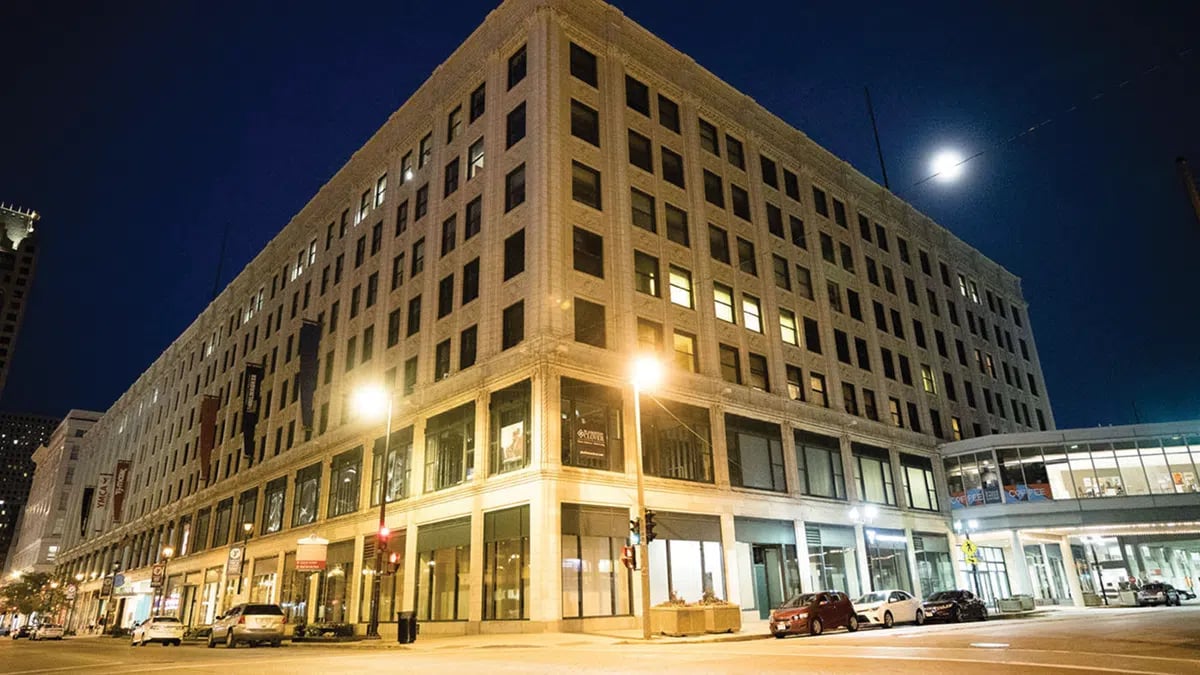 Milwaukee's historic but recently remodeled Plankinton building has a similar look on the outside but is an all-new world within. Courtesy Hempel Companies
Plankinton Clover was once the Plankinton Building, a historic part of Grand Avenue, a 1980s-era urban mall that was closed for remodeling in 2018 and reopened as The Avenue a year later. Building owners The Aggero Group and Hempel Companies, and architectural firm The Kubala Washatko Architects (TKWA), repurposed Plankinton's second-floor retail space into market-rate apartments, turning glass-walled storefronts that faced the central atrium into individual "front porches" and live-work spaces, according to TKWA's website.
Apartments, which are roughly 600 to 1,100 square feet and available as studio, one-bedroom and two-bedroom models, feature wood flooring, stainless steel appliances, quartz countertops, in-unit washer and dryers, high ceilings, over-sized windows, skylights and more. But Gen Z especially warmed up to features such as pickleball courts, a dog wellness center, bicycle storage, a Walgreens, and access to the area's famed 3rd Street Market Hall, an informal multi-vendor dining area.
The Avenue's owners aren't surprised at how successful the project has been. But there was no way to predict Gen Z's extreme enthusiasm. It bears noting, however, that respondents to the TikTok video admitted that almost no one their age would be able to afford the rent, which ranges $1,700 to $2,200 per month, according to Apartments.com. But the general consensus among TikTok viewers is that the idea is still "pretty cool."
Meanwhile, the person who started the party—who identifies herself as
"@saritalatasha"—says she just happened to be walking by during her lunch hour, and decided to look inside. "There's something here," she notes. "I just think it's a whole vibe."
Aug 12, 2023 10:27:00 AM · 6 min read
---

Alan Naditz is managing editor of Green Builder Magazine. He has covered numerous industries in his extensive career, including residential and commercial construction, small and corporate business, real estate and sustainability.