LEED Pro Certifies Her Own Home

Alan Naditz
3 min read
This 'fiscal cliff' became a mountain of energy efficiency.
As managing director of Sustainable Housing Services at Steven Winter Associates in Norwalk, Connecticut, Maureen Mahle has certified thousands of Leadership in Energy and Environmental Design (LEED) homes. So, renovating and certifying her own home should be easy, right?
Almost. During the five-year-long occupied gut-rehab of their 1915 home, Maureen, and her husband and coworker Steve, lovingly completed a high-performing restoration in a dynamic and diverse neighborhood that is within a 10-minute walk of work and the commuter rail to New York City.

It took five years, but the Garner Street residence went from sieve-like to almost airtight, thanks to numerous cosmetic and design upgrades. Credit: Maureen M. Mahle

Affectionately called "the fiscal cliff" during renovations, the home's location on a steeply pitched lot provided challenges and opportunities. Rain barrels—210 gallons worth—capture roof run-off used to water drought-tolerant plants and food gardens. Conventional turf was replaced with "no-mow" grass, which gets cut back just twice a year with a trimmer.
Adding new retaining walls, an entry roof over the back door, drainage swales, and redesigned sidewalks all drastically improved the on­-site stormwater runoff that previously damaged the foundation.
Energy Saving Steps
The home had "good bones" but no insulation and inefficient windows. Original flooring, trim, and plaster walls were all worth saving, so the renovation was completed from the outside by removing the cladding. Sheathing was retained and covered with rigid insulation, then cementitious siding. Stud cavities were filled with cold-poured cell foam, and windows were replaced with Energy Star U-0.28 double-hungs.
Douglas fir floors were patched with reclaimed porch wood and refinished with low-emitting water-based urethane. Original deco light fixtures were rewired and fitted with LED bulbs. The trim and doors were repaired and repainted, and a dining room China closet door was repurposed for an added half bath.
A leaky wood fireplace was replaced with an EPA-listed, sealed wood-burning insert. The oil boiler was replaced with a condensing gas model for hydronic heat and domestic hot water.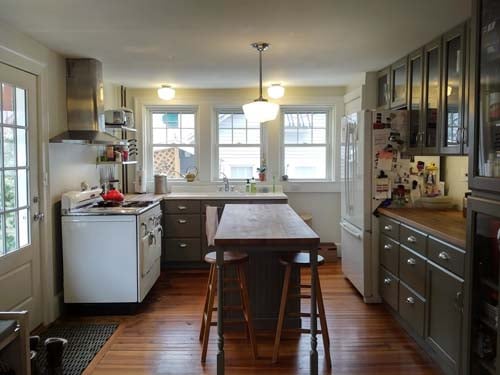 Heat management was improved throughout the home by replacing or remodeling less-efficient appliances, and adding new technology, such as a smart thermostat and an energy recovery ventilator (ERV). Credit: Maureen M. Mahle
The hot water radiators were re-used, but with a vastly improved envelope. The radiator in the living room was removed. A Google Nest thermostat helps anticipate and manage the high-mass, slow-response system comfortably. Vintage sinks and a refurbished environmental chamber retained heat gas range were added.
Originally, the home had no local or whole house exhaust, except that the envelope leaked like a sieve—25.6 air changes per hour at 50 pascals (ACH50) before renovations. The owners tried exhaust-only ventilation with an efficient bath fan, but as the home was tightened to 3.1 ACH50, they found it stuffy.
The range hood (with airflow of 100 cubic feet per minute) was causing a -11 Pa differential, a problem for homes with fireplaces. So, they added an energy recovery ventilator (ERV), and they tied the range hood switch to a through-wall, motorized fresh air damper. Stuffiness and odors were much improved, and the potential for backdraft from the fireplace was significantly reduced.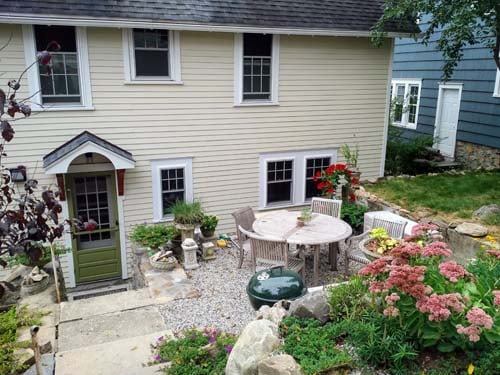 Rain barrels, retaining walls, an entry roof over the back door, drainage swales and redesigned sidewalks are among the fixes for water waste and generally inefficient, not-so-green attributes of this early 20th century home. Credit: Maureen M. Mahle
Benefits of Energy Efficiency
Before renovations, the home had a Home Energy Rating System (HERS) index score of 173. After renovations, the HERS score dropped to 59. Natural gas usage was reduced from 2,400 therms per year to just 600. In addition, Maureen and Steve have reduced water usage by 40 percent, as compared to the baseline home, and cut CO2 emissions by 3,000 pounds annually.
Ultimately, the residence received LEED v4 Platinum certification. According to Mahle, while the process was rigorous and taxing, the family is comfortable and happy in their "new," high-performing home.
---

Alan Naditz is managing editor of Green Builder Magazine. He has covered numerous industries in his extensive career, including residential and commercial construction, small and corporate business, real estate and sustainability.