Investment in ICON Brings 3D Printing Closer to Reality for Builders

Cati O'Keefe
2 min read
Icon secured more than $200 Million in funding to support rapid growth and demand For 3D-printed construction.
ICON, developer of advanced construction technologies including robotics, software and building materials, announced in August it has completed a $207 million series B round of financing led by Norwest Venture Partners. The investment brings ICON's total funding since launching its revolutionary technology to $266 million.
This will allow it to build homes like the one featured in this blog: The East 17th Street Residences development includes four homes of varying sizes and layouts. The houses have ground floors built using 3D printing. The upper floors are timber-framed and clad in standing-seam metal.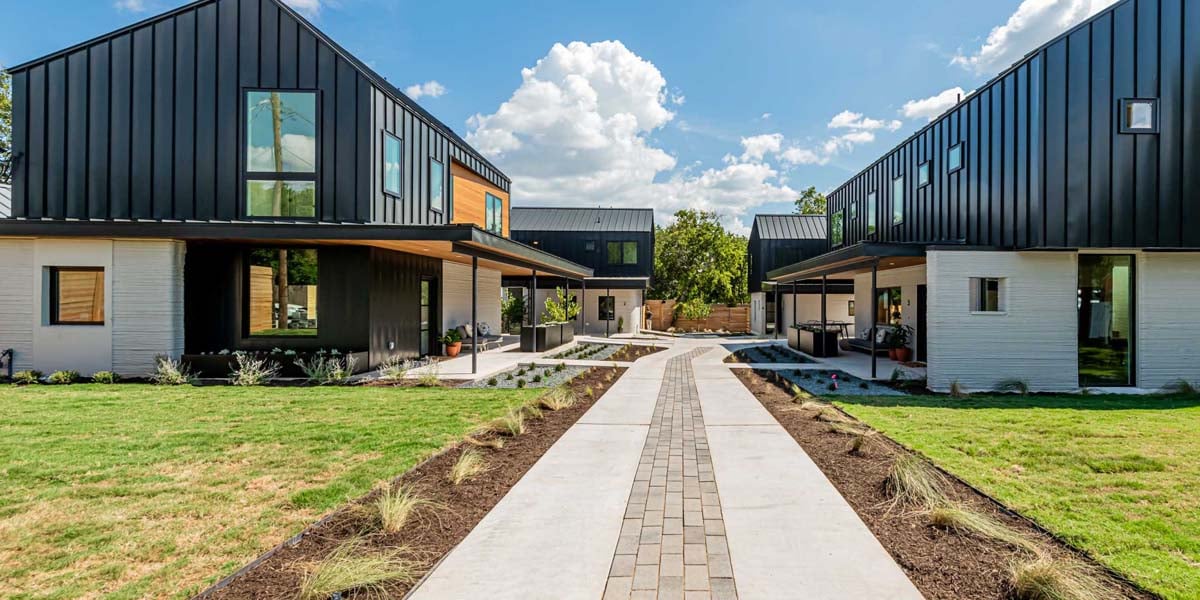 "Since our unveiling in 2018, ICON's primary work has been maturing the technology from prototype to reliable, ready-for-the-world products and services," said Jason Ballard, co-founder and CEO of ICON. "This has required dozens of fundamental engineering, scientific and architectural breakthroughs. We want to turn up the velocity in a major way and are ready to scale. With the support of the very best of venture capital, strategic capital, and industry partners, this round of funding will help us do just that."
"ICON's groundbreaking technology has created a new paradigm for homebuilding that fundamentally changes how housing is constructed," says Jeff Crowe, managing partner, Norwest Venture Partners. "The company is already building everything from single-family homes for the homeless all the way to structures for habitation on the moon and Mars. But we are particularly excited about the opportunity for ICON to collaborate with home builders and massively impact the housing shortage currently plaguing the United States."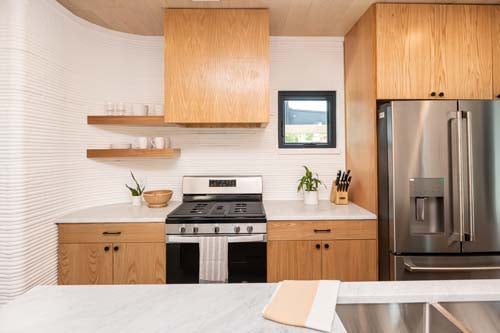 Minimal interiors by Claire Zinnecker reflect southwestern design. The striations created in the printing process are celebrated, not hidden, on the interior walls.
To date, ICON has delivered more than two dozen 3D-printed homes and structures across the United States and Mexico—more than any other construction tech company. ICON broke into the mainstream housing market in early 2021 with the first 3D-printed homes for sale in America for developer 3Strands. Most recently, ICON unveiled its next-generation Vulcan construction system and debuted its new Exploration Series of homes to cooperatively develop new design languages and architectural vernaculars with world-class architects.
The first home in the series, "House Zero," was optimized and designed specifically for 3D printing and features an elevated architectural and energy-efficient design that highlights the benefits of resiliency and sustainability only found in homebuilding through 3D printing. Additional ICON projects are underway to deliver social housing, disaster relief housing and mainstream housing, in addition to developing construction systems to create infrastructure and habitats on the moon and eventually Mars with NASA.
ICON's proprietary Vulcan technology produces resilient, energy-efficient homes faster than conventional construction methods and with less waste and more design freedom. Designed and engineered from the ground up for volume 3D printing of homes with precision and speed, the new Vulcan construction system can 3D print homes and structures up to 3,000 square feet, is 1.5x larger and 2x faster than the previous ICON Vulcan 3D printers.
Editor's Note: Looking through ICON's online materials, I am concerned that the company makes no mention of sustainability or CO2 impacts from these fast-tracked 3D Homes. While the innovation is interesting at this point, it's not necessarily game changing, nor will it be, unless the company can demonstrate that it can create homes that are not simply resilient, but low impact.--Matt Power, Editor-in-Chief
Sep 2, 2021 11:46:59 AM · 2 min read
---

Cati O'Keefe is the editorial director of Green Builder Media. She has 25 years of experience reporting and writing on all aspects of residential housing, building and energy codes, green building, and sustainability.