Introducing Housing 2.0: Prepare for Massive Disruption
Green Builder Media joins forces with building industry luminary Sam Rashkin to launch Housing 2.0, focused on creating the next generation of sustainable homes at a fraction of the cost.
Green Builder Media is thrilled to announce a partnership with building science expert and industry influencer Sam Rashkin to develop and implement Housing 2.0, a wide-ranging engagement and education program dedicated to facilitating disruption within the housing sector.
The Housing 2.0 program will empower building professionals to design and construct higher performance, healthier, more sustainable homes at a fraction of the cost.
"Virtually every major industry in our economy has experienced massive disruption. Housing has been able to sit on the sidelines, but not any longer," says Rashkin. "The disruption occurring now will remove the challenges that builders are facing with respect to labor issues, quality control, soaring lumber costs, material shortages, cycle time, performance risks, and sales struggles, enabling building professionals to deliver higher quality homes that optimize consumer satisfaction."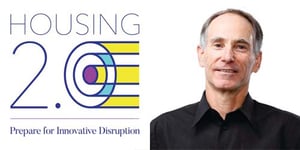 Building on Rashkin's years of educational and training experience through his Retooling the U.S. Housing program and Green Builder Media's 17 years of media, communications, and leadership in sustainability expertise, the Housing 2.0 program will teach building professionals how to improve the homebuyer experience through innovation.
The foundation of the program is the Housing 2.0 book, authored by Rashkin, which will be released in 1Q21. The program will also incorporate a 5-part workshop series that will cover Housing 2.0 fundamentals, ongoing educational courses, networking groups, extensive custom content creation, and editorial coverage, and market intelligence from COGNITION Smart Data highlighting disruptive innovations that are transforming the building industry.
We truly believe that the housing market is about to experience titanic transformation. All of our data shows that we're on the verge of a massive and rapid adoption of advanced products, systems, technologies, and building practices.
We want to proactively guide and influence this transition. The Housing 2.0 program provides an excellent vehicle for us to offer ideas and inspiration, and also to receive feedback from participants, peers, and colleagues so that we can learn how, together, we can facilitate change optimize the results.
---
The Housing 2.0 program is made possible by the generous support of building industry leaders, including Mitsubishi Electric, ZIP System, Panasonic, and Schneider Electric.