How to Decorate Your Home to Fit Your Harry Potter Household

Michele Lerner, Associate Editor
6 min read
If you're a Potterhead, chances are you already own a Gryffindor throw or a Golden Snitch clock. But have you thought of going to the next level and extending your love of Harry Potter throughout your home? Find inspiration and advice from interior designers.
As a Harry Potter fan, you already know where the Sorting Hat would have indicated you belong and have declared your loyalty to Gryffindor, Ravenclaw, Hufflepuff, or Slytherin.
You may already have scattered a few emblems of your Potter preference around your house, such as a Deathly Hallows bean bag chair or a subtle Hogwarts picture frame. If you're considering going all-out with a Harry Potter theme, you could choose an individual room to declare your alignment with "wise old Slytherin" or you could extend the blue-and-bronze Ravenclaw color scheme throughout the house.
"I like to think that if you love something and it's a big part of your life, it deserves to be proudly featured and enjoyed in your home," says Ariel Schuster, a sales and design consultant with Artaic, a mosaic tile company based in Boston. "I also like to think that your home should be diverse in its décor, drawing guests through it and creating unique spaces that can be enjoyed for different purposes and at different times."
Going Gryffindor
If you belong in Gryffindor, where dwell the brave at heart, your scarlet and gold color scheme can be carried through your whole house or just in specific rooms. For example, you can find drawer knobs for each of the Hogwarts houses on Etsy and find more inspiration on Pinterest .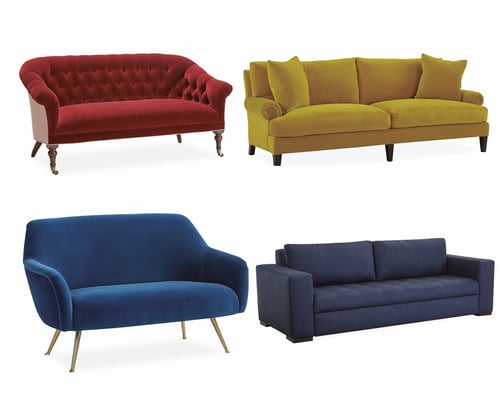 Weaving a Harry Potter theme into a sustainable home takes a little creativity and the right furniture and decor. Lee Industries offers the best of both worlds with its sustainable furniture, which is free of flame retardants and is treated with very-low-VOC finishes, and has cushions with 80 percent recycled fibers.
Besides adding the roaring lion crest to doorknobs, you may want to monogram a headboard with the crest with a favorite phrase from the books, says Tracy Morris, owner of Tracy Morris Design in McLean, Va. Gryffindors are known for their daring, nerve and chivalry--why not remind yourself of your own courage with those words on an accent wall or above your bed?
"It's important to select items that will make the theme impactful, so someone knows what the theme is from the start," says Allie Mann, a designer and interiors specialist at Case Architects & Remodelers in Bethesda, Md. "Then you can add a few other subtle details that continue to tie the space together."
Mann suggests a gallery wall with art or memorabilia tied to your theme, with the appropriate color as a backdrop for the items. Can you picture your red and gold wall, lined with your howlers, detention slips and chocolate frog cards, and like a real-life pinterest board? (For the uninitiated: For Gryffindor you'd opt for a gold or scarlet wall; for Hufflepuff, yellow or black paint; for Ravenclaw, blue or bronze, and for Slytherin, green or silver.)
If you want to go more upscale, you could have a custom-designed Gryffindor crest made of mosaic tiles for your wall.
"You could add upholstery pieces that highlight those colors as well or select light fixtures or even the cloth of a gaming table in similar colors," says Mann. "These items carry the theme through without going overboard."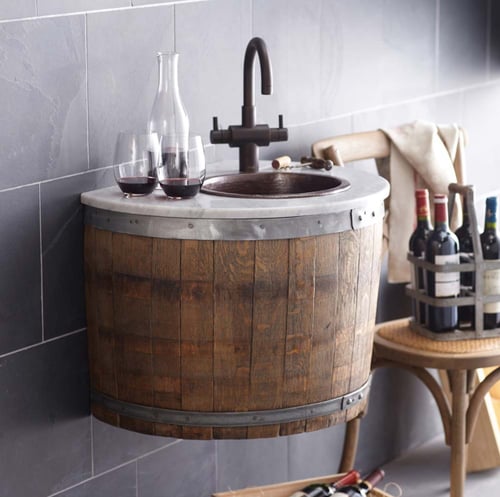 Antique barrels can be used as tables or converted to use in a bar or bathroom in a nod to the entrance to the Hufflepuff common room. T
his picture features the
Native Trails Bordeaux Wall Mount in Oak
A subtle way to incorporate a theme into a home can be with cabinet pulls, hooks, and lantern sconces that fit the theme, suggests Marnie Oursler, owner of Marnie Custom Homes in Bethany Beach, Del. She also recommends putting collectibles in glass jars or bowls – you could even collect Hogwarts House key chains or pins to display.
Mann says a bedroom for her young daughters at her in-law's beach house has a mermaid theme with walls painted blue/green reminiscent of the ocean, a few mermaid accessories on the dresser and nightstand, mermaid tail headboards and green/blue rug over the hardwood flooring. Similarly, a Ravenclaw bedroom could include blue walls, a mat on the desk with that classy eagle crest, a bronze area rug and a Ravenclaw pennant or poster of Rowena herself on the wall.
The common rooms in each of the four houses are important spaces for Hogwarts students to gather, so your family room is a great place to decorate to resemble your own house's common room.
Gryffindor: The Gryffindor common room's large stone fireplace is the focal point for the room, so you may want to choose a room in your home with a fireplace for your Gryffindor haven. Soft, scarlet-colored armchairs, a faded area rug and paintings and tapestries of wizards, witches and animals, including a portrait of a lion on the mantel, are all part of this room's decor. The room also includes several bookcases and wood tables and chairs.
Hufflepuff: The cozy and sunny Hufflepuff common room, decorated in yellow and black, is entered by tapping a combination on barrels stacked in the corridor outside the door, which is hidden by a painting. The room includes fat, cozy armchairs and honey-colored wooden tables and is filled with plants set in copper-bottomed planters that fit the alignment of Hufflepuff with earth.
Ravenclaw: The eagle emblem for Ravenclaw appears on the bronze knocker that provides entrance to the common room, which has two bronze eagle sculptures as well as a marble statue of Rowena Ravenclaw. A bright blue chaise longue is in the center of this room in front of a tall arched bookcase, with wooden tables, a blue rug and a blue sofa adding to the colorful room; a perfect place for intelligent, witty conversation.
Slytherin: Located underneath the Great Lake at Hogwarts, the Slytherin common room has round green lamps that hang from the ceiling and is warmed by a large fireplace with an elaborately carved stone mantel. The room has carved wooden chairs and several low-backed dark green leather sofas.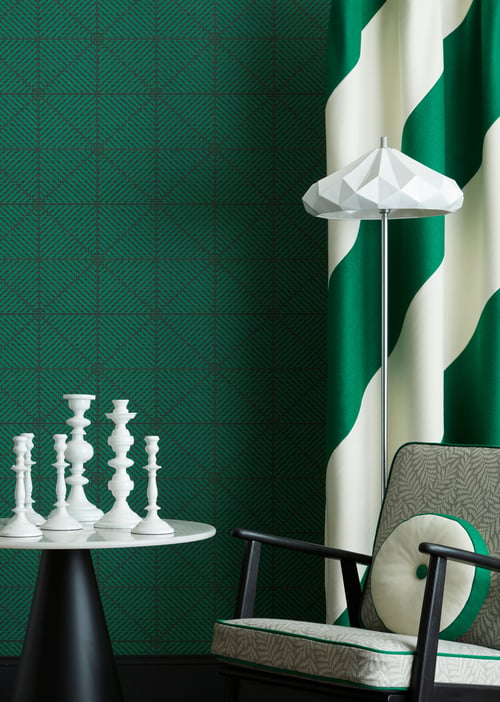 Slytherin green creates a striking room when paired with bright white accents.
This picture features the
Original BTC
Hatton Floor Lamp
Going Hogwarts Without Going Whole Hog
Deciding where you want to create your Hogwarts space depends on the floor plan of your home and its style. Recreating the greenish stone basement of Slytherin's common room or the graceful arched windows and ceilings of the Ravenclaw common room may not be possible if you're in a contemporary-style home or a traditional colonial. But you can always bring elements of these styles into individual spaces even if you can't completely replicate the film version.
"When it comes to fun personal décor pieces, I find they're better suited and appreciated in the casual spaces that you frequent most, whether that's your family room, man cave or even your bathroom," says Schuster. "It's meant to be enjoyed by you, after all. By limiting your fan-themed décor to certain spaces, you're giving them a place to shine without dominating the aesthetic of the entire home."
Some decorative themes work better than others to carry through an entire home, says Schuster.
"For example, if you're an avid collector of Murano glass, these pieces can certainly be incorporated throughout your home, as glass can serve a multitude of functions from decorative art to functional glassware," says Schuster. "But if you love Harry Potter, confining the theme to a single space is likely a more wholly appreciated way to pay homage to your fandom – think a single accent wall or carrying the colors throughout the room in the soft furnishings like pillows and throws."
Mann suggests limiting a theme to one room or perhaps a couple of rooms at most.
"Themes work particularly well in kids' bedrooms, bathrooms, or auxiliary spaces such as a lower-level recreation room or gaming space or even a garage turned into a play space," she says. "Another option would be to decorate a hobby or craft room with a theme that can be carried throughout the room in a playful way."
While you may not be able to wave your wand and make the room assemble itself, with a bit of planning and time to collect fun accessories, you can bring your Hogwarts house into your actual house.
---
Publisher's Note: This content is made possible by our Today's Home Buyer Campaign Sponsors: Panasonic, Whirlpool, Rockwool, and Lee Industries. These companies take sustainability seriously, in both their products and their operations. Learn more about building and buying homes that are more affordable and less resource-intensive on Today's Home Buyer.
Aug 2, 2021 12:47:58 PM · 6 min read
---

Michele Lerner is an award-winning freelance writer, editor, and author who writes about real estate, personal finance, and business.