How to Build an Energy Efficient Home
To make the right decision when planning your new home and its energy efficiency needs, here are some must-haves when building an energy efficient home.
Do you ever wonder why people build homes that are so energy inefficient? It's because it's the easiest way to save money. Once you learn how much energy your home uses on any given day, you'll see that building green can have a big green payoff. To make the right decision when planning your new home and its energy efficiency needs, here are some key tips to keep in mind. when building an energy efficient home:
1) All Electric. It Is The Way
In the very near future, all homes will probably run completely on electricity, without gas hookups. That's because electricity can be created with renewable energy sources, like solar power and wind turbines. Even if your home won't "go solar" immediately, by choosing to heat, cool and cook with electricity, you set yourself up for a lifetime of greener, cleaner living. Fossil fuels are on the way out..
2) Heat Pumps for the Win
Heat pumps are a relatively new technology that make home heating and cooling MUCH more efficient. By replacing old gas-guzzling and oil-chugging equipment with electric heat pumps, you can drastically reduce your CO2 footprint, and save money. You can also heat your home's hot water with one of the new hybrid heat pump systems. Many states offer huge discounts for these ENERGY STAR heroes. They can cut your water heating bill by 70 percent.
3) Smart Lighting Systems
Smart lighting systems use sensors to adjust the brightness of lighting fixtures and appliances according to your home's weather conditions. They can also help to save energy, when compared with traditional lighting systems, because they turn off lights in unused rooms. Some systems also can be voice controlled, and allow you to set scenes and moods that fit your lifestyle.
4) Smart Home Technology
Smart home technology is nothing new; it's been around for a while now and has been beneficial for our health, our financial situation, and our overall quality of life. These days, smart home technology is available in so many different forms that it's hard to know where to begin. There are devices to monitor and record your energy use, devices that help you save money by managing your finances online, and devices to help you save energy.
5) Long-Distance Electronic Locks
So called "smart locks" allow you to throw away your house keys forever. More importantly, they allow you to decide who has access to your home at what times, under what conditions. Set a special one-time code for a contractor. Get a message when your kid gets home from school. Let your neighbor in to check something using your smartphone, while you're on vacation. You're in control.
6) Rainwater collection system
In these times of extreme drought, any energy-efficient home should include a rainwater collection system. Water is the blue gold your house and landscape both need to survive. Simple systems divert rainwater to outdoor plants and trees. You can also purchase more sophisticated systems that filter and purify the water to fully drinkable quality, or send it only to toilets and laundry with minimal filtration.
7) Wind turbines: Steal the wind
When building an energy-efficient home in an area with relatively steady wind, such as hilltops and coastal areas, you should consider installing a wind turbine. New turbines can operate in as little as 5 mph winds, so If you have the right site and the right amount of wind, you could produce power almost constantly. Remember, the advantage of wind over solar is that the wind keeps blowing in the dark!
8) A solar power system
When building an energy-efficient home, adding a solar power system should be high on your priority list. Assuming most of your systems run on electricity, not fossil fuels, solar helps you save money, and also makes your home more resilient. When the power goes out for hours or days, a solar system with battery backup can keep you comfortable, keep your refrigerator running and the lights on.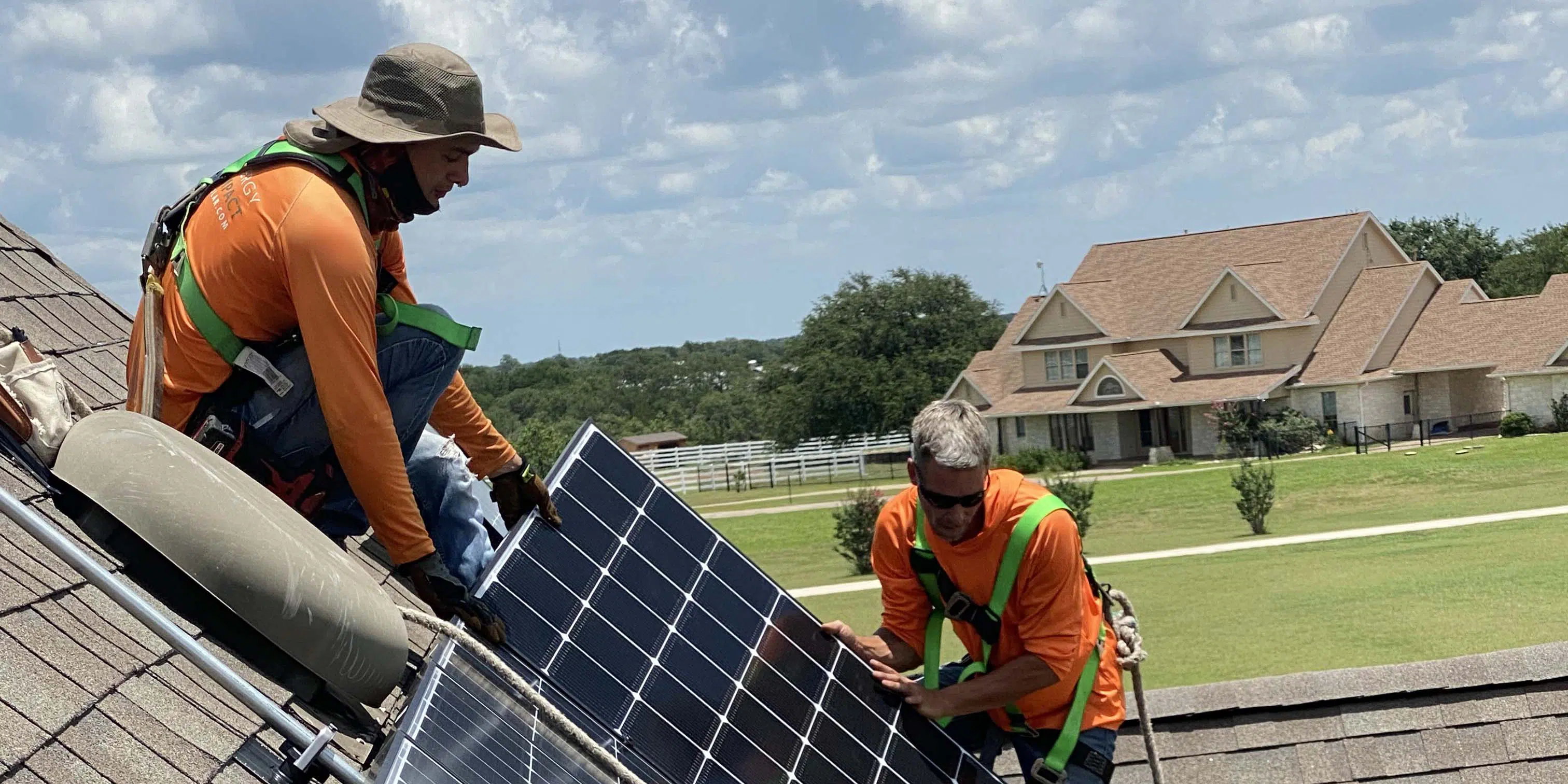 9) Insulate to the Max
When building an energy efficient home, you should insulate every room in your home to as high an R-value as the thickness of the wall (or roof) permits. Before you close in the walls, have an energy expert do a blower door test and make sure you didn't leave any gaps. More insulating keeps your home cooler in the summer and warmer in the winter using a much smaller amount of energy. .
10) Double-Paned windows
Double-paned windows can save you up to 25% on your heating and cooling bills compared to single-paned windows, and they can reduce energy usage by up to 50%. This makes double-paned windows a no-brainer when it comes to energy efficiency. If you want even more bang for your window buck, pay a little extra for argon-filled gaps between the glass, and special Low-E coatings.
11) Insulated Doors
An insulated door does a lot better job holding heat (or cooling) inside your home, especially when outdoor temperature hit extremes. Look for doors that have higher R-values. See the chart at the end of this article for an R-value comparison.
12) Plumbing with Lifestyle in Mind
Plumbing systems require particularly careful analysis when designing an energy-efficient home. Good plumbing is more than just a collection of pipes and valves. A well-designed system considers the distance from your hot water heater to your shower, for example. Do you need a booster tank? Also, it's wise to install a leak detection system. Thousands of homes are ruined every year by unexpected plumbing leaks.
13) Strict Waterproofing Requirements
Waterproofing is another critical factor when designing an energy-efficient home. Common water problems happen in the basement and at your roof level. By following waterproofing instructions carefully, you can head off most problems. A moldy basement can cause health problems and cost you thousands in repairs. Humidifiers may help after the fact, but the real goal is to keep water from entering the home in the first place.
14) Thermal Mass Materials
As temperatures climb (and fall) to new extremes, homes need exterior armor to slow the flow of heat. That means heavy stuff: concrete walls, insulated concrete forms and masonry. When insulated properly, these materials take longer to transfer heat into or out of your home. In hot climates, for instance, masonry walls cool down slowly at night but keep the blazing heat out during the day.
15) Air and Moisture Barrier
This barrier keeps your home from getting contaminated by the outside environment. The best barriers are made of special "fabric" that keeps air from getting in but lets moisture out. Look for respected brands of house wraps and similar products that can help your home "breathe," at the same time controlling airflow in and out.
16) Insulated Foundation
An insulated foundation can save you as much as 25 percent on your energy bills. The most common way to insulate this buried concrete is with rigid foam panels on the exterior. Second best is to add similar panels to interior walls. The real key is to waterproof the concrete thoroughly before you apply the insulation, and make sure water drains away from the house, not toward the basement. You could also save money and energy by building a shorter shallow frost foundation, and head off potential basement woes forever.
17) Forever Roofing
Instead of opting for short-lived asphalt shingles, if you spend more for metal, tile or even plastic slate look alike roofing, you won't regret the choice. Some of these products come with 50-year warranties, and may last the life of your home. Why do a roofing job twice? Spend a little more now and never look back at a leaking roof.
18) Look for Recycled Materials
Many building products now contain varying amounts of recycled content, putting them out in front in terms of their care for the environment. For instance, look for composite decking, quartz-based countertops, recycled plastic roofing and recycled cellulose insulation and many other second-time-around products.
19) Landscaping for an Energy-Efficient Home
While it may seem like there's an "all-in-one" solution to making your home energy-efficient, the truth is that landscaping is one of the most overlooked aspects of energy efficiency. Landscaping, combined with smart irrigation, can greatly impact your monthly energy bill, and a greener landscape can reduce that bill by up to 15%, primarily by saving on your water bill.
20) Floor it with Forethought
Floors, too, can contribute to a green home's overall pedigree. By installing cork flooring, natural textiles, linoleum or long-lasting, semi-permanent tile, you're already headed toward a lower impact. Wood flooring too can be a green choice, but only if the company makes special efforts to source the wood sustainably and use low-toxicity coatings.
Conclusion
Building an energy-efficient home is a process that will take a little bit of effort on your part, but it's worth it in the end. To truly be an energy-efficient home, you have to take the time to think about all the little things and make sure they are in place before you buy a house. You should aim to use 10% to 15% less energy than the average home in your neighborhood.
R-Values of Windows and Doors
WINDOWS

R-VALUE

Single replacement window glass

0.91

Single replacement window glass for storm applications

2.00

Double insulating glass

(3/16" air space)

1.61

(1/4" air space)

1.69

(1/2" air space)

2.04

(3/4" air space)

2.38

(1/2" w/ Low-E 0.20)

3.13

(w/ suspended film)

2.77

(w/ 2 suspended films)

3.85

(w/ suspended film and Low-E)

4.05

Triple insulating glass

(1/4" air spaces)

2.56

(1/2" air spaces)

3.23

Addition for tight fitting drapes or shades, or closed blinds

0.29

DOORS

R-VALUE

Wood Hollow Core

(1-3/4")

2.17

Solid Core Flush

(1-3/4")

3.03

(2-1/4")

3.70

Panel Door w/ 7/16" Panels

(1-3/4")

1.85

Storm Door

(wood 50% glass)

1.25

(metal)

1.00

Metal Insulating

(2" w/ urethane)

15.00




Source: Rustica.com
---
Publisher's Note: This content is made possible by our Today's Home Buyer Campaign Sponsors: Whirlpool, Vivint, myQ, Sonos and Jinko Solar . These companies take sustainability seriously, in both their products and their operations. Learn more about building and buying homes that are more affordable and less resource intensive.