Hot 50 Products Highlight: 5 Innovative Appliances

Alan Naditz
4 min read
This year's Hot 50 product winners, picked by Green Builder's editors, include innovative new options in the appliance category.
Beko Upright Freezers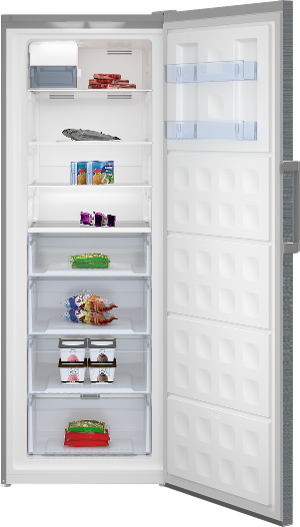 The events of the past year make adding a second freezer to the household seem like a no-brainer. But a drastic increase in the monthly electric bill might change a consumer's mind. Beko's line of upright freezers, such as the BUFR2715 (shown), are ultra-energy efficient and boy, do they keep things cold. The company's Freeze Guard Technology works in ambient temperatures of 5 degrees to 109 degrees Fahrenheit without any loss of performance.
Meanwhile, Quick Freeze locks in vitamins and nutrients by freezing food 10 percent faster than the competition. Food will be fresh, nutritious and vitamin-rich, supporting healthy eating habits all year round. And, frost-free technology automatically defrosts the freezer. Warms air enters the freezer each time the door is opened is removed, thanks to an automatic fan, leaving no chance for ice buildup.
Beko freezers offer energy efficiency and provide industry-leading performance qualified by EPA certification guidelines. As of November 2020, only Beko freezers (with and without ice maker) received the ENERGY STAR Most Efficient 2020 award. Beko freezers, without an ice maker, received the EPA Emerging Tech Award.
GE Profile Smart Slide-In Front-Control Induction Range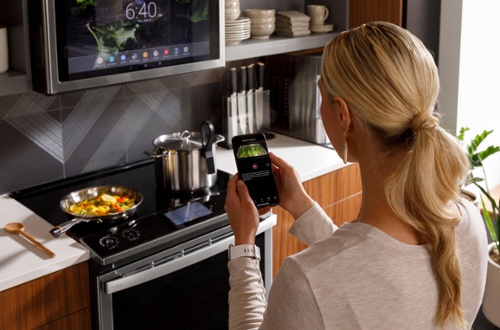 Home cooking has become easier and smarter than ever. The GE Profile Smart Range features the industry's first in-oven CookCam, a Wi-Fi enabled camera that allows smartphone viewing of food as it cooks, freeing up time for other things. Settings may be adjusted using a smart device. Expect to see this technology lead to AI integrations, making the consumer's oven smarter over time through simple software upgrades.
Similarly, a precision cooktop sensor in Profile allows at-home cooks to dial in the exact temperature for any induction-ready pan via a smart device or the range's touch LCD display. Video-guided recipes from chefs also work with the range's sensor technology to adjust cooking time, temperature and pace for consistent, restaurant-quality results.
LCD control is through the company's SmartHQ app—a multi-pronged platform which consolidates control, connection, personalization and management of various GE and GE Profile app-enabled appliances.
GE Profile Smart Ranges are compatible with platforms such as Amazon Alexa, IFTTT and the Google Assistant, among others. GE appliances also connect with popular apps such as Innit, Drop and Flavorly, which house thousands of recipes and how-to videos.
Whirlpool Large Capacity Fingerprint Resistant Dishwasher with Third Rack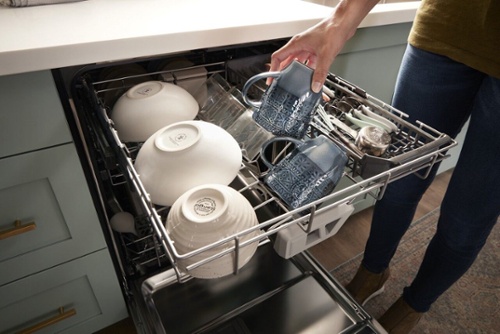 With the ENERGY STAR-certified Whirlpool Large Capacity Fingerprint Resistant Quiet Dishwasher with Third Rack, consumers can load more and run less—saving water and energy. The appliance is equipped with a soil sensor cycle to automatically determine how dirty dishes are, optimize cleaning resources, and adjust the cycles as needed for each load. The two sensors measure temperature and soil level during prewash and the wash cycle.
Users may load hard-to-fit utensils or measuring spoons in the third rack to free up more space for dishes below, easily fit tall items, courtesy of an adjustable second rack, or gain extra space in the lower rack for casserole dishes and large pans by moving or separating the three-piece silverware basket. And, as Whirlpool's quietest dishwasher at 41 dBA, consumers can keep conversation going while dishes get clean.
If a leak is detected, a light will flash on the front of the dishwasher, and the dishwasher will proceed to drain water from the tub. Available in black stainless and stainless finishes, the easy-to-clean exterior resists fingerprints and smudges.
Samsung 8800 Series Front Load Washer and Dryer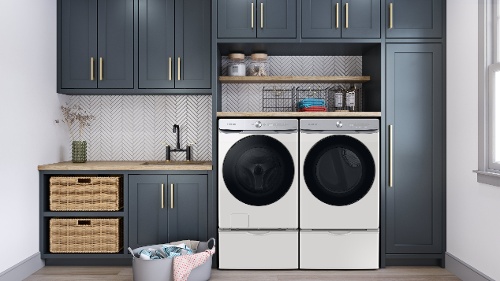 Samsung is bringing its signature Smart Dial technology to the new 8800 series Front Load Washer and Dryer, which has been redesigned to make laundry easier, more intuitive and less stressful. The Smart Dial intelligently learns preferred wash cycles and settings, then prioritizes them for quick access in a simplified, easy-to-use control panel. It also recommends specific cycles based on intelligent learning of past cycles that were run on specific days of the week or at specific times.
The 8800's powerful OptiWash feature detects the laundry load's weight and uses a patented Turbidity Sensor to determine the ideal amount of water and detergent to use. The dryer automatically optimizes its cycle, too—no more checking to see if clothes are dry or wasting energy running another cycle because garments are still wet. And with the 8800's Super Speed washing and drying cycles, clothes can be ready in as little as one hour.
Meanwhile, the unit's MultiControl feature enables operation of both washer and dryer from a centralized panel on the washer, keeping all controls within easy reach.
Signature Kitchen Suite Undercounter Convertible Dual-Drawer Refrigerator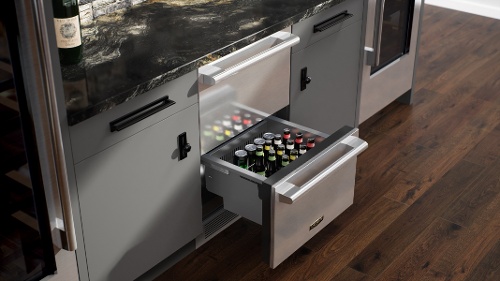 Technicureans—today's forward-thinking home chefs—can find a lot to enjoy about Signature Kitchen Suite's upcoming undercounter convertible refrigerator. The 24-inch-high unit's two drawers operate independently for temperature control (an industry first among undercounter built-ins) in six zones (Pantry, Fridge, Bar, Seafood, Meat or Freezer), for a temperature range of minus 7 degrees to 50 degrees Fahrenheit.
The drawers are designed to minimize temperature fluctuations to help lock in food freshness and curb food waste. Users can also benefit from Wi-Fi connectivity via the SKS app, which allows remote temperature control and monitoring on iOS and Android devices.
The as-yet-to-be-formally-named unit, complete with digital controls, white LED display and hidden LED interior lighting, is available in panel-ready or stainless steel options to complement high-end kitchen décor. It is ENERGY STAR certified, meaning it saves energy, helps combat climate change and is engineered to reduce environmental impact.
Signature Kitchen Suite expects the product to be on the market by the third quarter of 2021.
May 20, 2021 10:22:09 AM · 4 min read
---

Alan Naditz is managing editor of Green Builder Magazine. He has covered numerous industries in his extensive career, including residential and commercial construction, small and corporate business, real estate and sustainability.