Home Fire Sprinkler Systems Add Quadruple Sustainability Benefits

Kim Bliss, Guest Columnist
4 min read
Because they reduce material waste in a fire, use minimal water to extinguish a blaze, help reduce greenhouse gases, and save lives, sprinklers enhance a home's ecological story.
Growing up in California in the '70s, my childhood home was the only one in the neighborhood with a solar water heater system on the roof. It was extremely obtrusive — the gigantic tank and large black panels that faced the street were an eyesore to many neighbors who complained about the unsightly appearance.
However, it provided consistent hot water running through our house for bathing, cooking, dishwashing, and laundry, while keeping our energy bill next to zero.
Now, solar panels have become more common — and in some areas even a status symbol — as savvy homeowners resonate with the importance of sustainable building practices to ensure a cleaner, healthier planet for future generations.
So, it begs the question — as people are becoming more conscientious about the systems they choose to have in and around their homes, why aren't more people installing fire sprinklers?
Statistics show that home fires are deadly and costly to the American public. According to the National Fire Protection Association (NFPA), there are nearly 350,000 home structure fires each year in the U.S. that cause more than 2,600 deaths, 11,000 injuries, and $7.3 billion in property damage.
And research reveals that fire sprinklers can provide real sustainability benefits, including reducing water waste as well as ground and water pollutants, minimizing greenhouse gases, conserving remediation tactics and building materials, and, most importantly, saving lives.
Here's a rundown of the key areas where home fire sprinklers can make a sustainable difference.
Water Considerations
According to the Home Fire Sprinkler Coalition, "fire hoses, on average, use eight-and-a-half times more water than sprinklers do to contain a fire." And according to the Scottsdale Report, a 15-year study of fire sprinkler effectiveness, "a fire sprinkler uses, on average, 341 gallons of water to control a fire" while "firefighters, on average, use 2,935 gallons."
In addition, the Environmental Impact of Residential Fires Review from FM Global® showed water usage was significantly reduced "between 50% and 91%" in home fires with installed sprinklers. Also, "fewer persistent pollutants, such as heavy metals, were found in sprinkler wastewater versus fire hose water," and "the high pH level and pollutant load of non-sprinkler wastewater is also an environmental concern."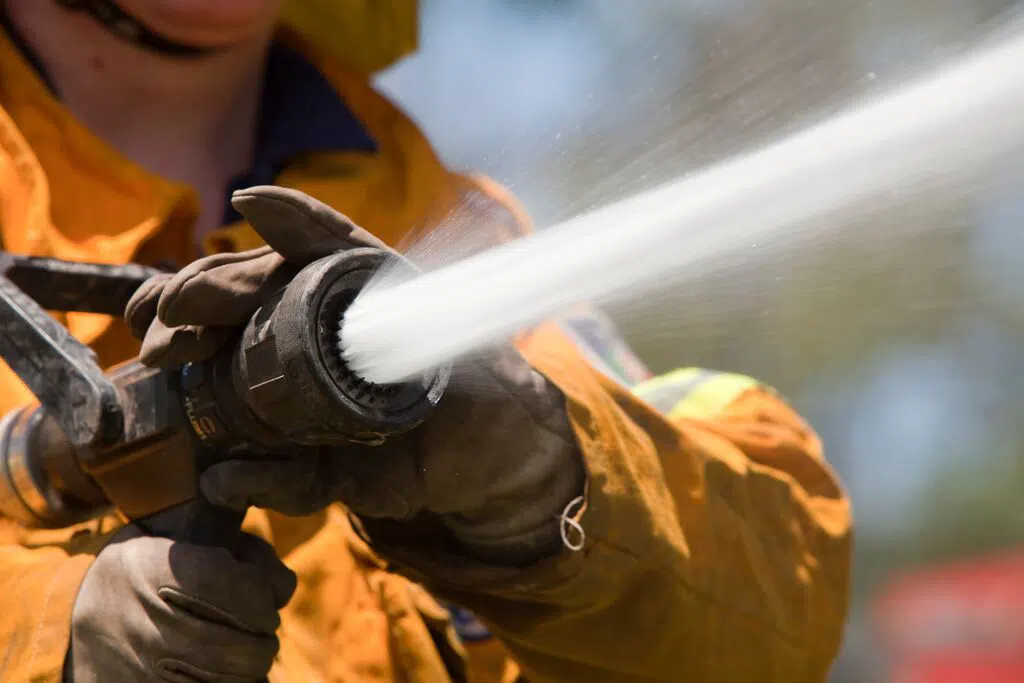 These facts make it clear that fire sprinklers use significantly less water compared to fire hoses. And because fire sprinklers activate immediately upon sensing surrounding temperatures reaching a certain level, they can oftentimes put out a fire even before the fire department arrives (or at least give occupants time to exit the home and get to safety).
Greenhouse Gases
According to the Fire Protection Research Foundation (FPRF), the research affiliate of the NFPA, having fire sprinkler systems can reduce the amount of greenhouse gases released from burning buildings by nearly 98 percent. (Check out this link to learn more.)
This number is also confirmed by the Environmental Impact of Residential Fires Review that states fire sprinklers helped cut greenhouse gas emissions by 97.8%. The report also showed that since 2010, more than 1.8 billion pounds of greenhouse gases have been emitted into the atmosphere due to the lack of home fire sprinklers.
In addition, with new construction materials burning hotter and faster compared to building materials from decades ago, it makes sense to install a system that can activate immediately on site instead of having to wait for firefighters. Every minute counts when it comes to burning materials and greenhouse gas emissions.
Remediation and Repairs
Whenever a home fire occurs, whether large or small, there is always the need to repair the damage. According to Restoration & Remediation, spray-on chemicals used for fire remediation include sodium hypochlorite, hydrogen peroxide, and chlorine dioxide, while the gaseous chemical is most commonly ozone. These oxidizing chemicals can have damaging residual effects to our air, ground, and water resources, not to mention the effects on the individuals applying the chemicals.
Structural damage adds even more complexity. According to National Catastrophe Restoration Inc. (NCRI), the costs to restore a kitchen or replace a roof after a major fire can be upwards of $50,000. Those repairs require new building materials to be created, transported, and installed into the damaged structure.
The transportation of these materials — in addition to the transportation for the installers, project managers, claim adjusters, etc. for the project — add more burning gasoline and diesel fuel byproducts like nitrogen dioxide, carbon monoxide, hydrocarbons, benzene, and formaldehyde into the air.
Lives
Lastly, the most important sustainable aspect of home fire sprinklers is saving lives. With eight out of 10 fires happening in the home, people and pets are at significant risk. And, according to the Home Fire Sprinkler Coalition, older adults, children, and pets are at increased risk.
According to the American Red Cross, children under the age of five are twice as likely to die in a home fire than the rest of the population, and children playing with fire is the leading cause of fire deaths among preschoolers.
For the elderly, the numbers are similar. According to the U.S. Fire Administration, the relative risk of dying in a fire for older adults was 2.5 times greater than that of the general population. And according to the American Veterinary Medical Association, about 40,000 pets die in residential fires each year, and 500,000 pets are affected overall.
Sprinkler Solutions
Home fire sprinklers can be an easy solution in new construction or remodels when the home is already being designed with or already has a flexible PEX plumbing system. Multipurpose PEX plumbing and fire sprinkler systems have been around for decades, and they actually help save on building materials because the fire sprinkler system is combined with the home's cold-water plumbing system.
This innovative design offers homeowners added peace of mind because it verifies water is available to the fire sprinklers each time a cold-water plumbing fixture is used. It eliminates the problem of stagnant water as well as the need for check valves, backflow preventers, and antifreeze (which can also be detrimental to the environment).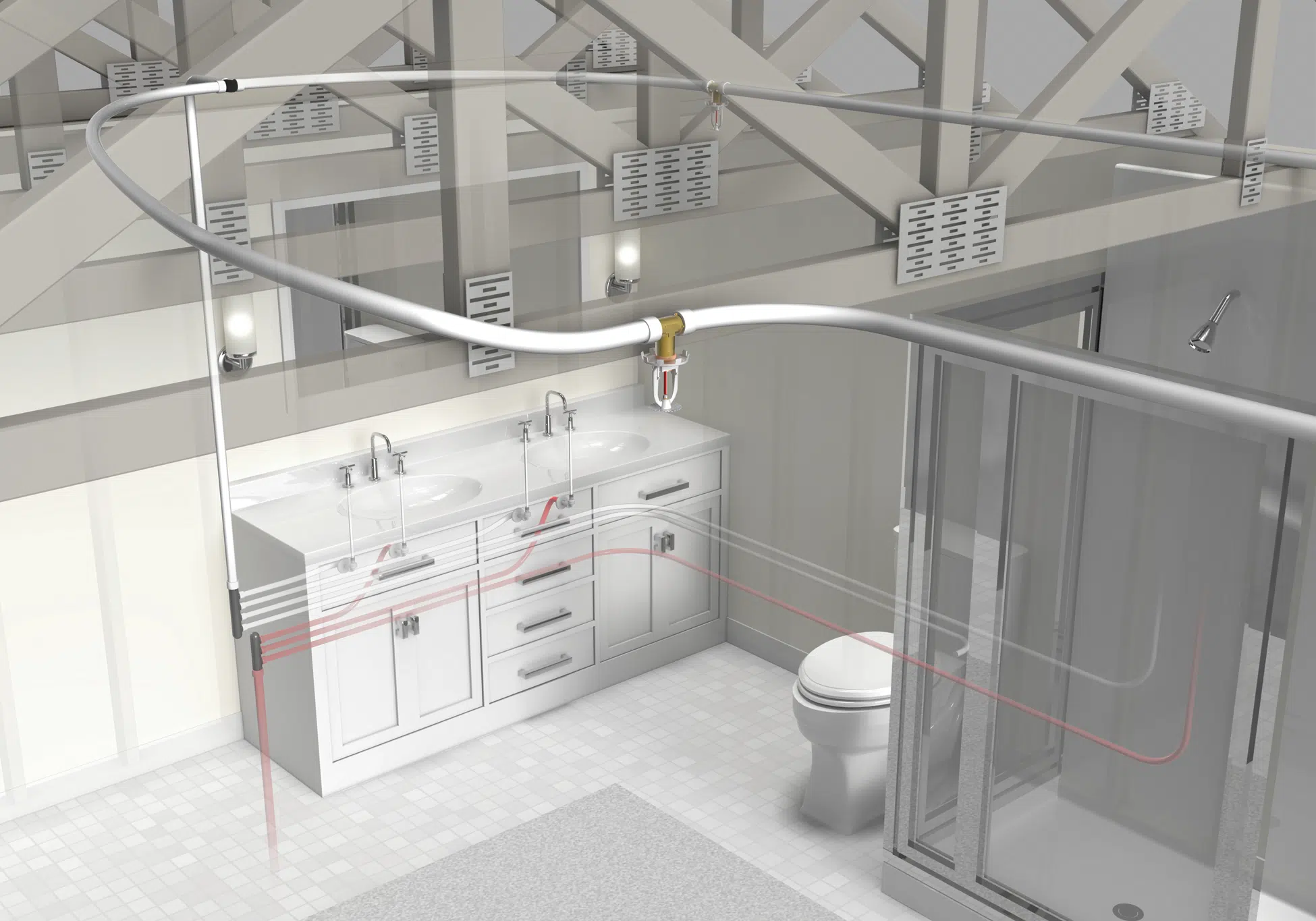 Best of all, a builder's trusted plumbing contractor already on the job site can usually install both the plumbing and the fire sprinkler systems, saving valuable time and costs while reducing construction scheduling hassles. All the contractor needs is the right training and certification.
So, the next time you're thinking about sustainable home building or home remodeling, think seriously about the sustainable aspects of home fire sprinklers. From our water resources to our air to our earth — and even most importantly to those we hold dear — fire sprinklers are truly sustainable.
Oct 12, 2022 1:04:02 PM · 4 min read