High-Performance HVAC is a Must For Extreme Weather Fluctuation

Samantha Carlin
3 min read
The electric Mitsubishi systems will tackle the challenge of keeping residents comfortable year-round while adhering to the zero-carbon requirements of a community that experiences extreme weather fluctuations.
Sponsored Content
In beautiful Fort Collins, Colo., The Sonders Project, a 220-home sustainable community, will highlight best-in-class products and technologies needed to reach strict net-zero goals.
The weather in Fort Collins is extremely variable, ranging from -12 degrees Fahrenheit in the winter to upwards of 105 degrees in the summer. Given these temperature extremes, The Sonders Project needed the right HVAC system to ensure consistent temperatures to keep the homes comfortable, as well as fresh, clean air to optimize the homeowner experience.
Thankfully, Mitsubishi Electric was eager to jump at this challenge. Mitsubishi sees this as "the community of the future." Chad Gillespie, Sales Manager of Performance Construction at Mitsubishi Electric, asserts that "high-performance variable speed heat pumps are critical to making these communities a norm, not just the exception."
The HVAC Efficiency Lowdown
The homes in the Sonders community will be equipped with Mitsubishi's PVA/PUZ HA36 Hyper Heat ducted system. The all-electric HVAC systems have a 10 KW heat kit and Hyper-Heating technology to keep cold Fort Collins days comfortably warm inside the homes. "Our variable speed pumps not only deliver impressive cooling and heating efficiencies, but they also can heat at temperatures down to -13F," Gillespie boasts.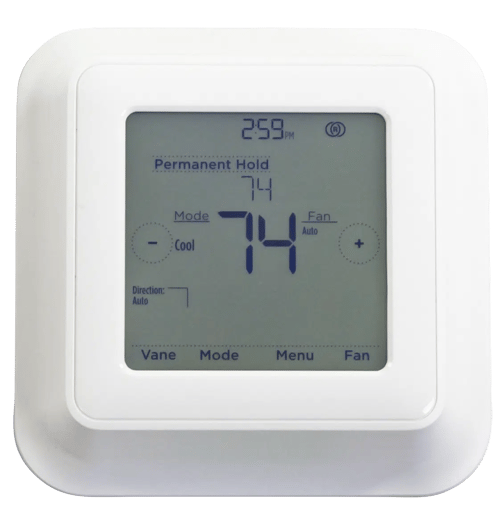 The 3D i-see Sensor also works hard to scan room temperatures and adjusts accordingly to maintain precise temperatures. Similarly, the inverter-driven compressors allow the system to use the exact amount of energy needed, and reduce costs by up to 40% compared to traditional systems.
These all-electric HVAC units will be 100% powered by renewable energy sources. The homes will each produce enough solar energy to compensate for all energy used by the HVAC equipment. This means their implementation saves the carbon emissions that would otherwise come from fossil fuel generated power and aids in the overall environmental goals of the development.
HVAC's Role In Indoor Air Quality
When it comes to HVAC systems, people generally only think about heating and cooling capabilities. But in some cases, the HVAC system also filters indoor air and balances ventilation between indoor and outdoor sources.
According to the EPA, we now spend 90% of our time indoors. Since indoor air can often be more polluted than outdoor air, it's important to choose an HVAC system that has efficient filtration and ventilation capabilities.
At The Sonders Project, Mitsubishi's technology includes air filtration systems that capture odors, allergens, bacteria, and other contaminants that impact air quality.
Because this system is all-electric, Gillespie notes how air quality is affected by removing toxic fuels from homes. "Removing combustion appliances like gas furnaces, gas water heaters and gas stoves are a major part of the solution. Heat pumps and other smart appliances such as induction cooktops are critical to optimal IAQ and reaching standards and certifications like EPA indoor airPLUS."
Shared Environmental Values
Mitsubishi's excitement to participate in The Sonders Project stems from the company's sincere interest in reducing the built environment's impact on the earth. Gillespie explains, "The vision of this community matches our company's. Building all-electric, comfortable, sustainable communities is at the core of what we strive for every day."
Gillespie also notes how "building a sustainable, healthy, smart community is in itself really impressive, but including so much forethought to bring it to the level that it will be built is truly amazing."
Stay tuned for more information about The Sonders Project, and Mitsubishi's role in creating a smart, efficient and net-zero community.
[ART] MHK2Mitsubishi will provide kumo touch MHK2 wall-mounted wireless controllers. They are easy to read and navigate, and they feature an easy-to-use touchscreen interface. With the addition of the kumo cloud control app, the system can be upgraded with remote access from a smartphone or tablet.
Jul 28, 2022 10:30:49 AM · 3 min read
---

Samantha is able to express her passion for the environment -- both natural and built -- as the special projects manager at Green Builder Media. Prior to joining the Green Builder Media team, she worked as an order management specialist at C.A. Fortune, a consumer brands agency. She is a recent graduate of the Master in Environmental Management program at Western Colorado University with an emphasis on sustainable and resilient communities. Originally from the suburbs of Chicago, she is currently thriving in Gunnison, CO where she enjoys the surrounding geology, mountain biking, and skiing.