High-Performance Home Builder Summit This October
Mike Collignon
1 min read
Come learn, network, and collaborate with like-minded green building professionals at EEBA's conference.
Join EEBA October 10-12, in Salt Lake City, for three packed days of building science education focused on providing the tools and networking that builders, raters, analysts, and architects need to take high performance, healthy, resilient homes to new heights!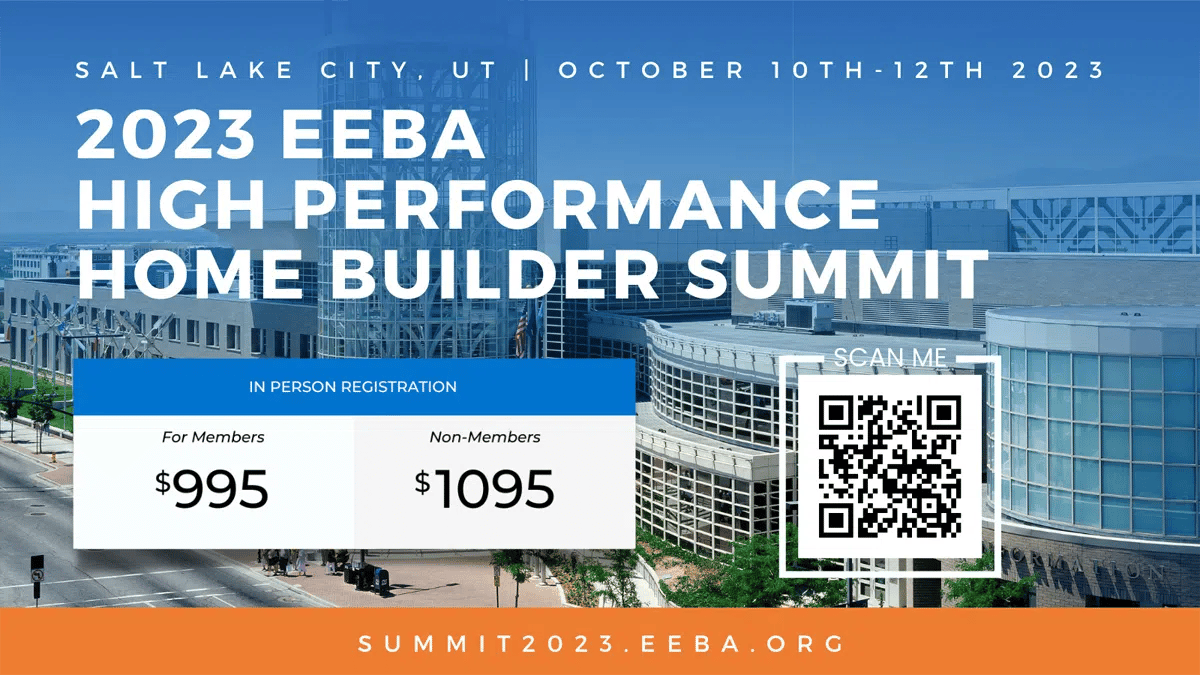 This year will be better than ever with over 50 leading manufacturers exhibiting and 54 education sessions including topics like building executive management, sustainable development & ESG, Zero carbon, high performance technologies, and more!
Who Should Attend?
New home builders and remodelers and their site supervision staff
Designers and architects
Estimators and contract managers of builders
Building industry suppliers and manufacturers representatives of building products
Trade contractors who want to know more about how their work affects performance
Utility and housing program officials
Government housing officials
New home sales agents
Energy Raters
Housing 2.0 Opportunity, Too
Plus, don't forget Sam Rashkin's game-changing Housing 2.0 course will be offered live in a one-day session at EEBA on October 9 (one day before EEBA starts) for a $150 fee. Building on Rashkin's decades of educational and training experience through his Retooling the U.S. Housing Industry program, Housing 2.0 will teach you how to improve the home buyer experience through innovation, offering a proprietary roadmap for the future and how to best prepare for the looming changes. Click here to register for this session.
Learn More About the EEEBA Summit Here!
Aug 25, 2023 3:51:45 PM · 1 min read
---
Mike Collignon, author of our Code Watch and Housing 2.0 Program Manager, is Executive Director and Co-Founder of the Green Builder Coalition, a not-for-profit association dedicated to amplifying the voice of green builders and professionals to drive advocacy and education for more sustainable homebuilding practices.