Green Builder Innovation of the Year Awards 2021: Follow the Sun

Matthew Harris, Guest Columnist
11 min read
This year's greenest ideas bring us closer to harnessing the true potential of solar energy.
Samantha Carlin is co-author of this article.
It's time again to honor an elite group of manufacturers and products that are making real progress in reducing the impact of construction upon our natural environment. They range from super-efficient solar energy management and heating equipment, to one-of-a-kind recycling projects and an indoor greenhouse.
Products like these—along with help from a new, forward-thinking administration — will continue to steer us toward more sustainable lifestyles.
Here's a look at this year's winners.
Solar Panels
Eagle TR G4 Solar Panel
Manufacturer: JinkoSolar
JinkoSolar's new Eagle TR G4 photovoltaic panel follows in the successful footsteps of its predecessors in the Eagle line but hosts a slew of new improvements. One of the most notable qualities of the panel is its Tiling Ribbon technology, which eliminates cell gaps— allowing the panel to have a higher efficiency, while reducing the size of its carbon footprint.
Unlike its predecessor the Eagle G3, the TR G4 panel was specifically designed to be roof mounted. The unit's smaller footprint decreases the amount of mounting and cabling materials necessary, saving time and money.
The Eagle is durable, hosting the same back sheet as its predecessors. This makes it a good choice for structures in varied environments that may experience harsh weather, such as hail and extreme winds. The panel has an efficiency higher than 20.7 percent, with a maximum power output of 400W, packing a punch for its small footprint.
Because it uses a half-cell design, the panel can generate electricity even when partially shaded. The panel comes in the Eagle 66TR G4 and Eagle 78TR G4 sizes, as well as the Eagle 78TR G4b bifacial model with a 5 percent to 30 percent backside energy gain.
JinkoSolar's latest evolution of its Eagle photovoltaic line offers all the effectiveness of its predecessors, but it's also easy to mount on a roof or adjust the panel's orientation to the sun.
---
NeON R ACe Solar Panel
Manufacturer: LG Electronics
LG Electronics' newest solar panel, the

NeON R ACe

, pushes the solar industry forward with new levels of convenience, both in installation and use. One of the panel's most impressive features is its ability to house a direct current (DC) to alternating current (AC) 320W inverter right on the back of the panel. This makes the panel more convenient when installed and saves money for customers since they don't have to buy a separate inverter.
To improve convenience even further, the NeON R ACe panel plugs into a 240V circuit breaker and has only one cable accessory, drastically simplifying installation. This panel is also guaranteed to produce 90.8 percent of its labeled power in its 25th year. The NeON R ACe panel has a high efficiency of 21.7 percent, with a maximum power output of 380W, making it convenient and powerful.
The panel has a high standard of performance in hot and cold conditions with a temperature coefficient of minus 0.3 percent/degrees Celsius.
---
Panasonic HIT+ N340 Solar Panel
Manufacturer: Panasonic Life Solutions
Equipping a home with Panasonic HIT+ N340 solar panels brings further benefits beyond the increase in home value, attractiveness to buyers, and decreased energy costs of most solar panels on the market. The new benefits include efficiency, performance, dependability, and durability.
The HIT+ N340 Solar Panel delivers an advanced renewable energy source to power any home while issuing zero emissions. The high-efficiency photovoltaics feature a 20.3 module efficiency rating and 340 watts per panel.
The N340 also delivers a zero emissions capability, being made of n-type crystalline cells combined with amorphous layers. In terms of extreme heat performance, the panels have a temperature coefficient of minus 0.258 percent/degrees Celsius. This technology decreases the annual degradation to 0.26 percent, compared to 0.70 percent in conventional panels, guaranteeing more power for the long haul.
With a smaller footprint and increased strength and durability, the HIT+ N340 Solar Panel allows for building flexibility and supports projects with higher voltage needs. The water drainage system helps to direct rain and snow off of the panel surface, reducing water stains and soiling, allowing more sunlight absorption, and ultimately increasing the lifespan of the panel.
By the numbers. Panasonic's HIT+ N340 solar panels give homeowners an easy way to work toward having a house that is emissions-free.
---
Decks/Decking Related
MoistureShield Elevate Capped Composite Decking
Manufacturer: MoistureShield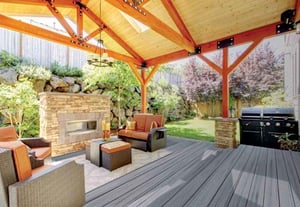 MoistureShield redefines decks entirely with its Elevate capped composite decking, which is among the most durable decking materials on the market, and 95 percent of which is made of recycled content.
The solid core of MoistureShield's composite decking is made from wood fibers, but to make it incredibly durable and water resistant, each wood fiber is encapsulated in a plastic barrier. This revolutionary design makes the decking so water resistant it can be used underwater.
No exposed wood also means that there is no food source for insects, protecting the decking against typical damage from pests. With weathering and insect damage covered, this decking has no rotting or warping. This makes the decking much longer-lasting, and it even has a 50-year transferable structural warranty.
On top of its durability, the deck is also affordable and sustainable, being made of recycled plastics and wood. This decking comes in a wide array of colors and finishes to perfectly match or complement an outdoor living space. Elevate is also slip-resistant and reduces heat by up to 35 percent, making the living space more comfortable and safer.
---
AZEK Full-Circle PVC Recycling Program
Manufacturer: The AZEK Company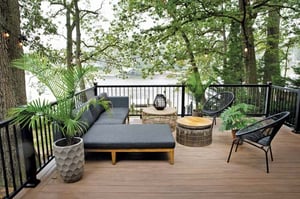 Traditionally, when a piece of decking is trimmed off or siding is cut to fit, the scraps are thrown away. Now, The AZEK Company is changing all of that with its Full Circle PVC Recycling Program. Using an innovative product technology, an expansive network of professionals and its vertically integrated recycling capabilities, the company collects scraps directly from construction and job sites, and reprocess them into brand new decking, siding, cladding and trim.
This on-the-ground program not only recycles more than 2.5 million pounds of PVC waste per year that would otherwise be disposed of in landfills, but also reduces contractors' overhead waste disposal costs. More than 60 million PVC pounds are processed annually by AZEK partner Return Polymers.
And the environment isn't the only one who benefits. The program makes it easier for contractors to advertise themselves as green builders, attract new clients, save money and reduce their environmental impact on the planet.
AZEK's Full Circle PVC Recycling Program turns discarded decking and siding materials into born-again decking, siding, cladding and trim.
---
HVAC and Hot Water
Rheem ProTerra Hybrid Electric Water Heater
Manufacturer: Rheem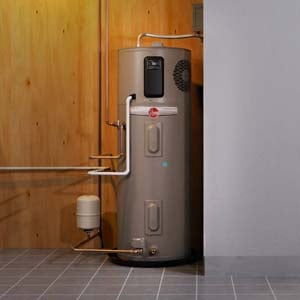 The ProTerra Hybrid Electric Water Heater from Rheem delivers efficiency, without compromising on functionality, through its advanced heat pump technology. Rheem's ProTerra system is four times more efficient than the standard electric tank, cutting down on greenhouse gas emissions and saving money. Installing a ProTerra system, on average, saves consumers $480 per year on energy costs, while also providing a $300 tax credit and up to a $1,000 in local utility rebates.
With a built-in EcoNet connection device, the ProTerra can be controlled from a mobile device, and includes features such as the ability to set designated times for hot water availability. EcoNet also enables the tracking of water and energy usage, and users can choose from five operating modes that are optimized for different preferences.
The ProTerra system also has built-in leak detection and can automatically shut off the water to protect the home. Add in incredible energy and cost savings, and ProTerra is the right water heater for any home and the planet.
---
LG Multi-Position Vertical Air Handler Unit with LGRED°
Manufacturer: LG Air Conditioning Technologies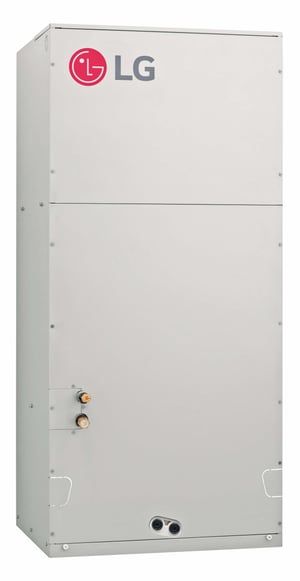 LG's Multi-Position Vertical Air Handler Unit (VAHU) with LGRED° (Reliable to Extreme Degrees) heat technology gives homeowners a fully electric option capable of delivering year-round heating and cooling in an all-in-one inverter heat pump system.
Available in various capacities (18,000 Btu/h - 48,000Btu/h), this unit is customizable to an array of home and load size requirements.
The VAHU challenges the status quo of fossil-fuel dependent heat generation and addresses the nationwide need for single-source heating and cooling. This product features an R1 compressor with vapor bypass and vapor injection technologies, which boosts efficiency and performance.
Equipped with LGRED°, the multi-position VAHU boasts superior heat capacity performance of down to 5 degrees Fahrenheit and continuous heating operations down to minus 13 degrees Fahrenheit. It delivers warmth efficiently without the need for supplemental or backup heat, making this a must-have for the cold winter months.
Additionally, the LG Multi-position VAHU is ENERGY STAR® certified and contains LG Inverter technology, making it eligible for attractive rebates and incentives from both government agencies and utility providers nationwide.
---
Tranquility by Trane Platform
Manufacturer: Trane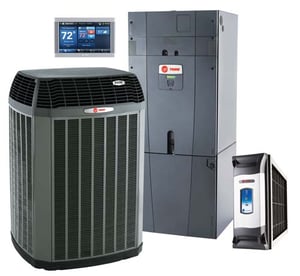 Trane, a manufacturer of home comfort systems and services, is changing builders and homeowners' HVAC conversations with its Tranquility indoor air quality (IAQ) platform. The Tranquility by Trane approach equips builders with innovative and efficient strategies to transform traditional heating, ventilation, and air conditioning (HVAC) processes through the application of building science. This approach ensures optimized performance, energy efficiency, and improved occupant health and comfort through superior temperature and humidity control.
This system is easy to use and includes integrated Wi-Fi controls and sensors to monitor performance through Trane's smart technology, Nexia dealer diagnostics. This technology ensures a home's HVAC system is running at peak performance and allows occupants to access real-time intelligence on the system's performance, providing a sense of security and safety to homeowners.
Tranquility also provides system alerts, from routine maintenance needs to system malfunctions. These are automatically sent to the dealer, who can proactively notify the homeowner and address the issue if any follow-up is required. Data is encrypted and securely transferred between Trane's smart thermostat and Nexia.
---
Intelli-Balance Boost 100 Energy Recovery Ventilator (ERV)
Manufacturer: Panasonic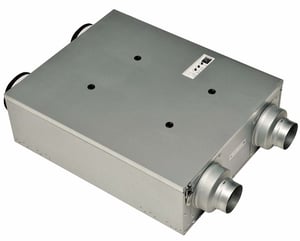 The Intelli-Balance 100 by Panasonic is a unique energy recovery ventilator (ERV). It is designed to be versatile, easy to install and energy efficient, benefiting consumers and builders alike.
A key feature of the Intelli-Balance 100 is its ability to balance pressure in homes, with two electronically commutated motors (ECMs) providing customizable air flow to eliminate positive or negative pressure. The unit comes with a MERV 8 air filter that prevents outdoor particulates, such as pollens and other biologic allergens, from entering the home.
The Intelli-Balance 100 has been designed for ease of installation, able to be ceiling or wall-mounted, and does not need to be connected to the central HVAC system or condensation line. The unit also saves energy by running on a low CFM setting that exhausts stale air and indoor pollutants, while bringing in clean, tempered outdoor air. The Intelli-Balance 100 delivers efficient whole-house ventilation, while meeting the ASHRAE 62.2 standards.
---
Appliances
Natufia Kitchen Garden
Manufacturer: Natufia Labs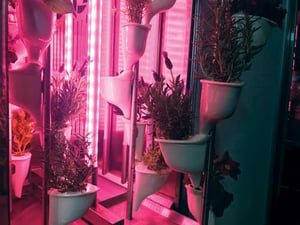 What happens when a home buying client wants space for a garden, but the house doesn't have a backyard? Estonia-based Natufia Labs provides an answer with its Kitchen Garden, a product that allows anyone to grow almost any herbs, vegetables, and microgreens right in their kitchen year round.
Kitchen Garden, which the company says is the world's first fully integrated and automated hydroponic kitchen garden, features technology that automatically maintains the perfect light, temperature, water and pH level to ensure optimal health for the plants. It also optimizes all minerals, nutrients and vitamins. The Garden can produce enough plants and herbs to ensure up to two harvests per day.
Since it is controlled indoors, homeowners do not need to worry about pesticides, herbicides or fungicides, nor do they face challenges from Mother Nature or changes of seasons. They can practice a sustainable lifestyle and eat healthy while minimizing the environmental impact of packaging, pollution, food miles, food waste and toxins.
Natufia Labs' Kitchen Garden offers a natural, farm-to-fork way for people to grow healthy plants and herbs inside their homes.
---
Solar Equipment
EverVolt Home Battery
Manufacturer: Panasonic Life Solutions of America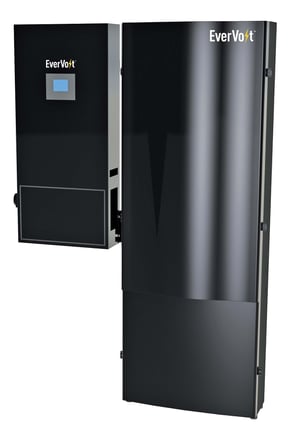 The EverVolt home battery by Panasonic adds resilience to a home's solar array by allowing for high levels of energy storage. This storage can be used in outages, for supplementing nighttime loads, or it can be sold back to the grid. The EverVolt system allows for energy security by providing backup power to support pumps, A/C units, and EV chargers.
Standard solar systems shut down when they lose grid power, but with the EverVolt system, arrays are still able to generate during power outages. The EverVolt system offers a wide range of customization to fit every home. The systems come in AC and DC versions, and offer flexible storage options ranging from 11.4 kWh to 102 kWh. If more energy capacity is needed, three EverVolt systems can be stacked to provide optimal storage.
With easy installation, seamless integration with most energy systems, and a 10-year complete warranty, Panasonic's EverVolt home battery makes energy independence easy and reliable.
---
Energy Hub Inverter with Prism Technology
Manufacturer: SolarEdge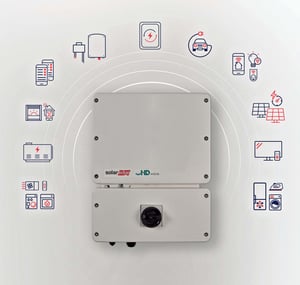 SolarEdge's Energy Hub Inverter with Prism Technology delivers a complete residential energy ecosystem in order to have a meaningful impact on the management of the home's energy, electric bills and carbon footprint. It combines the management of solar production, battery storage, backup power, electric vehicle charging and smart energy devices, as well as generator and grid support, into a single inverter and app. This saves space on the main distribution panel and reduces the need for panel upgrades.
Multiple inverters can work together in a network to smartly manage energy. They transform photovoltaic (PV) systems, batteries, and appliances into energy resources for the grid, turning each household into active energy participants and producers. This will revolutionize the grid into a decentralized energy network, and power the world based on a new clean energy economy.
With Prism technology software, the system can easily connect to a growing range of smart energy add-on devices. This approach potentially revolutionizes the solar market for installers, by creating a new generation of solar consumers, who have typically been thought of as one-time buyers, into potential repeat customers.
---
Insulation
Pure Safety High Performance Insulation
Manufacturer: Owens Corning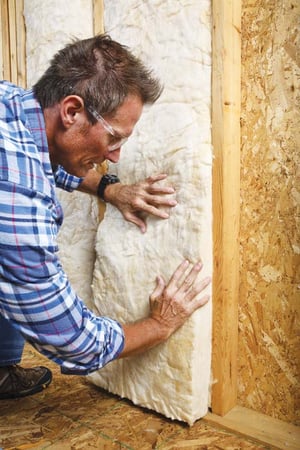 Owens Corning has reimagined the standards of insulation with its Pure Safety High Performance Insulation. Pure Safety insulation offers peace of mind when it comes to fire protection, air quality, sound reduction and thermal performance. The product is bio-based and meets USDA BioPreferred guidelines while also achieving a certified minimum average recycled content of 65 percent. With a high-density rating of R-15, this insulation is easy to install, and provides the best thermal performance in its class.
Owens Corning acknowledges that millions of people live with asthma, allergies and chemical sensitivities, and the company has worked to make it easier for contractors and developers to build a home that is clean and efficient.
Pure Safety was the first insulation to earn and receive the Asthma and Allergy Foundation of America's certification and is designed to provide a safe and healthy indoor environment. Further notable achievements include mold and mildew resistance, low-VOC emissions, formaldehyde-free status, and 65 percent less dust than conventional insulation products.
---
GreenFiber Sanctuary Blow-In Insulation
Manufacturer: Greenfiber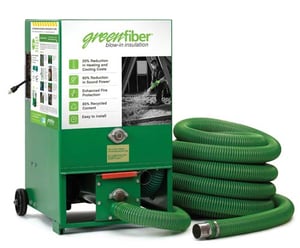 Greenfiber's Sanctuary Blow-In Insulation provides an easy-to-install thermal blanket, increasing the health and comfort of the home, while still being healthy for the environment. The GreenFiber cellulose insulation lowers monthly heating and cooling expenses by up to 25 percent, while simultaneously reducing sound power by up to 60 percent.
Ideal for attics, walls, ceilings and floors, it can be installed in new builds and when re-molding, as it can be applied over existing insulation. The product excels at filling in tiny joints, crevices and gaps to create a dense barrier capable of reducing air infiltration and mitigating sound.
Sanctuary insulation is made with 85 percent recycled paper that is specifically treated for fire-resistance, and uses low energy manufacturing and short-haul transportation. This low-energy process generates zero waste, other than dust, which is confined within the production system and filtered out of the air that gets discharged into the atmosphere.
Greenfiber's manufacturing process uses 13 times less energy to manufacture than for fiberglass, is carbon neutral, and diverts 160,000 tons of paper out of landfills annually.
Feb 23, 2021 12:00:21 PM · 11 min read
---

Matthew Harris is in the Environment and Sustainability Undergraduate program and is pursuing his Masters in Environmental Management at Western Colorado University in Gunnison, Colo.