Green Builder Brand Index 2021

Matt Power, Editor-In-Chief
7 min read
From familiar to new, here are the sustainability products our readers are talking about most.
As we start to head into the high season for construction, what are the things our readers can't go without? That question is answered in our newest Green Builder Brand Index, which gauges builders' likes and dislikes about products in the green construction market, from the best energy-saving appliances to the cars they like to drive on the job.
Results in three distinct categories—our traditional survey data, public sentiment, and market visibility or "mentions"—are averaged to derive a company's final ranking among its peers.
The lists do not contain all the usual industry leaders. Some big-name players did not make the top five within their categories, while other, lesser-known companies made impressive, upper echelon debuts. This shows where a company is doing well, and which improvements could round out category excellence.
The companies that net these important metrics have taken the time to get their sustainability messaging right—and it's resonating with consumers. Take LG, the winner of the Appliances category. We talked to John Taylor, Senior Vice President, Public Affairs for LG Electronics USA, about why he thinks LG earned a No. 1 spot in this year's ranking.
"There are multiple aspects of our commitment to sustainability, including promoting an intelligent lifestyle, achieving zero carbon, participating in a circular economy, and creating a better society overall," he says. "As American families have shifted to remote working and remote schooling over the last year, there's been this huge increase in focus on energy efficiency, healthier living, healthier indoor air quality, all of the things that are in our wheelhouse for LG home appliances and in particular with EnergyStar and energy efficiency."
Hear more from Taylor about LG's success strategies here.
Following is the complete list of 2021 Brand Index winners:
Appliances
There's been a shuffling of the deck, but the same nine companies are at the top of our Appliances list as in 2020. LG is considered the greenest of them all by our readers, while strong public opinion and word of mouth kept Bosch in the top three for a seventh straight year.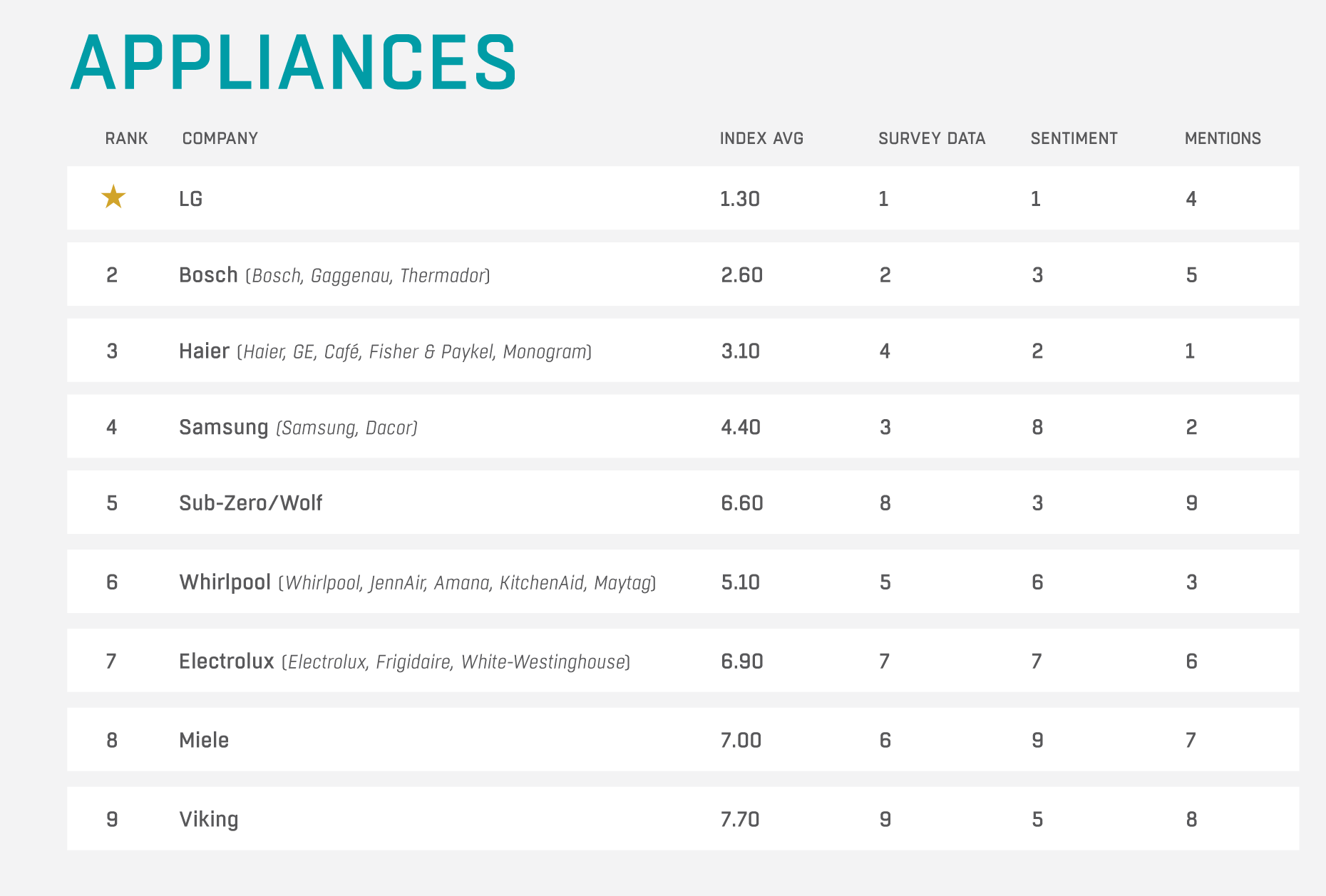 Building Wrap
Last year's runner up, Owens Corning, took advantage of a major popularity decline by 2020 champion Huber and its ZIP System lineup. Several others (Cosella Dorken, Tremco, and Kimberly Clark) emphasized product sustainability to appear in the top 10 for the first time since at least 2019.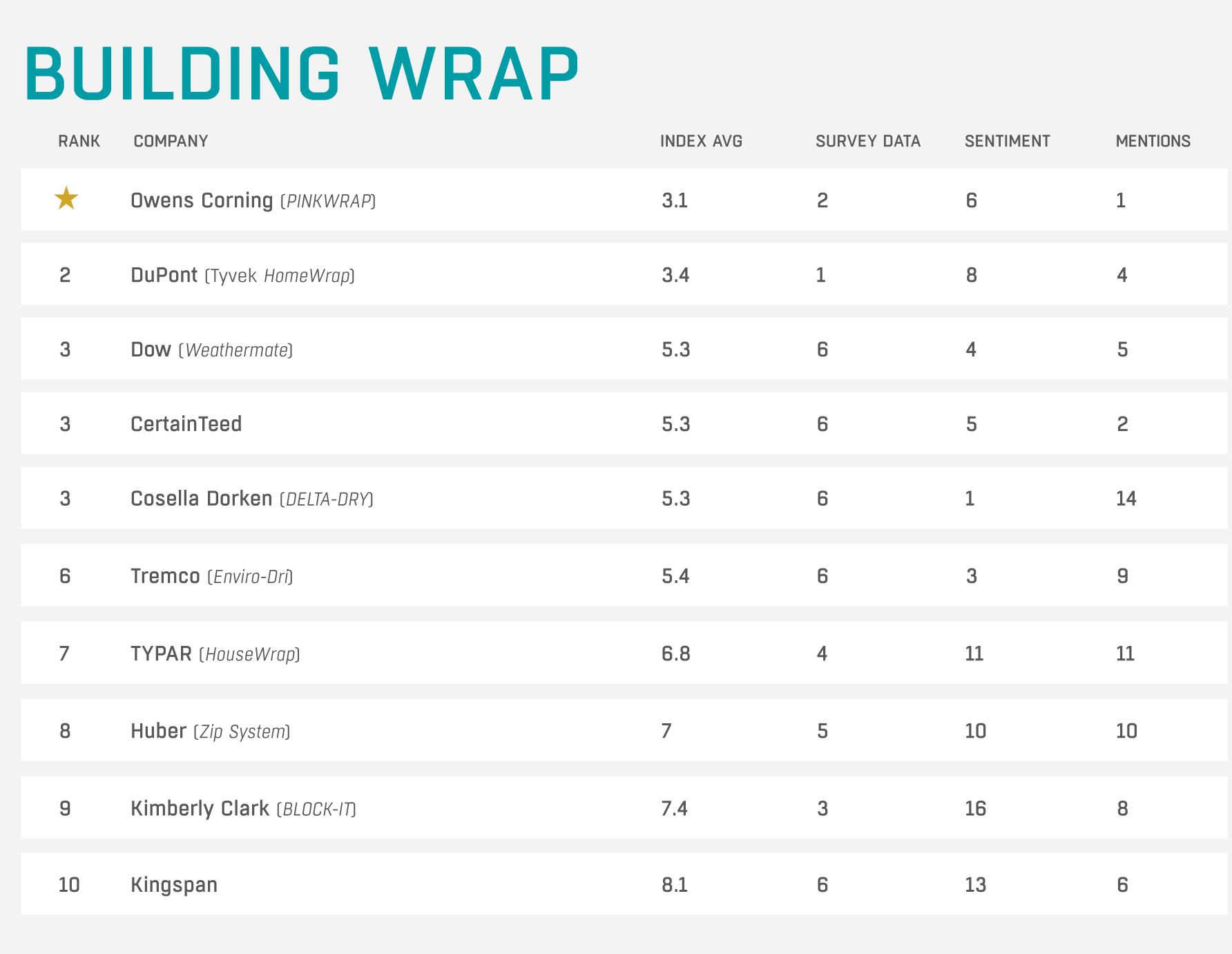 Cabinets and Shelving
For a fourth straight year—and sixth time in the past seven years—IKEA's ready-to-assemble world was a wonderland for builders and the general public. Runner-up MasterBrand gained a few more friends among builders this past year to move up from the middle of the pack.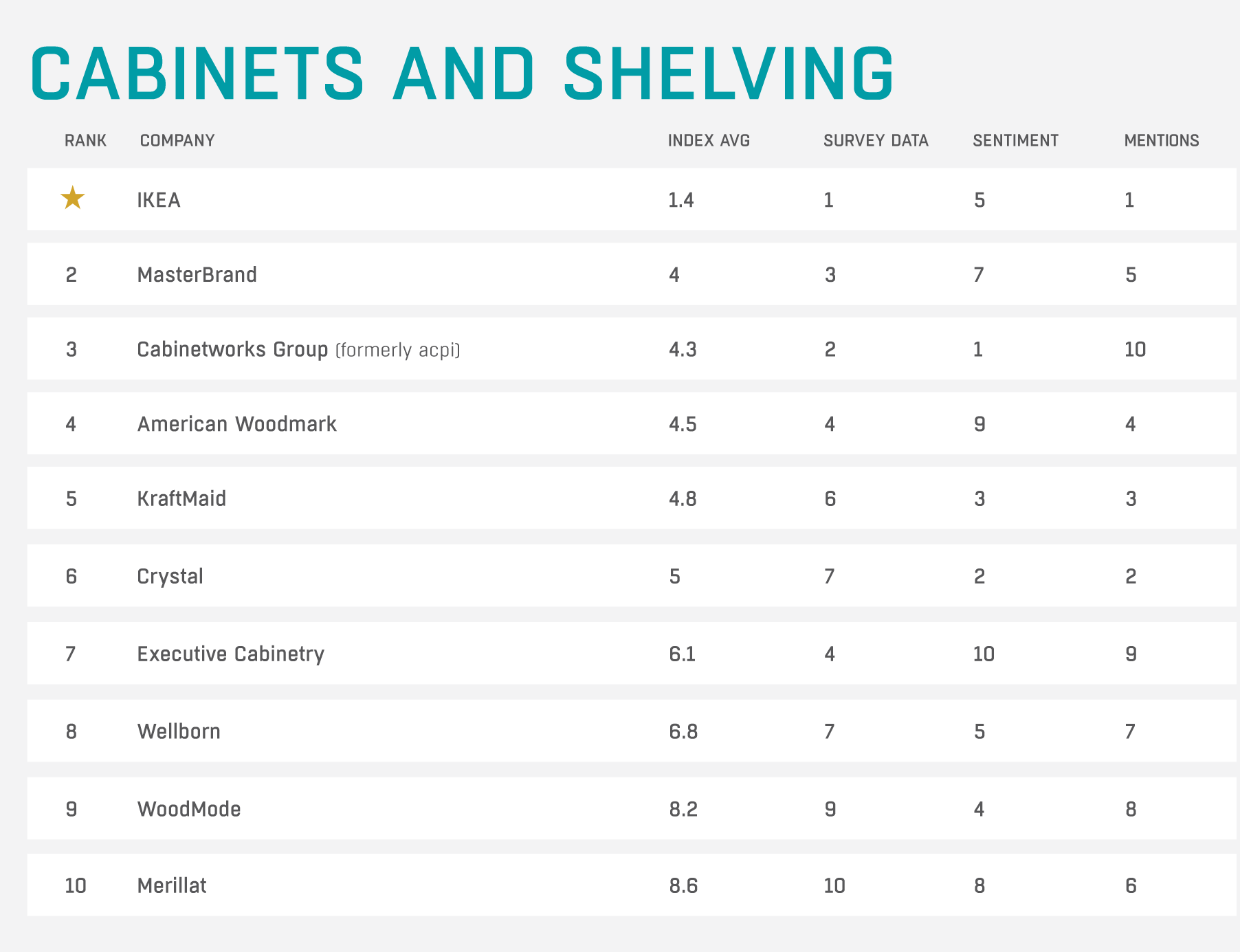 Countertops
More people staying at home meant more people discovering the beauty of quartz countertops. That was good for first place for Cambria in 2020, which unseated DuPont Surfaces/Corian Quartz after three years. Eco by Cosentino, a top three finisher overall for seven years, remains the company folks talk about the most.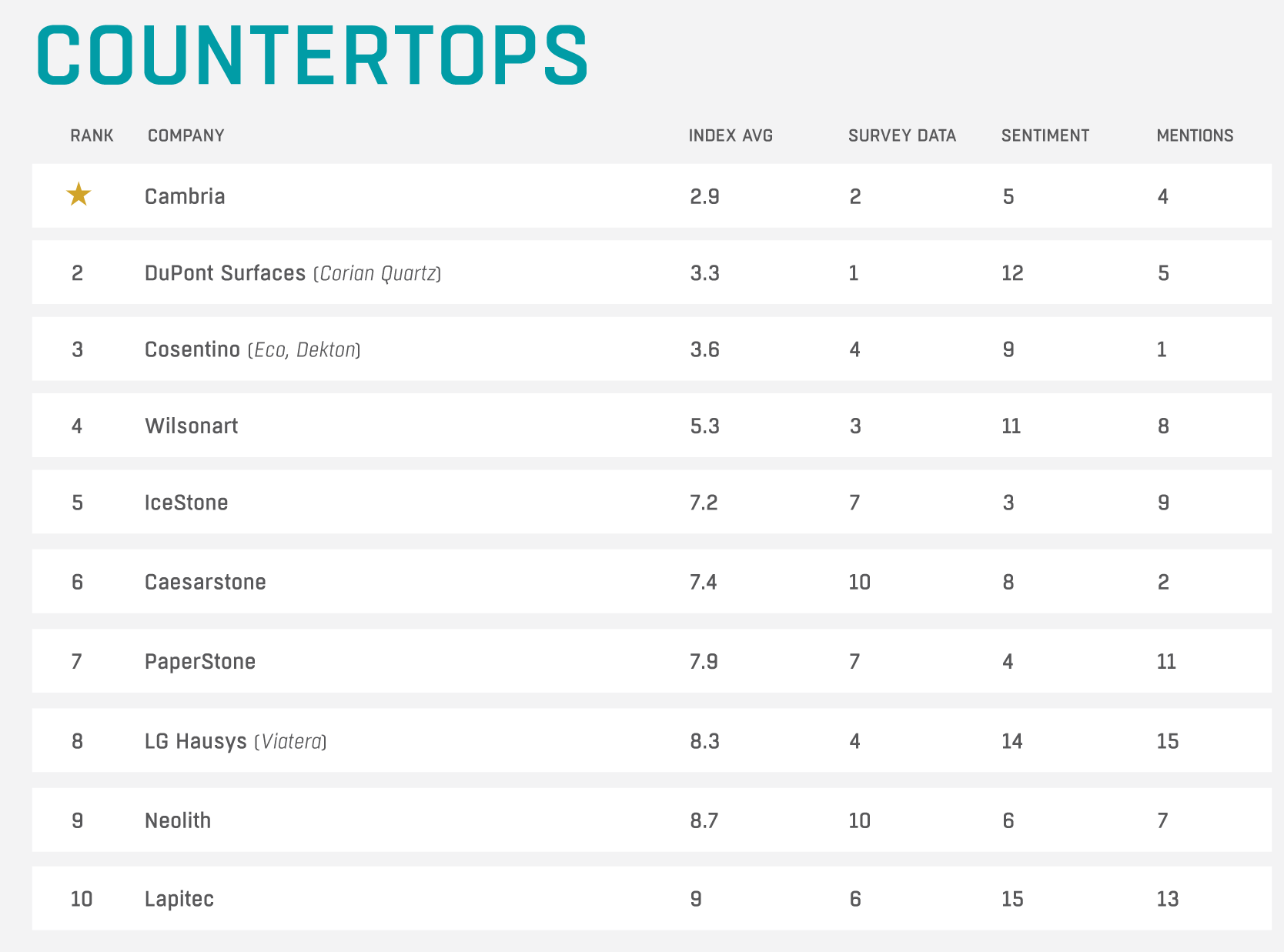 Decking
Trex is 7-0 since our readership survey began, using industry presence and word of mouth to dominate the market yet again. It still needs to polish its public image, finishing in the bottom one-third of all Decking category participants. Meanwhile, say hello to top 10 first-timers Royal Building Products and Deckorators.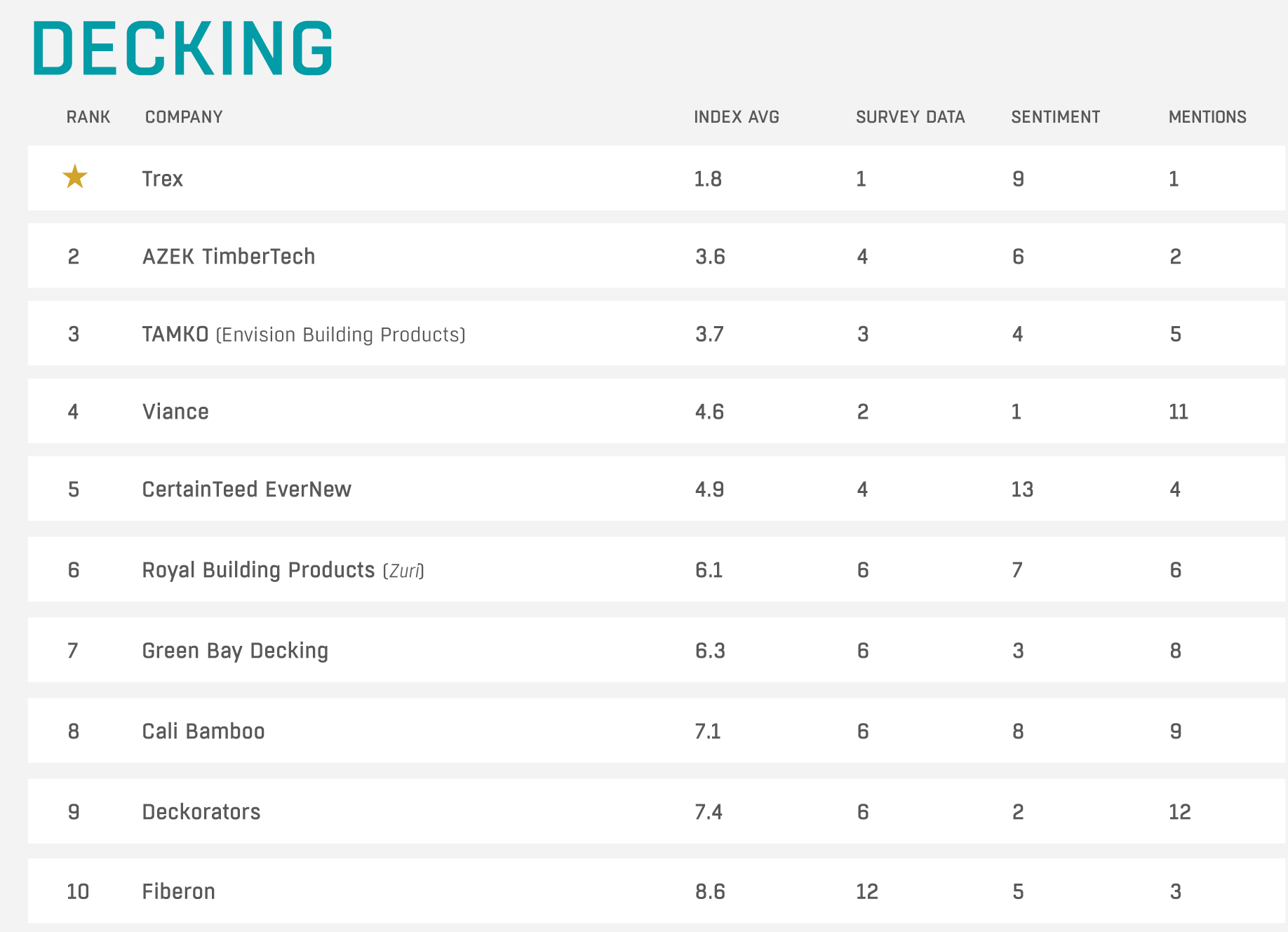 Doors
Doors became its own category in this year's survey, but that didn't change much for Therma-Tru, which has been No. 1 among door makers since 2018. While no one in this category is "crushing it," door makers might take a look at Therma-Tru's recipe for success.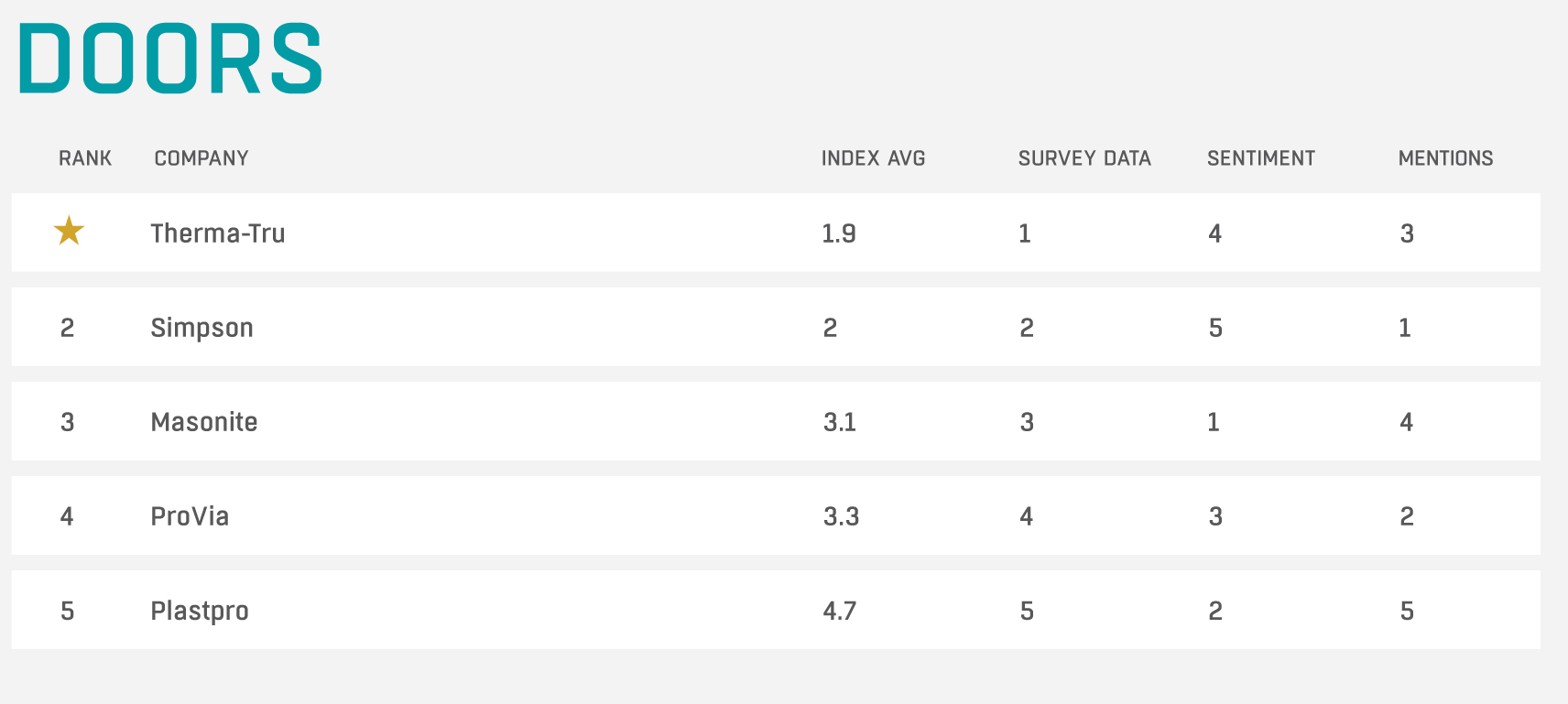 Flooring
Our fab four has been the same since 2018, merely switching places as public tastes changed. This year's winner, Mohawk, performed exactly as in 2020 in terms of scoring. But its three closest competitors, Armstrong (2020's winner), Cali Bamboo, and Shaw, lost ground to an ever-tightening pack of competitors outside the top five.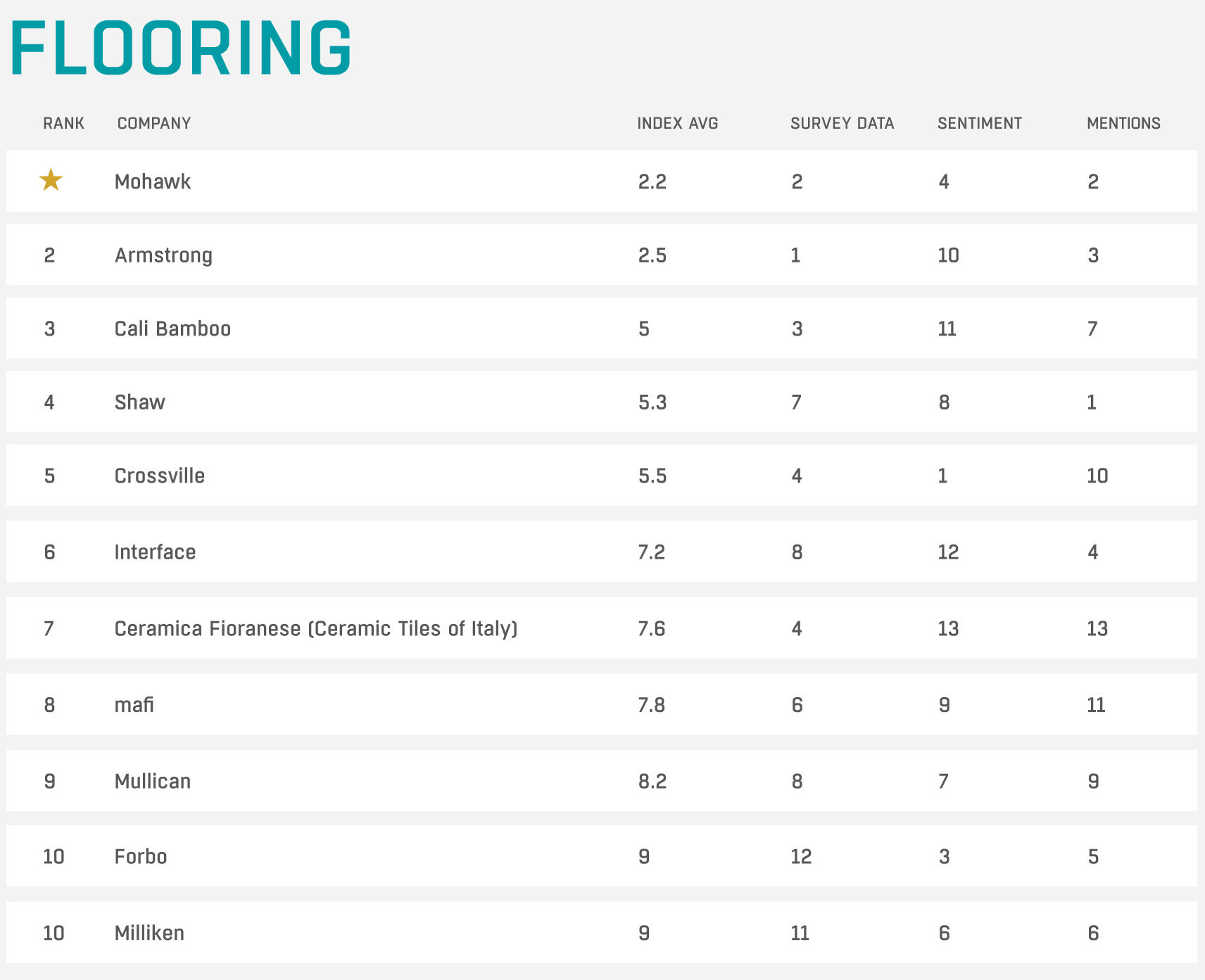 Hot Water Systems
Rheem continues to dominate among hot water systems, never finishing below second place in our survey. It won in 2020, and claimed the top spot this year too. A.O. Smith rose above third place for the first time, and other brands remained in positions similar to previous years.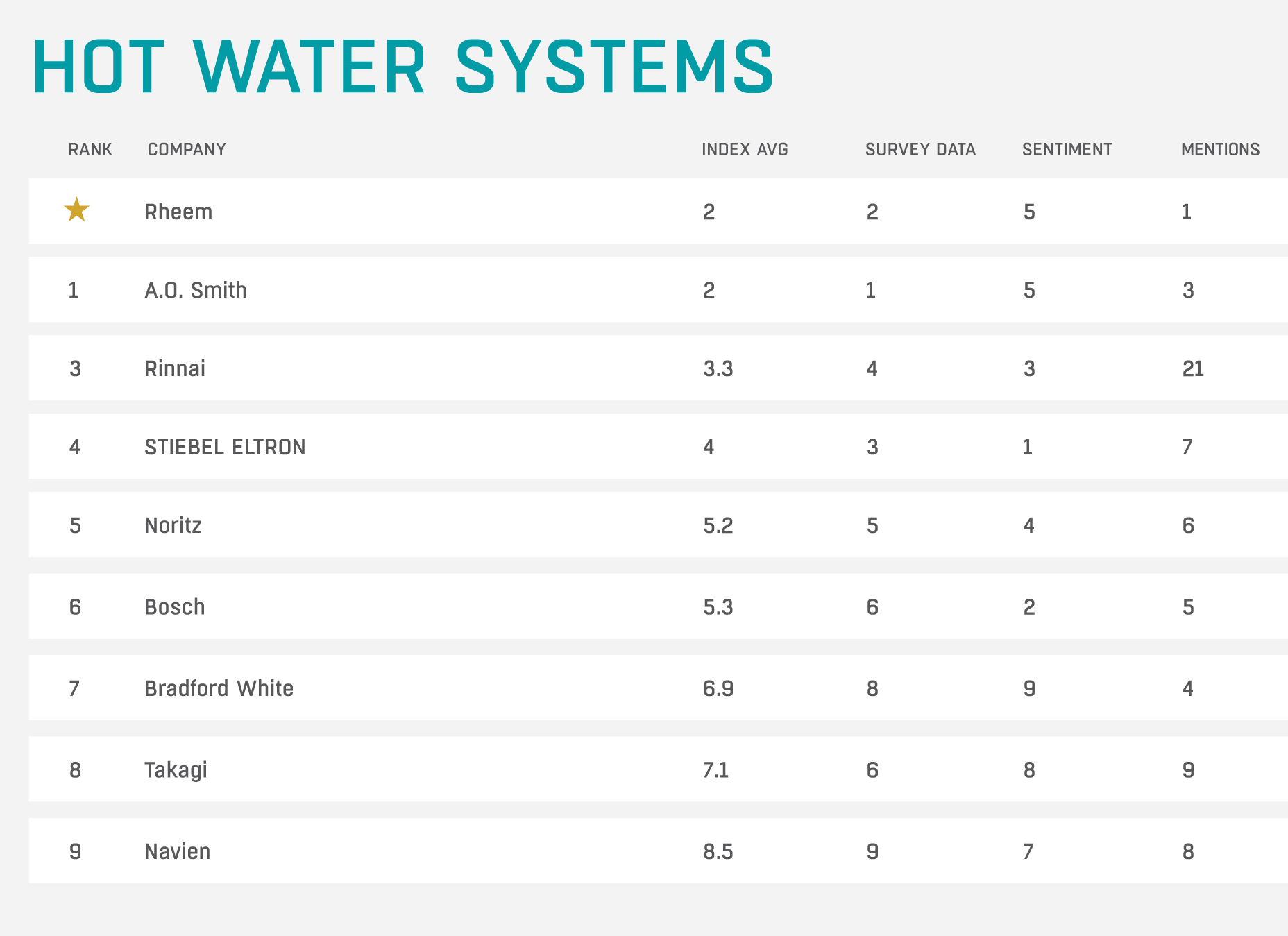 HVAC
After three years, Trane was dethroned by two-time runner up Carrier. It's a weird category: Most of the top five carry the most respect among builders, but carry less brand clout with the public, in terms of general "sentiment." Trane is a notable exception.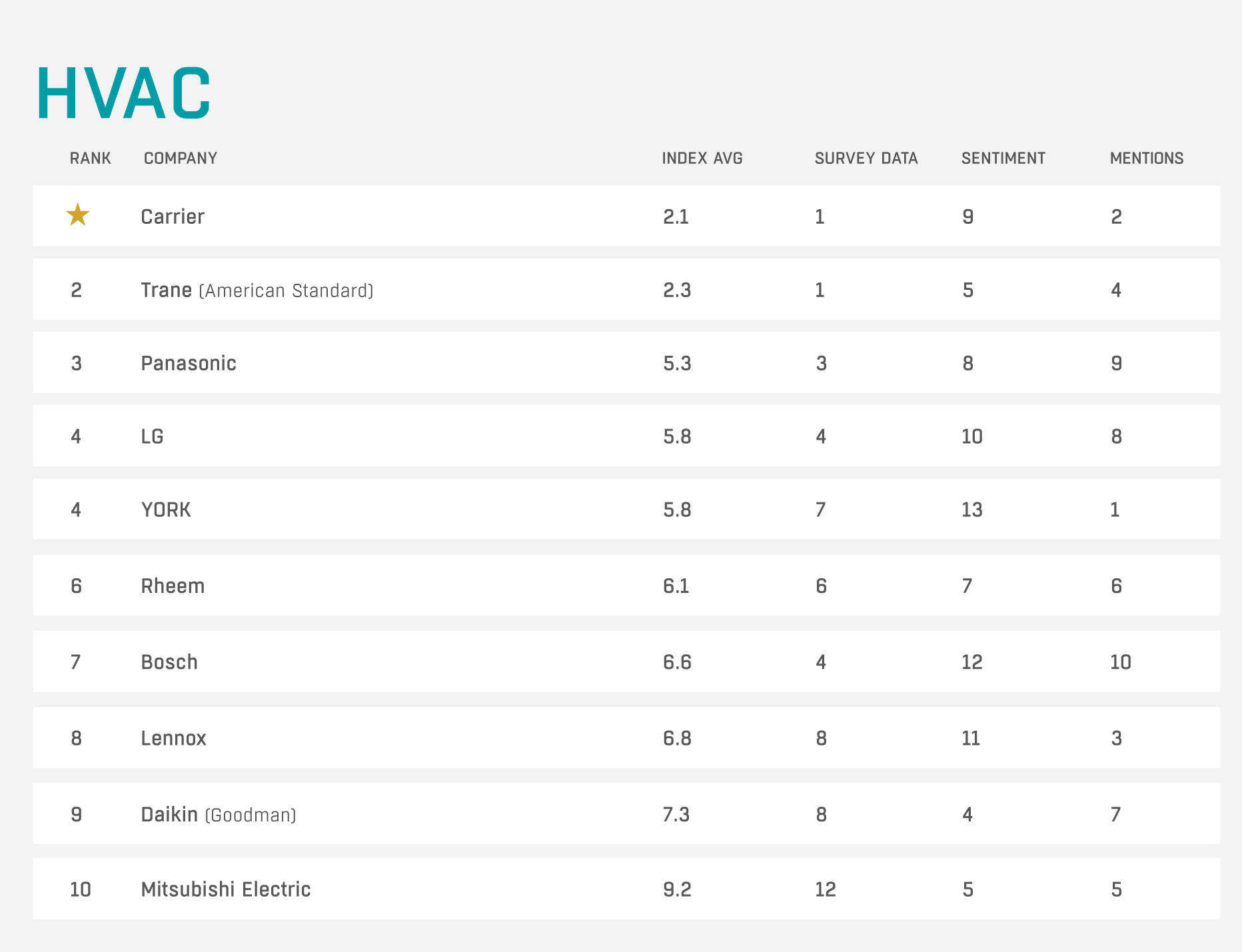 Insulation
Owens Corning returned to the top after losing for the first time in 2020, boosted by a marketing effort that got people talking about the color pink again. The company with the most sustainability clout in the industry, Greenfiber, finished near the bottom of our survey when it came to public sentiment and chit-chat.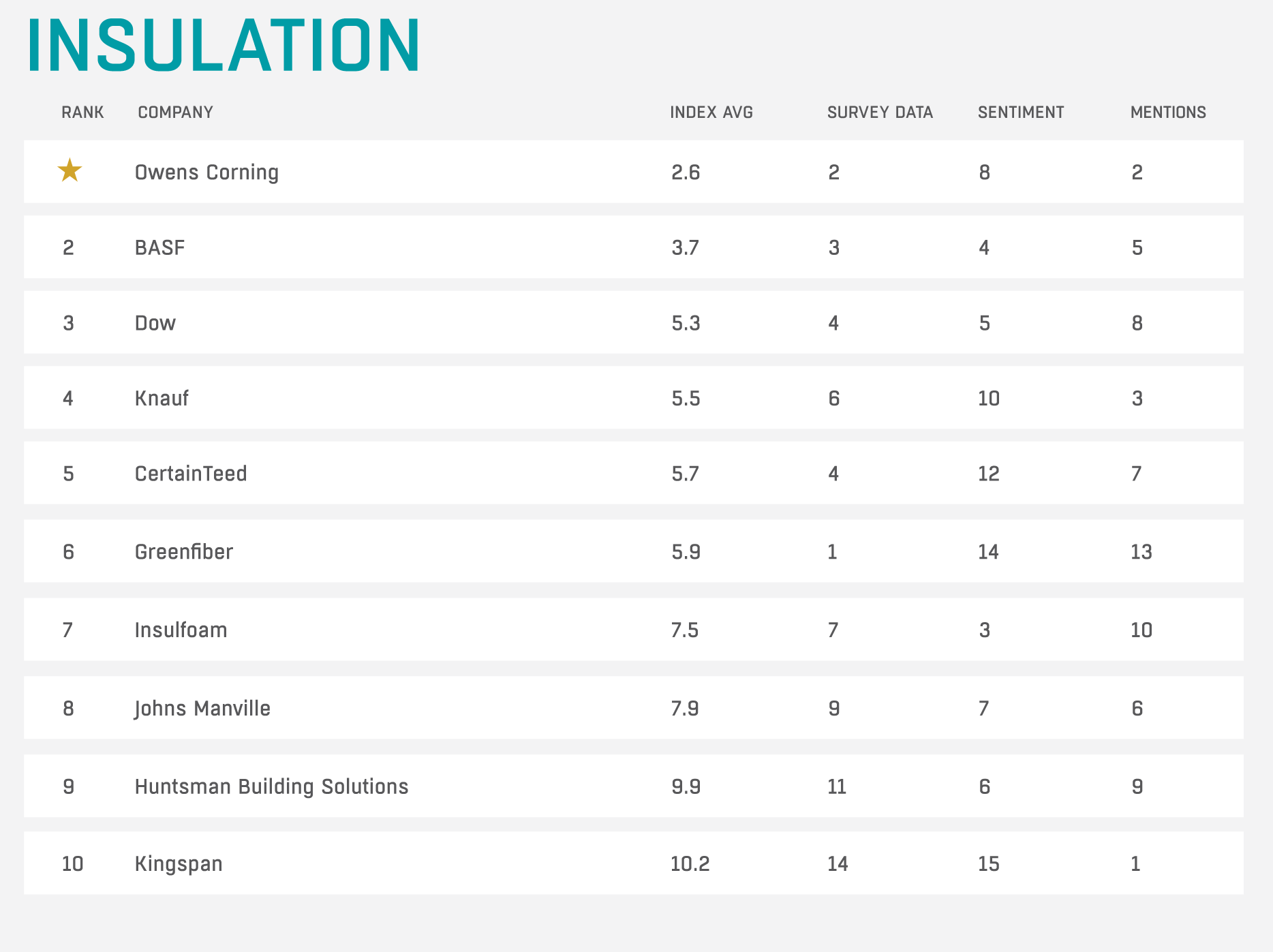 Lighting
Philips and GE continued their pacesetting ways. Philips finishes first for a fifth consecutive year, while GE ends in the top five for the seventh time. But although the former improved slightly from 2020 with better word of mouth, the latter lost public favor, dropping from No. 1 to No. 9 in sentiment.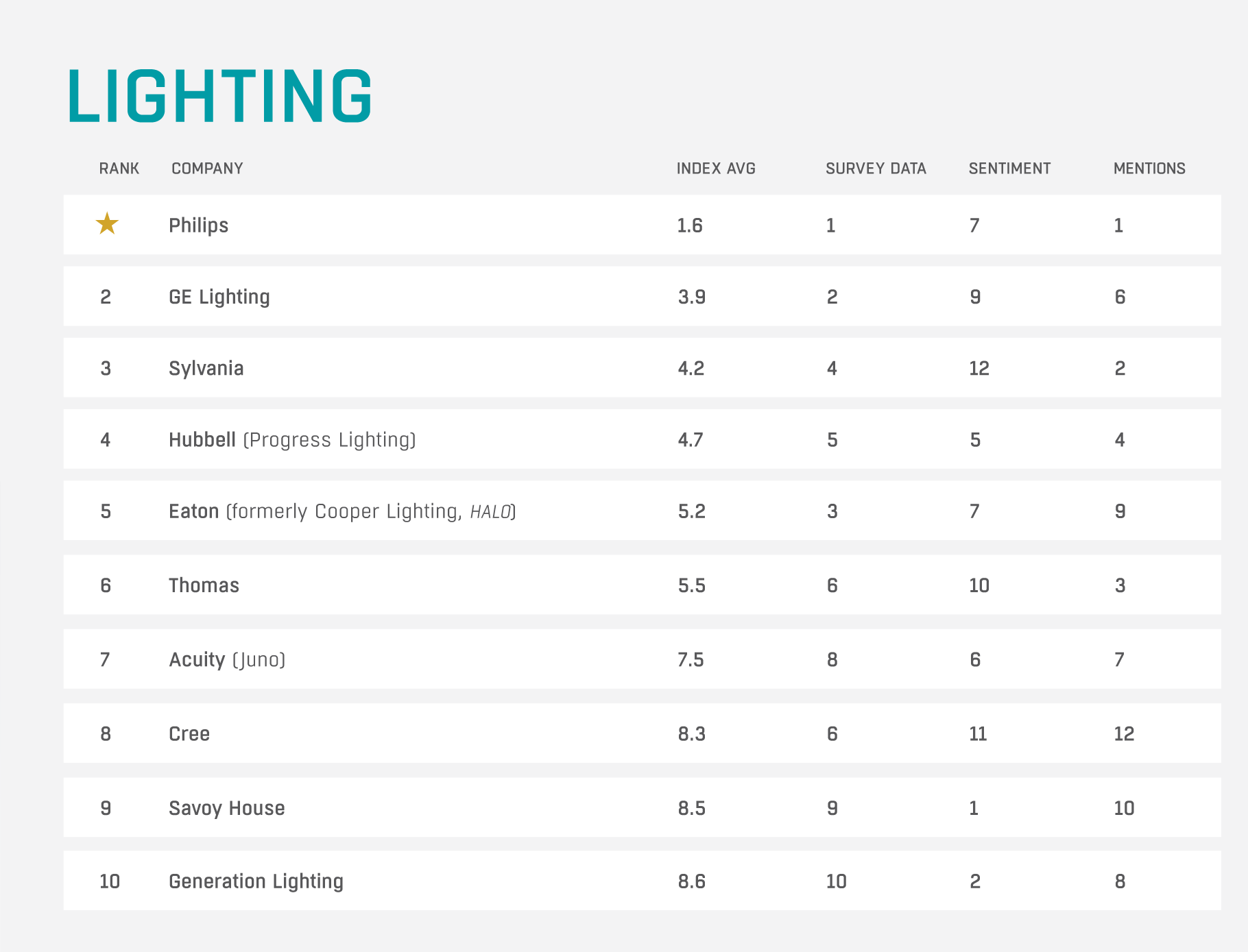 Paint and Coating
After four straight years as runner up—and fifth since 2015—Benjamin Moore managed to boost its already impressive popularity just enough to finally knock Sherwin Williams out of the top spot. Sherwin Williams, which swept this category last year, mysteriously dropped seven spots among companies the public thinks most highly of.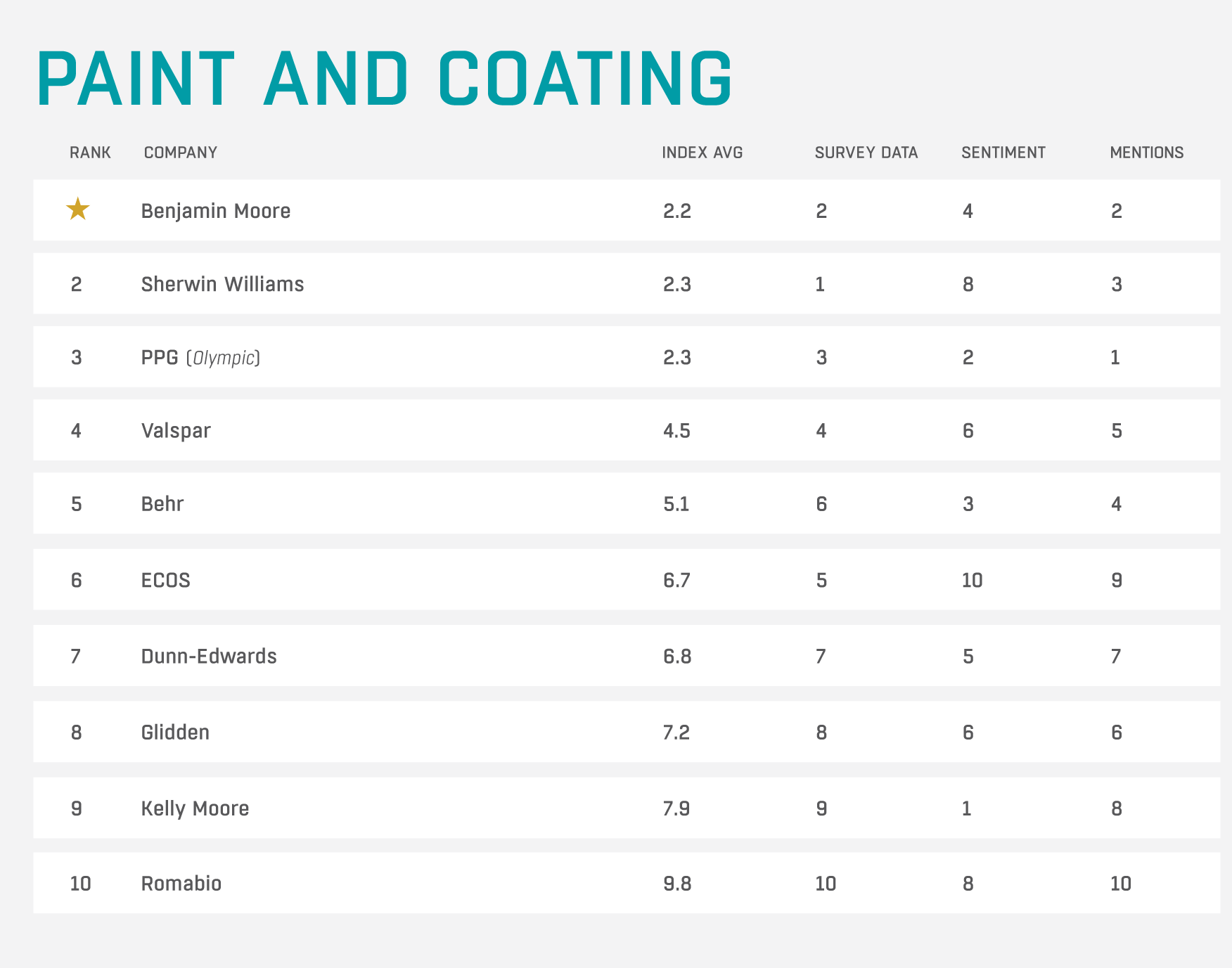 Photovoltaic Systems
Tesla subsidiary SolarCity and SunPower continued their slugfest, swapping the top two spots again and finishing as Nos. 1 and 2 for the sixth time since 2015. SolarCity's strong showing indicates that the public has moved past Tesla's controversy-filled 2018 and 2019, but its low sentiment score reveals there's still PR work to do.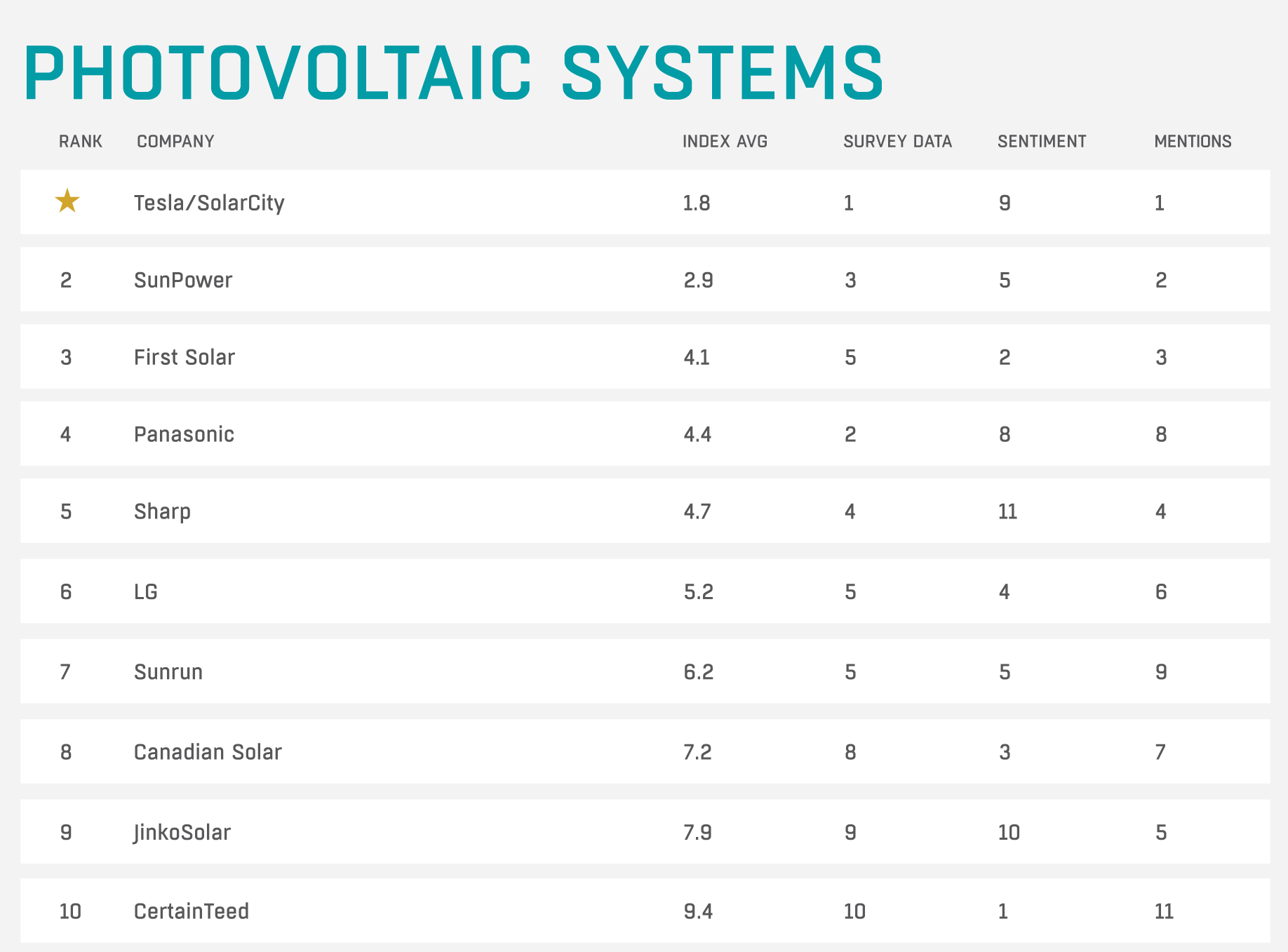 Plumbing
The same five companies have topped this list every year except 2016, with Kohler maintaining a healthy lead over all others. The surprise is at the bottom of our top 10, where industry stalwarts Niagara and Pfister have been replaced by former also-rans Brizo and Geberit.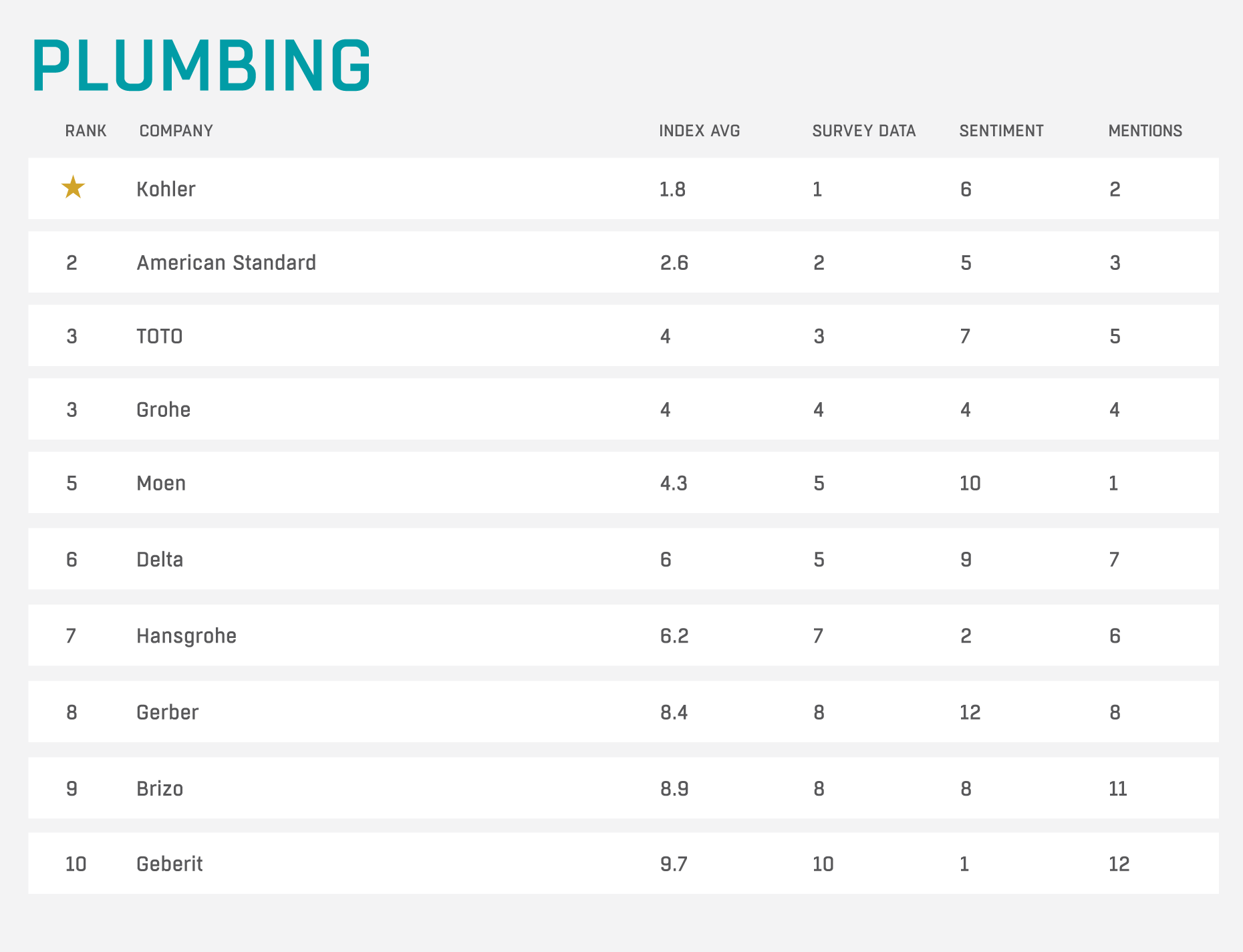 Roofing
Atlas Roofing pulls off a surprise win. The company, which had never finished higher than fifth, used energy-efficient designer shingles and roof ventilation products to get the industry's attention and keep the public talking. Defending champ Owens Corning can't feel too bad: Its scores were almost identical to those for 2020.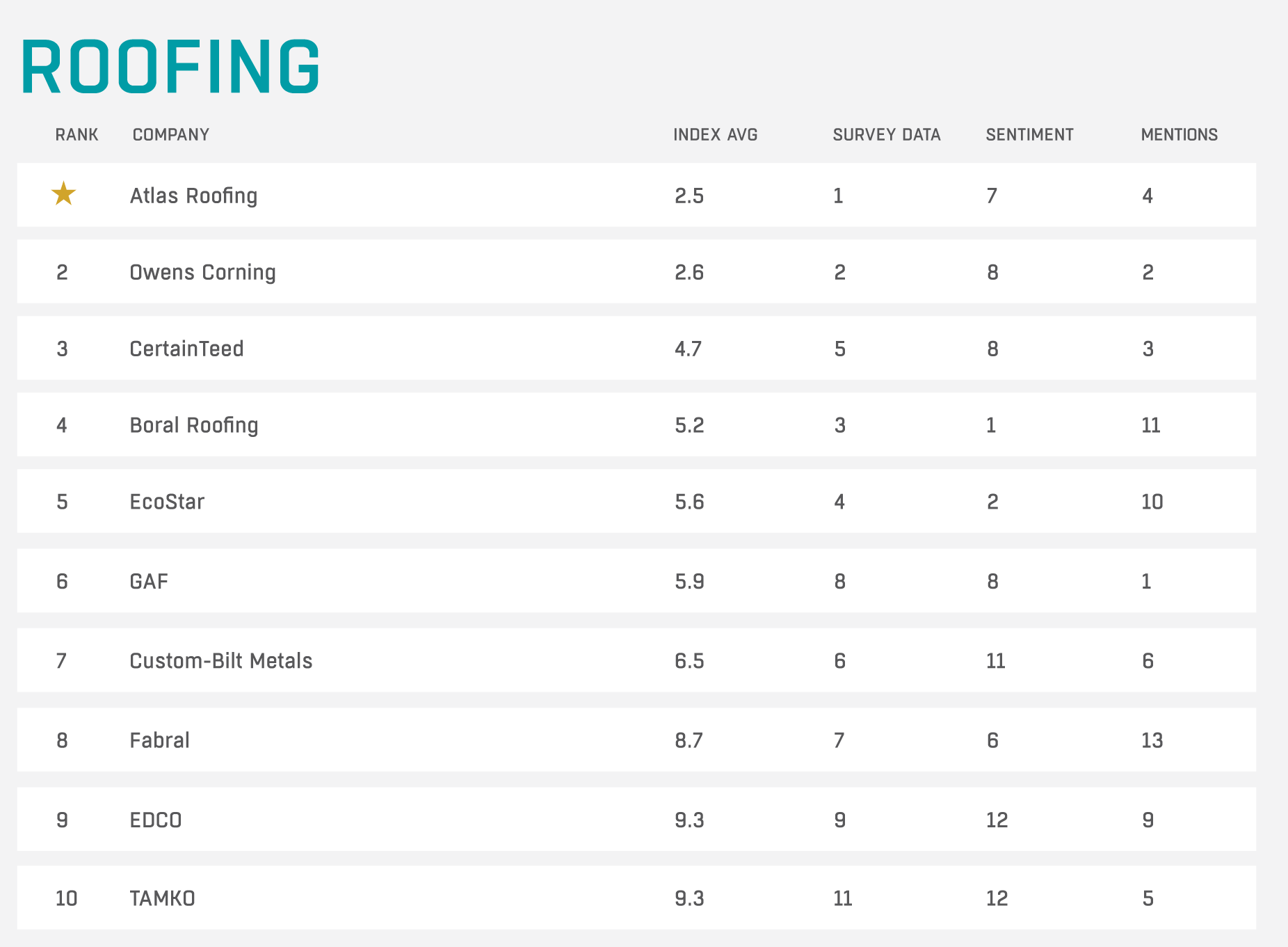 Siding
BASF again tops our list, remaining one of the first companies that comes to mind when builders and consumers think siding. But exteriors in general are not faring well with the public, as several of the top 10 rank toward the bottom of a very crowded field in terms of sentiment and word of mouth.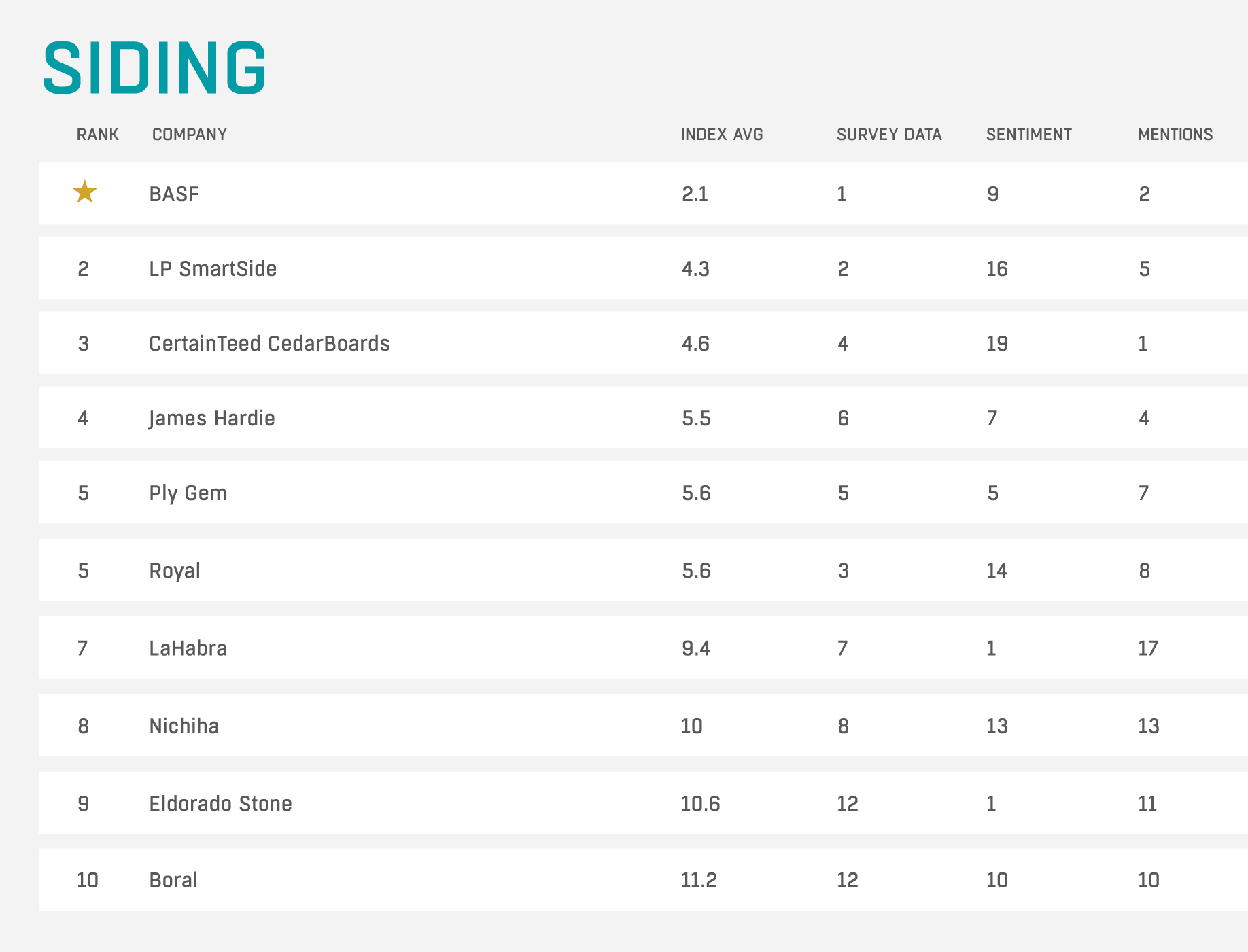 Smart Home Technology
Apple and Google finish one-two again for a fifth straight year, as smart home tech becomes an ever-bigger part of our lives. Index scores for all five leaders went up significantly from 2020, possibly because more people utilized smart products due to the pandemic. Or, perhaps a population shift to a younger demographic was the key.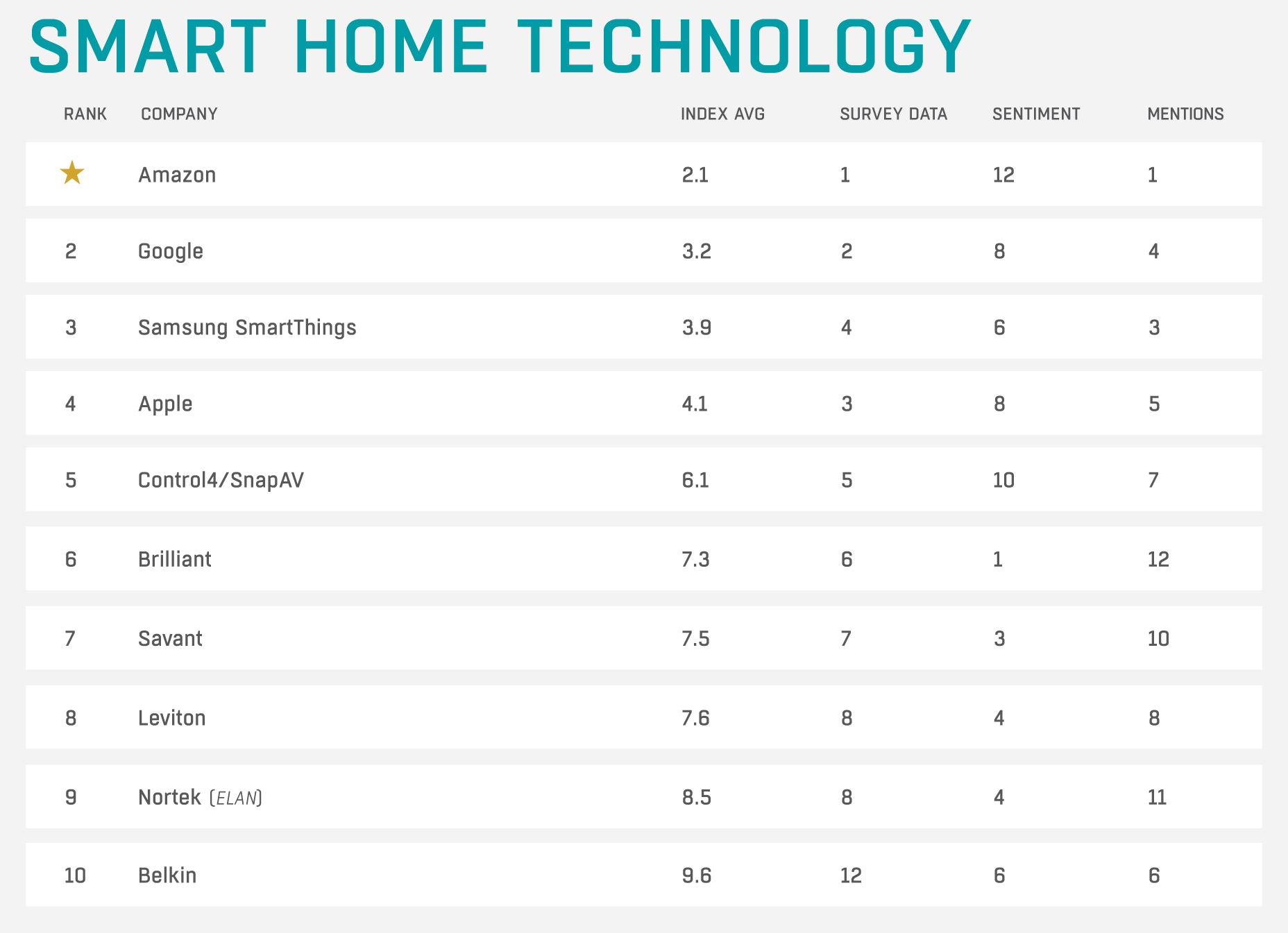 Smart Switch
Except for newcomer ConnectSense, all of last year's participants made the list, and scores and positions throughout were relatively stable. TP-Link broke up the traditional Samsung-Lutron-Leviton top three, and Samsung still has never lost this category. Like smart home tech, the public embraced smart switches as it spent more COVID-19 induced time at home.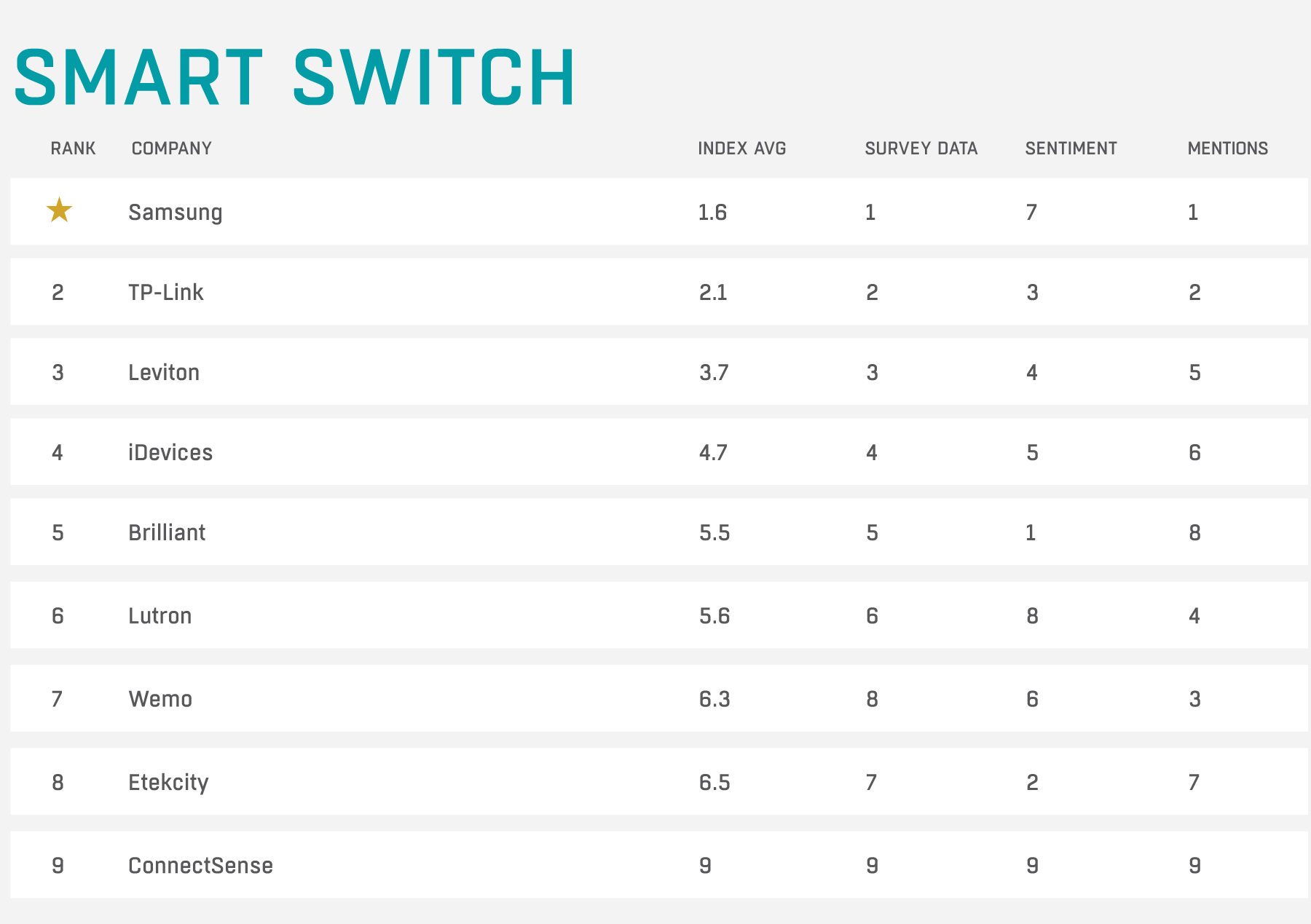 Solar Components
The biggest shakeup in 2021's Brand Index comes with solar components. There's a new leader, Schneider Electric, buoyed by a huge improvement in industry image, and a three-company shift. Fronius is in; Mercedes-Benz and Tabuchi Electric are out. Two-time winner SolarEdge and runner-up Tesla lost ground overall, but are still forces to be reckoned with.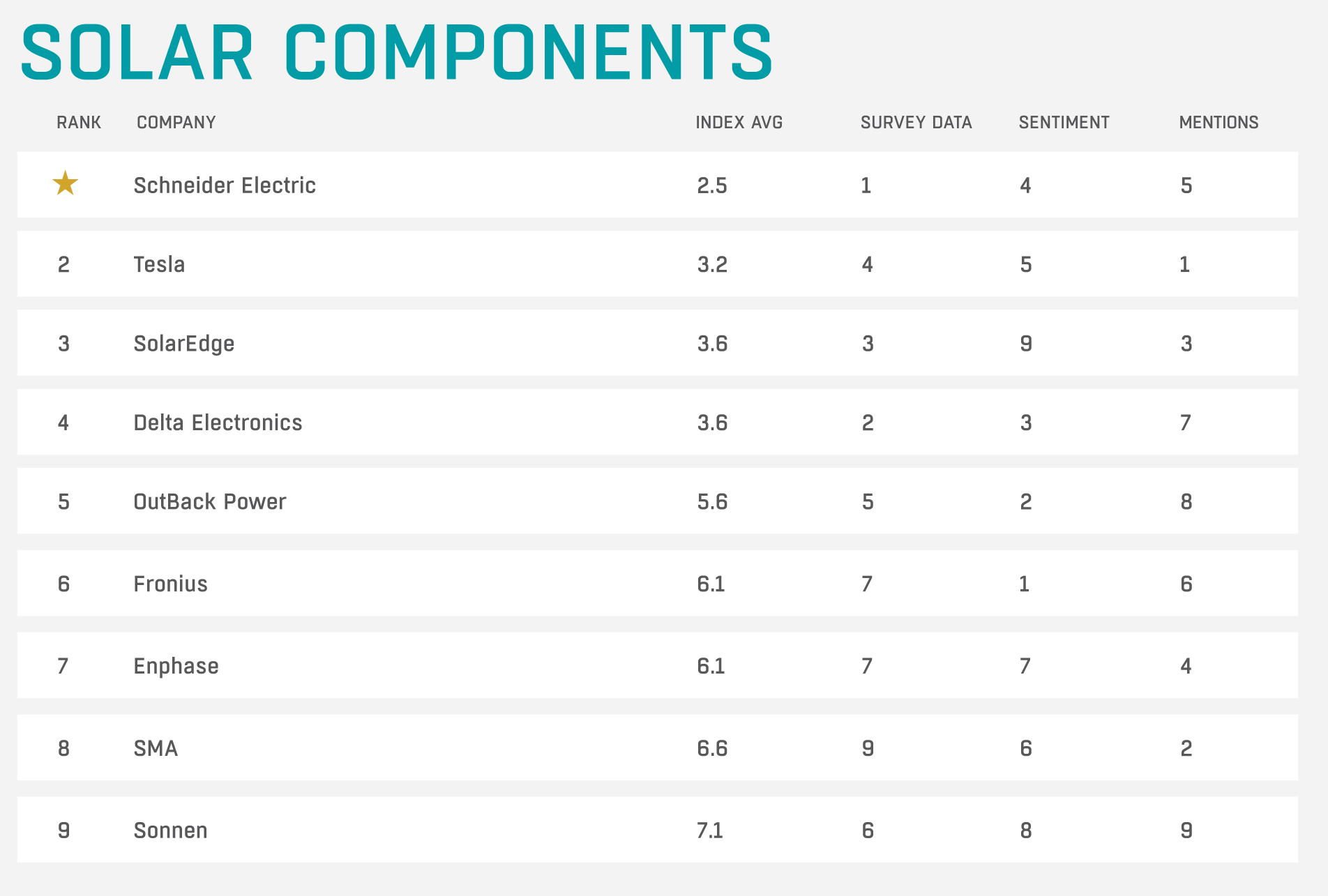 Structural
It wasn't a breakout year for structural product makers. Some, such as Boise Cascade and Premier Building Systems, continued with strong performances. But the market overall has compacted to where consumers don't see a lot of differences among the top seven. Even newcomers Norbord, Amvic, and R-Control had trouble standing out.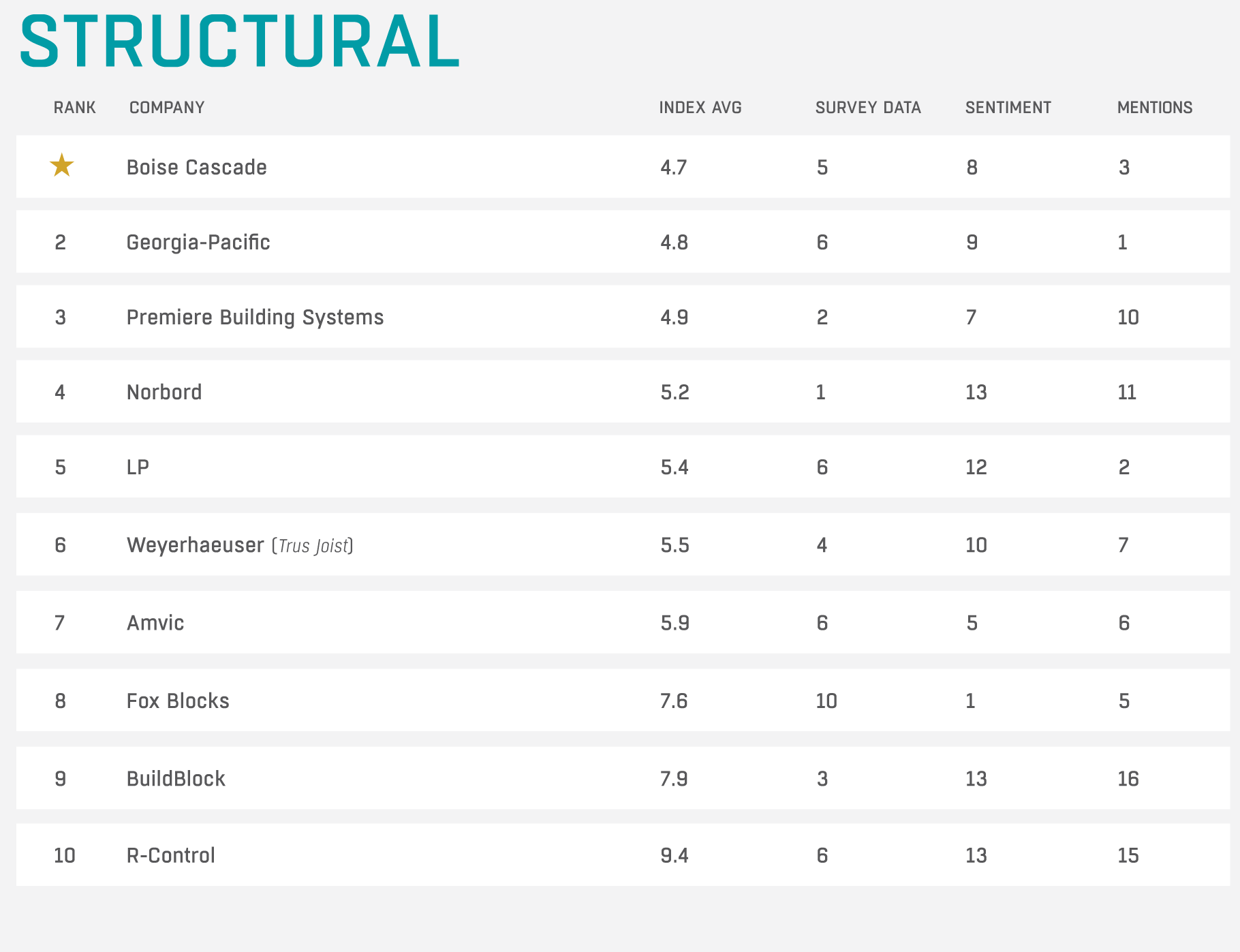 Thermostat
Honeywell/Resideo upped its well-known quality standards to claim the top spot, and to do so by a wide margin. A bit more work on product image and the company could dominate this category for a long while. Kudos to Wyze for getting the word out to enough consumers to break into a tough, crowded field.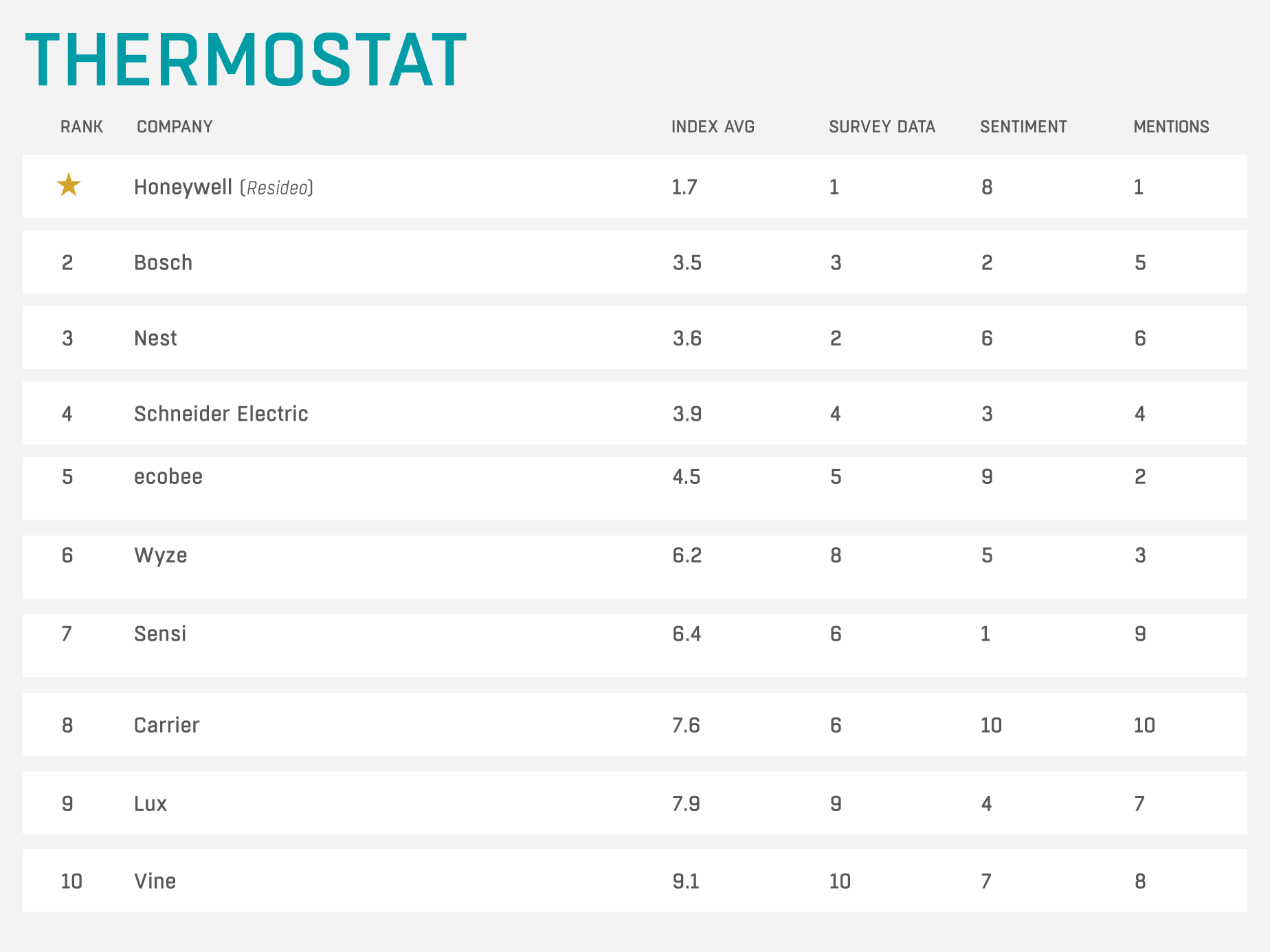 Ventilation
Panasonic and Delta Breez continue to lead the field, with the former securing No. 1 for a fifth straight year and the latter in second for a fourth. All nine major players, appearing on our list since 2019, still resonate publicly. That trend should remain, as demand for clean air continues in a presumably post-pandemic era.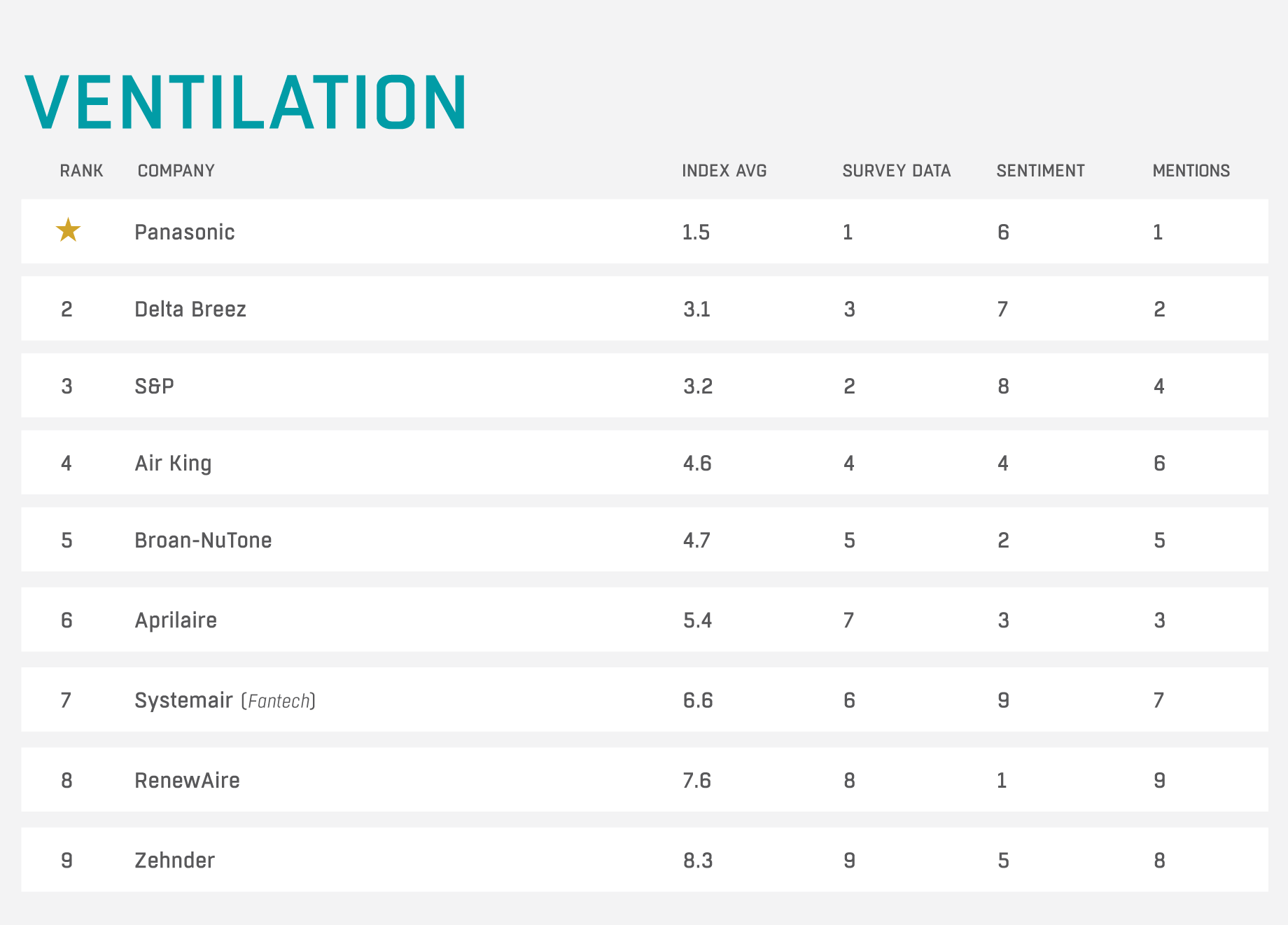 Windows
Nowhere is the difference between builder and public preferences more evident than in this category, where most industry favorites are on bottom rungs with consumers. Given that disparity, products by Ply Gem and Simonton, two mid-level newcomers to this year's top 10, are more likely to be viewed by anyone as solid, stylish, and satisfying.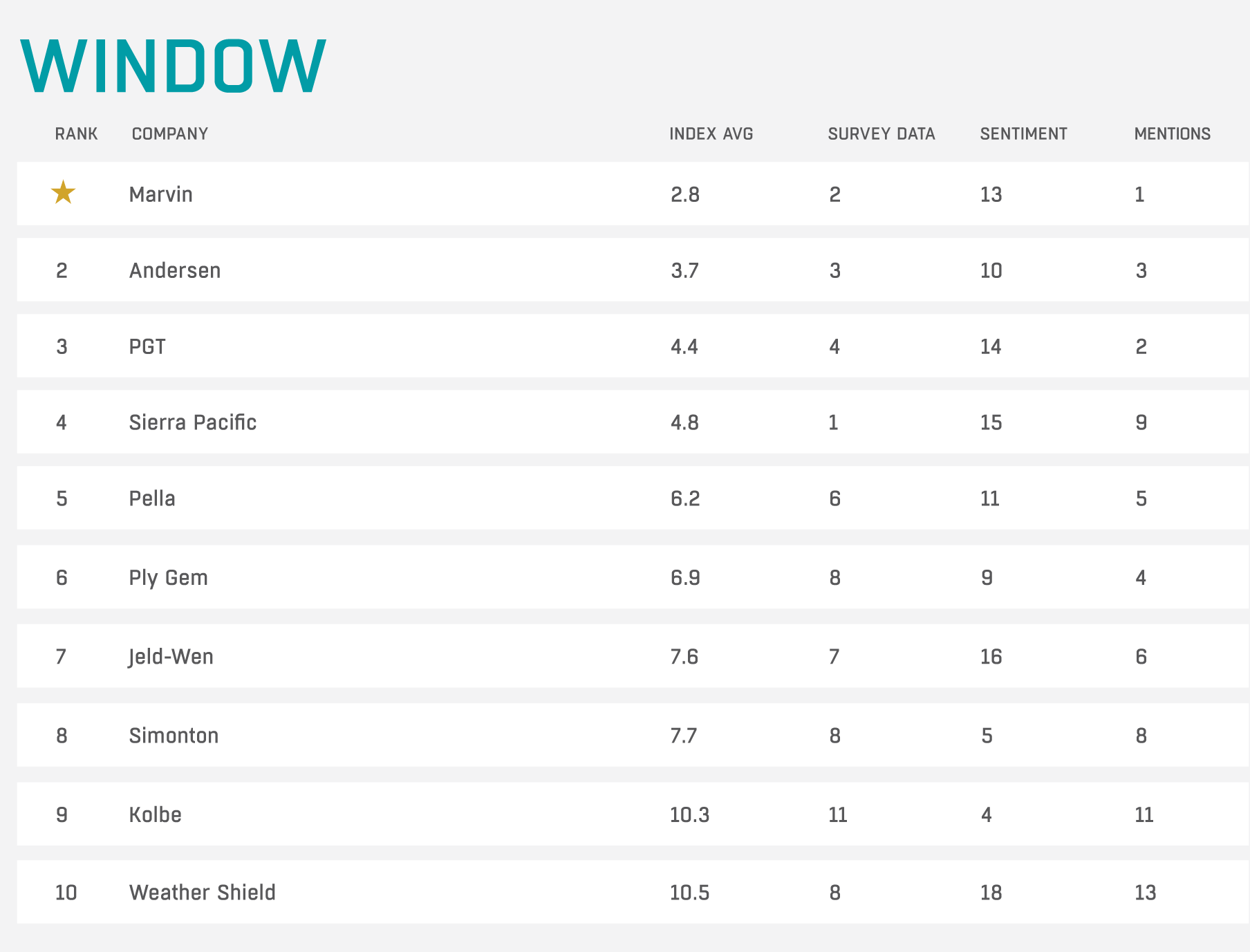 Work Vehicle
Who saw this coming? Mercedes-Benz, with its stylish and competitively priced Sprinter and Metris lines of cargo vans, overtook Toyota, Nissan, Ford, and Chevrolet when compared to 2020. While these four industry stalwarts had performance-induced yays and nays in recent years, MB soldiered on with a solid—and now, some would say, underrated—construction vehicle.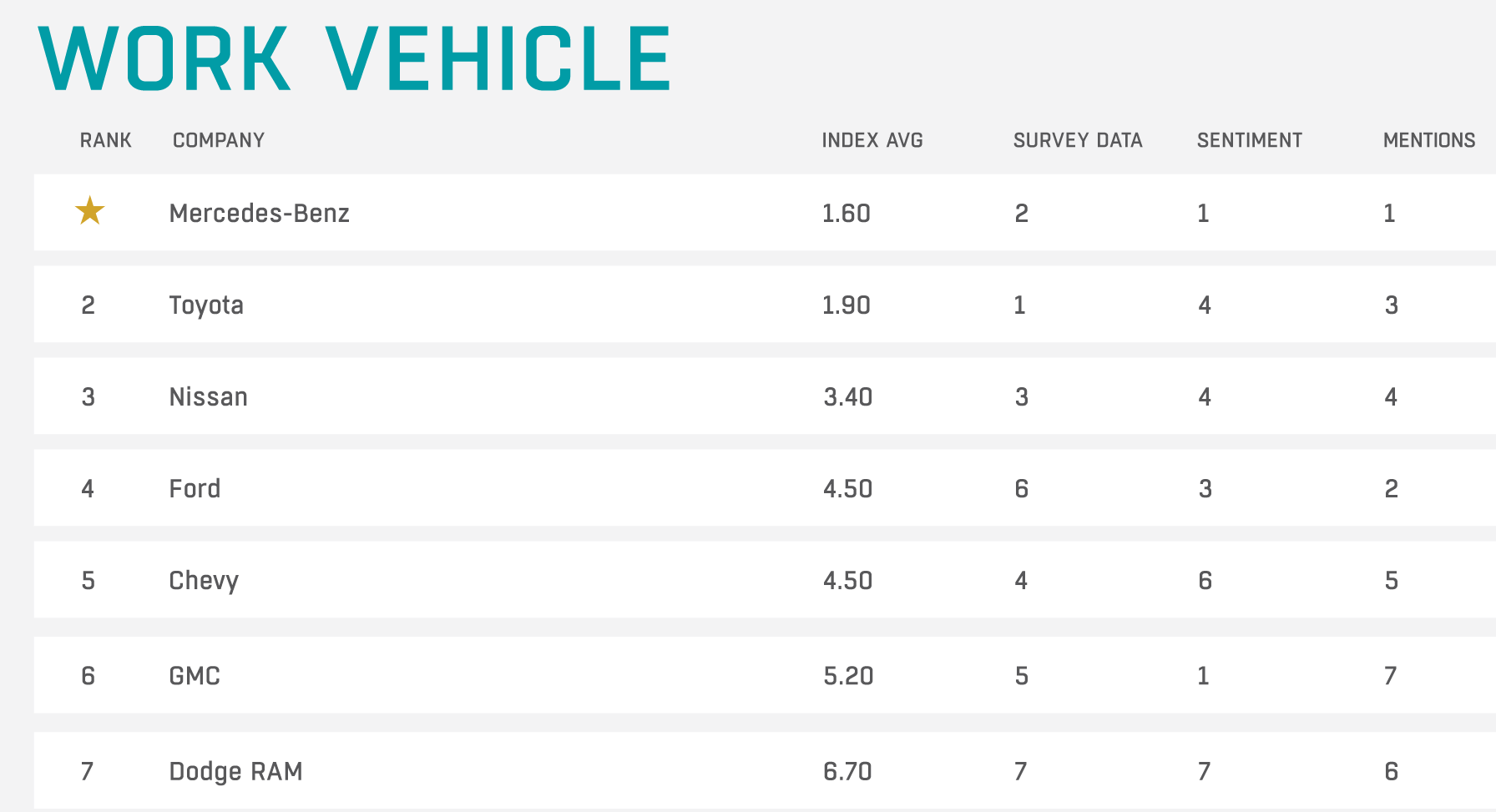 Key
Final Brand Index scores were determined by weighted averages of the following three measures:
Survey Data: How our readers ranked each company's sustainability.
Sentiment: Ranking in terms of how favorably consumers see the company.
Mentions: Ranking in terms of number of positive mentions.
---
*If a number appears to be missing (or two brands get a "7" score, for instance), it's because two of the top 10 brands tied.
** In some categories, we collected data for more than 10 brands. Only the top 10 overall scores are listed for each product category.
---
Congratulations Dallas C. of Noble, Illinois. Winner of an Amazon gift card for participating in our Readers' Choice Survey. Thanks to everyone who participated.
May 25, 2021 10:36:40 AM · 7 min read
---

Veteran journalist Matt Power has reported on innovation and sustainability in housing for nearly three decades. An award-winning writer, editor, and filmmaker, he has a long history of asking hard questions and adding depth and context as he unfolds complex issues.