Get Out of Bed and Into a Better Home Office

Michele Lerner, Associate Editor
5 min read
More than one-third of remote workers routinely work from their bed, which may have something to do with why most people working at home have some kind of physical discomfort associated with their home office setup.
The novelty of getting paid to stay in bed with your laptop may be wearing off a bit after more than 18 months of working at home. A new study by CraftJack, a platform that connects home services pros with homeowners, found that 74 percent of people have experienced pain and discomfort while working at home and 81 percent have discomfort at least weekly. The culprit: the lack of investment in a workspace at home.
"We were quite surprised to find 71 percent of people are still improvising workspaces at home," says Noah Mishkin, founder and COO of CraftJack . "This survey was conducted a full 15 months into the pandemic. That's a lot of time, so it speaks to how dramatically the pandemic has upended people's work lives, that they can't even find the time and resources to set something up in a considered way."
Limited space and a limited budget prevent many people from creating a dedicated office space, but CraftJack's survey found that 91 percent of people have done something to improve their workspace at home since the pandemic started. Even so, working from an unorthodox place is routine for most people.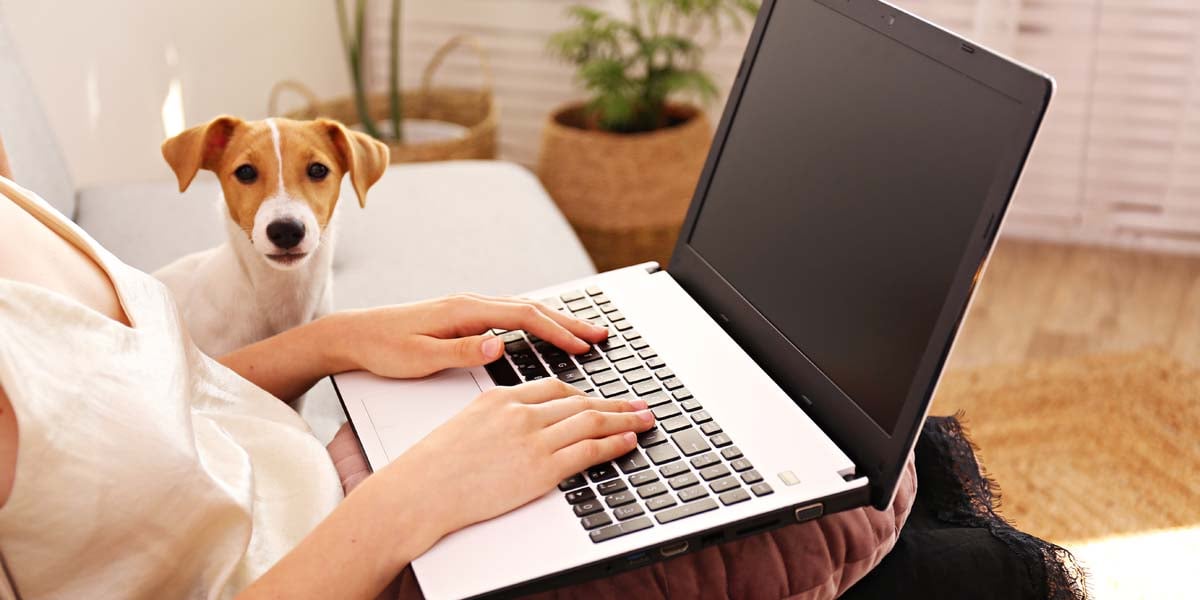 While 38 percent of people surveyed said they work from their bed regularly, even more (65%) said they have worked from their beds during the pandemic. Another popular place to work: the closet. One in three (35%) said they have worked from a closet during the pandemic, and 19% say that's where they work regularly.
Why Your Work-at-Home Setup Matters
Your work-at-home environment has both a physical and an emotional impact on your wellbeing, says Emily Giannone, an architect and WELL certified interior designer, which means she's trained in health and well-being, with Hickok Cole in Washington, D.C.
"Designing your workstation to be physically and visually separated from everyday functions like eating and sleeping will help adjust your mindset when it's time to transition from one task to the next," says Giannone.
Giannone recommends creating a designated work space away from your bedroom filled with items that inspire creativity or provide comfort. You can even add creativity with your furniture, such as the unusual upholstered tables and desks in the Mixhaus by LEE Industries collection.
"People thrive on routines and well-organized spaces," says Mishkin. "It helps us focus, it helps with work-life boundaries, it's the bedrock of being a productive employee. If you're working in the very same space where you eat and play and rest and care for children and pets, it's going to be hard to focus day after day in a way that produces great work."
Working in isolation may create emotional tension, but so can working at home in close proximity to roommates, partners and spouses. CraftJack found that 69 percent of people are regularly disrupted by other people's noise, and 58 percent say that working remotely with their partner or spouse has at some point strained the relationship. Finding out that your partner uses an annoying "work voice" and way too much jargon can take the romance out of any relationship.
While working at home can contribute to mental stress, physical complaints have also risen since the pandemic started. Most pain is felt in the back (56%), neck (54%) and shoulders (43%), according to the CraftJack survey, followed by 31% complaining of hand and wrist pain.
Improving Your Office In Limited Space
If you live in a big house with a separate home office, you can easily upgrade your remote work setup, but not everyone has that luxury. And even if you do, that covers only one person's needs, and you may have several people working at home at once. Giannone has several suggestions that can make working at home more productive and comfortable even in a small space.
"If possible, situate your desk near a window or natural light," she says. "According to the principles of WELL design, exposure to daylight for at least three hours a day was found to reduce stress and increase satisfaction at work."
She also recommends adding a potted plant or even a fake plant by your desk if you don't have a green thumb.
"Exposure to plants and nature has a multitude of positive impacts, such as a decrease in stress and a boost in mental health and productivity," Giannone says. "Bonus points if you sit outside or have views of nature."
One thing that doesn't take up any space at all is the air around you while you work. At home, unlike the office, you can control your own temperature and don't need to bring layers of sweaters for a building with the AC set on ice. According to WELL, thermal comfort is one of the most significant factors contributing to user satisfaction within a space, says Giannone.
"Keep in mind humidity levels, too," says Giannone. "Monitor your environment and, depending on humidity levels, you may want to consider investing in a humidifier or a dehumidifier. You can even find a dual humidifier-diffuser for added relaxation and comfort."
Fixing a home office on shoestring budget
Besides lack of space, money can be a big obstacle to creating an ideal home office. It doesn't hurt to ask your employer if they can kick in any funds for upgrades. In the CraftJack survey, 58 percent of people said their employer chipped in with money or supplies to support the development of their home office workspace.
"On a limited budget, we would definitely recommend investing in a proper work chair," says Mishkin. "If you're not comfortable, you're not going to be able to work for sustained periods of time. Moving from the couch to the bed to the kitchen table is just not sustainable." Lee Industries has sustainably crafted furniture made in the United States to make working at home comfortable and stylish.
More than half of the people surveyed by CraftJack who improved their work from home situation bought a new chair.
"With most of us sitting eight plus hours during a typical workday, investing in a comfortable, ergonomic chair is crucial for comfort and injury prevention," says Giannone. "The ideal chair is adjustable with armrests to keep you eye-level with your screen, keep your feet flat on the floor and protect the natural curve of your spine. Even better would be a chair with lumbar support, tilt adjustment and easily adjustable controls."
To reduce neck strain, you can elevate your laptop with a laptop stand that works like a mini desk on top of your desk or stack a bunch of big coffee table books or cookbooks under your laptop, suggests Giannone.
"With a laptop stand, it's important to use a detachable keyboard and mouse to maintain proper posture and prevent neck pain," she says. "You'll know you're at the right height if your elbows are relaxed and aligned with your desk or table height."
Proper lighting has a positive impact on mood, productivity and wellbeing, says Giannone. Natural light is ideal. Task lighting is also valuable to reduce eye fatigue, eye strain and headaches.
"Choose a lamp that's adjustable and has a focused beam to minimize glare," Giannone says. "Avoid too warm or too cool light and choose a bulb that is between 2700k and 4000k to get a clear bright light."
One more thing you can do to improve your remote work experience: Get active.
"Recent global estimates show that about a quarter of the adult population is considered physically inactive," says Giannone. "It's important to unplug and move – take a walk, stretch, make a healthy lunch–especially while you're staying in place for meetings. Give yourself a break from your screen and stagnancy."
---
Publisher's Note: This content is made possible by our Today's Home Buyer Campaign Sponsors: Panasonic, Whirlpool, Rockwool, and Lee Industries. These companies take sustainability seriously, in both their products and their operations. Learn more about building and buying homes that are more affordable and less resource-intensive on Today's Home Buyer.
Oct 29, 2021 7:10:43 AM · 5 min read
---

Michele Lerner is an award-winning freelance writer, editor, and author who writes about real estate, personal finance, and business.