Garages: Not Just for Cars Anymore
Homeowners are transforming their garages into flex spaces. Check out how small business owner Ashley Marie LeBaron was able to pursue her dream of starting an all-natural soap and skincare line from her garage.
Sponsored Content
With more people working from home now than ever, garages have become essential extensions of living spaces. They are now serving multiple purposes, such as home gyms, offices, workshops, hobby rooms, playrooms and entertainment areas.
In a recent COGNITION Smart Data survey, nearly 75% of millennial respondents indicated that they wanted garages–but not necessarily for vehicles.
This is due, in part, because they're trying to make every square foot of their homes work for everyday uses, and also because this generation is less likely to own a car than older generations. As an added, but not unintentional side effect, they're contributing a lot less CO2 to the air than they would commuting.
According to Forbes, with ride sharing and public transportation as viable options in most urban areas, coupled with a strong fear of diminishing returns on investment and environmental awareness, have caused younger generations to rethink purchasing cars.
As millennials move away from vehicle ownership, they're turning their garages into versatile multi-purpose spaces.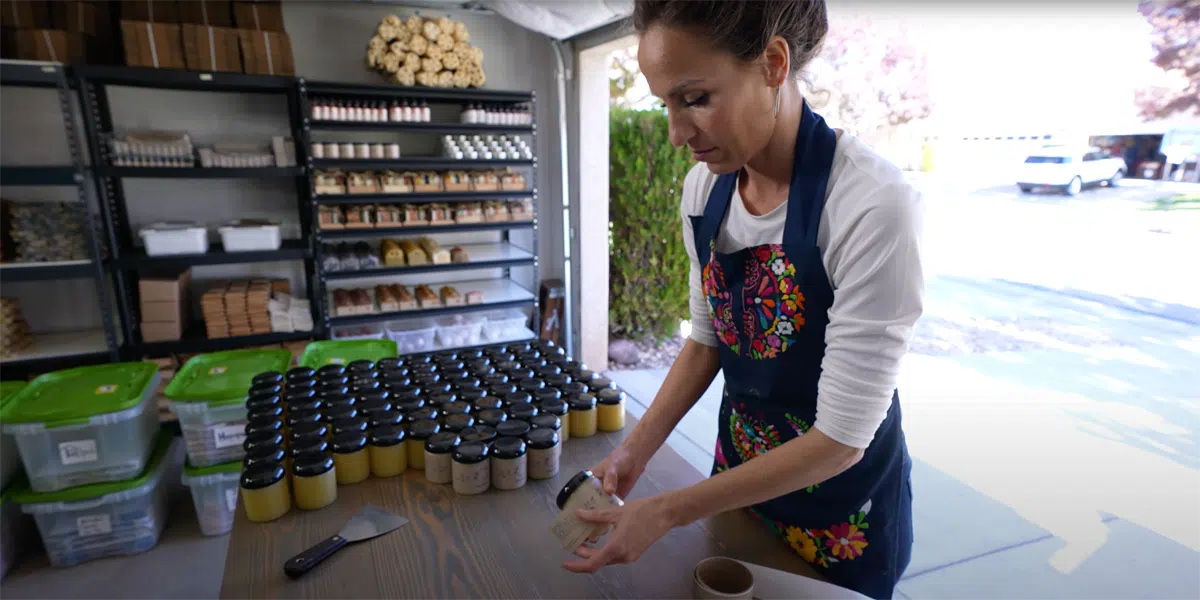 Ashley Marie spends her days in her garage sanctuary creating all-natural products.
All-natural soap and skincare maker Ashley Marie LeBaron is one such entrepreneur, transforming her garage into a workspace to save money on rental space, avoid carbon emissions from commuting and optimize valuable square footage that wasn't otherwise being used.
LeBaron is dedicated to only using natural ingredients and fragrances in her products. In fact, she believes that "we shouldn't put anything on our skin that we wouldn't eat and I've applied that motto into my life passion, creating all-natural soap and skincare." With her products, you can "say goodbye to refined ingredients you can't pronounce!"
To take her in-home business to the next level, LeBaron installed a myQ Smart Garage Door Opener by LiftMaster that comes with a built-in camera, LED lighting and battery backup.
LeBaron can remotely control her garage through the myQ app, enabling her to open the garage door when large packages of supplies arrive and provide access to her part-time employees without needing to be home. The built-in camera adds streaming video, recorded events, motion detection and 2-way communication to the myQ app so she can see who is coming and going, and even speak with them if she needs to.
"The myQ app brings me a lot of confidence that my products and my business are safe inside my garage," LeBaron comments.
LeBaron says the best days in her new home office/garage are the ones when she can keep the garage door open, creating a seamless indoor-outdoor space. "My garage door opens up to a beautiful river. I love all the fresh air that comes in, and I'm inspired by the natural setting," LeBaron says.
Check out how LeBaron has transformed her garage into the perfect space for a thriving business in this GarageMasters video.