From Net Zero Energy to Zero Carbon

Sara Gutterman
3 min read
Getting to net zero energy is paramount if we're going to reach our climate goals, but the hard, cold truth is that it isn't enough. It's time to explore the next frontier of climate action— embodied carbon.
A disheartening report issued by the United Nations last week delivered jarring news: we're not even close to meeting our Paris Agreement climate goals.
The report analyzed the climate efforts of 75 nations across the globe that are major carbon emitters. Sadly, the current plans submitted by these countries would only cut global greenhouse gas emissions by approximately 1 percent by 2030—a frighteningly far cry from the 45 percent cut needed to limit global warming to 1.5 degrees.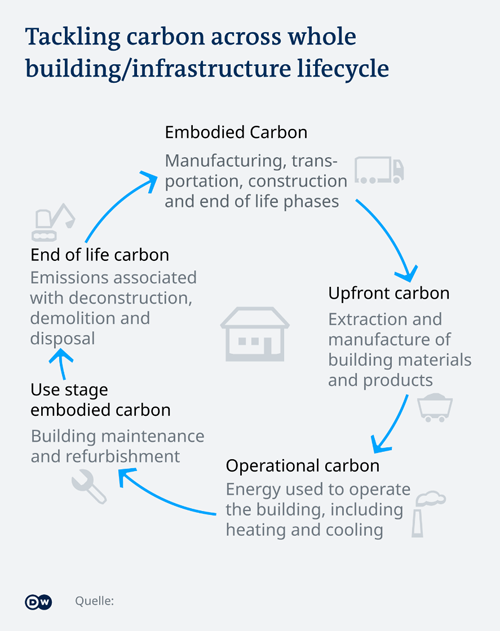 Many climate action advocates are hoping that the United States rejoining the Paris Agreement will motivate the global community to ramp up efforts. In particular, they are looking for big moves from China (the world's largest carbon emitter), Japan, and India, all three of which have announced bold national targets, as well as by other polluting nations like Russia and Brazil (neither of which have indicated interest in more ambitious climate action.)
With climate change wreaking havoc across the globe, climate action has shifted from urgent to imperative, and, according to COP 26 President Alok Sharma, "the window for action to safeguard our planet is closing fast."
Net Zero Carbon Buildings
The built environment plays a major role in carbon emissions. The sourcing and manufacturing of materials, construction, and operations of homes and buildings requires an immense amount of energy and emits a substantial amount of pollution.
According to the UN, building construction and operations accounted for approximately 38 percent of global energy-related carbon emissions and 36 percent of global energy use in 2019. In the United States, homes and buildings accounted for 40 percent of total energy consumption in 2019, according to the U.S. Energy Information Administration.
The UN avows that emissions from buildings must be reduced by 50 percent by 2030 and 100 percent by 2050 if we have a chance at staying under a 1.5-degree temperature rise.
In response, cities, states, and nations across the globe are implementing net zero energy building requirements to curb emissions from energy use.
But to achieve carbon-free (or even carbon negative) construction across the building lifecycle, we must expand our thinking beyond net zero energy, which typically focuses on operational efficiency, towards embodied carbon, or total emissions generated during the manufacturing, transportation, construction, operation, and end-of life-phases.
This means finding replacements for carbon-intensive materials like steel and cement (the most widely used building material, which accounts for nearly 8 percent of total global carbon emissions), such as CarbonCure, a technology that infuses recycled carbon dioxide into fresh concrete to reduce its carbon footprint without sacrificing performance, or cross laminated timber.
While the energy intensity of the building sector is improving by an estimated 1.5 percent every year, the number of buildings is on the rise: 2.5 billion people are expected to move to cities (mostly in Asia and Africa) in the next 30 years, and the urban built environment is expected to grow by 60 percent. The total built environment is currently growing by approximately 2.3 percent annually, the equivalent of a city of 1.5 million people constructed every week.
And we have a long road to travel—although the built environment must reach net-zero carbon by 2050 to meet our target climate goals, not even 1 percent of existing buildings are considered net-zero carbon today, according to the World Resources Institute.
Clearly, the decarbonization of the built environment has never been more important.
Net Zero Targets: The New Bare Minimum
Getting to net zero energy is a good first step, and relatively easy and cost-effective given advances in high-performance buildings, including heat pumps (for air heating/cooling and water heating), solar panels, inverters, and storage, energy-efficient building envelope systems, windows, and doors; and smart technologies.
But getting to the important emission reductions of zero carbon is much more challenging and will effectively require a total revamping of the design, construction, transportation, and manufacturing sectors, as well as land-use policies, codes, and regulations.
The good news: Climate positive progress is underway. If we do it right, we'll tackle not only our environmental challenges but also our social justice and economic problems.
Want to learn more about the massive transformation in the building industry and net zero carbon? Join us for our Housing 2.0 program, a comprehensive training and education program designed to teach building professionals how to design and construct the next generation of sustainable, efficient, healthy, and intelligent homes for a fraction of the cost.
Mar 11, 2021 11:51:13 AM · 3 min read
---

As cofounder and CEO of Green Builder Media, Sara is a visionary thought leader and passionate advocate for sustainability. A former venture capitalist, she has participated in the life cycle (from funding to exit) of over 20 companies, with an emphasis on combining sustainability and profitability. She lives in Lake City, Colo., with her husband, where she is an avid long-distance runner, snowboarder, and Crossfit trainer. She is also on the Board of Directors at Dvele, runs the Rural Segment for Energize Colorado, and is a former County Commissioner.