5 LP Structural Solutions Products Newly Certified as Carbon Negative
Sponsored Content

In September 2023, LP Building Solutions unveiled its third annual Sustainability Report, which details the company's numerous environmental, social and governance achievements over the past year. One of its most noteworthy milestones was achieving a carbon-negative designation for five LP® Structural Solutions products, as validated by ASTM International.
Carbon negativity means that a product stores more carbon than is released during raw material sourcing, manufacturing, shipping the product to its final customer, and eventual decommissioning. A carbon-negative building material will maintain a net negative carbon footprint throughout its life cycle.
The carbon negative designation is further proof that LP has one of the most sustainable structural product portfolios on the market today. The five products certified as carbon negative are:
LP® TechShield® Radiant Barrier

LP WeatherLogic® Air & Water Barrier

LP Legacy® Premium Sub-Flooring

LP® FlameBlock® Fire-Rated Sheathing

LP® TopNotch® 350 Durable Sub-Flooring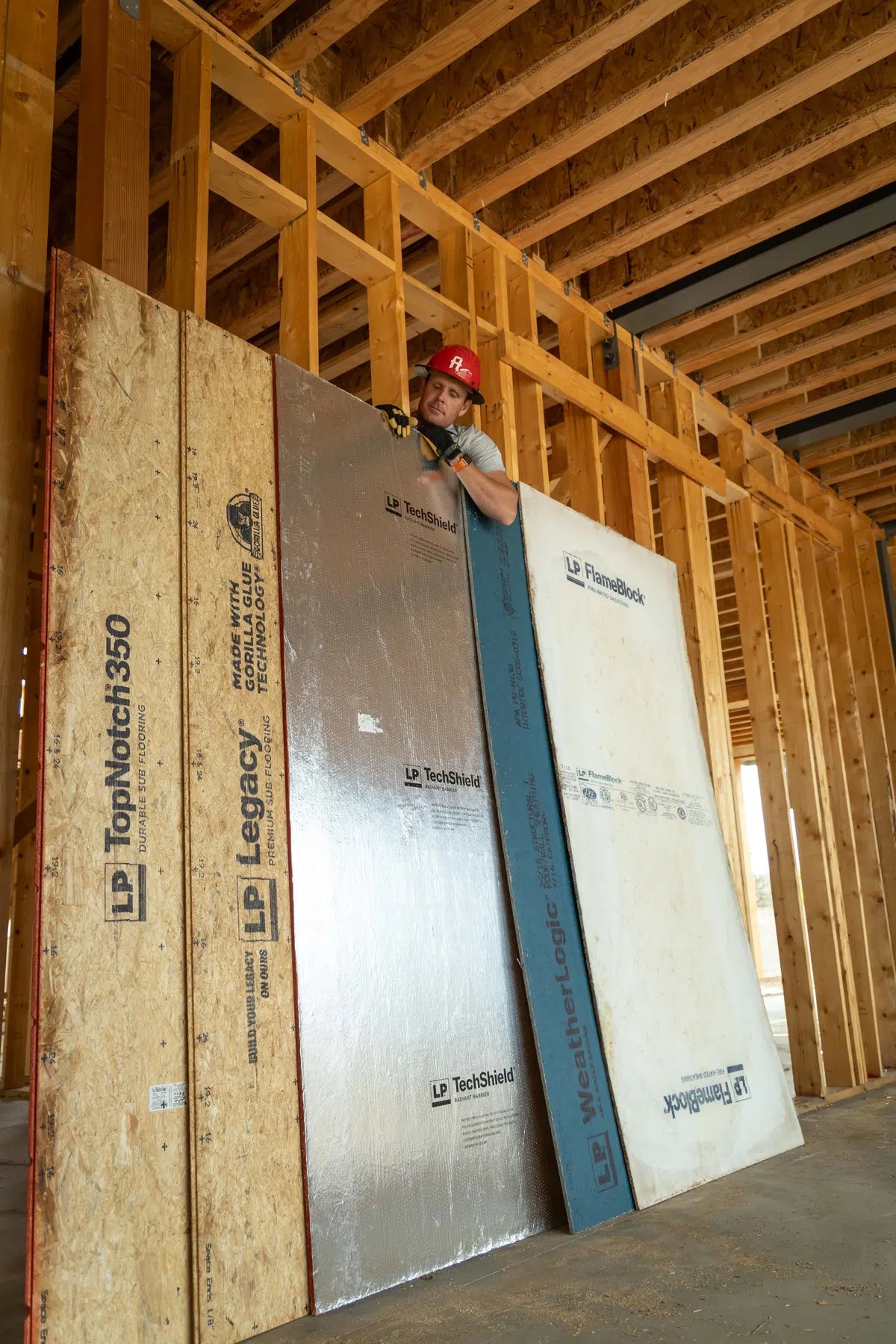 In 2022, LP began developing life cycle assessments (LCAs) and environmental product declarations (EPDs) of these five products, in line with internationally recognized protocols and standards, including ISO standards.
In 2021, the company announced that its flagship home siding product, LP® SmartSide® Trim & Siding, is carbon negative and stores 10 times more carbon than fiber cement siding.
The new Sustainability Report also underscores LP's long-time commitment to environmental, social and corporate governance (ESG) standards—a critical part of the company's ongoing purpose of Building a Better World™.
One of LP's strong suits is its focus on sustainable manufacturing. The company is continually evaluating its operations for opportunities to reduce emissions and maximize efficiency, identifying even small changes that can have a big impact. To reduce the impact of raw materials, 99% of the fiber LP harvests is used either in products or as an alternative thermal energy source to offset fossil fuel consumption. In 2022, 80% of the thermal energy LP used was renewable—specifically, the wood biomass residuals generated during manufacturing.
LP's Climate Oversight Structure
LP's cross-functional ESG Council is a diverse group of company executives. The Council plays a critical role in managing climate-related risks and opportunities and also oversees the ESG Task Force, a group that provides strategic and technical guidance.
The ESG Council and ESG Task Force meet regularly to discuss strategies, including climate- and emissions-related initiatives and progress toward achieving important goals.
LP's principal climate-related goals are:
Integrating the evaluation and management of climate risks and opportunities into business processes

Evaluating targets and potential decarbonization pathways

Continuing evaluation of the company's greenhouse gases (GHG) inventory
LP's participation in industry associations and the committees of those groups enables the company to monitor and anticipate changes in climate policy and regulation.
Industry-Leading Forest Management Practices
All of the wood delivered to LP manufacturing facilities is managed through LP's sustainable sourcing program.
LP works hard to ensure that 100% of the wood fiber it sources is vetted through stringent forest certification standards. These standards define the principles, objectives, performance measures and indicators to which LP must adhere when sourcing wood fiber. The company uses forest certification not just to prevent deforestation but to build sustainable forests that will thrive for years to come.
LP SmartSide products are made primarily from aspen trees, which are naturally regenerative and fast-growing, helping keep forests healthy and viable. Moreover, there's almost no waste in the manufacturing of LP SmartSide products. LP mills use 99% of every fiber harvested for either the product or the fuel to make it.
How Green Builders Benefit From LP Products
Many of LP's products help builders achieve higher ratings within green building certification programs like the U.S. Green Building Council's LEED® (Leadership in Energy and Environmental Design) certification and the WELL Building Institute's WELL Building Standard®.
LP is committed to making products that are increasingly resilient to withstand extreme weather. For example, LP NovaCore® Thermal Insulated Sheathing is a dual-layered product designed to help protect structures from heat loss and gain. LP NovaCore panels help maintain steady temperatures so that less energy is used for heating and cooling.
Decarbonization Is in the DNA of LP Products
LP products, the vast majority of which are carbon negative, play a role in the transition to a lower-carbon economy. Predominantly derived from a naturally renewable resource, LP products provide builders with a durable alternative to nonrenewable, energy-intensive concrete products.
Clearly, decarbonization and environmental stewardship are far more than trendy buzzwords at LP. The company is truly at the forefront of the industry's efforts to promote decarbonization initiatives so vital to the health of our environment.
Sep 30, 2023 12:00:00 AM · 3 min read