Electric Vehicle Inflection Point: Price Parity for Batteries

Sara Gutterman
3 min read
The end of the gas-guzzling combustion engine is in sight: experts predict that economies of scale will bring down the cost of batteries to allow electric vehicles to reach price parity with gas-powered vehicles by 2024.
While COVID, the Presidential election, economic challenges, social justice issues, and extreme weather have dominated the headlines over the past year, something else has been happening that is newsworthy: the evolution of the battery industry.
Battery technologies that were once considered to be mere fantasy are scaling up for full-scale deployment in the next several years.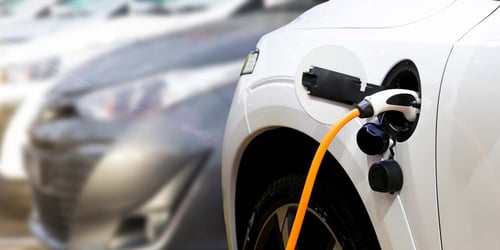 The sector, spearheaded by the ingenuity of Tesla CEO Elon Musk (who asserts that he has decreased the cost to produce batteries by 56 percent) and magnified by innovative companies like QuantumScape (a little-known battery company that went public last year at an astronomical valuation of $3.3 billion), is now drawing substantial attention from stalwart companies like Shell, Panasonic, LG, Volkswagen, Toyota, and GM.
Volkswagen recently announced plans to build six giga-factories in Europe to develop electric vehicle batteries that can charge in as little as 12 minutes. The company is also planning to install tens of thousands of fast-charging stations worldwide.
Wall Street is proving eager to embrace clean tech: Volkswagen's stock skyrocketed 26 percent shortly after the giga-factory announcement, and eight vehicle battery and EV companies have either gone public this year or have near-term plans to do so.
Recent advances in battery technology would make a Star Trek fan proud: anodes made of pure lithium metal, cathodes composed of inexpensive high-manganese, and lithium metals used with liquid electrolytes, all of which increase capacity (Tesla is apparently developing a battery with 16 percent more range and 6x more power than its current offering) and decrease cost (using a high-manganese cathode can result in a 50 percent reduction in cost.)
Assuming that breakthroughs in battery technologies continue at their current clip, experts predict that we'll hit an inflection point as soon as 2023 or 2024, at which time electric vehicles will reach price parity with gas-powered vehicles, marking the beginning of the end of the internal combustion engine.
Given that batteries are the most expensive component of EVs, the technology innovation and cost decreases are expected to drive market share for electric vehicles to up to 50 percent of total cars manufactured worldwide by 2030.
The battery revolution will undoubtedly usher in a new geopolitical pecking order. "Boring old batteries have rarely had it so good," writes editor at large Steve Levine in his column, The Mobilist. "A good two centuries after their invention, they are sought-after with the same fraught urgency of the prospectors who hunted oil in the middle-late tailfin decades of the last century."
No doubt, advances in battery technologies are bringing wholesale change to transportation, ushering in the age of mass-market EVs. Look for similar advances in renewable energy battery storage systems as well.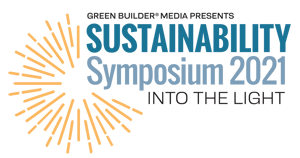 To learn more about clean technology solutions that are ushering in the Decarbonization Economy, join Green Builder Media at our upcoming Sustainability Symposium 2021: Into the Light.
The virtual event, scheduled for April 21 & 22 (in celebration of Earth Day), will explore the urgent choices that we need to make to create a just, sustainable, and climate-safe system—one that balances economic vibrancy with social equality and environmental stewardship.
Registration is free, so save your spot today!
As always, our star-studded line up will include some of the brightest minds in sustainability, including climate scientists, award-winning authors, visionary building industry influencers, leading business executives, and climate policy heroes, including:
Internationally celebrated climate scientist Dr. Michael Mann

Sustainable business expert and award-winning author Andrew Winston
Pioneering venture capitalist Andrew Beebe, Partner at Obvious Ventures
House Select Committee on the Climate Crisis senior counsel Samantha Medlock

Building scientist, architect, and author Sam Rashkin

Thrive Homebuilders Founder and CEO Gene Myers

And me, Green Builder Media CEO, Sara Gutterman
Our annual Sustainability Symposium has established a reputation as being one of the most innovative, interesting, and fun sustainability events of the year.
A heartfelt thank you to Trane Technologies for their continued support of our annual Sustainability Symposium, as well as their total commitment to corporate sustainability.
Apr 1, 2021 8:15:00 AM · 3 min read
---

As cofounder and CEO of Green Builder Media, Sara is a visionary thought leader and passionate advocate for sustainability. A former venture capitalist, she has participated in the life cycle (from funding to exit) of over 20 companies, with an emphasis on combining sustainability and profitability. She lives in Lake City, Colo., with her husband, where she is an avid long-distance runner, snowboarder, and Crossfit trainer. She is also on the Board of Directors at Dvele, runs the Rural Segment for Energize Colorado, and is a former County Commissioner.