Earth Day Reflections

Sara Gutterman
4 min read
Earth Day is an annual celebration of the environmental movement—an earnest reminder to take stock of our progress, celebrate our successes, and lament our losses.
Many people take time on birthdays and holidays to reflect on the year gone by. As a dedicated environmental steward, Earth Day is a benchmark for me—a moment in time to pause and think critically about the headway and setbacks we've experienced in our quest for sustainability.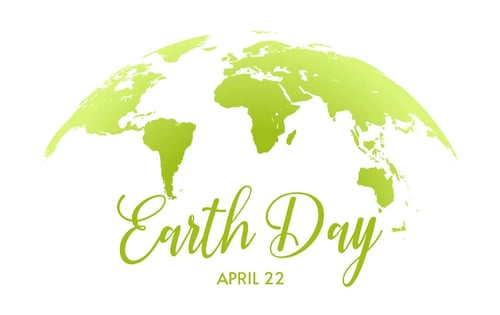 If I'm honest with myself, I have to admit that, this year, I'm both terrified and tremendously hopeful.
On one hand, extreme weather events are intensifying faster than scientific models predicted, bringing us into uncharted territory. With each passing year, more heat, fire, flooding, and superstorm records are broken. Scientists predict that we're trending ever-faster toward greater extremes.
Predictions that scientists made for 2030, 2040, and even 2050 are happening now. Catastrophic natural events continue to occur more frequently and ferociously than ever before, and there is little doubt that we're witnessing a dramatic acceleration of climate activity.
As towns from coast to coast are charred by wildfire, flooded by superstorms, or drowned by rising sea levels, the number of climate refugees soars. Millions of people who live on the front lines of climate change face the heartbreaking decision of whether to rebuild or vacate the communities they love.
While the staggering level of post-disaster human anguish is not quantifiable, the financial costs certainly are: NOAA estimates that the United States has incurred nearly $2 trillion in losses from natural disasters since 1980.
With the increasing intensity of climate events, policymakers are feeling an express urgency to corral costs, leading us to dispiriting decisions about which communities will be salvaged, and which ones will be abandoned.
Moving forward, policymakers will be forced to decipher between winners and losers in the race to climate mitigation. Nimble cities that demonstrate the ability to adapt and solve for climate risks will attract the jobs and the factories of the future, and those that drag their feet will be left behind.
With all of that said, the ever-accelerating pace of climate action at a local, state, national, and even international scale makes me hopeful that we're undergoing a metamorphosis, from which will emerge a sustainable, carbon-free economy.
Not only is the current administration aggressively pushing for the adoption of renewable energy, electric vehicles, innovative carbon capture technologies, energy efficiency, and many other climate action imperatives, it has also reclaimed a leadership position on the international stage.
In fact, this past weekend, the United States and China—the world's two largest emitters of greenhouse gasses—agreed to work together to tackle global climate change by maintaining and even strengthening the goals established in the Paris Agreement.
Even without U.S. coaxing, China boldly pledged to cut carbon emissions by over 65 percent by 2030 and become carbon-neutral by 2060, but experts believe that an agreement between the two countries will be the kicker to keep both countries accountable and on track.
The Biden administration is negotiating similar agreements with other countries like Japan, South Korea, and Canada to bolster emission reduction targets. (Key deals with large carbon emitters India and Brazil are proving to be more elusive.)
Despite the fact that the U.S. has rejoined the Paris Agreement and pledged to cut emissions substantially by 2030, the U.S. has some heavy lifting to do to prove to the world that we mean business after reneging on several pivotal climate promises (including walking away from the Kyoto Protocol and temporarily withdrawing from Paris.)
If the private sector has any say, we'll double down on our climate efforts. Last week, more than 300 businesses, including behemoths like Apple, Walmart, McDonald's, and Starbucks, joined forces and signed an open letter calling on the Biden administration to reduce U.S. greenhouse gas emissions by 50 percent by 2030 (when compared to 2005 levels) and to achieve net-zero by 2050—an ambitious but attainable feat that is in line with what the United Nations and National Academies of Science insist is necessary to mitigate the worst impacts of climate change.
The roadmap to get there:
Driving renewable energy adoption, investing in innovative technologies like battery storage, and implementing a national clean energy standard that requires utilities to derive increasing amounts of electricity from carbon-free sources, while shifting away from coal and other fossil fuels.
Electrifying transportation, requiring that all new vehicle sales are electric and implementing a "cash for clunkers" trade-in program to incentivize the transition to clean vehicles.
Improving industrial and manufacturing activities, primarily for the production of cement, steel, chemical, and paper, which are highly intensive and polluting processes.
Transitioning homes and buildings to net-zero and all-electric by implementing energy-efficiency retrofit programs, ratcheted codes, mandates, and incentives.
Transforming agricultural practices to reduce the impact of food production and preserving more land that can be used for carbon sinks.
Want to learn more about the transition to a carbon-free economy? Join Green Builder Media for Day Two of our Sustainability Symposium 2021: Into the Light in celebration of Earth Day.
Registration is free, so reserve your spot today!
The virtual event will explore the urgent choices that we need to make to create a just, sustainable, and climate-safe system—one that balances economic vibrancy with social equality and environmental stewardship.
As always, our star-studded line up will include some of the brightest minds in sustainability, including climate scientists, award-winning authors, visionary building industry influencers, leading business executives, and climate policy heroes, including:
Internationally celebrated climate scientist Dr. Michael Mann
Sustainable business expert and award-winning author Andrew Winston
Pioneering venture capitalist Andrew Beebe, Partner at Obvious Ventures
House Select Committee on the Climate Crisis senior counsel Samantha Medlock
Building scientist, architect, and author Sam Rashkin
Thrive Homebuilders Founder and CEO Gene Myers
And me, Green Builder Media CEO, Sara Gutterman
Our annual Sustainability Symposium has established a reputation as being one of the most innovative, interesting, and fun sustainability events of the year.
A heartfelt thank you to Trane Technologies for their continued support of our annual Sustainability Symposium, as well as their total commitment to corporate sustainability.
Apr 22, 2021 8:00:44 AM · 4 min read
---

As cofounder and CEO of Green Builder Media, Sara is a visionary thought leader and passionate advocate for sustainability. A former venture capitalist, she has participated in the life cycle (from funding to exit) of over 20 companies, with an emphasis on combining sustainability and profitability. She lives in Lake City, Colo., with her husband, where she is an avid long-distance runner, snowboarder, and Crossfit trainer. She is also on the Board of Directors at Dvele, runs the Rural Segment for Energize Colorado, and is a former County Commissioner.