Dvele Promises Carbon-Free Homes

Alan Naditz
3 min read
It's now solar power all the way for homes by this Southern California builder.
What does a residential homebuilder do when there's a climate crisis underway, and studies show that homes are responsible for 20 percent of the nation's carbon emissions?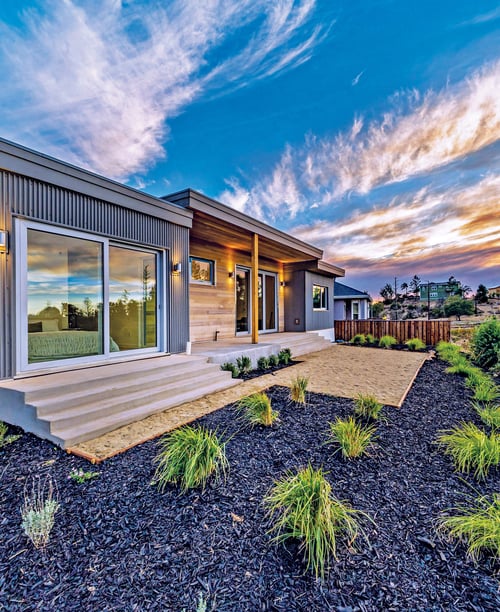 Going all-solar and being backup battery enabled will keep a home from over dependence on the grid. Courtesy Dvele
If you're La Jolla, Calif.-based modular homemaker Dvele, you build homes that are carbon free. Last year, the company announced that all of its future models will be completely self-powered via individual solar arrays and backup battery systems.
Dvele's all-solar setup eliminates the impact of power outages—a huge problem in California due to the massive heatwaves of the current and recent summers. There's also a conservation factor: Only one-third of the energy from California's electric grid actually makes it into buildings.
The rest, the company notes, is lost in transit.
"That's a really, really leaky bucket," notes Dvele CEO Kurt Goodjohn. "Fixing the bucket, in this case, will take at least 10 years with concerted effort and cost billions of dollars that our bankrupt utility companies don't have. And when you layer on the financial liability and distraction of having to manage seasonal wildfire dangers resulting from climate change, it's questionable if it can ever be done."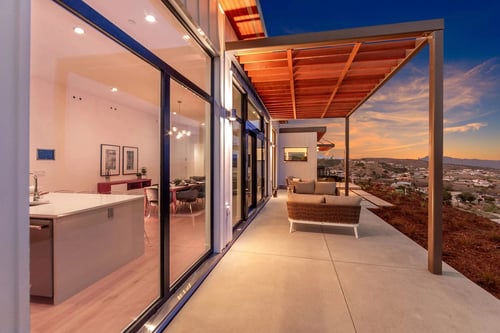 Dvele homes are 84 percent more efficient in energy savings than the typical new development, thanks to air sealed windows. Courtesy Dvele
Meanwhile, an improved thermal envelope in Dvele homes cuts household energy use by about 84 percent per square foot compared to the typical American home, according to the company.
Traditional site-built homes are notorious for being leaky with respect to air control, almost the equivalent of driving a car with the windows down. But a Dvele home is "the equivalent of driving with the windows up," the company notes. "We design our homes like you would a spaceship, and utilize the most-advanced materials and assembly techniques in their production to achieve this."
Carbon Reduction Stats
20% of U.S. Total Amount of carbon emissions in the atmosphere generated by older homes
84% per square foot Drop in Dvele home's energy usage vs. average U.S. home
300+ Real Time Sensors in DveleIQ smart technology home monitoring system
The home's very sustainable design also gives the owner something to brag about, knowing that the house is designed to be environmentally friendly. Every Dvele home is built with materials that can be reused when needed—a very smart move, the company notes.
Speaking of smart: The company is also taking the smart home concept to a new level with DveleIQ, a software-defined system that enables a home to be intuitive, and learn about residents' needs over time. According to Dvele President Matt Howland, the system's 300-plus real-time sensors enable the home to communicate the need for preemptive maintenance, helping to ensure the durability and health of itself (the actual home) and its occupants. The system comes standard in all new homes.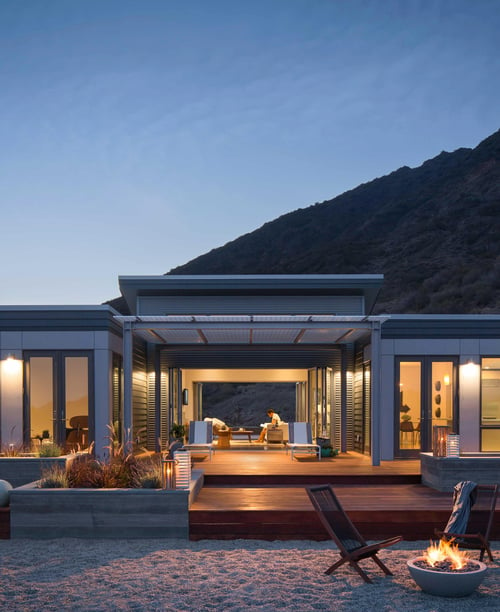 The DveleIQ system's 300-plus sensors make a home aware of an owner's needs, from lighting to environmental control. Courtesy Dvele
"Imagine a home that is so brilliant it can anticipate an occupant's arrival, or a home that knows just the right time to begin ventilating and circulating fresh oxygenated air," the company notes. "Gone are the days of worrying about mold, poor indoor air quality, insufficient air circulation, or worrying if the doors have been left open."
DveleIQ is a natural complement to the company's self-powered home philosophy, Howland notes.
"We set out to build the healthiest homes in the world for our occupants and the planet. In order to do that, we had to innovate," Goodjohn adds. "We've found that through software and embedded intelligence, we can deliver healthier homes today that will continue to evolve and improve tomorrow. For our owners, this means that they will have a home that is more enjoyable, healthier and more valuable in time."
--- Dvele is a 2021 Green Builder Media Eco-Leaders award winner. Download the 2021 Eco-Leaders issue to read profiles of other winners of this prestigious award.
Oct 28, 2021 10:18:05 AM · 3 min read
---

Alan Naditz is managing editor of Green Builder Magazine. He has covered numerous industries in his extensive career, including residential and commercial construction, small and corporate business, real estate and sustainability.