Durable, Upcycled Furniture to Last Generations

Samantha Carlin
3 min read
The unique finishes and bold grain of Aronson Woodworks furniture will add to the natural aesthetic of VISION House Mariposa Meadows.
Sara Gutterman and Ron Jones are the owners of VISION House Mariposa Meadows and CEO and President of Green Builder Media, respectively. They chose to put Aronson Woodworks furniture on display at their off-grid property. A Sky Canopy bed frame, two Reese nightstands, a custom desk, and a square dining room table were individually selected for the space.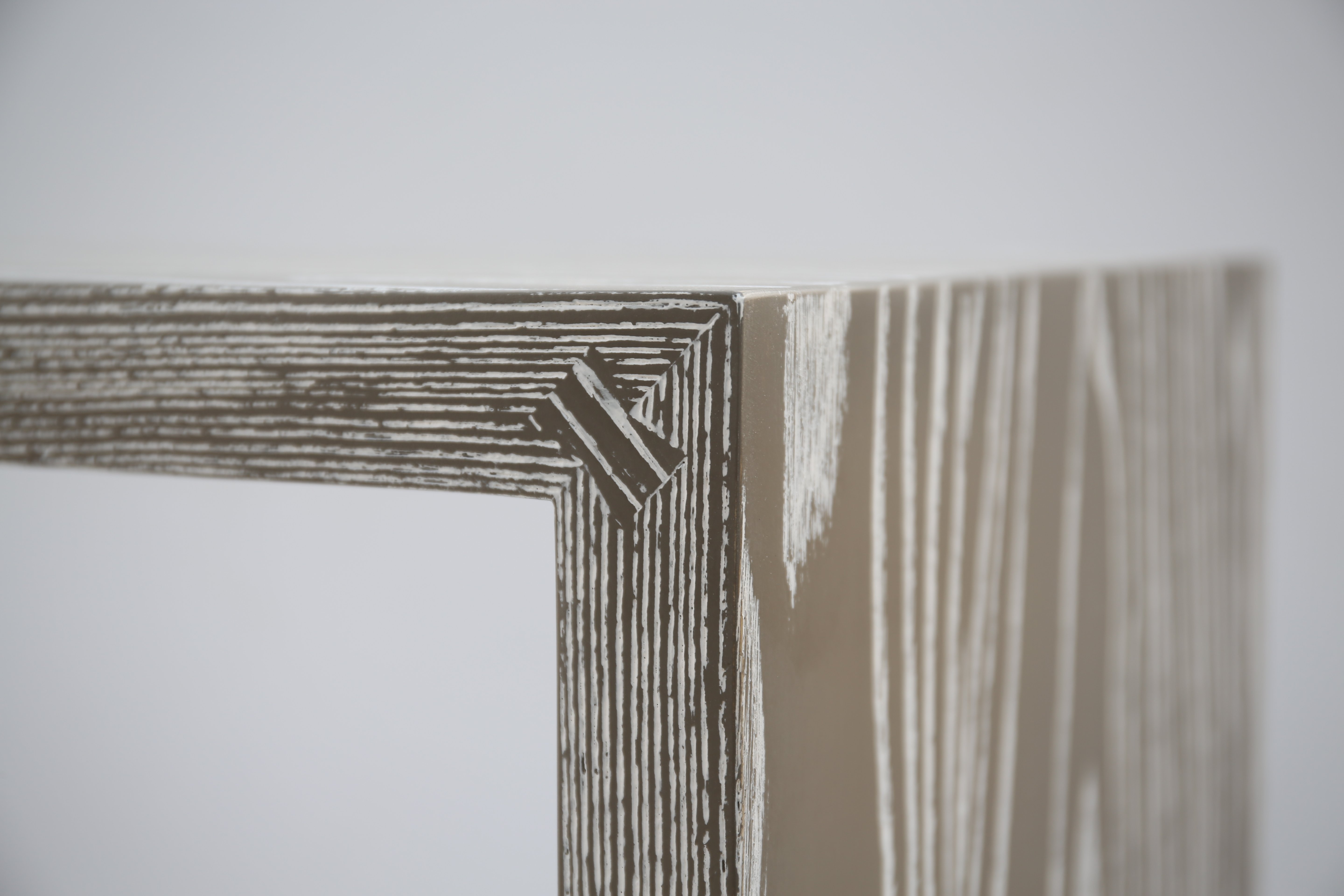 Gutterman and Jones were enticed by Aronson Woodworks, expressing that they "like their sustainability story and use of reclaimed lumber ... and are aligned with their values and mission." The duo is also happy to support another husband and wife team and small but impactful business.
Aronson Woodworks fills a niche in the market. Their founder and master craftsman, Clay Aronson, has a passion for woodworking and reclaimed lumber. Aronson Woodworks makes its custom furniture from ash trees that have been removed to prevent the infestation of the destructive emerald ash borer.
Director of sales at Aronson woodworks, and Clay's wife, Megan Aronson, sat down with Green Builder Media to discuss their approach to sustainable furniture and unique processes that distinguish them from competitors.
Megan begins by explaining their unwavering mission: "At Aronson Woodworks, our goal is to provide beautiful, well-built furniture, which upcycles the millions of Ash trees cut down due to the infection in cities and towns across North America of the Emerald Ash Borer (EAB)."
"Not all of our furniture comes directly from these trees, but our goal is to use as much reclaimed material as possible," Megan says.
Pesky Emerald Ash Borer Invades the Midwest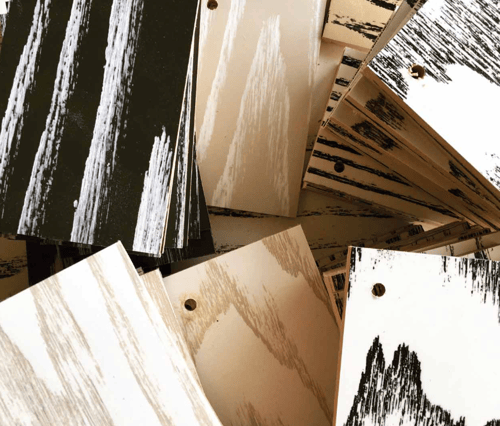 Each piece highlights the unique pattern that Ash provides.
The EAB is an invasive species from Asia that arrived in the US in 2002. This slender, bright-green green beetle may be smaller than a dime, but as a collective, the beetles have destroyed tens of millions of Ash trees, specifically in the midwest.
Females seek crevices in ash trees to lay their eggs, and larvae subsequently feed on the inner bark. The larvae disrupt the flow of nutrients and water in the tree, effectively killing it.
Unfortunately, these dead and dying Ashes pose a safety threat to the trees planted in public areas and lining streets. Aronson Woodworks noticed "many city officials in affected areas have decided that the most cost-effective route to keep their city's infrastructure intact is to remove all the Ash trees, including healthy ones, before EAB can create such a liability."
Sustainability the Focal Point
The EAB's infestation has caused an imbalance between the supply and demand for Ash trees. Seeing this as an opportunity to give these trees another purpose, Aronson Woodworks coordinates with local tree services to salvage these beautiful trees. Otherwise, they would be turned into mulch, firewood, or discarded in landfills.
"It is our goal to make the most out of one of our natural resources by salvaging the lumber from these valuable trees and turning them into furniture built to last for lifetimes," proclaims their website.
Gutterman and Jones were excited to hear that Aronson Woodworks' sustainability story doesn't end with reclaiming felled Ash trees. They also adamantly recycle as much material as possible, use leftover cuts as samples and recycle sawdust. Megan even mentioned plans for solar panel installation and Clay's formulating ideas on "designing a reusable crating system which he is very excited about."
Generational Furniture
The Mariposa Meadows project focuses on durability, resilience, and environmental impact. Meant to accommodate endless guests over time, Mariposa Meadows is being built to stand up to wear and tear over the decades.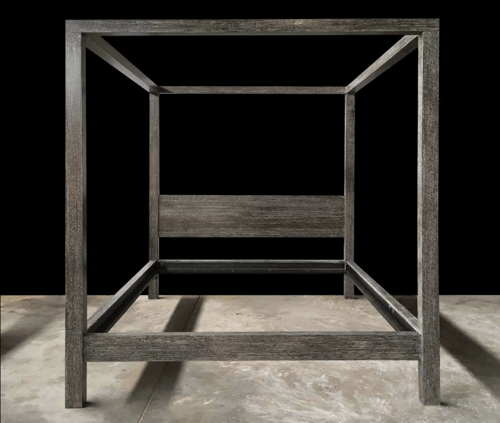 The beautiful Sky Canopy bed frame soon to be seen at VISION House Mariposa Meadows.
Gutterman and Jones made it a point to choose products that are not only environmentally responsible, but extremely durable and low maintenance as well.
One of Clay's early realizations was that the furniture industry was overtaken by low-priced, mass-produced furniture that only lasted a few years after purchase. Working in a small woodworking shop outside of Des Moines, Iowa, Clay works to remedy this situation, never losing sight of quality craftsmanship and durability.
Several years ago, Clay developed a customizable and patented finish, "Claize." Their hand-finished pieces with contrasting paints and centuries-old wood joinery techniques are sealed and preserved by the low-VOC Claize. This finishing technique helps Aronson Woodworks' furniture stand up to the test of time.
Megan explains the ingenuity behind the Claize method, noting that it "provides an extremely sturdy and silky-smooth surface that is stain and scratch-resistant, and also doesn't require coasters." Surprisingly, it even holds up to paint-stripper, meaning it can undeniably handle whatever VISION House Mariposa Meadows has in store.
Thanks to their Claize finish and attention to detail, Aronson Woodworks pieces are meant to last generations. Their furniture is intended to be filled with memories from the past and hopes for the future.
Aug 6, 2021 10:22:38 AM · 3 min read
---

Samantha is able to express her passion for the environment -- both natural and built -- as the special projects manager at Green Builder Media. Prior to joining the Green Builder Media team, she worked as an order management specialist at C.A. Fortune, a consumer brands agency. She is a recent graduate of the Master in Environmental Management program at Western Colorado University with an emphasis on sustainable and resilient communities. Originally from the suburbs of Chicago, she is currently thriving in Gunnison, CO where she enjoys the surrounding geology, mountain biking, and skiing.