Dumpster Diving for Home Decor

Michele Lerner, Associate Editor
6 min read
Furniture and home accessories don't have to be expensive–in fact, they can be free if you're creative and patient.
Every May, Lauren Cobello finds treasures such as nearly new futons, desks, tables, lamps and rugs for free that she uses to furnish her home or shares with friends and acquaintances.
"I live in a college town, so I know when the students move out of their dorms and apartments they put whatever they can't take home out on the curb the day before trash pick-up," says Cobello, a frugal living expert and financial coach based in Oswego, New York.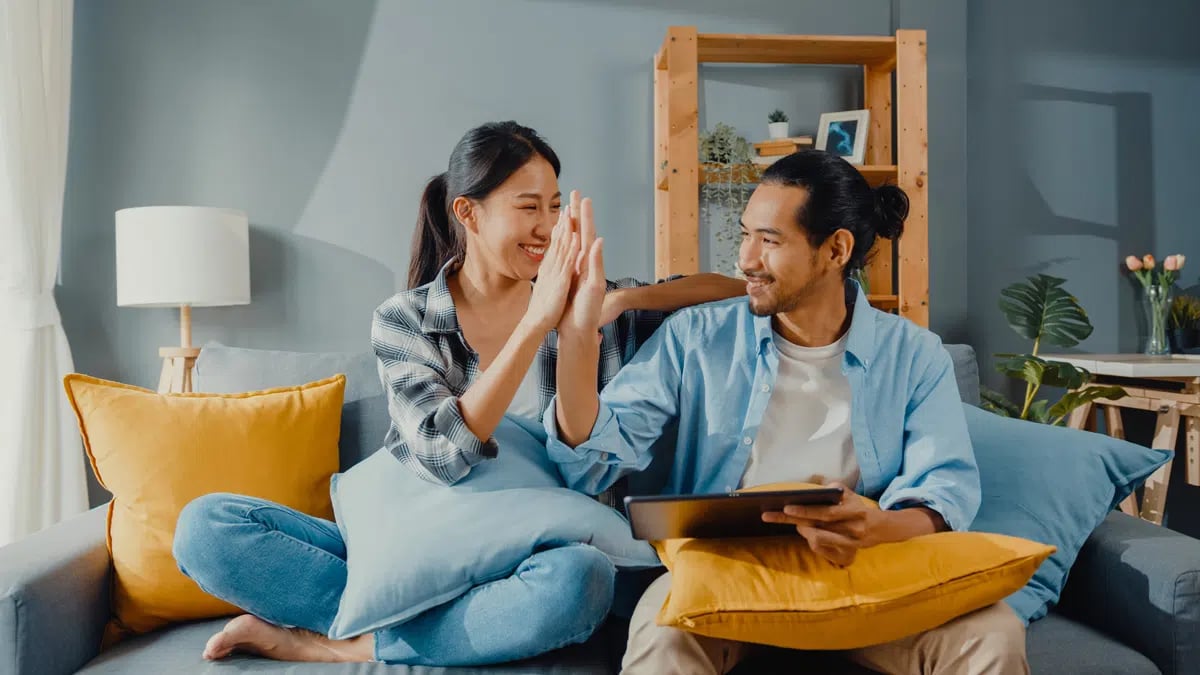 Whether you dig through the trash, go to in-person garage sales or online marketplaces, furnishing your home with used and recycled items isn't just good for your wallet. It's good for the planet, too.
While grabbing nearly disposable inexpensive furniture and accessories is a common way to set up a household for students and people in their first jobs or first home, the lack of quality can sometimes mean these items last for a few years at most. The plastic dishes, broken chair legs and wobbly coffee tables all too often add to the debris in landfills. There are better options.
Building Community and a Network for Free Stuff
Liesl Clark, CEO and co-founder of the Bainbridge Island, Washington-based Buy Nothing Project started her organization nearly a decade ago in part to reduce the environmental impact of discarded household plastic tossed in landfills or on beaches.
"My friend Rebecca Rockefeller and I volunteered for the annual Rotary Club auction, a 60-year-old fundraiser that has raised millions of dollars for local nonprofits through a massive community yard sale," Clark says. "A lot of items were labeled 'non-saleable,' but they were usable, and we realized that people have things to discard and things they need all year."
The friends created a network of community-based Buy Nothing group which now has seven million participants in 7,000 communities in 40 countries. The groups can be found through the Buy Nothing app or on Facebook. The concept is simple: people with something to give post it on the app. People who need something can post requests on the app. The free exchange is transparent to everyone in the group as a way for people to get to know each other, Clark says.
"I have three couches in my house, and all are from the Buy Nothing project," Clark says. "They're great for a household with teenagers and a dog."
Clark says you can find nearly anything on the app such as artwork, pillows, rugs, small appliances such as a coffeemaker, big appliances such as refrigerator or washing machine and even a piano.
One issue can be transporting items, but Clark says she offers her truck and her garage to store things and that others in different communities can do the same. They're exploring adding inexpensive delivery services in the app.
"We encourage everyone to be transparent about the condition of an item," Clark says. "We also let people know that it's OK to turn an item down when you see it in person as long as they're polite and just let the person know why it won't work for them."
Since no money changes hands, the Buy Nothing project hasn't experienced many issues with scams.
"If someone posts asking for money or selling their services, we flag that and remove them from the site if they don't stop," Clark says. "We're here because we want people to get to know each other and share items with each other. In our local group, we have a plumber's snake for cleaning drains that's been passed around for years from neighbor to the next."
Other online options for free items, besides checking out Buy Nothing include Craigslist, Freecycle, OfferUp and the Nextdoor neighborhood-based app where members sometimes post free items.
Shop for Used Home Goods
Some of those same sites also have items for sale.
"Facebook marketplace is great for home décor and furnishings and is easy to use for transactions," Cobello says. "I also like vintage shops–not antique shops, which are usually more expensive. Vintage shops, thrift stores and consignment stores often have stylish items that are less expensive and great, such as lamps and tables."
Another favorite of Cobello is Habitat for Humanity's ReStore.
"ReStore is like a hidden gem for things like lighting fixtures, cabinets, tables and even appliances for ridiculously low prices," Cobello says. "Contractors donate the items when they renovate a house so the items don't end up in a landfill."
Proceeds from ReStore purchases go to Habitat for Humanity to help them build more homes for low-income families. Cobello purchased a $2,200 oven that was almost new for $75 in a ReStore.
Cobello recommends apps such as Thumbtack and Task Rabbit for help with installing items and delivery. She also suggests renting a truck for the day from Home Depot or Lowe's, which can cost as little as $25 depending on your location, she says.
"It's much better to buy used items and fix them up than to buy inexpensive furniture that only lasts a year or two," Cobello says.
That same theory is part of mission at Kaiyo, which buys and sells used–"pre-loved," they call it–furniture.
"Kaiyo is an online furniture marketplace dedicated to great design, exceptional customer care and a more sustainable planet," says Alpay Koralturk, founder and CEO of Kaiyo. "We only accept pieces that meet our high standards for quality and durability."
Buyers can find used furniture on Kaiyo from well-known brands such as West Elm, Design Within Reach and Restoration Hardware for up to 90% off retail prices, as well as vintage items. Prices depend on the inventory, Koralturk says. Recently a Sealy Furniture accent chair was available for $79, an 82% discount on the retail price, along with a Roche Bobois Mah Jong Modular lounge chair for more than $6,700, which is a 45% discount.
"All pieces must be functional and structurally sound, but external conditions can vary," Koralturk says. "Acceptable conditions include like new, excellent, gently used, fair and salvage. Fair and salvage pieces can have stains, tears and defects, so buyers typically plan to repurpose or upcycle the piece themselves."
Sustainable and New
Snapping up inexpensive items doesn't always mean your furnishings have to be used. Cobello recommends looking for clearance and overstock sections in furniture stores.
"I picked up an entire bedroom set with a king-size bed, a dresser and two nightstands worth $3,000 for $500 in the overstock section at Raymour and Flanigan furniture store near me," Cobello says.
Companies such as Lee Industries and Joybird focus on making long-lasting high-quality furniture using eco-friendly materials and manufacturing processes. Higher quality furniture is more likely to be used for decades rather than discarded in a few years. While these aren't quite as wallet-friendly options as online marketplaces or Buy Nothing groups, Joybird's offers deeply discounted returned furniture.
Staying Safe When Digging for Deals
Unfortunately, a side effect of shopping online for used furniture or meeting strangers to exchange money and items is the opportunity for scams or even physical danger.
"A telltale sign that someone is a scammer is when I get immediate notes through messenger the minute I list something online," Cobello says. "It's as if they have an alert setup. And then they ask for my phone number and Venmo or Zelle right away."
Cobello suggests that buyers and sellers only exchange cash rather than use a payment app, and that they don't exchange money until they meet in person.
"I always recommend communicating only through the app when you use Facebook marketplace so there's a record of the communication," says Cobello. "Don't give out your address and phone number until you have a done deal."
If possible, meet at a central location rather than your home, she says. If you're buying furniture that's not easy to transport and must meet at someone's home, bring a friend, meet in daylight and tell people where you're going.
You can also consider using a marketplace for furniture sales that provide privacy and delivery, such as AptDeco or Kaiyo.
"With Kaiyo, buyers and sellers don't need to deal with strangers, negotiating or false images and descriptions," Koralturk says.
To avoid paying too much for an item that's in poor condition, Cobello recommends doing a comparison search online for similar items and asking the sellers where they bought an item, when, and how much they paid.
"I personally wouldn't buy a couch or a mattress from Facebook or Craigslist because you don't know if it's been cleaned, has fleas or bedbugs," Cobello says.
Kaiyo inspects and cleans items, stores them and uses their own photographers. In addition, the company provides pick-up and delivery for a fee in many metro areas.
---
Publisher's Note: This content is made possible by our Today's Homeowner Campaign Sponsors: Whirlpool and Carrier. These companies take sustainability seriously, in both their products and their operations. Learn more about building and buying homes that are more affordable and less resource intensive.
Jan 30, 2023 9:34:57 AM · 6 min read
---

Michele Lerner is an award-winning freelance writer, editor, and author who writes about real estate, personal finance, and business.