Double Your Space Without Doubling Your Footprint
Even though homebuyers focus on shrinking their carbon footprint, they don't want to eliminate the spaces that make their homes special.
Ask today's homebuyers for their wish list for their next home, and they're likely to mention a dedicated home office, a sanctuary space where they can meditate or do yoga, a place for guests and for gathering. But the target floor plan size for many millennial homebuyers is 800 to 1,500 square feet, according to COGNITION research by Green Builder Media.
So how do you make your dreams mesh with your reality? A little creativity can go a long way to making every inch of your home have a dual purpose. The result: a home that lives large while your carbon footprint stays small.
"It seems no matter where we live — whether in a single-family suburban home or a one-bedroom urban apartment — we all invariably need more space," says Challie Stillman, vice president of sales and design at Resource Furniture in Brooklyn. "Luckily, you don't have to upsize to get the added utility you need. The trouble comes when our homes lack organization and thoughtful design — without the right storage tools and design strategies, we quickly find ourselves feeling trapped in a chaotic, cluttered mess."
Multifunctional Furniture for Maximum Value
When it comes to multifunctional rooms, it's not about splitting your space in half down the middle—it's about allocating your area according to how you'll use it, says Stillman.
"With transforming or fold-away furniture, you don't have to choose between a guest room or an office, a dining room or a den—so design your multipurpose room layout to prioritize the activities you'll use the most," says Stillman. "Large furniture, such as desks, tables and beds, are often needed but can make a room feel much smaller than it actually is. With multi-purpose furniture pieces, you can transform any room and have the furniture act as an extension of a space's architecture."
To double your living space, start by making sure every piece of furniture you buy or repurpose has multiple functions.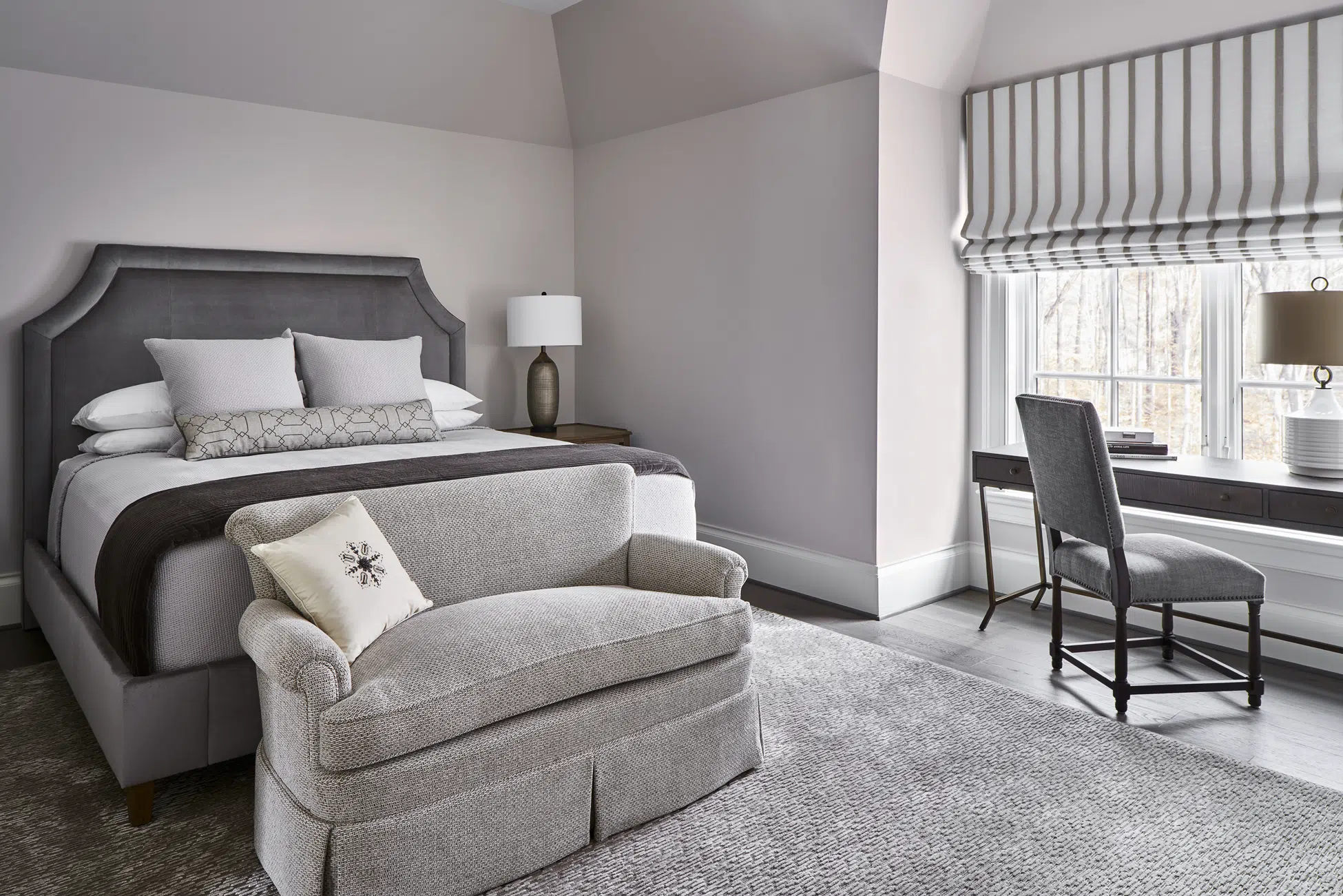 Tracy Morris Design guest room that also serves as an office space with desk, photo by Greg Powers
"For example, use a coffee table that has storage ottomans underneath," says Tracy Morris, owner of Tracy Morris Design in McLean, Va. "The ottomans allow for extra seating and the frame of the coffee table can be used to store them. Another example is a drop leaf console table at the back of a sofa. You can use the console to house accessories and lamps daily. When guests arrive, you can open the leaf of the table and have another wonderful place to enjoy a meal."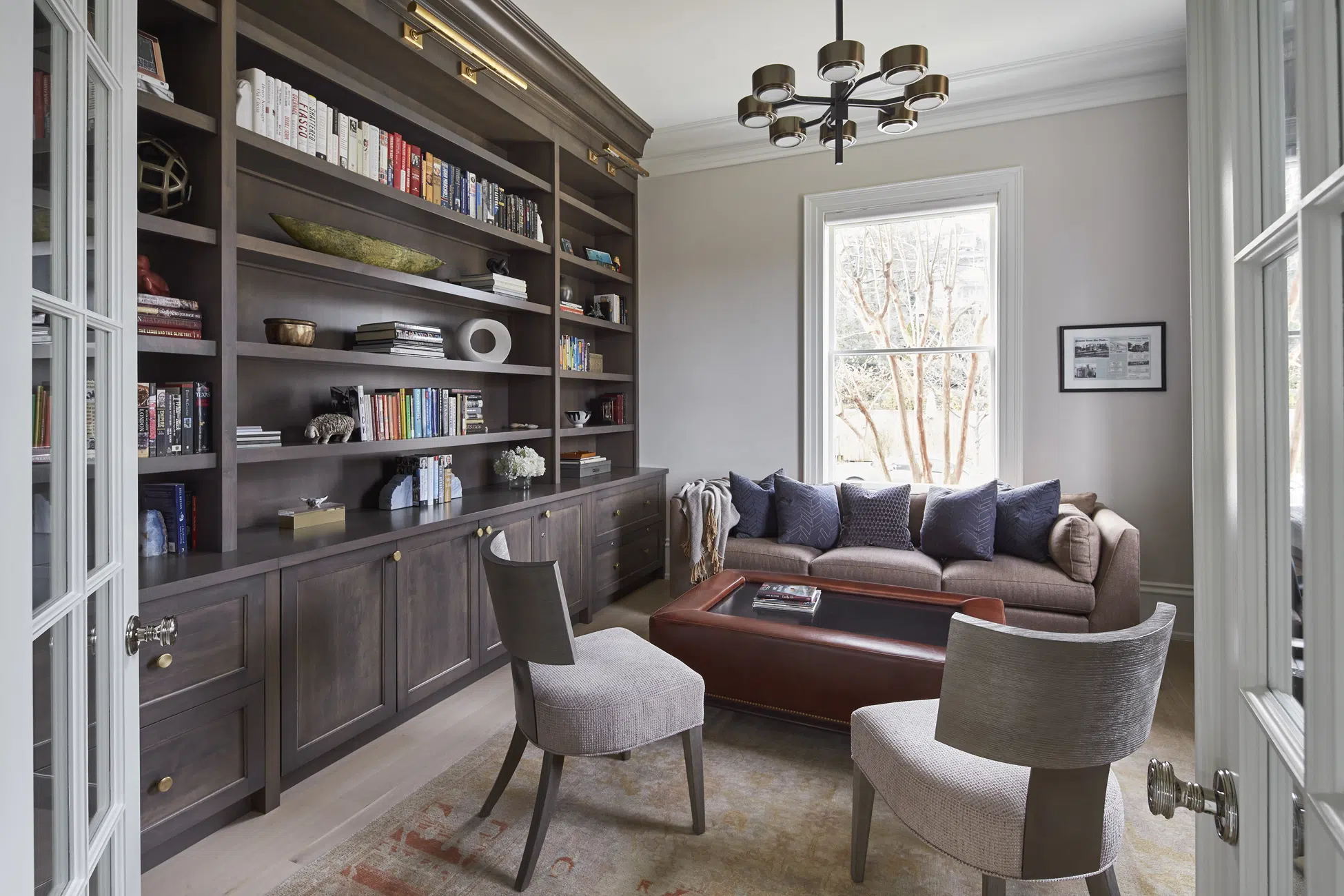 Tracy Morris Design storage ottoman in library, photo by Angie Seckinger
Another option is a coffee table that can be raised to function as a desk, says Sara Malek Barney of BANDD/DESIGN in Austin.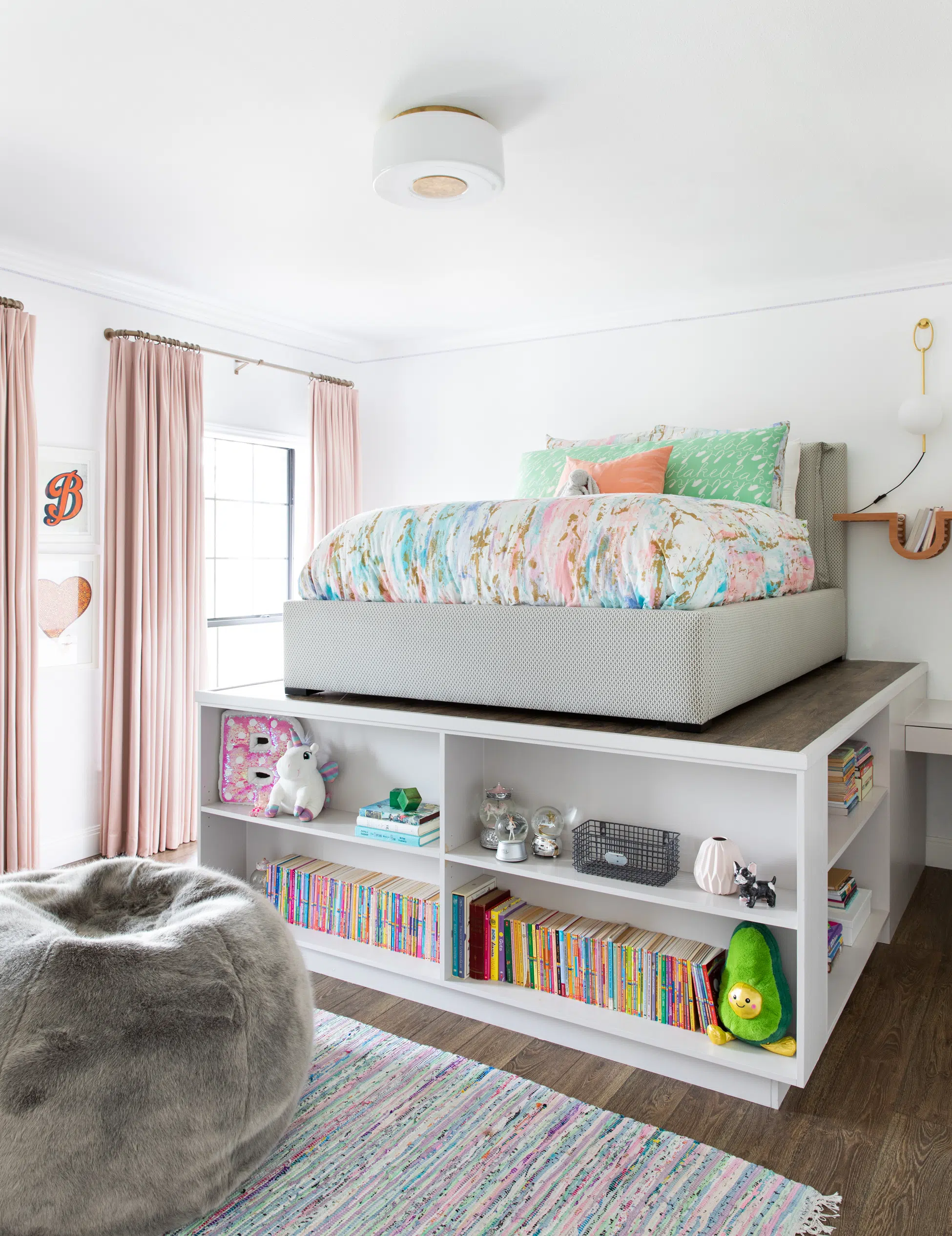 Photo Credit: Molly Culver
"In a small room, the addition of a sofa wall bed completely transforms the way an occupant lives with and in the space," says Stillman. "The room can effectively function like a one-bedroom apartment, and the conversion from sofa to bed also allows a mental conversion to take place from a social area to a place for relaxation."
Murphy beds–also called wall beds–can provide comfortable sleeping accommodations, but also have a second function when the bed is not in use—like an integrated sofa, dining table or desk for working from home—enabling homeowners to get more flexibility and functionality from a smaller space, says Stillman.
"These multifunctional furniture options also allow the space to be decorated in a way that isn't only focused on one large furniture piece," Stillman says.
If you want to create privacy yet avoid closing off too many spaces, Barney recommends open bookshelves to allow for light to pass through or to group small furniture towards one another to create smaller zones.
Use freestanding furniture as a privacy partition that's both stylish and functional, suggests Stillman. Opt for shallower pieces so as not to eat up precious floor space and try to avoid deep dressers or bulky bookshelves, she says.
"Multipurpose pieces, like our Turati Freestanding Media Units or Turati Freestanding Desks, are excellent privacy walls that also serve a second or even a third function," says Stillman.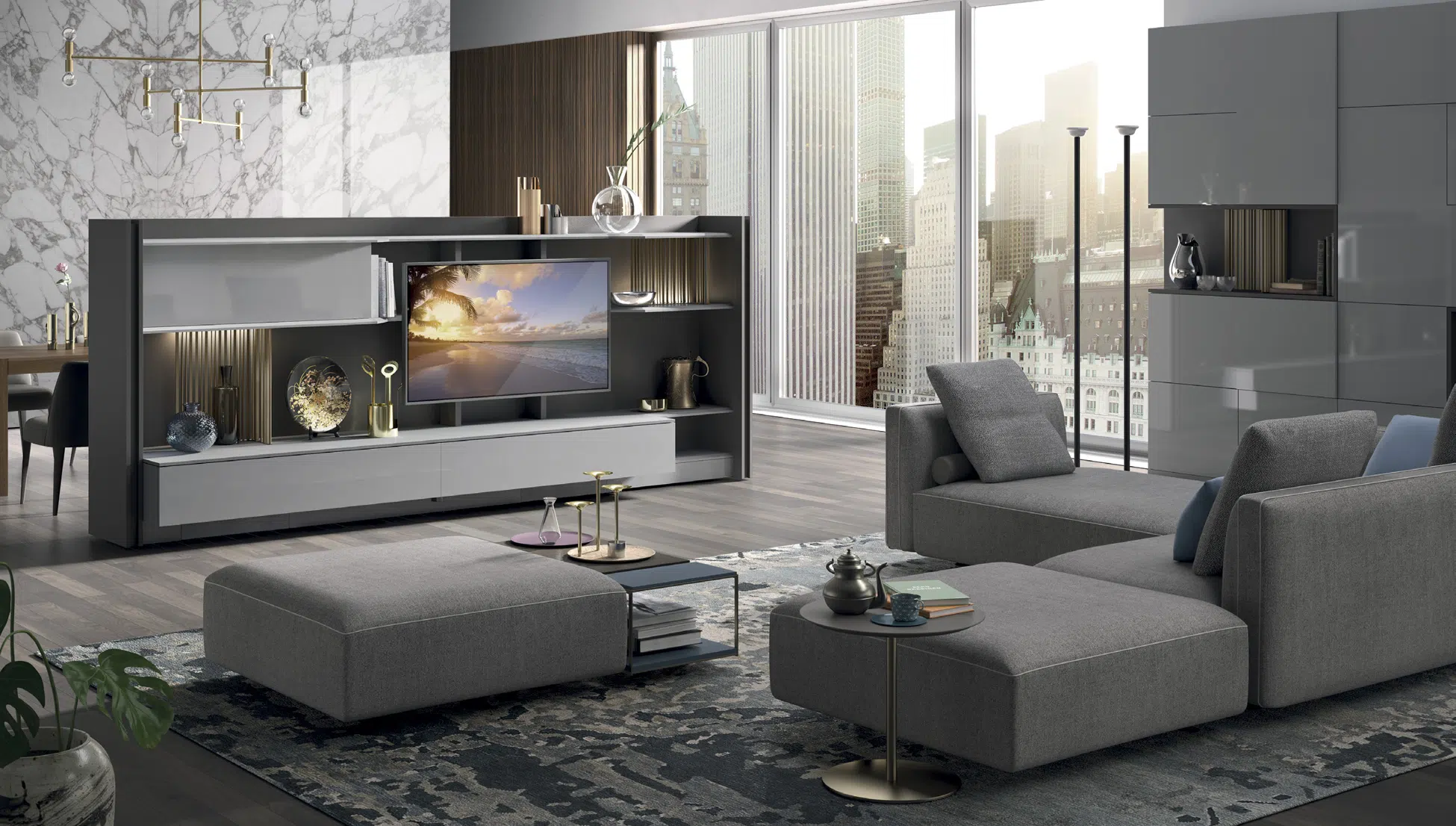 Photo courtesy Resource Furniture
The media units and desks are customizable and include a TV-mount, built-in storage and shelving, integrated LED lighting and wire management, along with optional desks or hidden bars.
"The shallow depth of these pieces makes them an ideal choice for partitioning a room without making the space feel small or cluttered," says Stillman.
Sanctuary spaces
Typically, guest rooms are one of the least used rooms in the house, so if you have one, that's a great place to turn into a private refuge for self-care. "When your guest room isn't in use, create the space that brings you peace," says Morris. "Purchase a beautiful basket or container that will hold your yoga mat, blanket, sound machine or other items to help you find peace. That container can be left out in the room or placed in the closet. Either way, take the least used room and make it a space of peace."
If you don't have a separate guest room, it's still possible to find a place for exercise or meditation in a basement or another existing room. For example, InSite Builders & Remodeling in Bethesda, Md., added a row of small windows and a mirrored wall to the corner of a basement to create an exercise space. In another house, they built a sauna in place of a storage closet in a basement.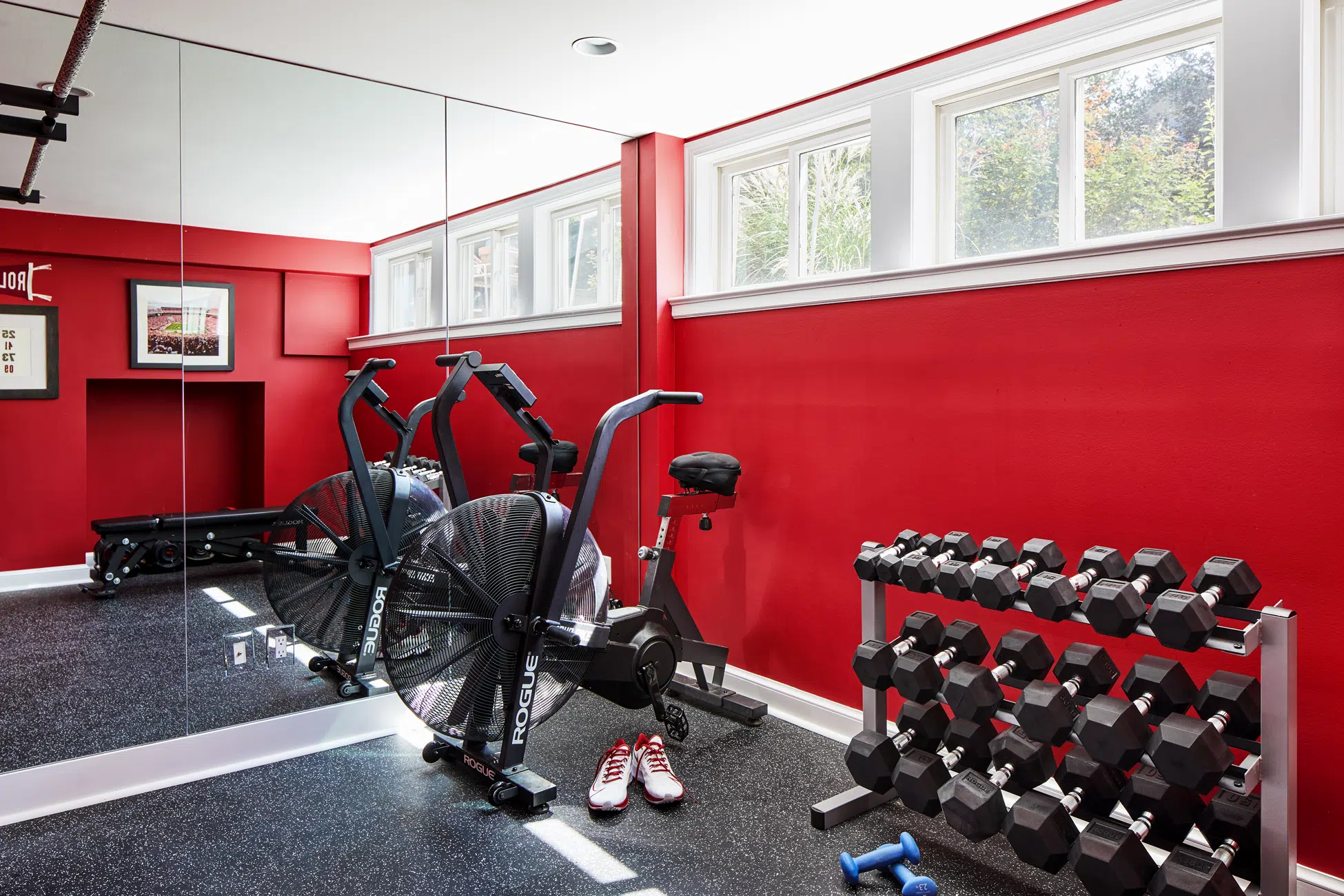 InSite Builders & Remodeling exercise room in a basement, photo by Stacy Zarin Goldberg
If you're looking for a sanctuary where you can meditate, Barney suggests choosing a room without clutter. "You can easily create a comfortable space in an existing space by simply removing furniture from a corner of the room, adding pillows, a candle or incense," Barney says.
Creating Calm
When you look at images of serene interiors, you often see an expanse of polished wood floors leading to a wall of windows framing a green view, maybe even with a glimmer of water in the distance. Most people don't have that kind of room or that type of view, but that doesn't mean you can't rearrange your furniture for longer sightlines and take steps to make your home feel more tranquil.
Less is more when you want to create a sense of calm, says Barney. "Go through each room and purge what you don't need or haven't used in the last few months," says Barney. "Then be super intentional with what you have remaining, keep it simple and make sure everything has a purpose."
The best way to make a small home a calm oasis is to stay organized, says Morris. "Have spots and spaces for all your things," Morris says. "If you know where things are you can find them easily and it makes a small space not seem that small. IDesign creates clear bins that can fit in any drawer or cabinet. Invest in these and create homes for all things big and small."
At one home in Bethesda, InSite Builders took a small front porch and enclosed it to create a more functional mudroom with closed and open shelving to reduce clutter for the family.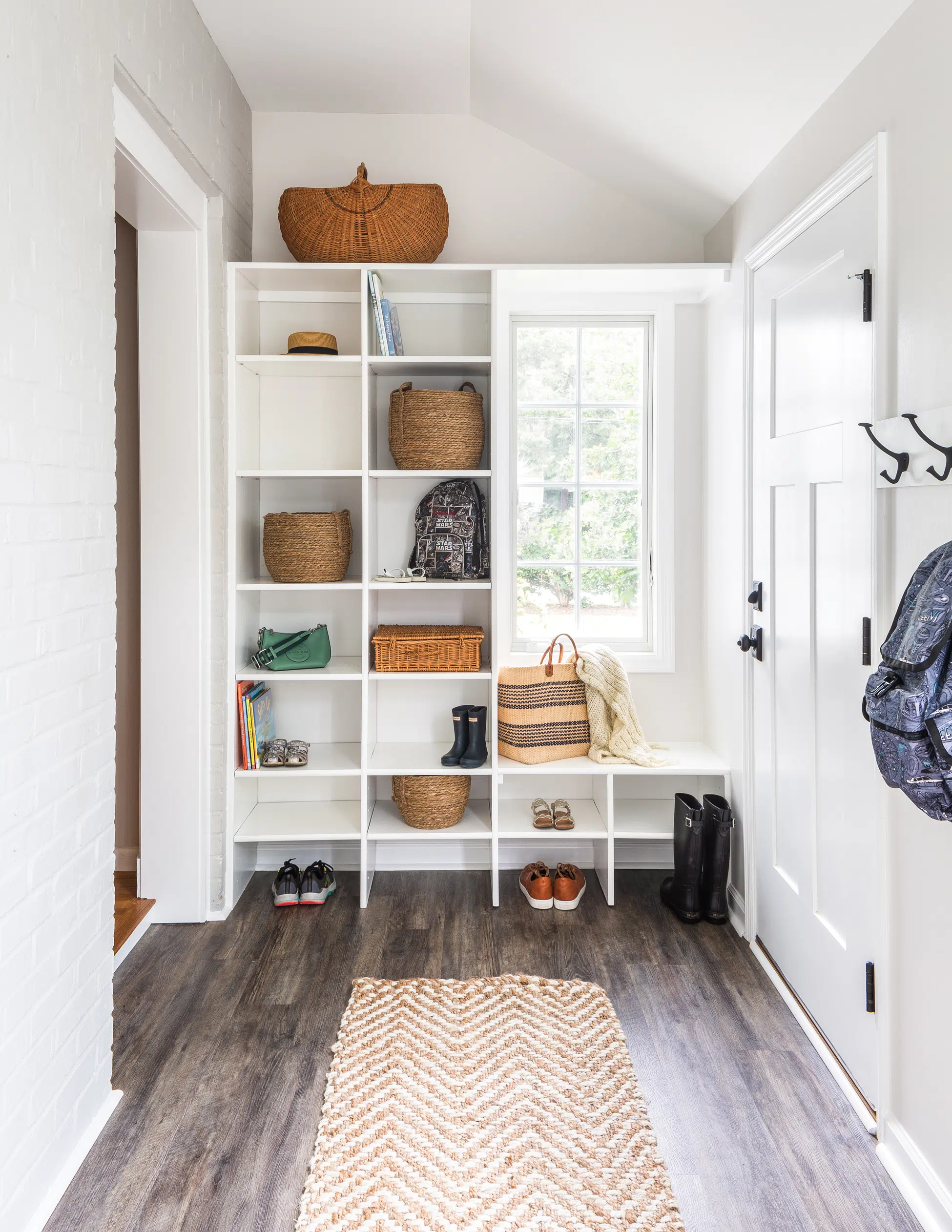 InSite Builders & Remodeling mudroom in enclosed front porch, photos Angela Newton Roy
Designing for Illusion
While your design choice won't magically double your square footage, there are ways to give the illusion of space and provide a psychological boost.
One of the easiest ways to make your home feel larger is to choose the right paint colors, says Morris. "Select a light neutral paint color and paint the color on all surfaces: walls, ceilings and trim, and just change the sheen on each location," says Morris. "It will make your home feel clean, cohesive and huge."
Choose lighter colors like white or cool grays to make the room feel more open. "Create unity with your color palette, keep your main palette light and use pops of color with your accessories," Barney says. "Also consider layering lighting and adding mirrors to give the illusion of extra space."
A mirror can even replicate the effects of a window in a room that doesn't have one, says Stillman. "You can place your mirror in a corner, on the back of your door or on your closet," says Stillman. "If you have a window, placing a mirror in an area that reflects the light can transform your room from small and dark to big and bright."
Honoring your commitment to maintaining a smaller footprint doesn't require you to sacrifice the serene and functional home you want. It just takes a little extra ingenuity.