Don't Let Your Floors Crumble Under Your Feet

Samantha Carlin
3 min read
Sponsored Content
ReVISION House Austin says goodbye to the old floors and hello to Mohawk's sustainable and durable flooring options.
Floors go through a lot on a daily basis: Dogs, people, water, spills, and regular life put wear and tear on the surfaces. After a few years, regularly used areas are worn, stained, and scratched, visibly dating a home. As a result, more and more consumers are asking for durable floors that last the lifetime of the house and require less maintenance.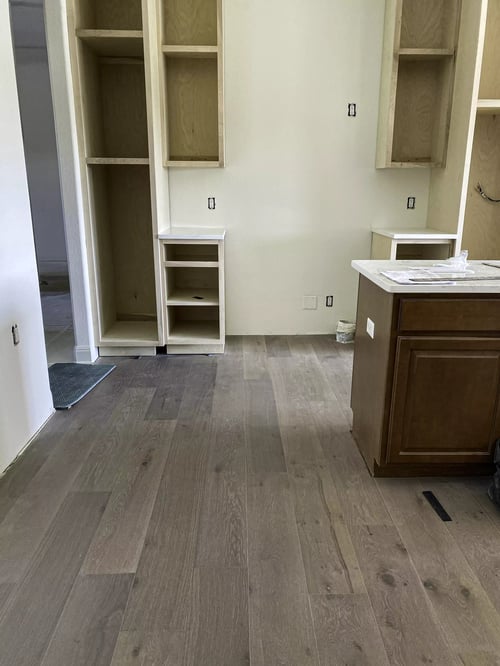 Cooper's new UltraWood flooring includes WetProtect, EverLast and EasyClean technologies. They work synergistically to deliver the beauty of hardwood floors without the needed maintenance or replacement.
Mohawk has designed several options for life-proof flooring, three of which are showcased at the ReVISION House Austin.
Tiana Cooper, owner of ReVISION House Austin, wanted her floors to keep up with her active lifestyle and protect the house from damage while maintaining a modern look. Cooper was displeased with the previous "seven different types of flooring" in the house when she moved in, which she claims were "mismatched, and all scratched up."
With her dogs, pool, and active social life, Mohawk flooring met her various needs with its UltraWood, Pergo Extreme, and EverStrand product lines.
Enhanced Hardwood
Mohawk's UltraWood high-performance hardwood floors are featured in the main living spaces of Cooper's home. A quick and easy install with little to no acclimation time and a glueless locking system means UltraWood arrives ready to install.
Additionally, Scott Gibson, senior director of sales operations, Builder + Multifamily at Mohawk, points out that UltraWood's EasyClean technology "prevents dirt, grime, and even drywall from getting stuck in the joints and grain, making cleanup a breeze." This enhanced lacquer repels soil buildup and stains, meaning dirty paws are no longer cause for panic at Cooper's house.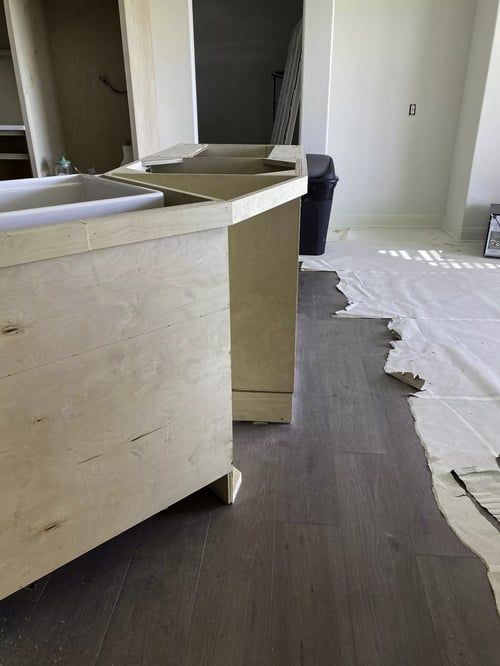 Although still a construction site, installing Mohawks flooring brings to life the light and modern feeling Cooper envisioned for her finished home.
According to Mohawk, traditional hardwood will start to leak in eight seconds, causing damage to the wood and structure. In contrast, UltraWood with WetProtect technology has watertight joints that prevent water from seeping through the floor for leak-free protection over 14 hours. This feature is crucial to Cooper, who sheepishly admits she is prone to forgetting to take a towel when going for a swim.
Not only do UltraWood floors with EverLast maintain their beauty longer than ordinary hardwood, but they also have a lifetime wear warranty that covers advanced scratch and dent protection. "The dogs have been running all over the new UltraWood, and they still look like new," Cooper exclaims with delight.
Indestructible Laundry Room
Luxury Vinyl Tile (LVT) is taking the flooring industry by storm, holding higher standards in durability and performance than laminate or ceramic tile options. At the ReVISION House Austin, one of Mohawk's LVT options, Pergo Extreme, will protect the laundry room. As the "first point of entry" from the garage, Cooper wanted this room to be ready for anything life has to throw at it.
According to Mohawk, "Pergo Extreme is dent-proof, kid proof, pet proof and waterproof, while still ​​feeling soft under your feet and maintaining a comfortable temperature year-round." Also resistant to fading, stains, and scratches, Cooper won't have to worry about her dogs scratching the floors as they race through the door—or her muddy, wet boots leaving permanent marks.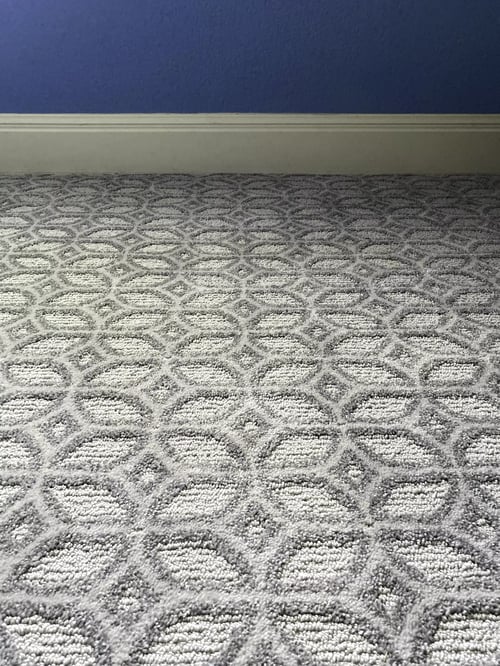 Mohawk's EverStrand carpet comes with built in stain and soil protection. Cooper is happy to have this carpet in her guest rooms so she doesn't have to worry about any dirt or spills that happen. The EasyClean coating makes cleanup a sinch and simplifies maintenance.
Sustainable Carpet
Looking for a cozier option for the bedrooms, Cooper opted for Mohawk's EverStrand carpet. This carpet is not only upcycled but beautifully designed as well. She chose the color "Schilling," a subtle taupe/gray with a unique design.
Not only is EverStrand resistant to stains and dirt, making for easy cleanup, this beautiful, durable, and high-quality carpet is also net carbon positive. "When you recycle your plastic bottles, we turn those bottles into something people all around the world use every single day: carpet," Gibson explains. To date, Mohawk has diverted more than 50 billion plastic bottles away from oceans and landfills and given them a second, long-lasting life as EverStrand carpet.
Cooper is particularly proud of her new floors, not just for their beauty, but also because of Mohawk's authentic commitment to creating quality products while contributing to a cleaner home and healthier planet.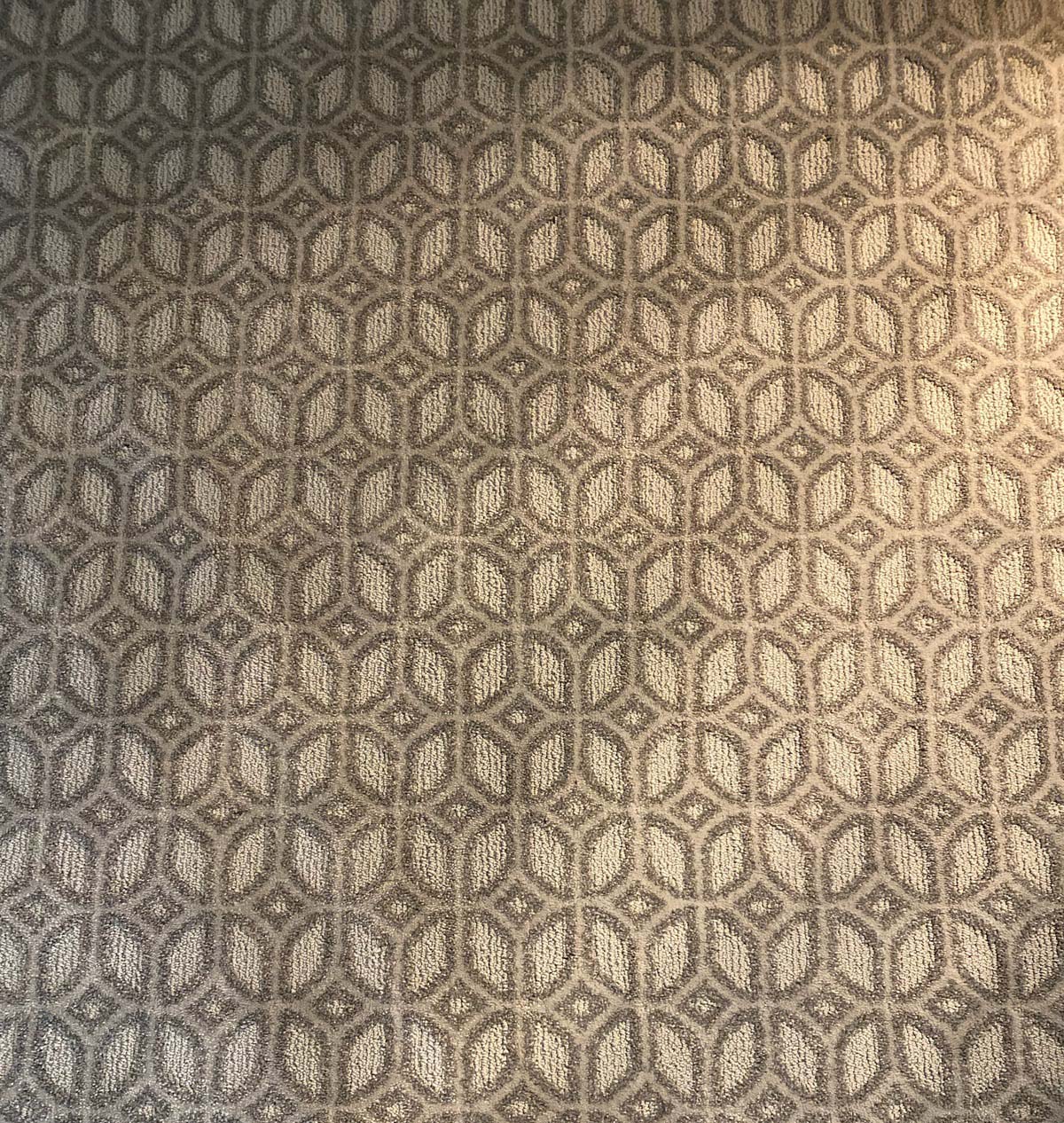 Cooper loves the simple yet unique design of "Charismatic Style" carpet. Choosing a sustainable carpet that also complimented her home's new aesthetics was a must for her remodel.
Nov 16, 2021 9:14:43 AM · 3 min read
---

Samantha is able to express her passion for the environment -- both natural and built -- as the special projects manager at Green Builder Media. Prior to joining the Green Builder Media team, she worked as an order management specialist at C.A. Fortune, a consumer brands agency. She is a recent graduate of the Master in Environmental Management program at Western Colorado University with an emphasis on sustainable and resilient communities. Originally from the suburbs of Chicago, she is currently thriving in Gunnison, CO where she enjoys the surrounding geology, mountain biking, and skiing.