Did Hurricane Ian Just Kill Florida?

Michele Lerner, Associate Editor
5 min read
As insurers flee and Florida pleads for federal rebuilding help, is the party over? Maybe not.
You might think that Damon Vetere and his wife would be ready to give up on Florida after their experience with Hurricane Ian in late September.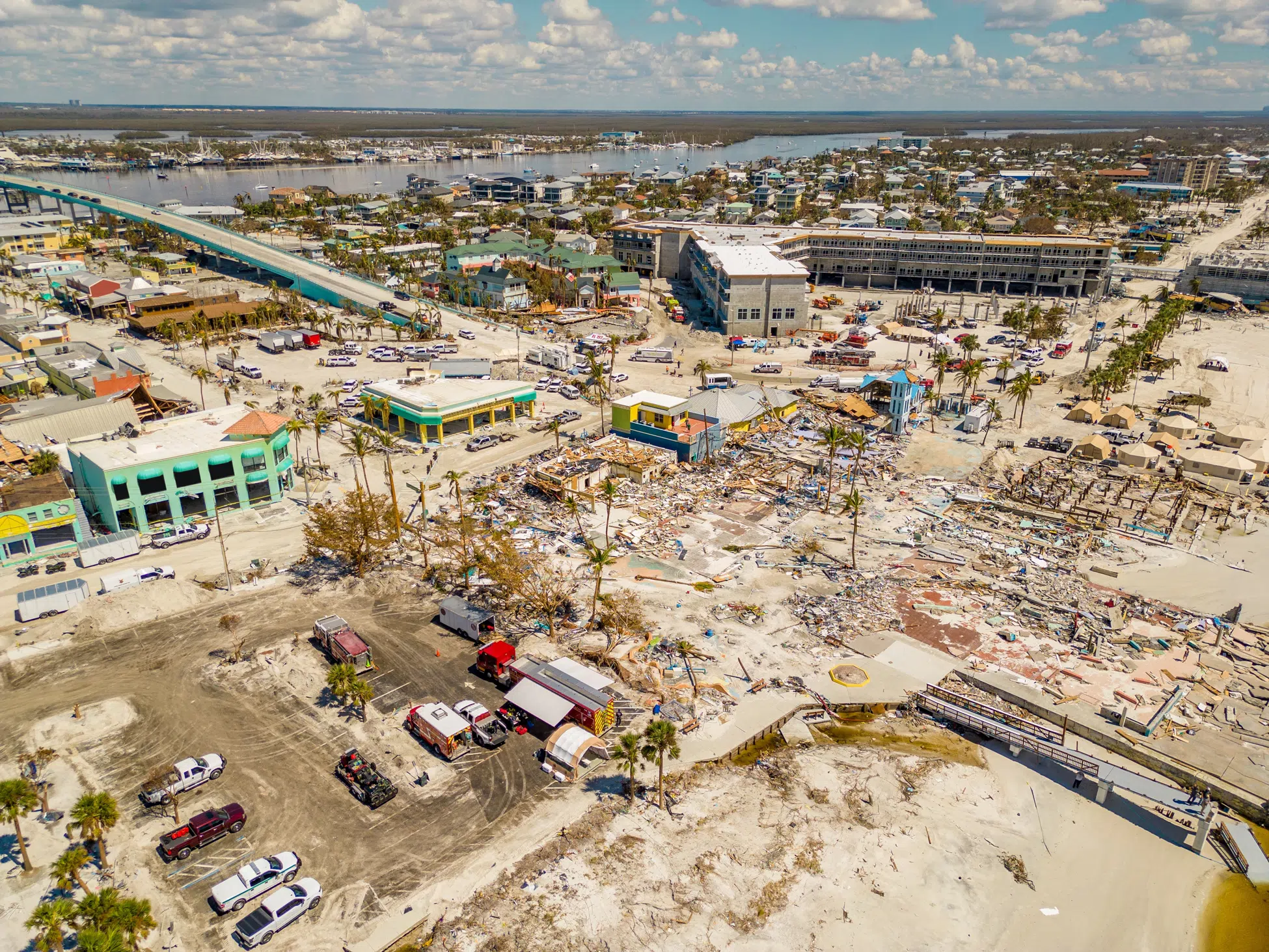 "My wife gave birth to our first baby the day before Ian made landfall, so we were shuttered into the Cape Coral Hospital for a few days," says Vetere, a real estate agent with Coldwell Banker Realty in Fort Myers. "You could hear the wind roaring around the hospital, and it sounded like the storm was inside the walls."
Vetere's house, which was built in 2020, withstood the storm.
In fact, Vetere believes that Florida real estate will survive the aftermath of Ian and come back stronger.
"When Hurricane Irma hit in September 2017, the real estate market had been thriving," Vetere says. "After that storm it flatlined for about 30 to 45 days because of the shock of the storm, then came back strong. The market came back strong after Hurricane Michael hit the Panhandle in 2018, too. I think a lot of people find the resiliency of Florida appealing."
For Vetere, rebuilding is personal.
"I proposed to my wife on Fort Myers Beach," Vetere says. "What happened there was a tragedy, but I believe they will build it back better."
The rising number of storms and their increased intensity due to climate change, and the high death toll and devastation from Ian have some people worried that the Florida real estate market could be dead. After all, the storm was terrifying for those who lived through it, insurance companies are fleeing the state, and rebuilding is an expensive proposition.
But the counter argument is this: Homes built in recent years demonstrate that resilience to storms is possible. Florida continues to appeal to people who want to escape the cold weather and high taxes that come with living in the Northeast.
Mixed Responses to Hurricane Threats
The damage from Hurricane Ian, as with most hurricanes, was uneven, says Phillip Ford, executive vice president of the Lee Building Industry Association in Fort Myers. Individual reactions to the storm are likely to be uneven, too, with some people leaving for good, some moving inland and others rebuilding along the coast.
"The island communities of Sanibel, Captiva, and Fort Myers Beach were devasted, and there was some significant inland flooding, too," Ford says. "But what we're seeing is the building codes in Florida are holding up and doing what was intended."
Ford points out that when Hurricane Michael hit the Florida Panhandle it was mostly older homes that were destroyed because they weren't engineered to stand up to storms.
"I'm sure some people will leave Florida and some people will move inland, especially if they lost their house now," Ford says. "But we're not likely to see long-term Floridians leave. People who live on Fort Myers Beach won't go anywhere because it's a tight community that they want to rebuild."
Jennifer Languell, president and founder of Trifecta Construction Solutions in Fort Myers anticipates a bell curve with most people choosing to rebuild.
"We'll certainly see some people leave Florida but an equal number or more will move here to retire or for jobs or to take advantage of the low taxes here," Languell says. "The people I know on Sanibel all plan to rebuild there. It's a tight knit community."
Ford says newer homes in Florida, which are also more resilient to storms, are already primarily built inland along the I-75 corridor. These newer communities have power lines underground, which meant the power came back on more quickly after Hurricane Ian.
"To fix an older home, it can cost as much as 50% of the cost of the house to bring it up to code," Ford says. "Some people may need to knock them down and build them higher above ground on stilts or on a higher elevation."
Of course, the ability to rebuild depends on homeowner's insurance coverage. RMS, a Moody's Analytics company, estimates that privately insured losses will total between $53 billion and $74 billion for wind, storm surge, and flood damage from Hurricane Ian. Another $10 billion in flood-related losses is estimated by RMS to be covered by the National Flood Insurance Program.
Natural disasters have become more common everywhere with climate change, Vetere says.
"You almost have to pick your poison now," Vetere says. "There's almost nowhere you can live that's without disaster risk."
Homes That Stood Up to Ian
After Hurricane Charley slammed into Florida in 2004, building codes–which had been upgraded after the devastation of Hurricane Andrew in 1992–were tightened again, Vetere says.
"Every new house has to have impact glass to withstand high winds or hurricane shutters," he says. "Roofs need to be nailed or tied down. And some whole communities have been lifted with stilts or more ground as risk management, which is especially important with sea levels rising."
Vetere's house is adjacent to a drainage canal.
"The county inspectors made our builder redo the culvert three times before it passed inspection, but it worked because two days after Ian our lot was bone dry," says Vetere.
Hurricane protections such as impact glass or shutters are a selling point in Florida, in part because homeowner's insurance is less expensive if you have those protections in place, Vetere says.
"You can hire someone to do a wind mitigation inspection, which is especially important for homes built before 2004, to see if they have been upgraded with new windows or shutters and extra nails in the roof," Vetere says. "A lot of sellers advertise that they have a new roof because it's so important for the insurance coverage."
Newly built homes in Florida, particularly if they are inland, stood up remarkably well even to the extraordinary force of Hurricane Ian. One example: Babcock Ranch, about 30 miles inland just north of Fort Myers Beach, where the 5,000 residents escaped the storm nearly unscathed.
"Babcock Ranch took years to plan, looking at how to use the land in the best way while not fighting nature," says Languell, who worked on the plans and is a Bancock Ranch resident. "The community was designed around the natural flow of water and achieved a green home certification because of the disaster mitigation steps we took, the durability of the homes that allows people to shelter place, as well as water and energy conservation measures."
Hurricane Ian was a big test for the community, which opened in 2018 and has a solar array that can power 30,000 homes even though there are only about 5,000 residents there so far.
"We never lost electricity or even our internet connection," Languell says. "Our homes didn't flood because they are built 30 feet above sea level and the roads are 27.9 feet above sea level, so the road would flood first. If the lakes get to capacity, then the water goes to the street, and we have two more feet before it gets to the lowest level of each house."
The combination of utilities being placed underground, storm water management with redundancies built in, the elevation of the homes and upgraded building codes so that the windows, shingles and roof resisted the wind contributed to the community's resilience, Languell says. Even better, the homes, which start at $250,000, are comparable in price to nearby communities.
"Homes today, even if they are close to the coast, can be engineered to withstand high wind and elevated so the storm surge is more manageable," Ford says. "It doesn't cost much to fasten the roof with some extra nails and adhesives. You can build homes with concrete or stucco in hurricane-prone areas, especially on the lower floor where they might get flooded to reduce exposure to mold."
Ford believes innovative engineering and simple steps that increase the resilience of homes to storms will contribute to the enduring allure of Florida.
Oct 18, 2022 9:33:58 AM · 5 min read
---

Michele Lerner is an award-winning freelance writer, editor, and author who writes about real estate, personal finance, and business.