Concrete Industry's Pathway to Carbon Neutrality

Sara Gutterman
4 min read
Reaching full-scale elimination of carbon emissions will require the reimagining of industry and manufacturing in sectors, particularly in resource-intensive and polluting categories like cement and steel. Fortunately, stakeholders within these sectors are stepping up to reduce emissions and impact.
The built environment plays a major role in carbon emissions. The sourcing and manufacturing of materials, construction, and operations of homes and buildings requires an immense amount of energy and emits a substantial amount of pollution.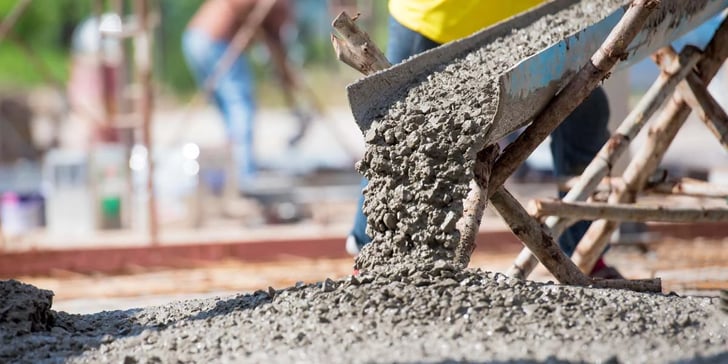 The UN avows that emissions from buildings must be reduced by 50 percent by 2030 and 100 percent by 2050 if we have a chance at staying under a 1.5-degree temperature rise. Unfortunately, we have a long road to travel: Not even 1 percent of existing buildings are considered net-zero carbon today.
Given the passage of the $1.2 trillion infrastructure bill, which allocates over $550 billion to roads, bridges, ports, airports, and water and energy systems, in conjunction with the increasing frequency and intensity of super storms, wildfires, floods, tornadoes, natural disasters and extreme temperatures, the demand for durable and resilient materials like concrete is skyrocketing. However, concrete is one of the highest intensity sectors of our economy, and the time has come to pay the piper.
The Impact of Concrete
Concrete is the second-most consumed material in the world after water and the most widely used building material. On a global scale, concrete's ton for ton usage is twice that of steel, wood, plastics, and aluminum combined. Over ten billion tons of concrete is produced each year globally, with 500 million tons produced in the United States annually.
On one hand, concrete is critical to America's infrastructure and built environment. It's a desirable material because of its durability and resiliency—it doesn't burn, rust, or rot. It's resistant to fire, wind, water, and earthquakes, and can therefore offer enhanced security for homes and buildings.
Concrete can be recycled, repurposed, and reused, and it captures carbon over time in a process commonly referred to as carbonation, which offsets up to 10 percent of the emissions created during the manufacturing process.
On the other hand, cement, a key ingredient in concrete, is one of the largest producers of carbon dioxide, responsible for 8 percent of global CO2 emissions.
Approximately 50 percent of the emissions from concrete production come from the chemical process and 40 percent from the burning of fossil fuels. Furthermore, concrete production requires large amounts of water, accounting for nearly 10 percent of global water use.
Turning the Corner
Stakeholders throughout the cement and concrete industry are not turning a blind eye to the sector's environmental impact. In fact, the growing interest in emissions reduction is spurring newfound innovation and collaboration.
Some companies within the sector are replacing minerals used in the cement mix. Most concrete currently utilizes alite, a mineral that cures without hours of pouring and is responsible for much of concrete's strength and durability, but it requires extremely high temperatures in the clinker-forming process.
Researchers are exploring the possibility of replacing alite with other materials that can be processed at lower temperatures, such as belite (which is stronger in the long-term although it takes longer to cure.)
Alternatives like fly ash, bottom ash, and slag, by-products of other industries that would otherwise go into the landfill, are gaining in popularity as additives. Not only do these alternatives decrease the carbon footprint of concrete, but they also can increase strength, decrease density, and prolong durability.
While field testing of these alternatives is fairly nascent, some companies like Ceratech have started manufacturing less intensive concrete comprised of 95 percent fly ash and 5 percent liquid alternatives.
Another important factor in reducing the environmental footprint of concrete is the adoption of renewable energy and alternative fuels. Clean hydrogen is a good option since it can facilitate reaching high temperatures; however, it is currently difficult to source since there is no pipeline or infrastructure to deliver large amounts of the gas to manufacturing facilities, and onsite generation current technologies only produce a fraction of what is needed.
In addition, companies are commercializing novel technologies that can sequester carbon in concrete manufacturing or curing processes. For example, CarbonCure is injecting CO2 from factory exhaust into concrete. This process reduces emissions, and the CO2 yields a stronger concrete material.
By sequestering and utilizing carbon, pioneering companies are turning a harmful greenhouse gas into a valuable raw material, offering utilities, manufacturers, and other carbon emitters a much-needed economic incentive to capture carbon particles rather than release them into the atmosphere.
Assigning a value to CO2 completely transforms conventional thinking—instead of being a harmful planet-heating gas, it is now becoming a valuable resource, playing a vital role in the development of a truly circular economy.
Pathway to Carbon Neutrality
Stakeholders throughout the cement and concrete sectors are creating plans to reach net zero carbon by 2050. Transforming an industry is a colossal task, and the initiative will take commitment from the entire value chain—from cement plants to concrete manufacturers, architects to code officials—to meaningfully address climate change.
The roadmap will require aggressive action, such as:
Replacing raw materials with recycled, decarbonated materials.
Producing low-carbon cement mixes.
Optimizing designs to reduce lifecycle emissions.
Adopting renewable energy.
Investing in carbon capture utilization and storage (CCUS) technologies.
Policymakers will play a critical role, and they'll be able to accelerate or hinder progress based on their willingness to allocate funding and support for enabling technologies, regulations, and research.
According to Rick Bohan, SVP Sustainability at the Portland Cement Association, "We have the materials, like fly ash and slag, available today to transform the cement and concrete sectors, but the process of convincing architects, engineers, code officials, and municipalities to use them has proven to be challenging."
Given the expected increase in the usage of concrete as we update our nation's infrastructure and enhance the resiliency of the built environment, it's essential that stakeholders find a way to enhance the sustainability of the industry. The time is now, and the stakes couldn't be higher.
To learn more about the transition to the Decarbonization Economy, watch our recent webinar about the topic.
Dec 16, 2021 9:54:25 AM · 4 min read
---

As cofounder and CEO of Green Builder Media, Sara is a visionary thought leader and passionate advocate for sustainability. A former venture capitalist, she has participated in the life cycle (from funding to exit) of over 20 companies, with an emphasis on combining sustainability and profitability. She lives in Lake City, Colo., with her husband, where she is an avid long-distance runner, snowboarder, and Crossfit trainer. She is also on the Board of Directors at Dvele, runs the Rural Segment for Energize Colorado, and is a former County Commissioner.