Climate Action Reaction

Alan Naditz
4 min read
Despite a few grumbles, President Biden's new legislation has a lot to offer the construction industry.
An enormous boost to carbon reduction came in August when President Biden signed the Inflation Reduction Act of 2022. The $485 billion bill, which represents the single largest infusion of federal cash aimed at tackling the climate threat in U.S. history, allocates $369 billion to reduce domestic emissions to approximately 40 percent below 2005 levels by 2030.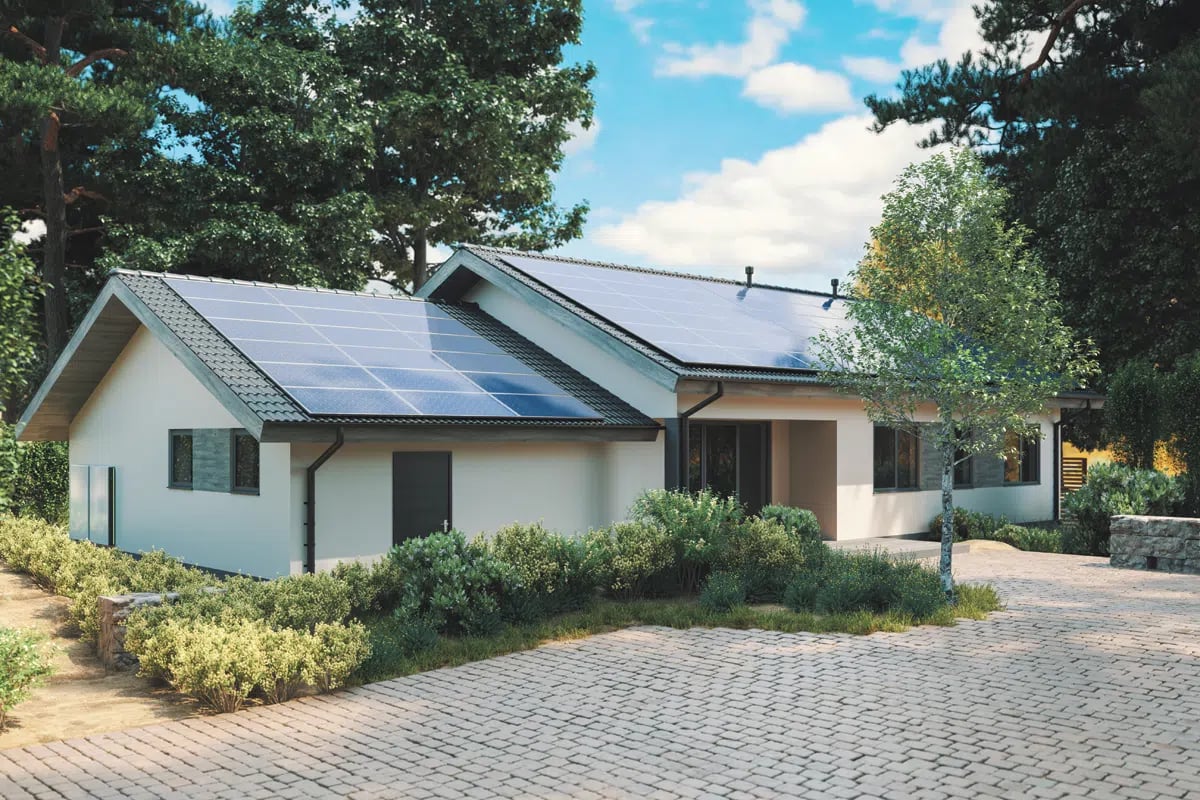 The IRA legislation increases the federal Clean Energy Credit by up to 30 percent of the total cost of a home solar panel or battery storage system if the installation occurs between January 2022 and December 2032.
That's a "meaningful increase" when compared to America's current path, which would have led to a 25 percent reduction by that time, according to Brian Murray, interim director of the Nicholas Institute for Energy, Environment & Sustainability at Duke University.
"This is very much climate legislation," Murray says. "The bill offers a significant bump in the nation's projected ability to reduce our greenhouse gas emissions."
The legislation's centerpiece is electricity, the generation of which is the nation's biggest source of greenhouse gasses. "Every part of the economy has energy running through it—it literally "powers everything in our lives," says Abigail Dillen, president of nonprofit environmental watchdog Earthjustice. "How we source that energy has a massive impact on the planet."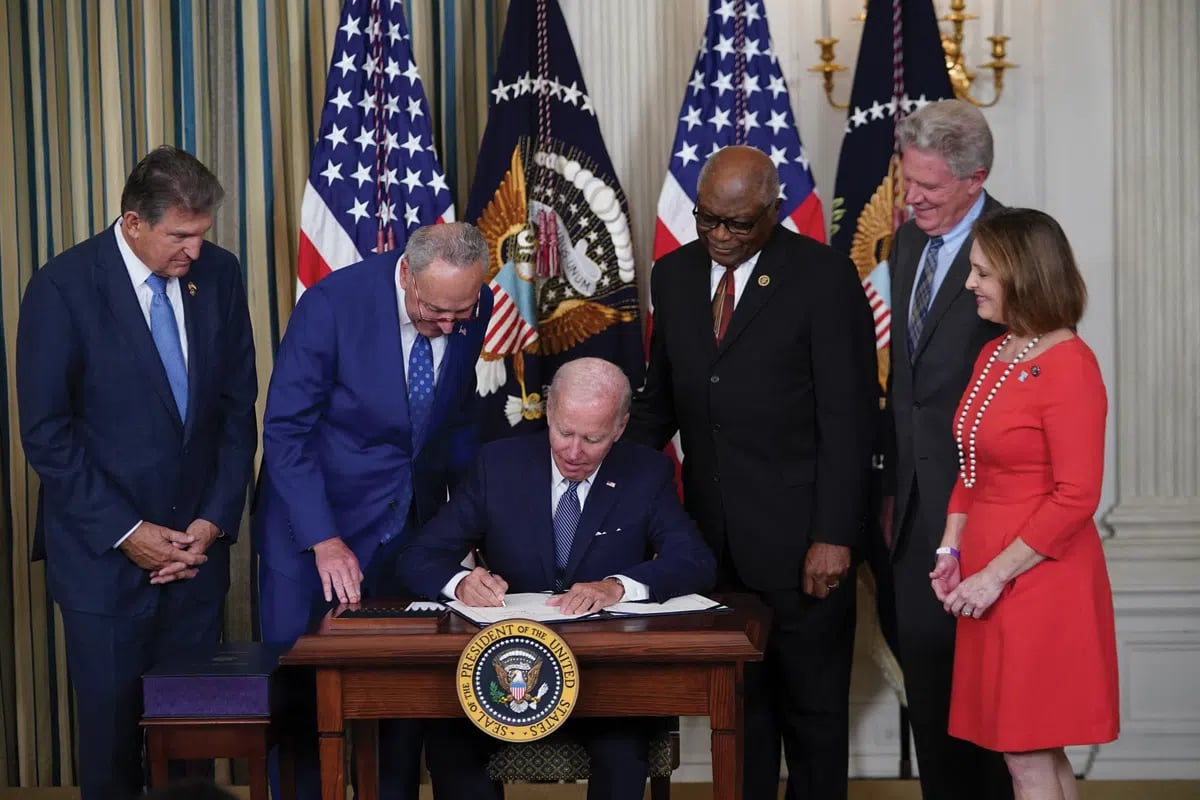 President Joe Biden's signing of the Inflation Reduction Act in August 2022 ushered in a new series in most cases of environmentally friendly regulations and incentives.
Buying Power
The bill encourages homeowners to electrify their homes by offering up to $14,000 to install advanced technologies and make energy efficiency improvements. Incentives include:
Up to $8,000 in rebates and up to $2,000 in tax credits for heat pump technology for space heating and cooling
Up to $4,000 in rebates for smart electric panels
Up to $2,500 in rebates for updated electrical rewiring
Up to $1,750 in rebates for all-electric water heaters
Up to $1,600 in rebates for insulation, air sealing and ventilation upgrades
Up to $1,200 in tax credits for energy efficient windows and doors upgrades
Up to $840 in rebates for electric stoves and electric heat pump clothes dryers
Some homeowners won't qualify for the tax credit or rebates depending on annual tax bills and household income. For example, rebates are not available to households earning over 150 percent of an area's median income (AMI).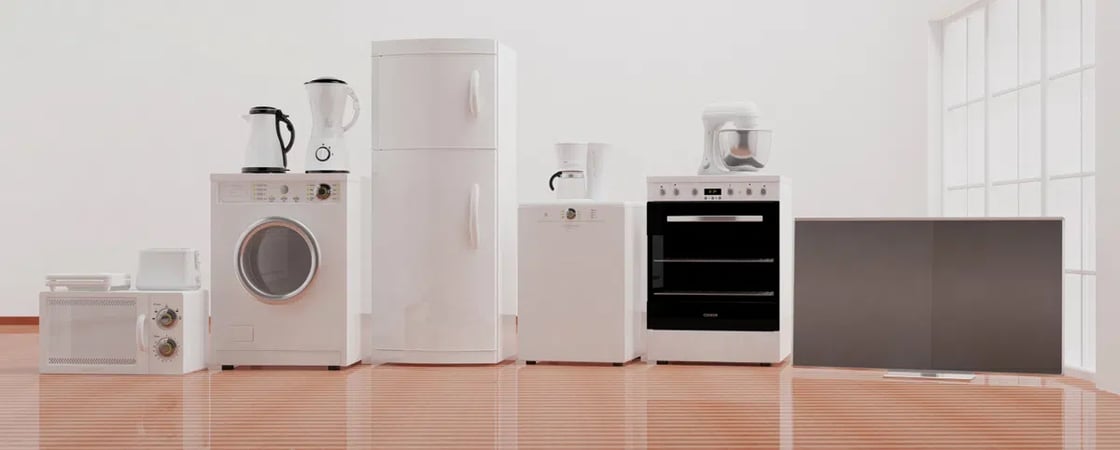 The IRA provides numerous incentives to encourage homeowners to upgrade to energy-efficient electric appliances.
The bill extends certain tax credits for homes, including $2,500 for homes that meet the eligibility standards of the EPA's ENERGY STAR Single Family New Homes Program, and $5,000 for homes that are certified to meet the U.S. Department of Energy (DOE)'s Zero Energy Ready Home (ZERH) program.
The legislation also extends the federal Solar Investment Tax Credit (ITC), now called the Clean Energy Credit, and increases the tax credit amount up to 30 percent of the total cost of a home solar panel system or battery storage system if the installation occurs between January 2022 and the end of 2032.
In addition, $1 billion in grants has been allocated to make affordable housing more energy efficient.
Job Generator
To address labor issues that are plaguing the building industry, the bill allocates money for states to create programs to train contractors on products and processes that make homes and buildings net zero, electric, and resilient.
The bill invests in solar, wind, battery storage, geothermal, hydrogen, and other renewables, and provides federal funding in the form of rants and loans to expedite the development of new grid infrastructure and transmission lines to deliver clean power to customers.
Billions of dollars in tax credits will also be offered for domestic manufacturing of photovoltaics, batteries, wind turbines, electric vehicles, and critical minerals, and the creation of clean jobs will be prioritized in fossil fuel producing markets.
And, the bill aims to make electric vehicles (EVs) more accessible by offering $7,500 rebates for new EVs and $4,000 for used vehicles.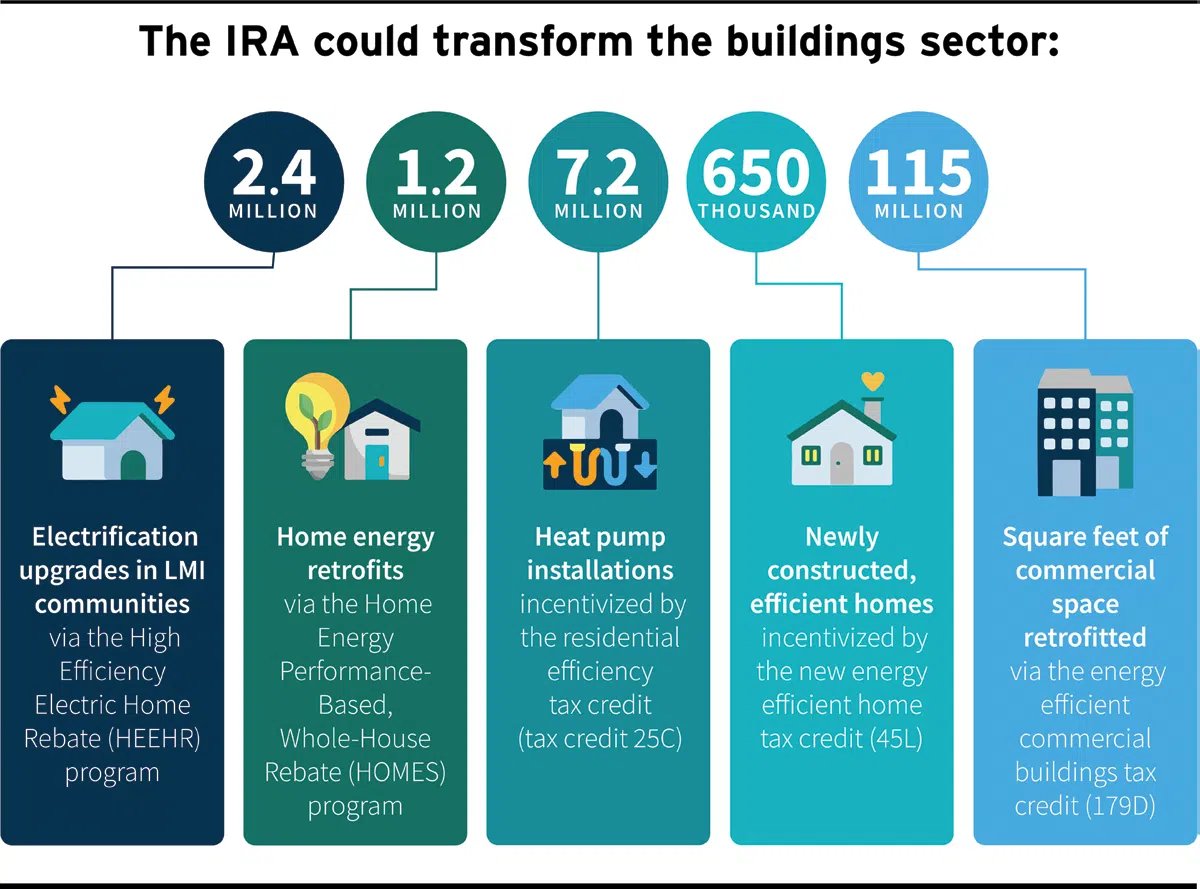 The Inflation Reduction Act's impact on building will be far-reaching including electrification, retrofits and heating. Credit RMI
The Usual Fans and Detractors Weigh In
Reaction to Biden's bill has been mixed, but you get the sense that even the naysayers know they're splitting hairs in criticizing the cascade of incentives that will be pouring into the housing sector, and raising the sustainability bar.
U.S. Green Building Association CEO Peter Templeton says the act will "have a profound impact on communities across the country and will be marked in our history as a turning point in our climate fight."
Greenpeace applauds the legislation for as far as it goes. It notes that the IRA authorizes billions of dollars in sorely-needed investments for renewable energy projects and technologies like electric vehicle infrastructure, heat pumps, and advanced grid technologies. But, it "fails to address the root causes of the climate crisis—extraction and burning of fossil fuels."
Ben Brubeck, vice president of legislative and political affairs for Associated Builders and Contractors of America, says the IRA will "disrupt the marketplace of contractors who successfully and safely build solar, wind, electric vehicle charging stations and other clean energy projects across America."
The National Association of Home Builders (NAHB) calls the final package a mixed bag for housing and NAHB members. "The IRA's biggest flaw," says Jim Tobin, NAHB's chief lobbyist and EVP for government affairs, "is the lack of any money to alleviate the housing supply crisis."
A Clean Energy Economy
By 2030, the Inflation Reduction Act is expected to have a major impact on the state of clean energy, including:
950 million new solar panels

120,000 new wind turbines

2,300 new grid-scale battery plants

42 million people benefitting from additional clean energy projects

2 million acres of more climate-resilient forest
Source: White House Press Office
---
This story is part of a special report presented with generous sponsorship from: ProVia, Whirlpool, Cultured Stone, and Sonos.
Apr 9, 2023 10:15:00 AM · 4 min read
---

Alan Naditz is managing editor of Green Builder Magazine. He has covered numerous industries in his extensive career, including residential and commercial construction, small and corporate business, real estate and sustainability.