Can This 3D Printed Home be Squeezed Out Sustainably? Maybe.

Matt Power, Editor-In-Chief
2 min read
Unlike past 3D projects printed with cement-based material, this one consists of recycled wood fiber and compostable resins. Does that make it "greener" than traditional, site-built comparisons?
A few weeks ago, a university research center in Maine, unveiled (literally) their first 3D-printed home. They claim that BioHome3D, a 600-square-foot prototype, consists entirely of "Biobased" materials. They note that these include "recycled" wood products and "bioresins."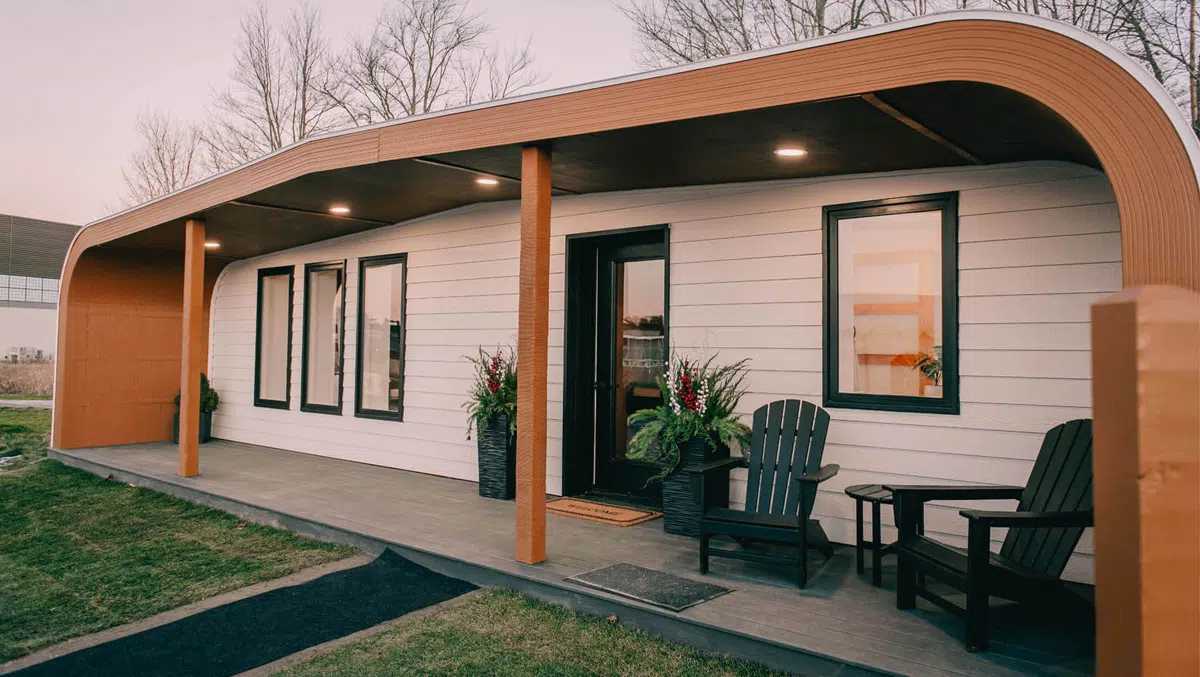 I wanted to know more before endorsing this type of home construction as a sustainable development. Other products such as spray foam that claim to be "bio-based" contain only about 10 percent organic materials. The rest comes from non-renewable fossil fuels.
I contacted The University of Maine Advanced Structures and Composites Center to find out more about the production process.
Gregory Simms, their Bio-composite Materials Lab Manager responded. He says the researchers don't yet know the total embodied energy of a house (I asked him to do a side-by-side with a conventional stick-built model), but they're working on establishing those benchmarks.
"The bioresin is 100% compostable," he asserts. "We have added wood flour, which is also compostable. BioHome3D weighs about 40,000 lbs."
Details on Biobased Building Materials
The lab is using Oak Ridge National Laboratory's research as the baseline for their biobased material analysis. I pulled up the Oak Ridge website, and it bounced me to this site for an in depth explanation of how biobased materials are assessed and compared. A downloadable PDF on this suggests that they have developed a fairly comprehensive analysis.
The researchers include these details in their release:
"BioHome3D features 3D-printed floors, walls and a roof comprised of wood fibers and bioresins. The house is fully recyclable and highly insulated with 100% wood insulation and customizable R-values.
Construction waste was nearly eliminated due to the precision of the printing process. More importantly, the technology used is designed to address labor shortages and supply chain issues that are driving high costs and constricting the supply of affordable housing — this includes less time for on-site building and printing using abundant, renewable, locally sourced wood fiber feedstock."
New Jobs, or Consolidated Wealth?
I'm optimistic about the affordability and apparent eco-savvy of this new 3D printed prototype, but before I jump fully on board I want to know more. How many homes could be cranked out annually? What's a realistic price point? Are the resins as sustainable as they sound?
Also, I'm always wary of "labor-saving" innovations, because that typically means that existing jobs are redlined out by automation. The building industry is large and scattered, so automation is less likely to crossover into other market rate housing markets.
It also does not appear that this technology will be a big job creator. The research facility's academic leaders are already talking about AI-controlled factories.
As the Univ. of Maine reports, "When complete, GEM will serve as a hub for AI-enabled large-scale digital hybrid manufacturing. The Factory of the Future will drive innovation-led economic recovery in Maine, with bays dedicated to scaling up the production of housing, such as BioHome3D."
This video shows a timelapse of a section of the home being printed.
Mar 30, 2023 10:33:25 AM · 2 min read
---

Veteran journalist Matt Power has reported on innovation and sustainability in housing for nearly three decades. An award-winning writer, editor, and filmmaker, he has a long history of asking hard questions and adding depth and context as he unfolds complex issues.