Building for Relevance
As consumer expectations change due to COVID-19, the VISION House at Mariposa Meadows shifts with it through unique design, construction and specifications.
Despite the ongoing uncertainty in many sectors in the economy, the housing industry seems to be a bright spot—at least for now.
In fact, in some markets, new home sales are surging: qualified buyers are looking to take advantage of low interest rates and purchase homes now, and with resale inventory down 30 percent year over year (YOY), new homes offer an excellent—and available—alternative.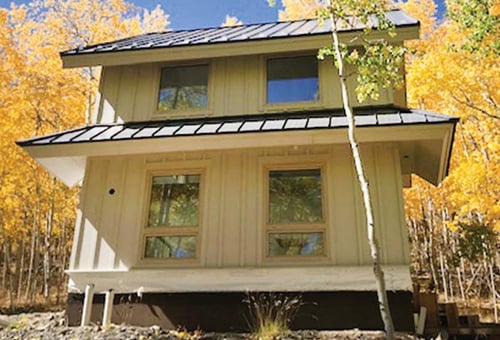 The Aspen cabin, one of three units that make up the Mariposa Meadows project, will carry technological innovations found in the other two, from smart home devices to top-notch weatherization products. Image: Green Builder Media
But it's not business as usual in the housing sector: Consumer expectations are shifting due to COVID-19, placing new demands on building professionals and manufacturers alike.
With coronavirus, home has become, more than ever, a sanctuary and a safe space, with strong associations to wellbeing and peace of mind. Due to significant health concerns and the mounting desire for more space, some consumers are leaving densely populated urban areas in favor of medium-density inner suburbs, outer suburbs and rural areas. In doing so, they're also moving out of higher-priced cities and into more-desirable and tertiary markets.
Many consumers have also taken up telecommuting due to changes at work or stay-at-home orders. This extra time online often means more-convenient shopping, including when it comes to looking for a new house. Home shoppers seek slightly increased home sizes to accommodate offices, gyms and living spaces. They're also demanding healthier homes, smart home technology, resource efficiency, private outdoor spaces, and opportunities for enhanced connections with nature.
Fittingly, the VISION House at Mariposa Meadows, Green Builder Media's first completely off-grid, self-sufficient demonstration project, fulfills many of the changing consumer demands stemming from the pandemic. Here are four key trends:
Health and Wellness
It's not surprising that, in the age of coronavirus, consumers are prioritizing health and wellness, with a particular emphasis on indoor air quality (IAQ).
In fact, according to COGNITION Smart Data, Green Builder Media's suite of market intelligence services, IAQ has quickly shifted from a "nice to have" to a necessity.
Homeowners are clamoring for solutions that improve IAQ, particularly systems that monitor air quality and then proactively trigger fresh air exchange or ventilation systems (energy recovery ventilation—ERVunits—range hoods, vent fans) once toxins are detected.
Perched high in the Rocky Mountains of Colorado, Mariposa Meadows has plenty of fresh air—the structures are literally surrounded by millions of acres of national forest. But, we're holistically addressing IAQ with an integration of advanced mechanical systems, including Uponor radiant in-floor heat (given that the project is at 10,000 feet in elevation, there is no cooling demand); Panasonic WhisperGreen ventilation fans and ERVs to ensure fresh air exchange at a regular cadence; and Beam central vacuum systems.
We're also featuring anti-microbial and non-toxic finishes and furniture, such as Caesarstone quartz countertops, Lee Furniture, and Fresco Harmony gypsum-based wall finishes (in selected areas).
While the entire development is designed to facilitate calmness and reflection, we've included plenty of sanctuary spaces, such as intimate relaxation rooms for reading or meditation, as well as outdoor sitting areas intended to promote contemplation and a direct connection with nature.
Self-Sufficiency and Resiliency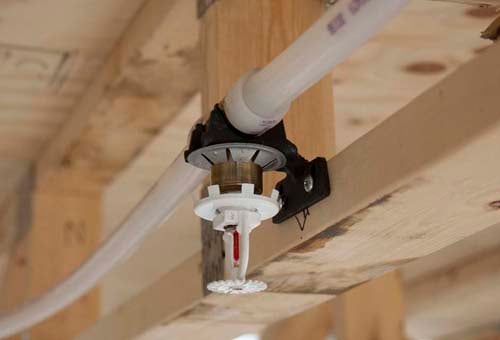 Uponor AquaSAFE Provides Plumbing Plus Fire Suppression
The Mariposa Meadows team selected Uponor's interior fire sprinklers, plumbing and radiant floor heating. The AquaSAFE combined plumbing and fire sprinkler system incorporates the fire sprinklers into the home's cold-water plumbing, ensuring fresh water is always available if it is ever needed in the event of a fire.
Ingrid Mattsson, director of brand and sustainability for Uponor North America, says it would be smart to have fire sprinklers in every home. "When we talk about the resilience of a structure we mean that it must be strong on so many levels," she says. "Fire sprinklers are built to allow people to escape, first, but the system is also designed to squelch the fire using a minimal amount of water before it can do much damage."
While the AquaSAFE system offers the usual plumbing functions on a daily basis, it has the added upside of knowing water is ready to go in the event of a fire. "This is not a standalone system where water is sitting unused in a closed system and needs to be checked on every year," Mattson reminds. "This is using the water already in your plumbing system for fire suppression. Every time you take a shower, you are drawing water through the system for the ultimate in protection."
For more information, visit Uponor.
The concept of self-sufficiency has also been trending, especially since the onset of the coronavirus. When people talk about self-sufficiency in online conversations, they often reference onsite power and food production. According to COGNITION data, there has been a pronounced spike in interest in topics like solar power and edible gardens.
Since Mariposa Meadows' closest grid infrastructure is nearly 20 miles away, self-sufficiency is a necessity. The electrical needs of the structures will be powered by an impressive array of JinkoSolar bifacial solar photovoltaic panels, along with a sonnen battery storage system with an integrated inverter.
A four-season greenhouse that offers a reliable level of food security, provides a salve for pandemic-shocked visitors, and highlights ways to create an abundant, sustainable outdoor oasis whether in remote locations like ours or in dense urban areas, is also part of the master plan.
To us, self-sufficiency shouldn't be limited to renewable power and onsite food production. Rather, it encompasses the process of taking personal responsibility, making informed decisions, and specifying products and systems that are durable, resilient and low-maintenance.
In terms of Mother Nature and resiliency, Mariposa Meadows is fortunate enough to not be susceptible to many of the natural disasters that plague other communities such as superstorms, tornadoes, earthquakes or flooding. Our principal concern is wildfire.
We have deployed several strategies to mitigate for wildfire risk. To begin with, we are following the National Fire Protection Association (NFPA)'s FireWise guidelines for "home hardening" and augmented protection.
All of the exterior materials were carefully specified for their durability and fire resistant qualities, including James Hardie fiber-cement siding, Fabral standing-seam metal roofs, Creative Mines engineered stone, and three-hour fire-rated metal entry doors from Assa Abloy.
A suite of durable Trex decking products, in addition to pavers and natural stone from Pioneer Landscape Centers, will also help to create a defensible perimeter around the structures.
In addition, we are employing Uponor sprinkler systems throughout the structures, as well as GreenFire's non-toxic, environmentally friendly food-grade fire suppression technology—indoors and outdoors.

GreenFire: Fire Prevention and Suppression
Made with food-safe, plant-based compounds, GreenFire's product line has applications for fire prevention and fire suppression. While most fire retardants are chemical and toxic, the GreenFire compound is certified by NSF International as a food-grade substance.
What that means for firefighting is that when the product is sprayed inside or outside a home for fire suppression, it doesn't create an unpleasant odor, leave residue that is toxic to people or animals, or stain most building materials or textiles.
GreenFire is a perfect solution for Mariposa Meadows. "This is an all-green, energy saving and off-the-grid project, which makes it perfect to showcase options for people to protect their homes from fire, on or off the grid," says GreenFire founder Ben Allen.
The GreenFire family includes three products:
GreenFire Heat Barrier: Prevents flare ups and locates gas leaks
ProDefense: A spray-on package for contractors to pre-treat behind-the-walls structural elements and landscapes to reduce fire risk
HomeDefense: A DIY version of ProDefense
Learn more at GreenFire's website.
Quest for Zero
The coronavirus has increased awareness around comfort, efficiency and cost savings related to energy performance, expediting the massive and rapid transition to net zero energy.
Even before the pandemic, the global market for net zero energy structures was expected to reach a whopping $78.8 billion by 2025. The growth in Net Zero buildings can be attributed to a combination of innovation in high-performance products, renewable energy systems, and automation technologies, along with enhancements to codes and policies (the 2021 IECC brings us closer to zero, and experts predict that we'll take more steps towards net zero in the next code cycle).
Advances in solar technologies (photovoltaics, inverters, storage and solar thermal), heat pump technologies, mini-split HVAC systems, induction cooktops, smart thermostats, high R-Value windows, and high-performance insulation and building envelope systems are all contributing to the transition to zero.
At Mariposa Meadows, we've deployed structurally sound and incredibly energy-efficient structural insulated panels (SIPs) for these building envelopes, super high performance triple-paned, European tilt-and-turn style windows from Euroline, Tyvek housewrap and weatherization systems, and high-efficiency tankless Bosch water heaters, which, in conjunction with the Jinko bifacial solar panels and sonnen battery storage system, will allow us to pursue the goal of net zero.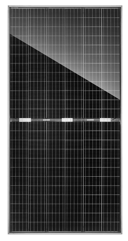 JinkoSolar Powers the Complex
Thirty-five 400-watt Jinko Eagle G3 solar panels provide 14 kW of power to Mariposa Meadows. The modules include the company's bifacial Diamond cells that enable module power up to 405W.
"The bifacial cells are dual-sided cells encapsulated in the panel which offer back-side generating potential," explains Director of Business Development Jeff Juger. "If any light reflects around the panel, you get additional energy production."
How much more? According to a test Jinko performed on the panel, the bifacial module generated up to 20-30 percent more energy than conventional monofacial modules. When it snows at Mariposa Meadows, the bifacial effect should be at its greatest.
"What's unique about Jinko's panel is that we have exclusive access to a transparent backsheet made by DuPont, making our bifacial panel extra durable, and essentially the same weight and configuration as a standard one-sided panel," Juger says. "Our competitors use a glass backing, which makes the panel more brittle and extra heavy, and causes compatibility issues with existing racking solutions. Reinforcing the racking to account for the new weight requires extra materials, meaning the additional benefit of competing bifacial systems is offset by the extra costs."
Learn more about the Jinko G3 Eagle.
Connected Living
Connected living was already exploding before coronavirus, but the pandemic accelerated demand for smart home technologies even further.
Demand for voice-activated technologies such as door locks, speakers, TVs and appliances is on the rise, along with smart thermostats, lighting, and other devices that improve energy efficiency and comfort.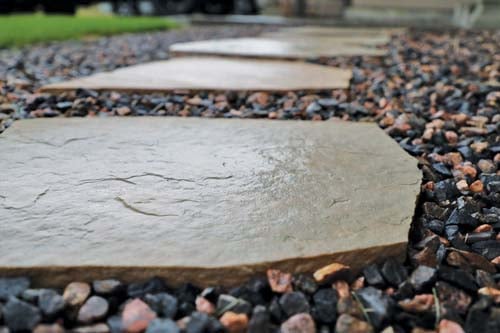 Pavers and hardscapes, such as this flagstone variety from Pioneer Landscape Centers, are an integral part of the NFPA Firewise program's landscaping best practices. Credit: Pioneer Landscape Centers
Proactive smart home technologies that maintain healthy indoor air quality are in high demand, as well as leak detection and water monitoring systems. And with the spike in working and schooling from home, requirements for connectivity and networking technologies are also changing dramatically.
At Mariposa Meadows, we'll deploy a Control4 central smart home hub that will connect with security cameras, door locks, lighting, IAQ monitors, switches, outlets, speakers, and other devices for a streamlined, connected living experience.
We'll continue to bring you updates and information from Mariposa Meadows over the coming months. For news from the Meadows, check out the project microsite.