Battery-Powered Trucks Promise More Than Mobility

Matt Power, Editor-In-Chief
11 min read
When powerful, all-electric pickups hit the road next year, they will change not only the way you and your employees drive but also the way you work.
As we enter 2022, car makers worldwide have doubled down on a massive shift from combustion to electric, battery-powered work vehicles. There's a reason, however, that trucks have been slower to hit the market than sedans.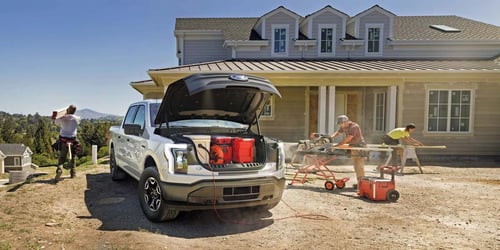 Far more than just pickup trucks, electric vehicles such as the F-150 Lightning, due out in 2022, can power your jobsite, help you hook up a trailer, and coach your employees on how to drive more safely. Courtesy Ford Motor Co.
Pickup trucks, in particular, occupy a hallowed place in the American psyche. That's the kind of loyalty car makers hesitate to disrupt. But change has come. Electric trucks break ground in so many ways that they're almost a new species of vehicle. And automakers clearly feel that the time is right. Their new philosophy: "If we build it, they will buy."
Based on early sales, they've made the right choice. "We have 150,000 reservations already," notes Nathan Oscarson, brand manager for commercial vehicles at Ford Motor Co. "We're going to build as many as we can to meet the demand, and we're expanding."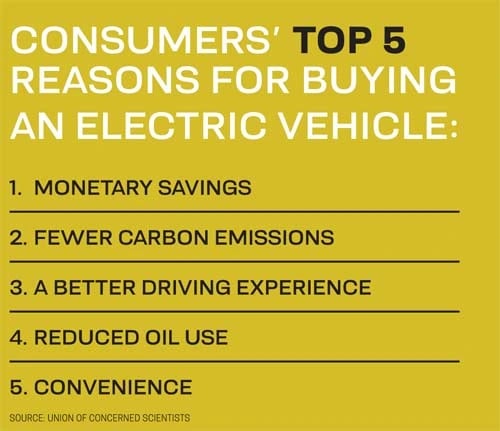 The scale of that growth eclipses old records of investment and commitment, even for Ford Motor Co. Ford is partnering with SK Innovation and pouring $11.2 billion into construction of two new plants—one in Kentucky, the other in Tennessee—to build the batteries and chassis for the new F-Series electric trucks.
At the center of Ford's plan: In-house production of the all-important batteries that will drive their power trains. Oscarson says that carefully controlling manufacturing of the battery cells, including materials sourcing and testing, will make the company feel confident in the availability and performance of its battery packs.
"The key thing is developing these batteries with a 300-mile range," Oscarson adds. "Our batteries will be lighter than others, plus they'll ride low in the chassis, so [the F-150 Lightning] won't ride like a typical truck. It will be better."
Pricing: Safe Bets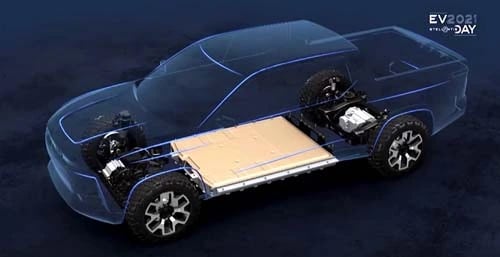 This illustration of the upcoming Ram 1500 electric truck shows some of the major differences between EV and fossil fuel-powered pickup trucks: a much smaller motor assembly, and a low, heavy center of gravity (due to batteries). Courtesy Ram-Stellantis
How much will would-be electric vehicle (EV) truck buyers pay? No one knows. But so far, car makers apparently haven't hit the ceiling.
GMC, for example, targeted luxury buyers first with its Hummer EV SUV. An EV version of the Chevy Silverado will follow. The company captured 10,000 pre-orders for the Hummer in the first 10 minutes it became available online a year ago.
GMC's price for the Hummer EV, at $113,000 (U.S.), tracks significantly higher than Ford or other electric pickups. Ford's F-150 Lightning base model could go as low as $42,000, although the $53,000 mid-range XLT model may appeal to building pros.
The presumption, of course, is that to reach the mainstream buyer (how very Ford), price does matter, and vendors will begin offering less expensive models as factories come online.
Ford North America's president, Kumar Galhotra, has made no secret of the company's big EV plans: "We're not here to make an electric truck for the few," he says. "Ford is committed to building one that solves real problems for real people."
Ford's pricing stays closer to that of Tesla, although Tesla's planned Cybertruck, with a base model the company claims will sell for under $40,000, won't look much like pickup truck (more on that later). But not every electric "truck" promises to be a work vehicle.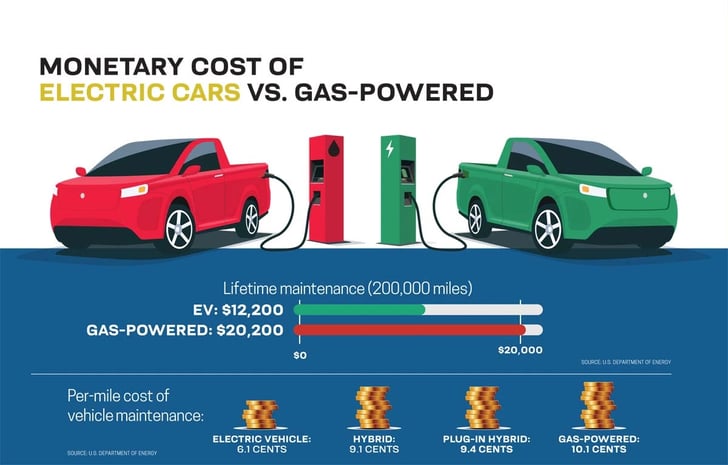 Building pros will be looking for something that closely resembles the cherished pickup truck they've known for decades—as reliable transportation, yes, but also as roving offices and transport modules and (in the case of fleets) employee-operated workstations.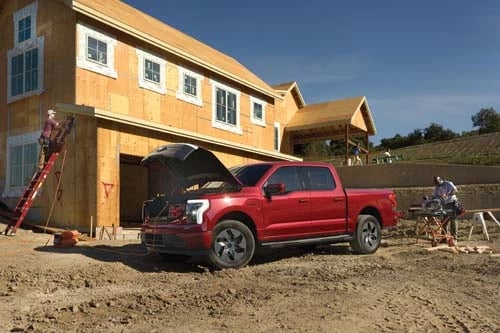 "We're not here to make an electric truck for the few," says Kumae Galhotra, president, Ford North America. "We're committed to building one that solves real problems for real people." Courtesy Ford Motor Co.
Oscarson says Ford has built its electric truck with all of these things in mind and will offer remote observation and "real-time driver coaching through SYNC 4 voice assistant" for EV trucks belonging to a commercial fleet.
This service mines data from the vehicle and sends it back to the fleet owner, while also nudging the driver. As described by a Ford press release: "Any time a driver exceeds a speed limit, rapidly accelerates, brakes harshly, leaves the engine running while parked or fails to fasten a seatbelt, they will receive an in-car audio message asking them to correct their behavior."
Oscarson adds that with Ford's fleet management software, the vehicle can let the dispatcher know if the owners forget to plug the vehicle in at night, or if it detects a theft. "It also monitors 'check engine lights," he says. "Drivers tend to ignore those lights, which can damage the engine. The same is true of other warnings, such as the 'low tire pressure light. You can generate driver behavior scores too. You have all these ways to try to improve the safety of the vehicle."
That top-down control may appeal to fleet managers, but for small contracting companies, trades, and other construction pros, an electric work truck purchase will likely be motivated by self-interest: What can this truck do for me?
Brand Highlights
Each EV truck maker seems to have doubled down on one or two special features. While batteries and range are prerequisites to every brand, automakers have taken the opportunity to reimagine what automobiles can do: from running jobsites to maneuvering like a skid steer, to towing heavy gear.
GMC's Hummer EV, with its short truck bed, has a James Bond-worthy "crab mode," which allows all four of the truck's wheels to partially rotate, so the vehicle can move diagonally. Will this turn buyers' heads? The question may be academic. General interest in EV trucks is so intense right now, it's hard to say how much difference any single special feature makes. Americans seem to be buying EV trucks in most price ranges as fast as preorders become available.
Right behind the Hummer EV, GM expects to release an all-electric Silverado pickup in 2023. The truck, GM says, will have a 400-mile range, 100 miles per charge more than the F-150 Lightning. Note how increases in projected vehicle range increase with the timeline. Automakers may encourage buyers to wait a little longer to buy the EV truck they've been waiting for, if range is a priority.
As another example, the Ram 1500 electric pickup truck, currently slated to debut in 2024, has promised a 500-mile range. Priced at about the same point as Ford's truck ($45,000), it may also tow more, with a boosted towing capacity of 10,000 pounds. Will RAM hit those benchmarks? Time will tell, but as Car and Driver astutely points out, the company will likely use the extra two years of ramping up production to "capitalize on any missteps [earlier] competitors encounter."
A Long-Lasting, Silent Generator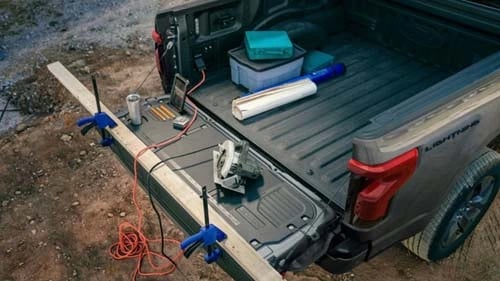 With enough inverter power to drive compressors, saws and table saws, the F-150 Lightning can fully replace your on-site generator. Courtesy Ford Motor Co
My favorite game-changing perk of EV trucks? Their potential as jobsite generators. Think about the benefits of this unlooked-for feature: It could help contractors deal with local noise ordinances on jobsites, reduce accidents and workman comp claims. One of the most-common causes of worker deaths on constructions sites is getting run over by small skid steers. Crews sometimes can't hear them coming over the din of generators.
How bad is the din from combustion generators? According to OSHA, exposure to 85 dba for 8 hours can permanently damage your hearing.
With the F-150 EV system, using the truck to power tools isn't like plugging a cordless drill into a 12-volt cigarette lighter. It's a full-on inverter. You can run a table saw, or a compressor for a nail gun, and not just for a few hours. It needs to be for days.
"We don't talk a lot about the bidirectional power," Oscarson notes. "But the truck comes with 2.4-kilowatt (kW) inverter that you can upgrade up to 9.6 kW. What's great is that you get a 240-volt plug in the back, plus eight 120-volt outlets and five USB ports."
Oscarson adds that Ford has conducted tests that show the extended-range model can run a job site on all-electric for 10 days. "Software on board monitors what power is being used on the jobsite, and you have complete control," he says. "So, if you need to save enough power to drive 40 miles back to the office, you can tell it to save that much for your return trip."
This power-tapping inverter also offers intriguing possibilities for resilience. The truck batteries can run most of the critical equipment in a home for several days.
The Next Wave
Between now and 2025, options for EV trucks will hit the market with a regular cadence, provided supply chain issues can be managed. Following Ford, it looks like Tesla, GMC, Dodge RAM, and several other brands will release EV trucks, along with some lesser-known brands.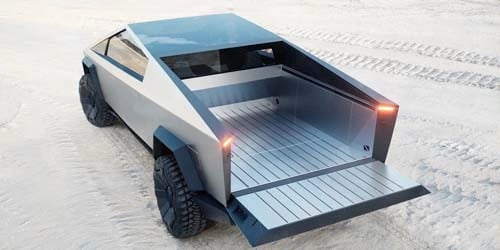 Looking more like a futuristic military vehicle than a truck, Tesla's Cybertruck is slated to become available in 2022. Courtesy of Tesla
Tesla has promised to start shipping its Cybertruck in 2022, but given the company's past performance on product release deadlines, I wouldn't mark any dates on the calendar. Also, this truck looks more like a lightly armored Humvee than a work vehicle, and the styling seems aimed at buyers with Mad Max fantasies, not working contractors.
But maybe that's the Cybertruck niche: wanna-be anti-heroes, roving the countryside with "Not-a-Flamethrowers" cued up in the passenger seat. The company claims that it has 1 million $100 deposits in place for these trendy trucks.
Soon will come the European invasion, led by Stellantis, the fourth-largest car maker in the world (the company also makes the RAM EV here in the U.S.). Stellantis also owns Jeep and other familiar brands. According to CNBC, the company plans to have 55 EV offerings in the U.S. by 2025, including work trucks.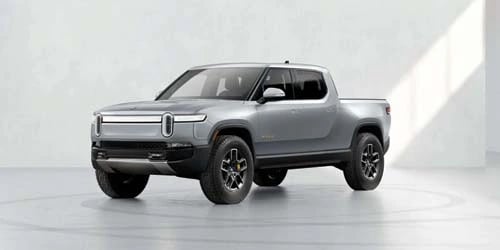 With backing from Ford and Amazon, Rivian's R1T beat all other EV pickup trucks to market. Courtesy Ford Motor Co.
Another wild card is a company called Rivian, which is heavily supported by investments from Amazon and Ford. This U.S.-based company has beat all the big players to market and expects to deliver 1,000 EV trucks this year.
The R1T pickup is priced at $67,500. Rivian also makes an all-electric SUV, the R1S. According to FleetOwner.com, the company had roughly 55,400 R1T and R1S preorders in the United States and Canada as of Oct. 31, "a backlog its leaders expect to fill by the end of 2023."
One thing that's clear: The auto industry is all in with electric work vehicles this time. It's poured millions into R&D and plans to add billions in factory space and innovations. So far, buyers have responded enthusiastically. In the ideal scenario, as more of the grid converts to solar energy, each of these electric vehicles will surpass its conventional, gas-powered counterpart, running cleaner, greener (less polluting) meaner (with greater torque and acceleration), and quieter.
Will there be hiccups and setbacks as this new technology rolls out? Inevitably. But with each new iteration of vehicle and battery system, each software upgrade, these trucks should get better. And one of the perks rarely mentioned is the maintenance costs you won't have any more.
Think about what it takes to keep a combustion engine running: fluids, hose replacements, air filters, carburetors, gas pumps, and on and on. Many of these parts and services will simply become irrelevant, as gas vehicles age out, and EVs dominate the scene. The future of trucks is quiet, durable, and less polluting.
But Can They Tow?
Electric Motors have tremendous torque and power, but their range depends on the details.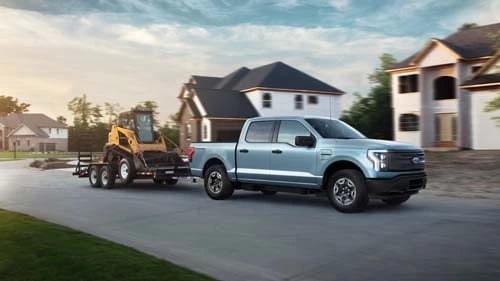 What's known about electric vehicle (EV) trucks is that they have enough power to tow substantial loads. What's not known is exactly how real-world variables will affect their towing range. Past studies of EVs have found that their range with a trailer in tow can drop significantly. For example, a field test of a Tesla Model 3 towing a 750-pound trailer noted an efficiency drop of 40 percent.
It's obvious that these truck makers know towing matters. Most have included some kind of hitch in their EV work trucks. Ford, in particular, has a sophisticated monitoring system that estimates the tow load and its impact on range. The F-150 Lightning will have a 10,000-pound towing capacity. That's enough to haul a mid-sized ditch digger to the jobsite, or haul a load of construction and demolition (C&D) waste to the landfill. Meanwhile, the Rivian R1T claims an 11,000-pound towing capacity.
As EV trucks hit the road, we'll see a wealth of new data about how inclines, trailer shape, tread wear and other factors affect towing range. One can imagine a scenario, for example, where a builder wants to know if an EV truck can safely haul a maxxed out load of lumber up a 6-mile highway incline on Route 84 in Pennsylvania.
Fortunately, the availability of charging stations nationwide keeps rising. That means that even with heavy loads, you may be able to jump from one charge station to the next to keep batteries topped off.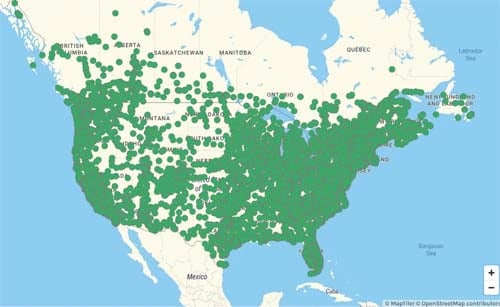 Charging Stations
Public EV charging stations have proliferated in the United States, making cross-country travel with battery power much more viable. Many more are on the way.
For example, GM has announced that it will install 40,000 new Ultium charging stations across the U.S. and Canada by 2025, helping fill gaps in so-called "charging deserts," where charging stations are lacking.
Source: U.S. Department of Energy
Smart Tech Features
U.S. manufacturers have their own long list of superpowers built into these pickup trucks of the future. For example, here's a short list of some of the F-150 Lightning "extras."
Self Driving The truck can tap into Ford Co-Pilot360™ technology. This "BlueCruise" feature allows the Lightning to self drive on 100,000 miles of pre-qualified divided highways in the U.S. and Canada, and that network of roads is growing.
Onboard Scales Built-in sensors tell the driver not only how much payload is in the bed, but also how much of a trailer load they're hauling. This data ties into the truck's Intelligent Range computer, so a user gets an accurate estimate of how far they can tow a heavy load.
Pro Trailer Hitch Assist This feature takes control of the vehicle as the driver backs up to attach a trailer, removing most of the guesswork.
Phone as a Key Drivers can unlock or start the truck with a cellphone, with no key fob or touch required.
Auto Updates Ford Power-Up software installs upgrades and tweaks automatically, without the need for logging in or user intervention.
Hidden Front Storage Trunk Where the truck's old gas engine used to reside, you'll find a huge front "Frunk." It's lockable and waterproof, with tie downs, capable of storing tools or picking up groceries on the way home.
Jan 31, 2022 1:52:48 PM · 11 min read
---

Veteran journalist Matt Power has reported on innovation and sustainability in housing for nearly three decades. An award-winning writer, editor, and filmmaker, he has a long history of asking hard questions and adding depth and context as he unfolds complex issues.