When dealing with a disability, it's today's tech to the rescue.
Having a physical disability used to mean a life confined to sitting in a chair or relying or holding a caretaker's hand to get from place to place. But now, being called "disabled" doesn't quite seem right. Thanks to many assistive devices developed in the past 20 years, you can do what everyone else can—which means don't really have a disability—right?
Heck, those technological advances improving vision, mobility and illness might even make you better at something than someone deemed "healthy and normal."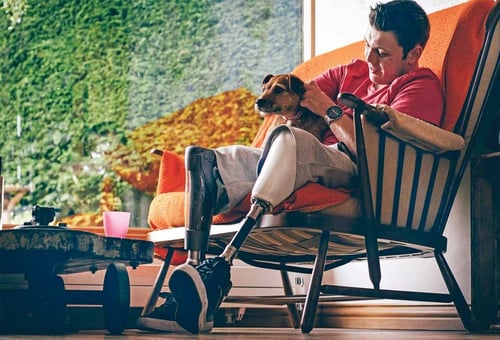 That thought becomes even more appealing—and important—as we age. The older we get, the more likely we are to have one or more parts of our biological engine break down. The U.S. Department of Health and Human Services predicts that close to 88 million Americans will be age 65 or older by 2050. Roughly 40 percent of those persons are expected to have some sort of physical disability plaguing them during their not-so-golden years.
But technology is giving us plenty of help as we go gray. Here's a look at some of the classier, cooler assistive devices—beyond the familiar such as smart locks, voice-enabled controllers such as Amazon Echo and Alexa, and personal trackers—that can keep us happily on our feet for years to come.
Vision Quest
Few will argue that loss of vision is one of the worst disabilities to endure, no matter how old you are. The concept that you'll have to learn an entirely different method of interaction—one based on your other senses, especially your hearing—is a nightmare to some.
Making the transition easier is NavCog, an open-sourced iPhone app for indoor navigation. Developed by Carnegie Mellon University, this tool helps people with visual impairments use earbuds, a smartphone and Bluetooth sensors to explore the world. Information about their surroundings is spoken to the user, helping them know what to expect as they try to move around the house or make their way down the street. This process is also helpful for people who are at huge and complex places such as a university, airport or hospital.
Meanwhile, human interaction can be a chore when you're blind. You can't always rely on your unaided senses of hearing or touch to let you know who's standing nearby. But XploR, a smart cane developed by Birmingham City University in the United Kingdom, can clear things up. The mobility stick uses a handle-mounted camera, built-in sensors and facial recognition software to scan for faces in a crowd, then compares those images to an online database or preloaded memory card. If there's a match, the stick vibrates, then guides the user to their friend or relative using a Bluetooth earpiece and audio guidance. XploR is still being market tested, but similar products are already available. Smart canes by AssisTech and UltraCane use ultrasound to detect obstacles in the user's path, then vibrate to tell the user which direction to go to avoid them.
One of the greatest technological innovations of this century has been the tablet PC, a wonder that has enabled us to communicate and learn wherever we go (as long as there's internet). The blind gained this opportunity with the advent of Blitab, a Braille-based tablet. Blitab allows blind users to learn, work and play with one mobile device and to have digital access to information in real time. The device converts any document into Braille text; little smart dots ("tixels") raise immediately from the surface and then fall down again when text changes. Capable of converting a full 8-by-11 page at a time, it also has text-to-speech capability and touch navigation, making it usable by non-Braille readers when needed.
Household Helper
Switches are a fact of life in any home or office. There are light switches, computer switches, phones, environmental control units, television remotes and more. Anyone who can't easily use a switch should consider a Sip/Puff Breeze, a system that controls switches with their breath. Consisting of a mouthpiece, headset and flexible shaft with a removable clamp, a user activates a switch by sipping (inhaling) or puffing (exhaling). The device also enables a user to control cursor movements and joysticks, which make drawing, playing games and any application that accurate cursor control as easy as a snap of the fingers.
Developmental Aids
One tool that can help people keep their thoughts organized as they age and their memories begin to fade is one they may have used when they were younger: a graphic organizer. In this case, the device allows a user to "dump" their information into the online system in an unstructured manner. The unit can then rearrange the data into a logical pattern. For example, a "to do" list may be set in any order as recalled, then moved into proper 1-2-3 order after online review. Dozens of such products exist (and not all of them require online use); a typical provider of organizer charts basic and complex is Lucidchart.
One of the harder things for disabled persons can be to find a place to live. Luna Azul's product is just that: a home. As the first residential subdivision designed for adults with developmental or acquired disabilities, homeowners have access to specially tailored services, vocational opportunities, and the ability to customize their homes to meet their needs. The Phoenix-based, gated community also provides a safe place for the disabled to interact with their neighbors, and is a money saver for owners and their families when compared to the cost of long term care or assisted living facilities. Homes are two- and three-bedroom structures priced from $300,000 to $500,000. More than one-third of the units have already been sold, and the complex doesn't open until summer.
A Call to Arms
Loss of a limb can be the ultimate disability, impacting mobility and sense of self. And although prosthetic limbs have existed for centuries (the first documented artificial limb was in 1500 B.C., during the Roman era), they haven't been all that attractive or lifelike until recently.
Take the Hero Arm from Open Bionics. This is the world's first medically certified 3D-printed bionic arm, with multi-grip functionality and empowering aesthetics. A lightweight and affordable myoelectric prosthesis, the unit is for below-elbow amputee adults and children aged eight and above. Each arm (or hand) is custom made and controlled by the user's muscles, with intuitive lifelike precision—the fingers even have actual metal tendons for smoother motion. There is also a breathable, removable socket for enhanced ventilation and ease of cleaning.
Hands are capable of a lot of things. Persons suffering from two disabilities—loss of sight and hearing, or persons who are "deafblind"—have had to communicate using tactile alphabets, where different parts of the hand are pinched or pressed to identify specific letters.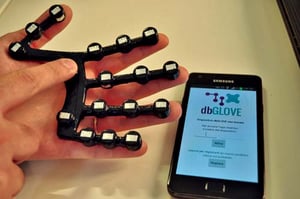 Taking a 21st century turn is the dbGLOVE, a five-fingered sensor-based device that turns tactile alphabets into computer text. That text is then traced back onto the hand, making it possible for deafblind to operate computers and smartphones. The product by Italian company Intact is in development, with a hopeful release in 2020.
---
For more information about types of assistive devices, check out the following resources: