As Wildfires Blaze, the Southwest Must Reduce Water Demands

Samantha Carlin
4 min read
As the 2022 Next Generation Water Summit winds down, we are left with a lingering sense of anxiety, punctuated by new ideas, policies and innovations that might curtail the worst impacts of the current water crisis.
This year's Next Generation Water Summit brought together several professionals and policymakers in a collaborative setting to share best practices and innovations. Specifically, the event focused on water conservation and water reuse techniques to abate the persistent drought spreading across the southwest.
The schedule was brimming with pressing topics, with sessions such as "Our Future in a Warming, Water-Stressed World," "When the Water Runs Out, What Happens Next?," "COVID: The Growth Boom and its Impact on Water," and "Residential – Getting to Net Zero."
The summit came at a pressing time for the Southwest United States. In New Mexico, the Calf Canyon/Hermits Peak fire has broken the record for the state's largest wildfire … in May. The massive fires across the Western United States have been fueled by unusually dry, windy, and warm springtime weather.
Unfortunately, this is not a major surprise, as drought conditions have ravished the region for over 20 years, persisting since 2000. According to a study published in the journal Nature Climate Change, this has been the driest 22-year period of the past 1,200 years, accurately named a "megadrought."
Stark Warnings
Current water infrastructure and policy were put into place in a wetter, cooler world. However, expected population growth, coupled with drought conditions, have strained the outdated allocation of water resources and equality. Sebastian Metcalf, CEO of Everydrop Technologies, noted that the states that are growing the fastest are also the driest.
Keynote speaker Robert Glennon, Regents Professor Emeritus and Morris K. Udall Professor of Law & Public Policy Emeritus at the University of Arizona, acknowledges that extreme weather events happening across the globe, such as floods, tornadoes and hurricanes, are a result of anthropogenic climate impacts.
But, in the parched southwest, water is of utmost concern. Glennon shares that "more than a billion people of the 7.6 billion on this planet of ours lack access to safe drinking water," while an even larger number lack adequate sanitation and are affected by water-born illnesses like cholera.
After highlighting a U.N. study on population that suggests the planet will grow by almost two billion people by 2050, he asks an important question – "where do we get the resources to feed, clothe and house an additional two billion citizens on this planet of ours? And, of course, that's going to take water."
The point that agriculture demands 70% of water globally was mentioned several times throughout the summit. Glennon says that climate change has caused "farmers to need more water to grow the same amount of food as they are growing today."
It was clear that the status quo was not cooperative with our current supply and demand related water issues. Thankfully, the rest of the event filled the audience with hope and knowledge on water saving, reusing and recycling products and practices.
Water Efficiency Developments: A New Horizon
To preserve the environment and create a more liveable planet, Jan Gould, CEO and Co-Founder of Responsive Drip Irrigation, developed a disruptive irrigation technology to increase water efficiency for outdoor use. Gould realizes the imminent increase in population and the stress this places on food production. Her product, GrowStream, addresses the current global water problems. It is widely applicable to cities, residential spaces and large-scale agricultural operations and works with poor quality water and treated wastewater.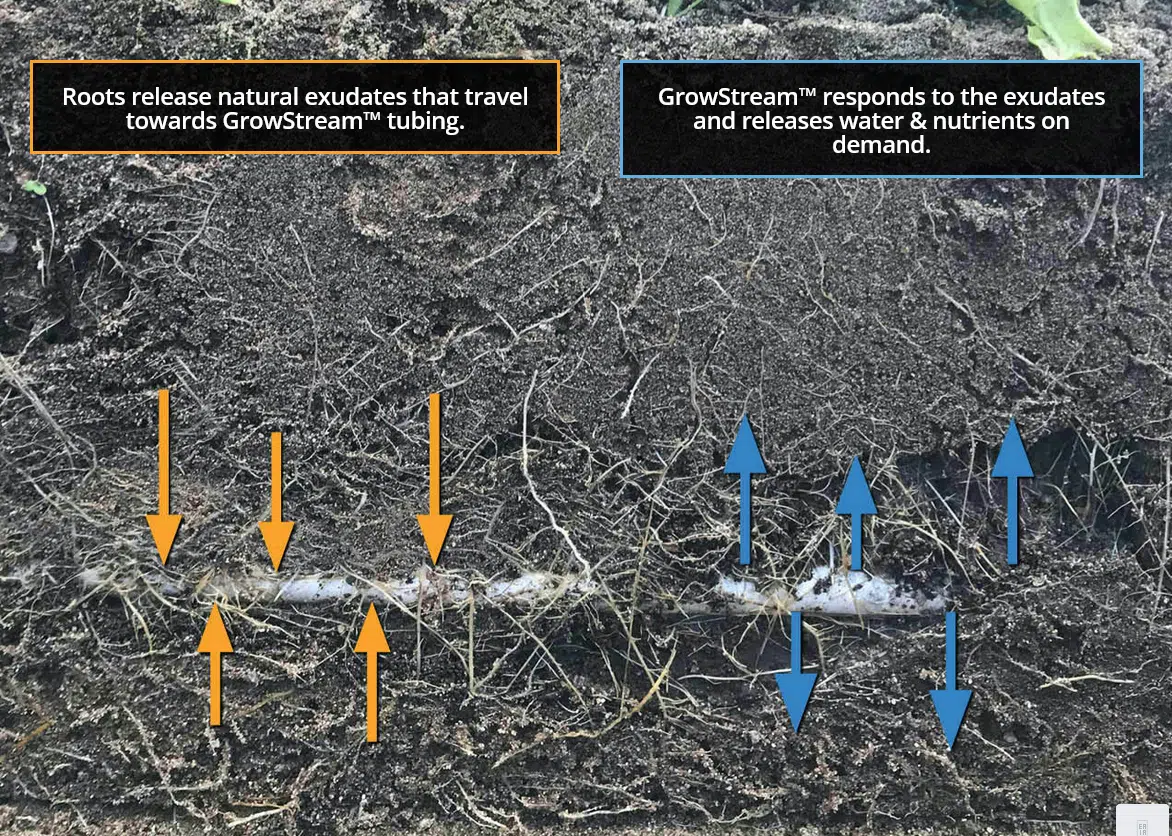 Responsive Drip Irrigation's GrowStream is the first irrigation system that lets plants self-regulate their water intake by creating "a symbiotic relationship where the plant roots are actually interacting with the tube. And when they need water and nutrients, they will give off the chemicals that start releasing the water from our system," Gould explains.
As a result, the system reduces water usage by 30-90% and dramatically increases crop yields without the use of electricity or fuel. Through a decade of research and development, Gould reports that "we've seen the plants develop faster, they use less water, less fertilizer, and we are getting higher yields. The soil health actually improved. We are seeing changes in pH, and we are actually able to deliver soil amendments through the tube."
On the metering side, Sebastian Metcalf is the mechanical engineer and owner of Every Drop Technologies, a small startup focused on enabling conservation through affordable metering. Metcalf believes we need to "shift the paradigm in water usage, and flow meters can enable that."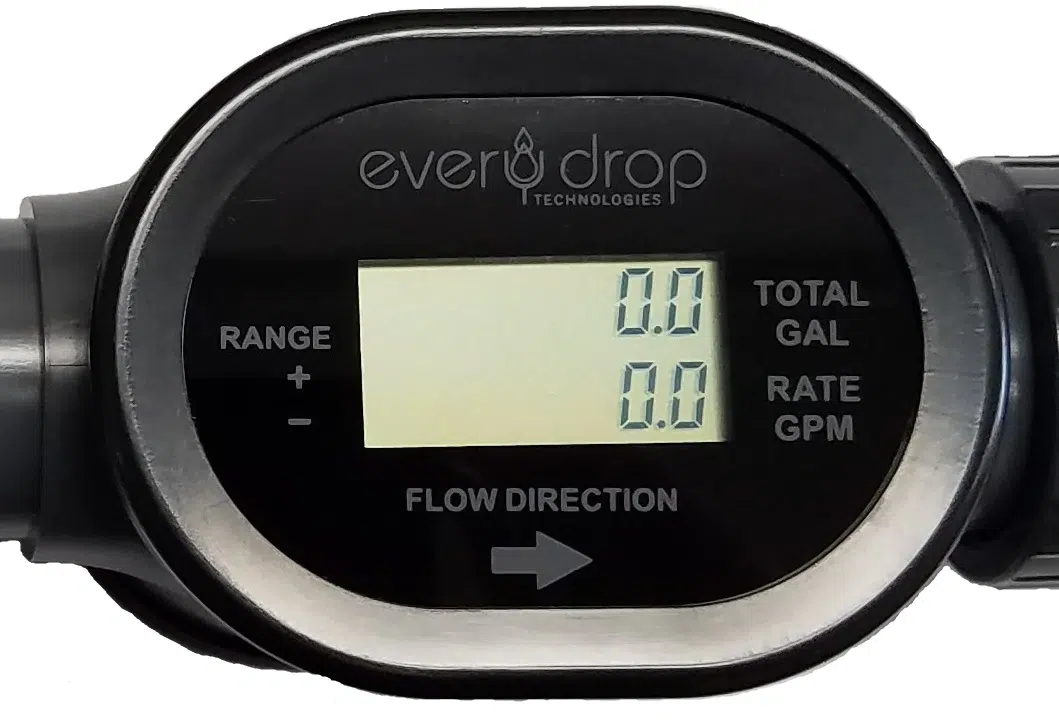 Every Drop Technologies has worked hard to address the common issues with some meters on the market. The company's line of vortex flow meters can be used in conjunction with any flow-capable controller or as a standalone unit and has a flow range of 0.5 to 30 GMP.
"Most importantly, we are priced for wide adoption to homeowners and cities across the country, which we feel is important to lower the ceiling and allow for people to buy into this technology," Metcalf adds.
When it comes to indoor water use, Greyter Water Systems has released the Greyter HOME water recycling system to address the problematic ways we use (or waste) water in buildings. With Greyter HOME, homeowners can save money on water and sewer costs through water reuse and recycling.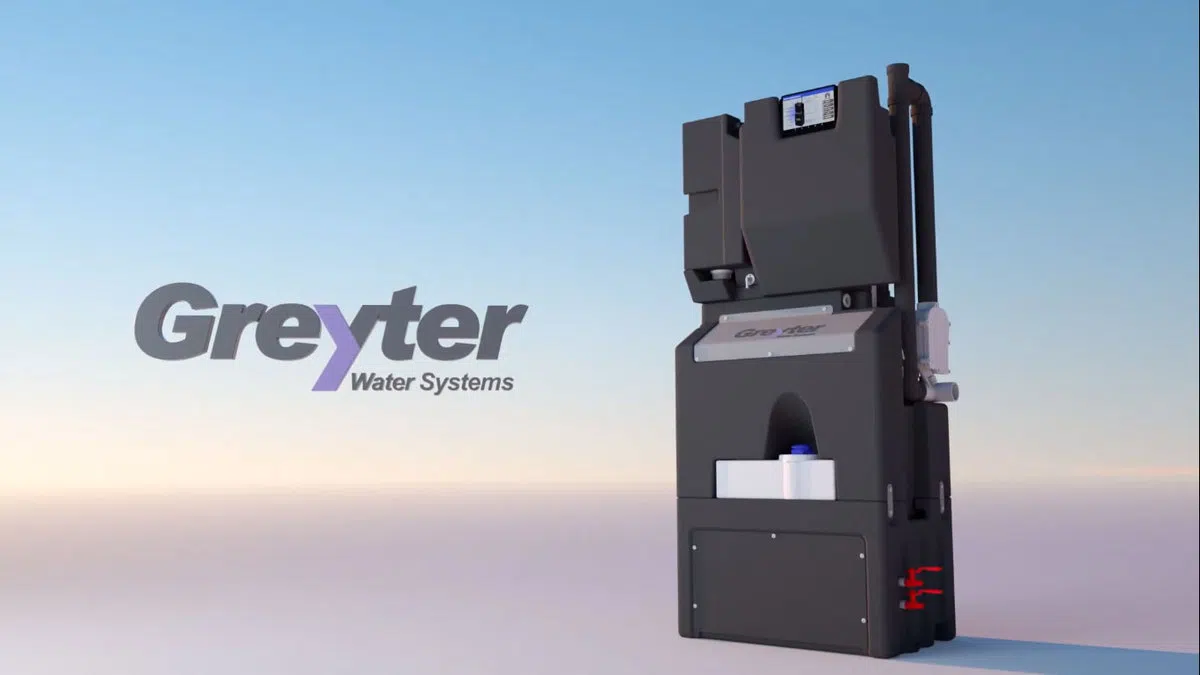 Over 50% of water consumption happens in the bathrooms in the average home. Showers and baths account for 30% while toilets use 20-25%. The Greyter Home system captures water from showers and bathtubs and treats it to near-potable, odorless and clear water to be used for toilet flushing. Just two showers a day will typically meet the flushing demands for a family of four.
The water recycling system was designed in collaboration with several top homebuilders and meets the requirements for large-scale home developments, like the NSF 350 standard for greywater. It has a small footprint, and it's affordable, energy efficient and easy to use – the touchpad handles system operation and provides performance data, maintenance reminders and tutorials.
A Final Plea
To conclude the summit, Kim O'Cain, President of O'Cain Consulting, recapped the feelings of inspiration brought to light by the speakers throughout the 2-day event. From her perspective, the summit has been about "the bold thinking, the holistic planning and the quick adaptation that we need," and has acknowledged that "what gets us there is education and collaboration."
Although the 2022 Next Generation Water Summit's live sessions are complete, you can still view all sessions and resources until June 18th. Register to learn more about the current state of our water resources, key policy actions, case studies and innovative technologies targeted toward curtailing the water issues unfolding in today's landscape.
Jun 7, 2022 11:55:20 AM · 4 min read
---

Samantha is able to express her passion for the environment -- both natural and built -- as the special projects manager at Green Builder Media. Prior to joining the Green Builder Media team, she worked as an order management specialist at C.A. Fortune, a consumer brands agency. She is a recent graduate of the Master in Environmental Management program at Western Colorado University with an emphasis on sustainable and resilient communities. Originally from the suburbs of Chicago, she is currently thriving in Gunnison, CO where she enjoys the surrounding geology, mountain biking, and skiing.