Apartment Complex Is EarthCraft Platinum and Affordable
Sustainable project offers mixed-income housing in Alexandria, Va.
A new $32 million development by AHC Inc. transformed a three-acre parcel of land owned by St. James Methodist Church into a vibrant mixed-income, mixed-use community. The five-story building earned an EarthCraft Multifamily Platinum certification and holds lessons for combining affordability with environmentally smart building practices.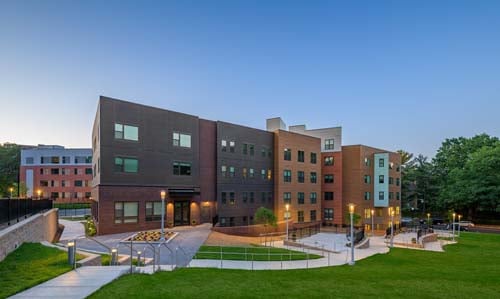 St. James Plaza's exterior includes a variety of earth-toned colors and textures that balance the building's clean contemporary silhouettes and sharp angles. Inside the apartments, oversized windows add an airy, open feeling to the contemporary apartments. Other amenities include a play area, community room, fitness center, and underground parking.
The apartment community includes a mix of efficiencies, one-, two-, and three-bedroom apartment homes for households earning up to 60% of the area median income.
The site also includes a 2,300-square-foot preschool for 50 children. Thirty-one market-rate townhomes, developed by Craftmark, further integrate the development into the existing single-family neighborhood.
"AHC envisioned the St. James Plaza apartment community to be energy efficient, meeting the highest green-building certification by the state—the EarthCraft Platinum designation," says John Welsh, AHC Inc.'s Director of Multifamily Development.
All units at St. James Plaza feature:
Energy Star-rated windows and appliances.
High-efficiency, individually-controlled air conditioning and heating.
High R-value insulation.
Highly durable plank flooring and ceramic tile baths.
The developer was recognized by Urban Land Institute (ULI) Washington with the 2020 Excellence in Housing Affordability award for this project. The award was announced at ULI Washington's 2020 Trends Conference, an awards program that highlights innovative and exceptional developments that enrich neighborhoods in the Metropolitan Washington Region. The project was distinguished for its innovative design, zone planning, and local partnerships.
Project Participants
Development partners include the City of Alexandria, Capital One Bank, Hudson Housing Capital, Low Income Investment Fund (LIIF), NeighborWorks and NeighborWorks Capital.
Designed by Cunningham-Quill Architects, the five-story building was constructed by Harkins Builders.
"At AHC, we strive to be leading providers in green, affordable living," Welsh says. "We are proud of the innovative communities we build to help our residents thrive for years to come."
To learn more, watch UCI Washington's video here.
Cati O'Keefe is the editorial director of Green Builder Media. She has 25 years of experience reporting and writing on all aspects of residential housing, building and energy codes, green building, and sustainability.