Airspool's 100 Percent DIY Solar-Hybrid Heat Pump Leapfrogs Competitors

Matt Power, Editor-In-Chief
6 min read
This small company has (almost) put heat pump installation within reach of the most casual homeowner, but you'll want to avoid the user errors I made during my install.
You've probably seen several brands of solar-hybrid air conditioner heat pumps sold as "DIY" online. I have installed three of them myself, with a little professional help at the line vacuum and refrigerant release phase: one Airspool, an EG4, and a non-solar Pioneer unit.
But what if I could cut out the "expert" altogether and do the whole line charging myself, saving $400 to $600 on installation? That's what Dave VanZanten at Airspool has been working on for the past year. He contacted me to let me know the latest iteration of the Airspool was ready for testing.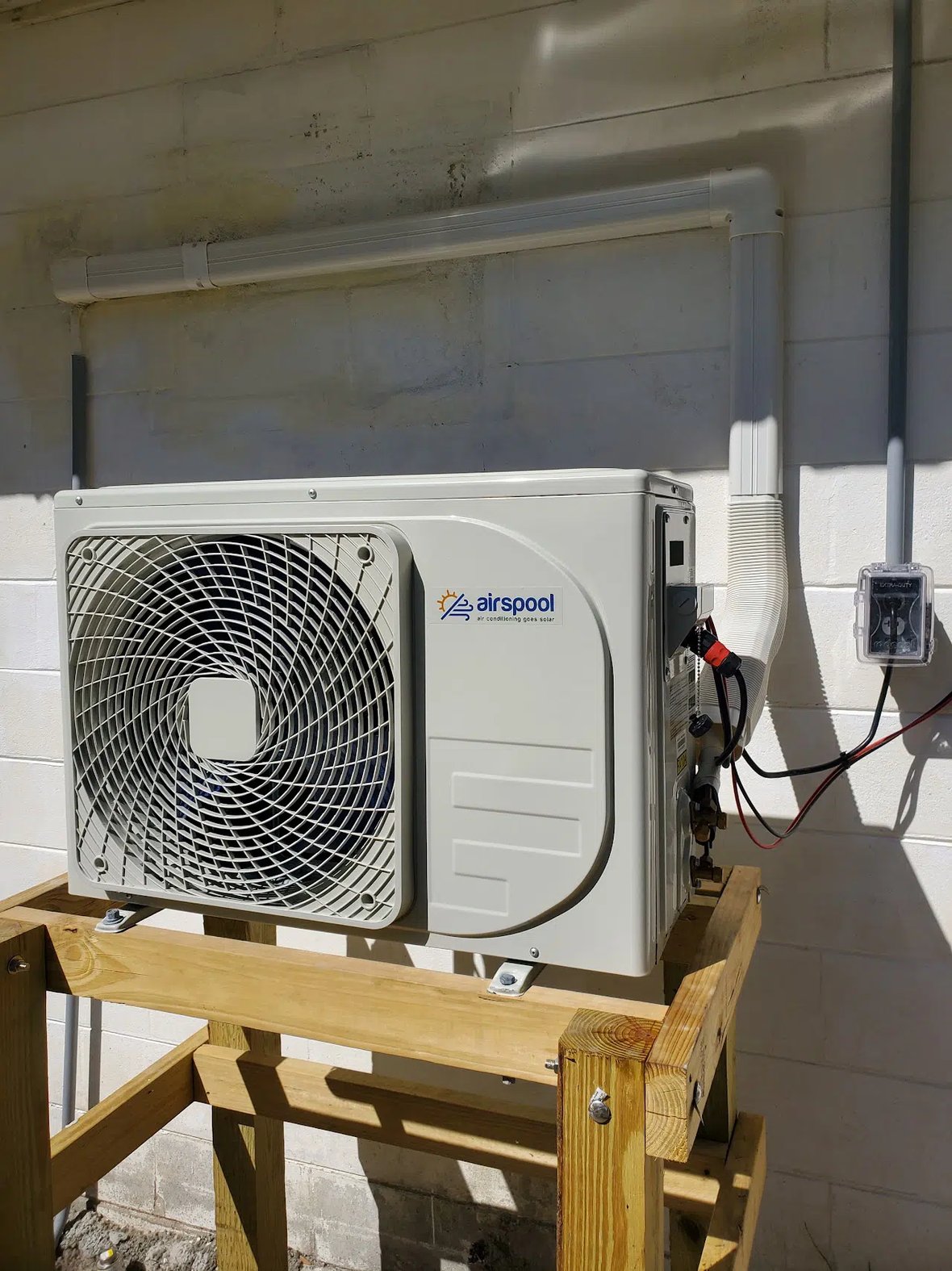 The Airspool 12,000BTU DIY air conditioner heat pump comes solar-ready. This shows the compressor after adding cosmetic lineset covers (sold separately)
A "Bells and Whistles" Package
One thing that impressed me the first time around dealing with Airspool is that they've taken the approach that buyers may not even have basic tools at the ready. For this latest iteration, out of the box, you get literally everything you need to install it except an electric drill. They've even tossed in a good quality carbide-tipped hole saw capable of cutting through concrete block.
The compressor and head unit (12,000 BTU) arrived in separate boxes, with the lineset coiled up against the back of the compressor. This seemed adequate to keep the delicate heat exchanger fins from taking any damage in transport.
The kit even includes zip ties and a couple of plastic wrenches for tightening the new pressure release valves (I'll get to those), along with the usual collection of wrapping tape, caulking and a piece of pvc to act as a channel through the wall for coolant lines and the controller cable.
More important, however, the Airspool compressor comes prewired with three-prong, 120 volt plug, and a plug-and-play controller connection—something other DIY models may not include. Also, the solar connections are pre-installed, so you never actually have to open the electrical panel on the unit. My kit also included a solar shut-off box, to isolate the compressor from the solar if needed. (I've never had to do this, but it's a safety feature).
Making a Resilient Heat Pump Stand
No DIY heat pump comes with a stand, but I wanted to mention mine, because I've learned that keeping compressors isolated from the building makes a huge difference in the amount of noise and vibration you may notice. That being said, I attached the first Airspool with a hanging stand, and it's by far the least noisy of my three previous units.
For this one, however, I wanted a tall stand suitable for a coastal flood zone in Florida—high up, but also hurricane-force wind ready. It's surprisingly hard to find a product like this, especially one that's affordable. So I built my own using bolted, pressure treated lumber, and set the whole thing in four bags of reinforced concrete. It should stand up to anything but a tornado.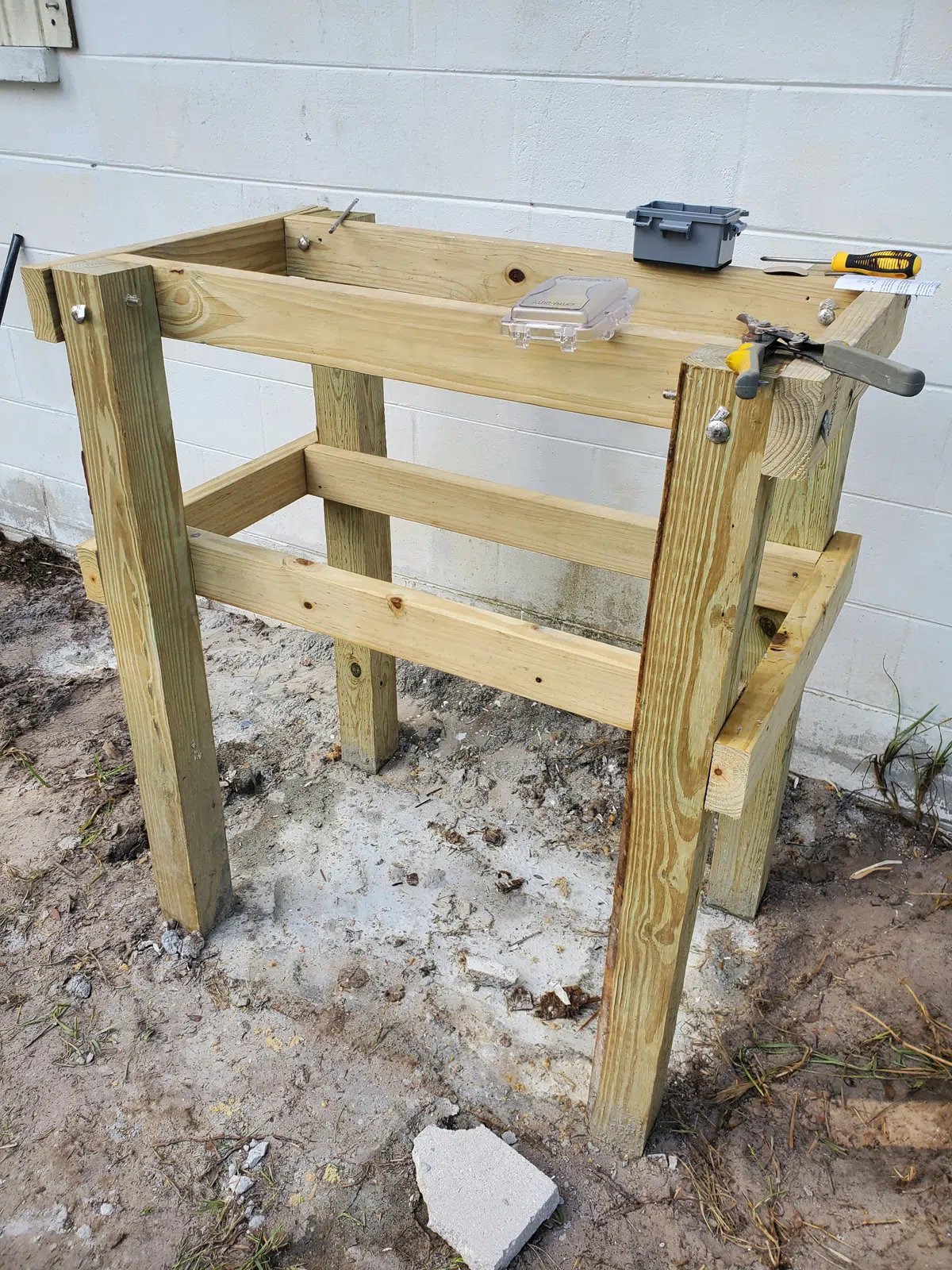 Since then, I did find one 36-inch stand available commercially that looks almost home made , but it might be worth inquiring. I suspect that commercial installers know where to get tall, flood-ready stands, but they're not easily accessible to DIY home improvement folks.
Through the Wall
The messiest part of this DIY install was putting a hole through 8 inch concrete blocks. Drilling masonry creates a lot of dust and noise. With a little more preparation, I would have purchased a drill dust collector to put over the hole saw and cut down my mess a lot.
With the 2 ½-inch hole drilled at a slight angle, I glued in the PVC pipe section and cut off both ends, creating a nice neat through-way for the lines and cables. However, I ran into a slight design issue.
A key to the Airspool's DIY upgrade is the presence of pressure relief valves that are quite bulky. I had trouble fitting two of these, plus the controller cable and the condensation tube out the narrow hole, and ultimately ended up pulling out the PVC tube, and just sticking them through the wall. I spoke to VanZanten about this, and suggested that solving it would either mean using a slightly larger hole saw, or "staggering" the location of the valves so they're not right beside each other on the section coming out of the indoor unit.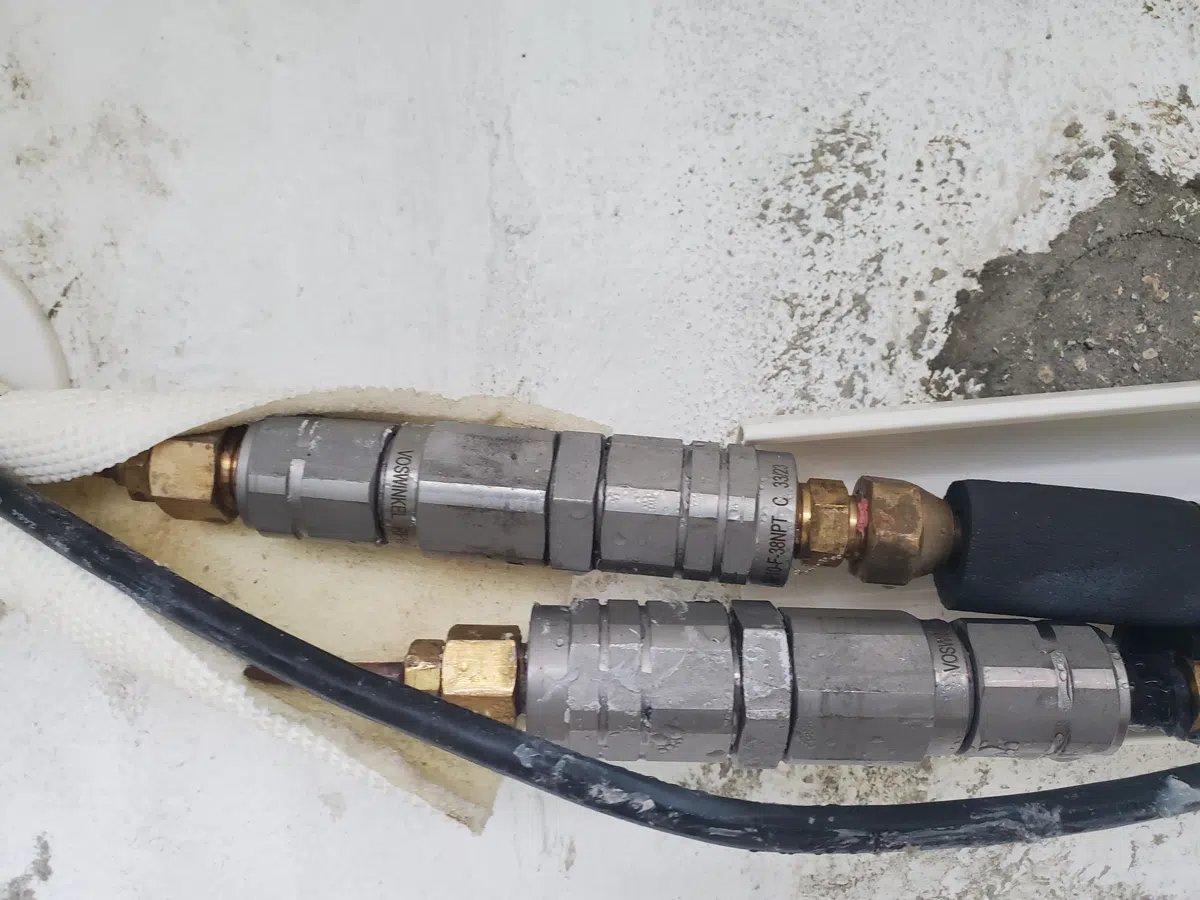 Pressure release connectors. You just screw these connectors together and the refrigerant is released to fill the lines.
Ultimately I got all the lines and cables out through the wall, and moved on to the outdoor unit.
Linesets. Keep Them Paired, Or Else…
One of the toughest limitations with DIY heat pumps is that the pre-charged linesets come in a fixed length. So if your distance from compressor to heat is a lot smaller you have a bunch of delicate copper piping to try to "manage" without kinking it. Alternately, if you cut the distance too close, you end up needing an expert to splice on additional lines and add refrigerant.
As I uncoiled my line sets, I made the mistake of not taping them together first. As a result, one of them collapsed under its own weight at 90 degrees. As I later straightened it, the kink turned into a leak. I was dismayed as I heard a couple of pounds of refrigerant fly away. Bad for the environment. Expensive to repair the line and replace.
Hard lesson learned from that mistake: Keep the copper lines together as you gently straighten them. If you have to add a substantial bend, consider buying a pipe bending tool. My HVAC guy showed me how easy it is to bend them if you have one on hand.
One risk to having the line sets arrive fully charged is that you don't have an obvious way to "abort the mission" if there's a problem. I suggested to VanZanten that Airspool instead ship the lines vacuumed, but with the refrigerant valve not yet open. This way you could potentially hear a leak and shut the valve off to avoid losing more refrigerant.
The real game-changing aspects of this Airspool unit are its connections. For the pressurized lines, you simply screw together the valve connections between indoor and outdoor units, and they automatically fill with refrigerant. Even easier, you attach the controller cable with a push and a twist, plug the unit into your outdoor outlet. Finally, you click the solar leads into the DC power shut-off box. Check, check, check.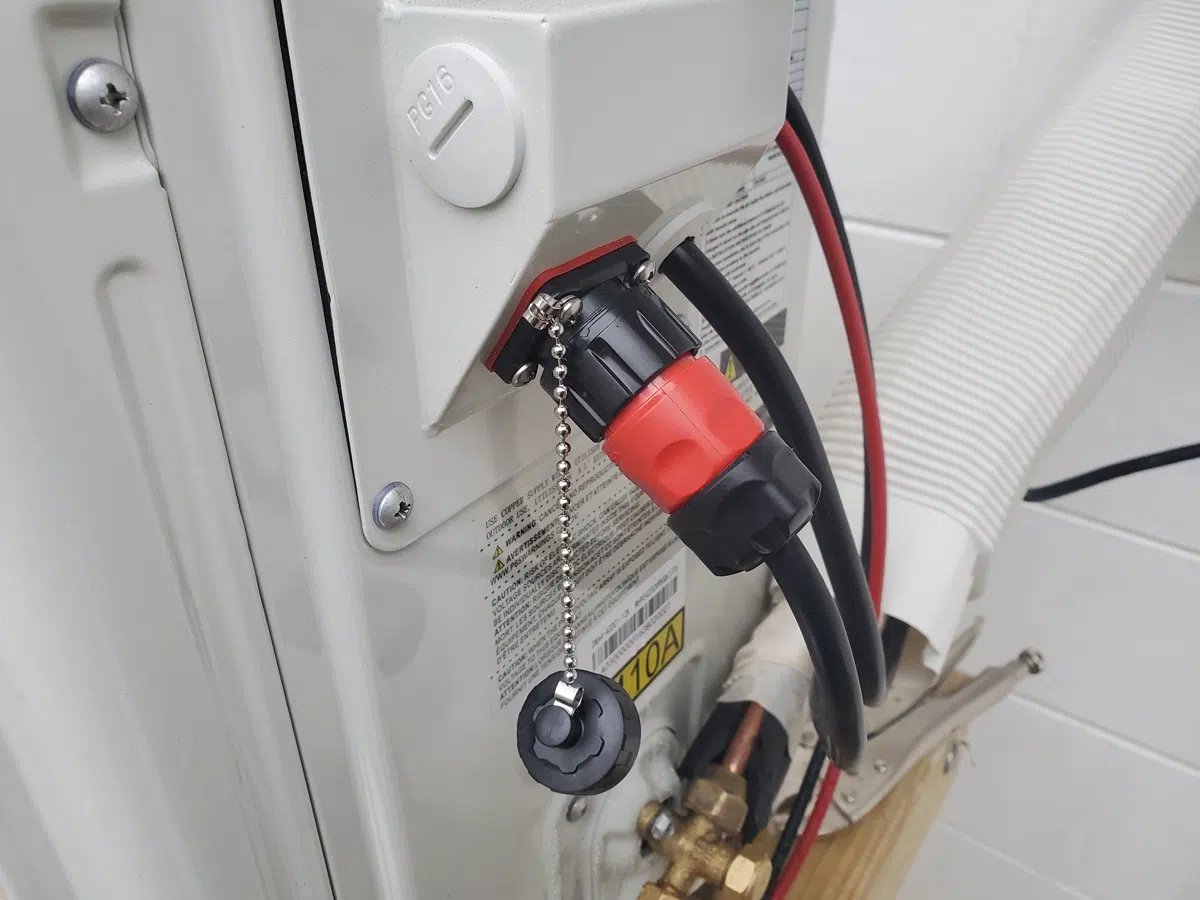 Plug-and-play connection of the controller cable, plus a pre-installed 120-volt power cord mean you never have to remove the electrical cover.
Ultra Quiet, Ultra Solar Performance
I've already spoken to VanZanten, and I'm sure they're ironing out my suggested tweaks to their "kit" as this review goes to print. I consider Airspool the best solar-hybrid product in its class on the market. It's quiet, with almost no vibration, responds quickly, and the smartphone APP actually works, without being frustrating.
Airspool continues to evolve in a way that's making it more plug-and-play than its competitors which can help homeowners save money on installation help, and don't forget, it's the solar compatibility that makes it special.
What that means is that because it has a built-in inverter, you can plug the Airspool compressor directly into your solar panels, even if you have no inverter, no battery, just a few hundred watts of PV production, as I do.
Like the previous DIY version of this product I tested, this one cranks up easily with just three solar panels, with some power to spare, in this case 400-watt monocrystalline panels I picked up from a surplus distributor. For cooling, the unit pulls about 450 watts, twice that for heating, but still well within the panels' range. It switches over to AC power seamlessly at night and on cloudy days, with no human intervention needed.
As a final note, the early test model I received came with the old installation model. While it was fun to see all the "this step is no longer necessary" stickers placed over the old installation guidelines in my manual, I'd encourage Airspool to update this text ASAP to streamline and make it more readable. Clear instructions are half of the DIY equation.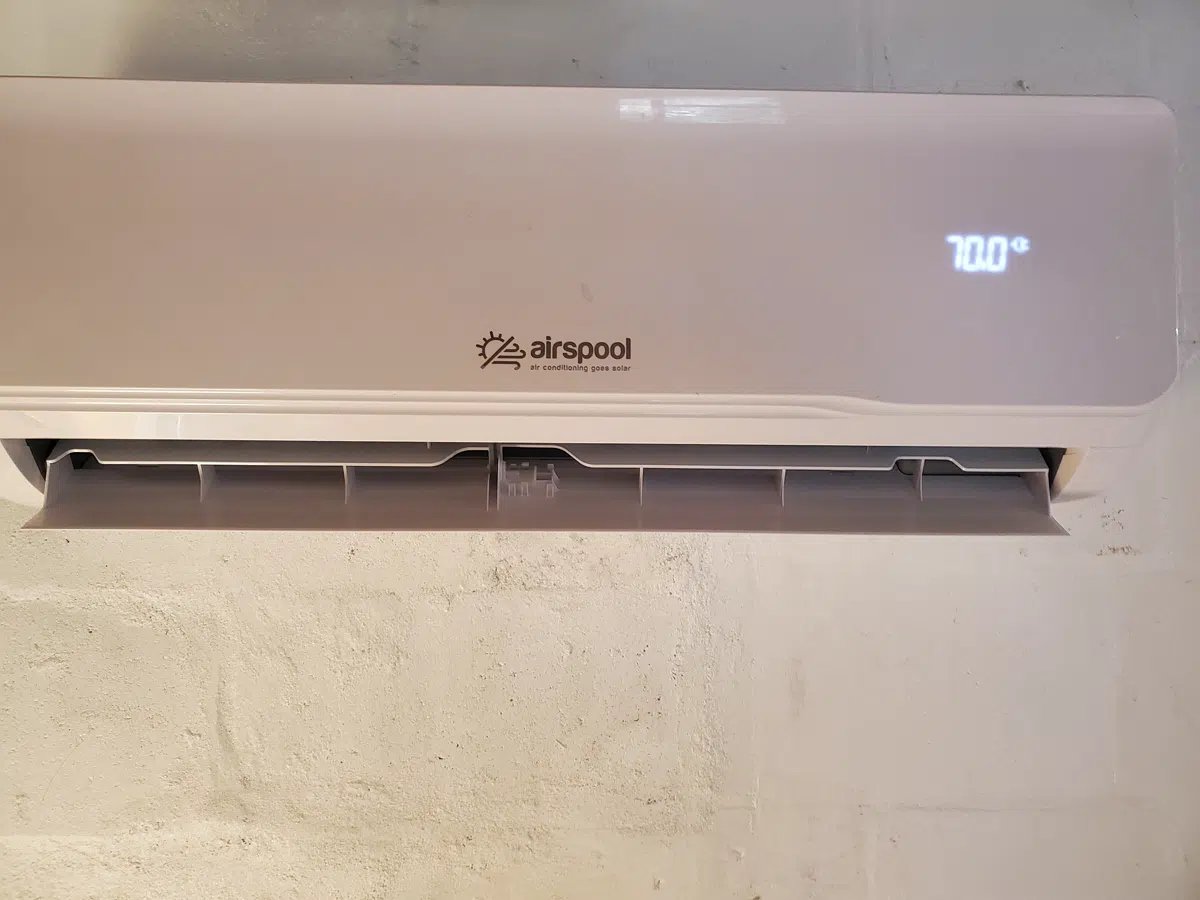 Oct 25, 2023 11:09:17 AM · 6 min read
---

Veteran journalist Matt Power has reported on innovation and sustainability in housing for nearly three decades. An award-winning writer, editor, and filmmaker, he has a long history of asking hard questions and adding depth and context as he unfolds complex issues.