A Green Blueprint for Outdoor Living

Maura Keller, Guest Columnist
5 min read
A well-designed sustainable outdoor space starts at ground level. It implements durable materials, efficient energy and water use, and stress relieving sights and sounds.
Decks, patios, porches, and yards have become our sanctuaries – prime spots to relax or entertain others. These outdoor living spaces are essentially extensions of our homes and as consumers of new homes look to incorporate outdoor areas into their abodes, they are adding innovative design and construction elements to make these spaces truly shine.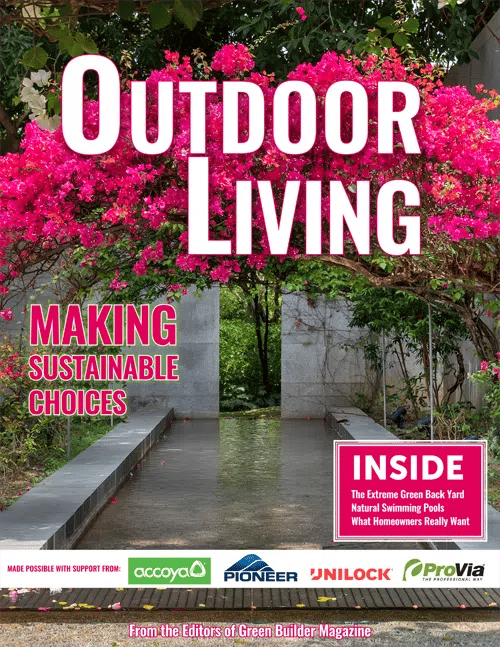 Download the Outdoor Living Guide and get more details on how to create green home sanctuaries. This free resources was made possible by the generous support of Accoya, Pioneer, ProVia, and Unilock. Learn more about their products in the guide.
After decades of treating outdoor spaces as mere afterthoughts in home design, today's homeowners are turning their attention to remodeling these spaces in order to make their patios, decks and backyards extensions of their home's interior designs–while keeping the environmental impact to a minimum.
In fact, outdoor spaces are among the "must have" features new homebuyers put on their wish list. By approaching your design thoughtfully, you can have all the fanciful and dramatic details you want – including gathering around a fire pit, dining under a free-standing pergola, lounging in a tent-like structure, or walking through manicured gardens.
"People want to positively impact environmental issues in their own lives, and this extends to the design of their outdoor spaces," says Kevin Lenhart, Design Director at Yardzen. "Common examples of this trend are requests to remove lawn, install permeable landscapes, reduce water consumption, and include habitat-rich native plants."
Today's "green" outdoor living designs are incorporating building materials that look great and natural in the backyard environment but also are easy to care for and last a long time. Patio and decks are evolving into outdoor rooms – complete with comfortable, stylish furnishings, environmentally friendly lighting, and all electric kitchen/cooking areas and entertainment zones.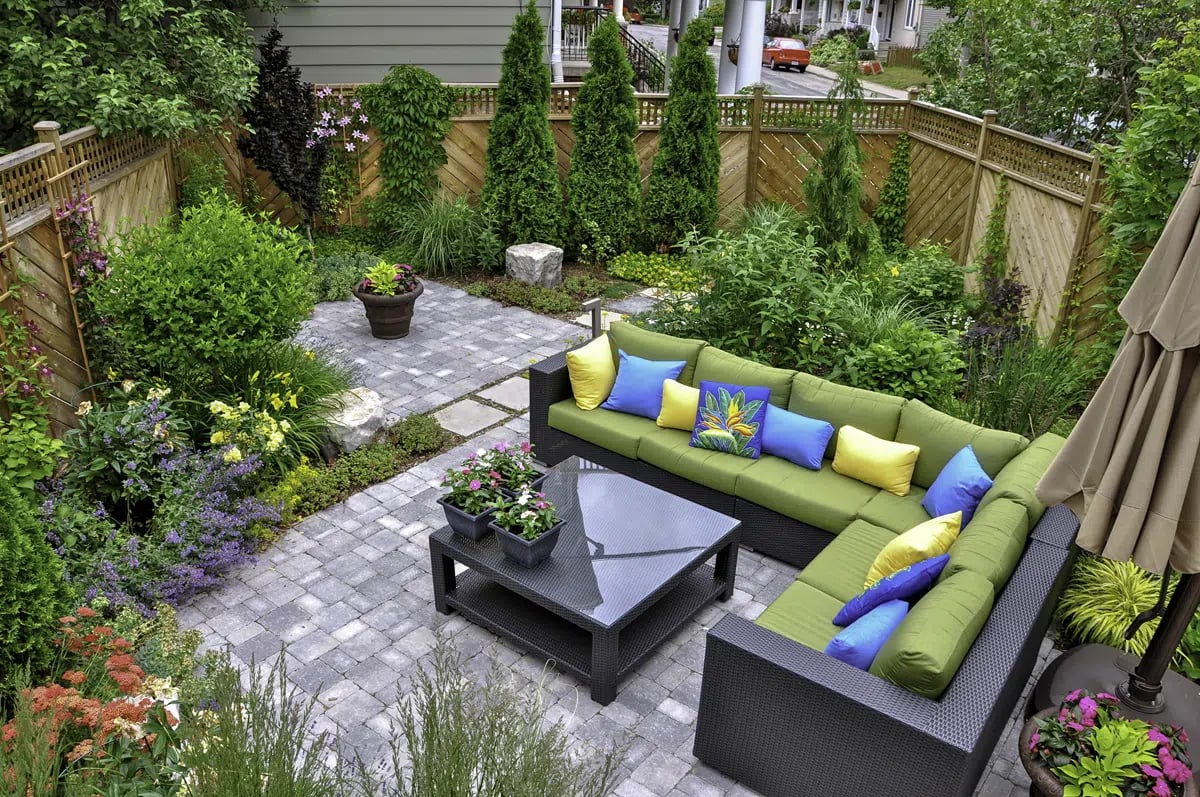 And landscaping accoutrements include drought resistant lawns, xeriscaped gardens planted with native species, recycled hardscape features and LED-based outdoor lighting.
Durable and Recycled Hardscapes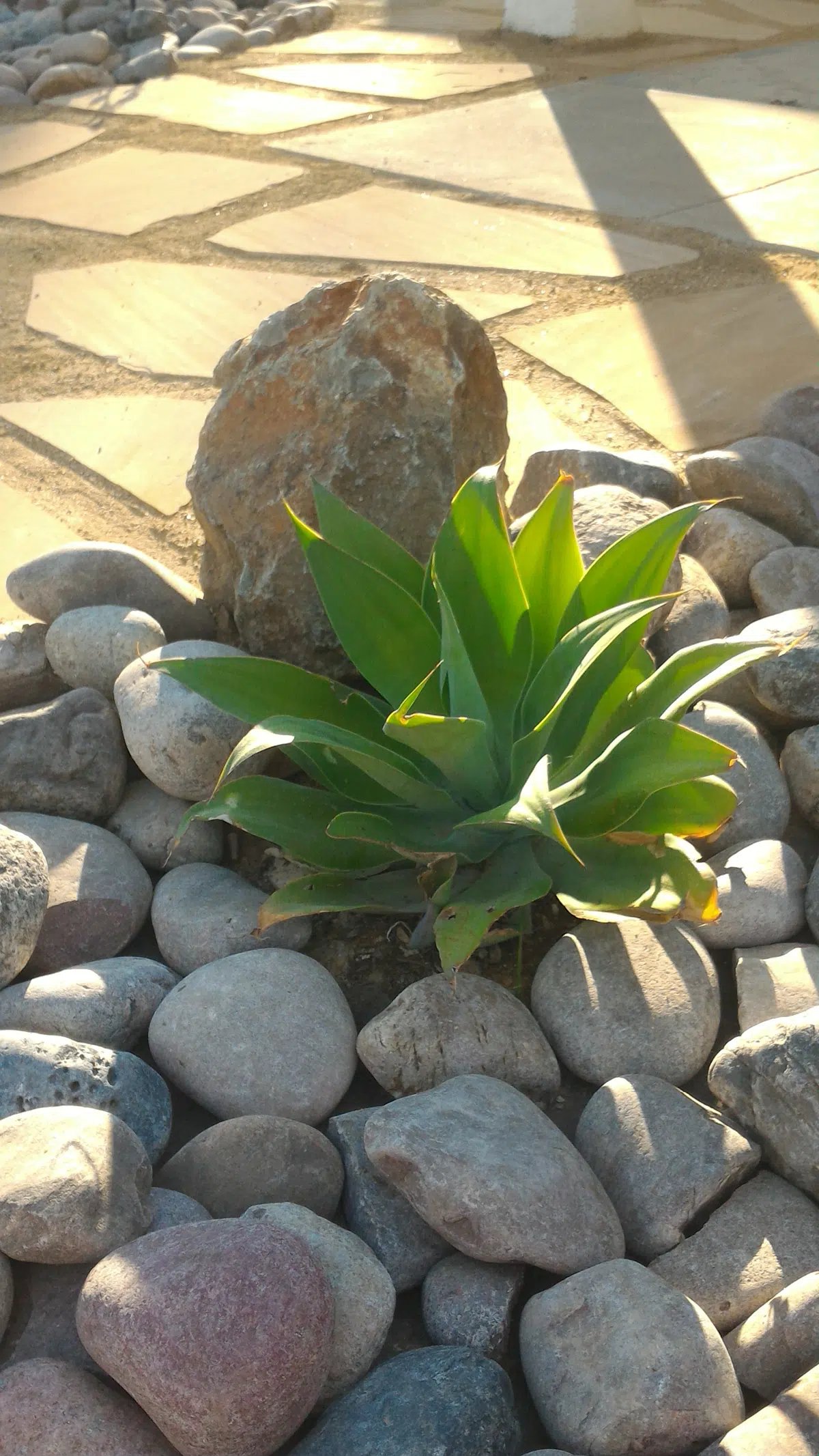 The longevity of hardscape materials is an important green factor in half walls, offer dramatic design elements for outdoor living areas of all sizes.
Along with manufactured siding, some landscape architects are turning to long-lasting stone veneers. These stone accents add design interest, while also incorporating all-natural elements to a landscape, and can be made artificially or with natural stone. The benefit of manufactured veneer stone is that color and style can be precisely customized to match other components of the design.
Natural stone has a strong appeal when it's quarried locally, reducing transportation costs—but the environmental costs of extraction must also be considered. Estimates of stone and stone lookalike veneers vary, but these products should survive several generations of homeowners.
"If I use a natural stone like bluestone or granite, it can last 40 years with proper maintenance," says Carrie Woleben-Meade, principal at Mariani Landscape Design in Lake Bluff, Ill. "To add a historic feel, we sometimes suggest recycled brick pavers that come from all over Chicago." The Mariani Landscape team also tries to source locally whenever possible.
Disassembled brick or paver patios, timber walls and stairs, and stepping stone paths all have great reuse potential. "Clients are increasingly coming to us with ideas of their own about where to repurpose materials like these in their new designs," Lenhart says.
Low-Energy Lighting and Pumps
Two technology advances have reduced the energy "footprint" of dramatic backyard environs.
The first is LED lighting. Each individual LED consists of a semiconductor diode that emits light when a voltage is applied to it. And while the electronics industry has used LED technology for several decades, only recently has the technology evolved to the point where it is viable for general outdoor lighting applications.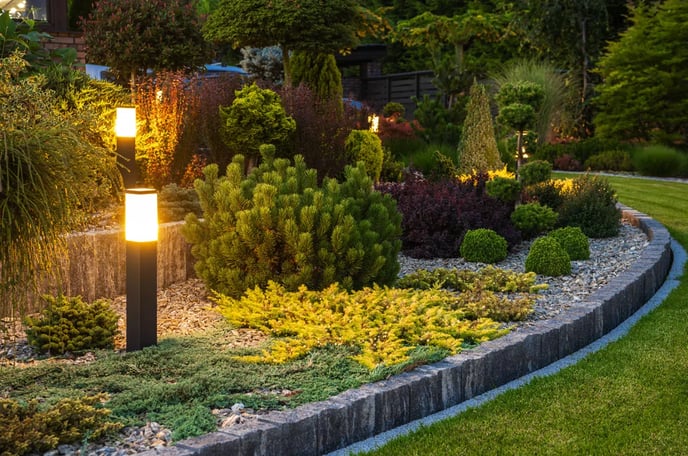 Drought tolerant and groundcover plants and shrubs make for low-maintenance islands that require no mowing.
LED is efficient enough that it can run direct from solar or small battery packs.
Another game changer: variable speed water pumps. These offer low-wattage option for landscape features, such as fountains and waterfalls, plus efficient filtration for ponds and pools.
Typically these pumps take advantage of DC-based inverter motors that operate much more efficiently than the old AC models.They're opening up energy-efficient tools for aerating and moving water. And the whole concept of backyard pools is changing too.
"Plunge pools are having a moment," Lenhart says. "Relative to larger, traditional swimming pools, plunge pools require less energy to heat and filter, and fewer chemicals to treat. They also lose less water to evaporation. While filtration is a must, many people opt not to heat their plunge pools at all, especially in warmer climates."
Also of tremendous interest to homeowners: "natural" swimming pools. Not to be confused with Salt-based chemical pools, natural pools typically work best in warm climates (see sidebar), and include dedicated, filtration chambers.
Drought-Resistant Lawns and Shrubs
For many consumers in southern regions of the U.S., water conservation is top of mind when it comes to landscape design. As some states continue to grapple with depleted reservoirs and drought conditions, homeowners are investing in drought-resistant lawns and landscape elements that require limited water. "There are natural lawn blends out there that offer better drought tolerance than your typical lawn, including UC Verde Buffalo Grass and the native sod blends from Delta Bluegrass in California," Lenhart says.
Lawns require a lot of water to survive. According to the U.S. Environmental Protection Agency, nationwide, landscape irrigation is estimated to account for nearly one-third of all residential water use, totaling nearly 9 billion gallons per day. And as much as 50 percent of water used for irrigation is wasted due to evaporation, wind or runoff caused by inefficient irrigation methods and systems.
"Wherever possible, we incorporate no-mow (sections of natural, un-mowed grass) into larger lawns, blending it into borders for a more natural aesthetic. This looks great, it helps minimize maintenance, and it brings the landscape into balance," says Colleen Barkley, Mariani Landscape Design Studio Manager.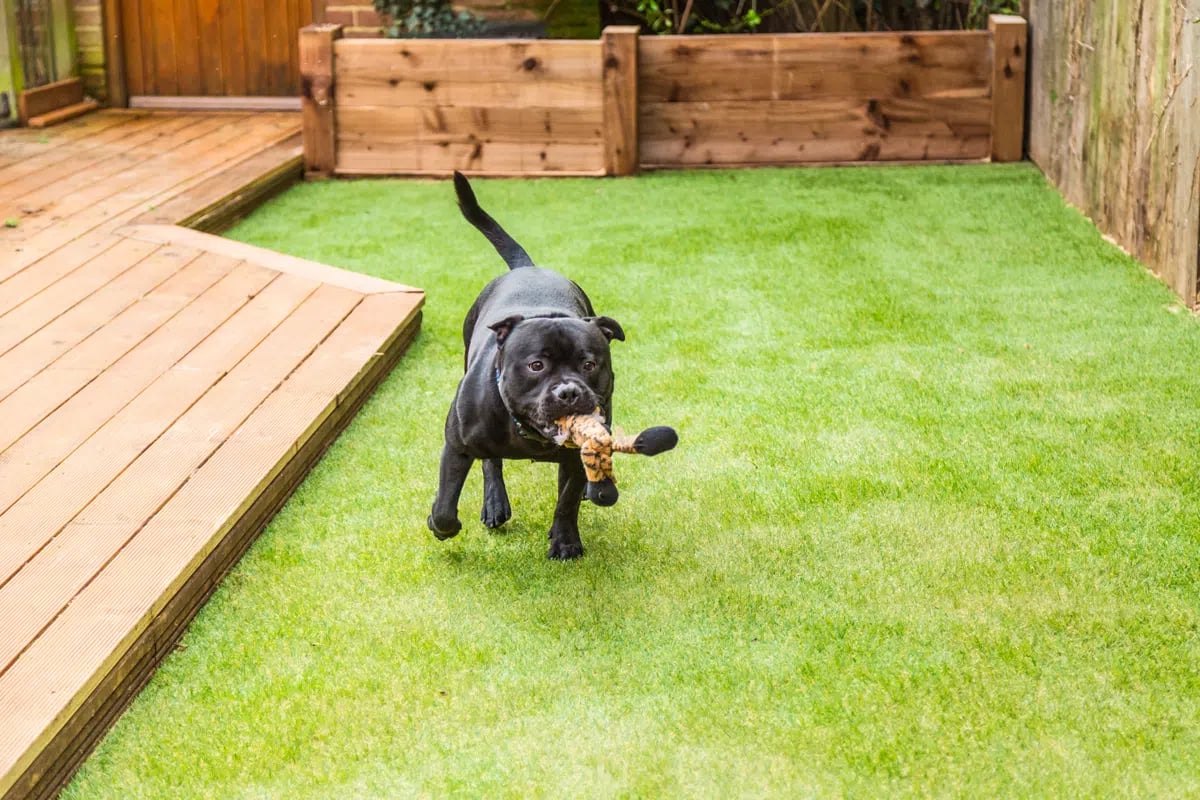 Certain brands

of artificial turf advertise the fact that they are "PFA free." PFAs are a class of dangerous "forever chemicals" harmful to people and pets.
Going Native
Landscape designers, such as Lenhart at Yardzen, are also seeing increasing interest in planting designs that emulate wild spaces. This style offers a great opportunity for incorporating high quality habitat planting into someone's outdoor spaces.
"By arranging native plants densely, with distinct vertical layers, interwoven masses, and a decent variety of species, you can create stunning designs that also offer tremendous benefit to local fauna," Lenhart says. "Sequencing blooms to last throughout the year maximizes resources for insects and other fauna, but it also lends designs a dynamic character, passing visual emphasis around from season to season."
Reducing or outright removing lawns is also gaining momentum as lawns are linked to water and air pollution, greenhouse gas emissions, and overconsumption of water.
Solid Ground
Composite decking is gaining popularity among Yardzen's clients, although it is generally priced higher than wood. Not all wood species are created equally, of course and some wood products come from carefully managed forests, while others do not. It's important to read the fine print.
Aug 8, 2023 1:29:07 PM · 5 min read
---

Award-winning freelance writer, editor, book author & proofreader with over 24 years of experience.