82 Million Reasons to Hope
At Green Builder Media's recent Sustainability Symposium 2020, I delivered opening remarks that were intended to be both realistic and inspiring, pointing out the harsh reality of our situation while simultaneously outlining the many reasons to be hopeful about our future.
Amidst the unfathomable craziness that has become normalized daily life here in the U.S., I do my best to maintain some semblance of sanity.
Heeding Comparative Mythology Professor Joseph Campbell's advice, I try to joyfully participate in the sorrows of the world. For, as Campbell says, "We cannot cure the world of sorrows, but we can choose to live in joy."
And so I offer you my opening remarks from the Sustainability Symposium 2020: Improving the Human Condition, which took place on Martin Luther King day. I'm delighted to report that the remarkable event achieved its main goal: to illuminate the nexus between sustainability, social equality, and financial abundance.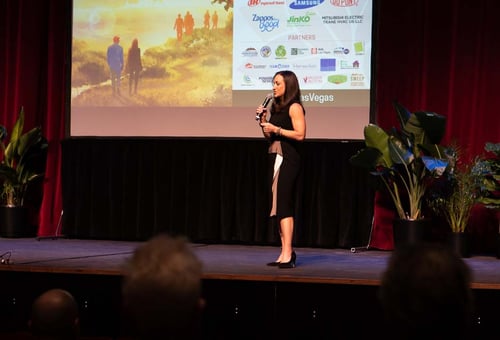 "Our lives begin to end the day we become silent about the things that matter."
Those enduring words by Martin Luther King could not be more applicable and appropriate today.
We are, indeed, in a climate emergency, with species of all kinds feeling the heat—from the charred landscapes in Australia to the ravaged beaches in the Bahamas to the melting ice caps in Antarctica, no ecosystem remains untouched by our changing climate.
That's why it's so important—now more than ever—to speak loudly and think boldly about solutions that solve for the climate crisis and deliver us into a sustainable future that equally values and embraces sustainability, social equality, and financial abundance.
As we know, the built environment plays a pivotal role in that transformation. It's paramount that we build structures are energy efficient, conserve water, facilitate health and wellness, and deploy advanced technologies and renewable energy.
But it's equally as important to build homes, buildings, and communities that allow us to live with dignity and age with grace; that can withstand nature's fury; and that don't cost millions, billions, and now even trillions to rebuild after natural disaster inevitably occurs.
And that's particularly important here in the U.S. because every night, in the wealthiest nation in the world, 500,000 people sleep on the streets, and we have a shortage of 7 million affordable housing units nationwide.
To summon Martin Luther King again, "Injustice anywhere is a threat to justice everywhere." Those numbers are simply not acceptable.
And here is another daunting number: 10. Experts say that we have approximately 10 years to clean up our act before we enter into the Pyrocene, a new "fire age"—kind of like an ice age but the opposite side of the spectrum—induced by human activity that threatens to unhinge the planet.
In fact, even Dante would have been alarmed by some of the experts' predictions about the Pyrocene. For example, Arizona State University professor Stephen Pyne says that if we reach the Pyrocene, we're entering a no-narrative, no-analogue future that is so unimaginable that the arc of inherited knowledge that joins us to the past will be broken, and we will have no insight into what the future has in store.
Which leads me to the silver bullet question: will the 2020's marshal the innovation, creativity, and political will necessary to solve for the impending climate emergency, or will the next decade witness our dystopic demise, brought about by the greedy and short-sighted Faustian agreement that we made in the last century when we sold our souls to the fossil fuels companies?
While the outlook may seem bleak, I can't help but return to optimism, because there are many, many reasons to hope.
In fact, there are 82 million reasons—that's the number of Millennials who are making decisions about what they buy and who they work for based on an inherent ethic of sustainability.
And there are other reasons, including:
Increasing public acceptance that we're in a climate emergency
The letter written by Blackrock CEO Larry Fink (who manages $7 trillion in assets) to his investor and banking colleagues confirming that we're about to see multi-trillions of dollars shift away from polluting industries and towards companies that are regenerative, renewable, and sustainable
Major divestments from fossil fuel companies by the global community (including the European Union), financial institutions, companies, universities, and individuals
The decrease of coal generation over the past decade by approximately 80 gigawatts (enough energy to power 43 million homes), and a 900% increase in solar photovoltaic installations and 300% growth in wind energy production
Record breaking climate protests across the globe, led primarily by youth activists
Technological innovations in areas like electric vehicles, battery power, and smart technology
Continued growth of the green economy, guided, in part, by the fundamentals of the Green New Deal
Influencers of all kinds, from movie stars to high school students, using their voices to amplify the urgency of our climate emergency
Prioritization of climate action by Presidential candidates—it's not enough, but it's more than ever before
And, more than anything else, I am hopeful because of Greta. Dear Greta. Time 'Person of the Year' and Nobel Peace Prize nominee Greta. In the face of the Pyrocene era, may Greta and her peers guide us out of the fire and into a future that is defined by sunlight, clean air, fresh water, productive soil, collaboration, social equality, and joy.
And may we, as today's leaders, empower and encourage Greta and her peers to manifest the magical thinking that is a sustainable future. May that be the legacy that we give to our children, and their children, and generations into the future—and the planet.
Visit the Sustainability Symposium 2020 microsite to watch the powerful presentations delivered by our star-studded lineup of sustainability luminaries, including Green to Gold and The Big Pivot author Andrew Winston, Green New Deal Co-Author Rhiana Gunn-Wright, Architecture 2030 Founder Ed Mazria, and Thrive Home Builders Founder Gene Myers.
Want to read more? Follow me on Twitter and Facebook. For more information about green building and sustainable living, visit Green Builder Media at www.greenbuildermedia.com, like us on Facebook, and follow us on Twitter for regular updates and breaking news.